Cycling Frozen Lake Baikal
From The Field
Words and images: Jonny Mutch
I'm up to my chest in icy water, clinging to my overloaded bicycle. In a sickening instant, the surface of Lake Baikal has just given way. As I dangle there, I feel a sense of relief. I've brooded for three weeks over the prospect of falling through the frozen surface, so now I've got one less thing to worry about. I feel the pressure pulling me lower. I heave and thrash, trying to drag myself out until I roll onto the snow. I wrench my bike free, and slowly resume tentative steps on the uncertain surface.
It's been three weeks since I pedalled nervously onto Lake Baikal in Russia. My plan: cycle 700km, unsupported, north to south, in the heart of the Siberian winter. This plan has captured my imagination since I first saw a lone figure on the ice through the dirty windows of the Trans-Siberian Railway five years before.
On arrival at the northern tip of Baikal, the ice conditions looked bad; the wind was swirling the snow, and temperatures were dropping to -20˚C. Fishermen and hunters – strong, practical men, hardened by life in the Siberian taiga – warned me that the route south was impassable due to the unseasonably heavy snowfall. But preferring to try and fail than fail to try, I set off into the thick, white mist.
My bike is equipped with spiked tyres that crackle over the wind-scoured ice. I barely make 2km an hour as I haul, push and bludgeon my 60kg bike, loaded with a month's worth of gear, through the snow. I force onwards into penetrating headwinds, across metre-thick ice that cracks and booms. The days are long and brutally cold, but I play the battle out in my mind – look after your extremities, adapt to the nagging pains, eat well, stay warm.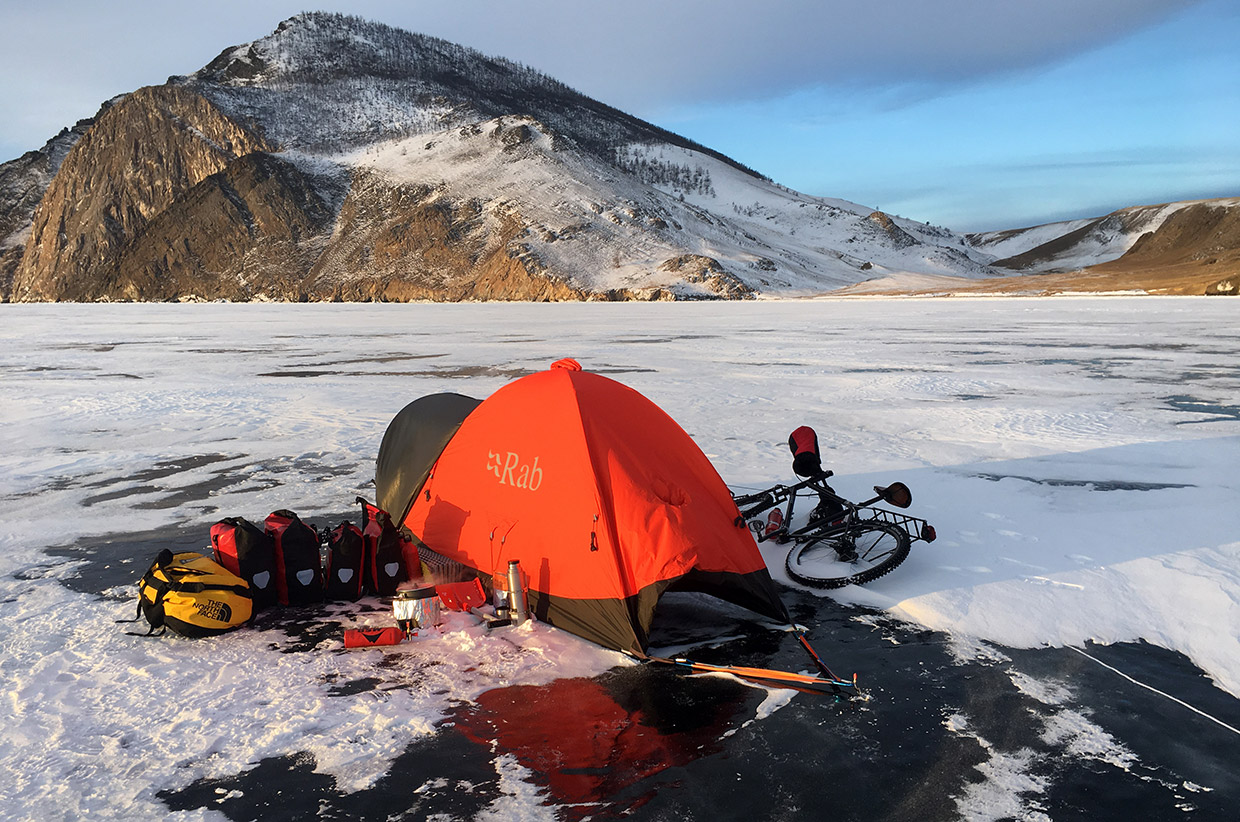 As the sun sets behind imposing cliffs, I hurry with an increasing sense of urgency. Soon the dark shadows arrive and I redouble my effort to set up camp. I'm quick to fix ice screws into the surface, anchoring my tiny dome tent. The daytime temperature plummets from -10˚ to -20˚, sending my pulse racing at the thought of another night in a frozen sleeping bag.
In the sanctuary of my tent, I blow on my fingertips by the light of my head torch, then fill a bag of Firepot expedition food with hot water. I stuff the sachet deep into my jacket while it rehydrates, relishing this new hot-water bottle and the prospect of a good dinner. Before I eat, I write in my diary, stopping every 30 seconds to try and warm my fingers under my armpits.
The morning brings glorious sunshine and a surface clear of snow. I cycle in great sweeping arcs, whooping at the pristine remoteness of it all. I'm alone in a vast silence – a vacuum almost – listening only to the cracking of my tires. Each icy breath invigorates me, like the tiny diamonds of ice that flash brilliantly against the deep blue sky.
I try to fight the loneliness by seeking out the Russian fishermen who hole up in log cabins on the lake's edge. The thin curls of smoke from their chimneys serve as a beacon of warmth and hospitality. In the time-honoured tradition of the taiga, they invite me to share their wood stove and simple meals. We sit in easy silence, grinning and nodding in mutual recognition of our singular remoteness. In one lonely outpost I discover a park ranger, wracked by grief and wrecked by alcohol. He is virtually inconsolable at the loss of his lifelong friend and fellow ranger, who'd fallen through the ice just two days before. I'm the first person he's seen since, and he rocks unsteadily.
One thing that keeps me going, despite the frostbite and the solitude: the constant blinking LED of my GPS tracker, projecting my location back to my wife and son at home. I hope they can see that I'm making progress, even if it's excruciatingly slow. I picture them laughing at my appearance – unsightly icicles droop from my moustache, frostbite on my nose and a beard heavy with ice. I play out the conversation in my head and picture their giggles as they christen me 'Snot of the Antarctic'. I'd promised my family that I'd take no unnecessary risks, yet each day seems harder than the last. Then one evening a storm assaults me with blinding clouds of stinging ice, reducing my progress to a standstill. I can't move or walk, only hunch low to the ground and wait it out.
As the storm subsides and I begin to make camp, I feel exhausted. My clothes and sleeping bag are impregnated with ice that refuses to thaw. I picture another sleepless night, too rigid with fear to close my eyes. I've covered over 500km in three weeks, but in that moment I decide to quit. I don't want to take another step away from my family. I break out the emergency satellite telephone and call home. A boy answers. I choke on my words as I realise in an instant that I can't quit. I'm forever imploring my son to do his best and never give up. How can I fail him? So I tell him everything is fine and put the phone back into my bag. After all, it's only another 200km.
---
Jonny Mutch completed the expedition in four weeks, travelling from the north to the south of Lake Baikal, from Severobaikalsk to Listvyanka. He was sponsored by Outdoorfood.