Finding Balance in Nature
Inspiration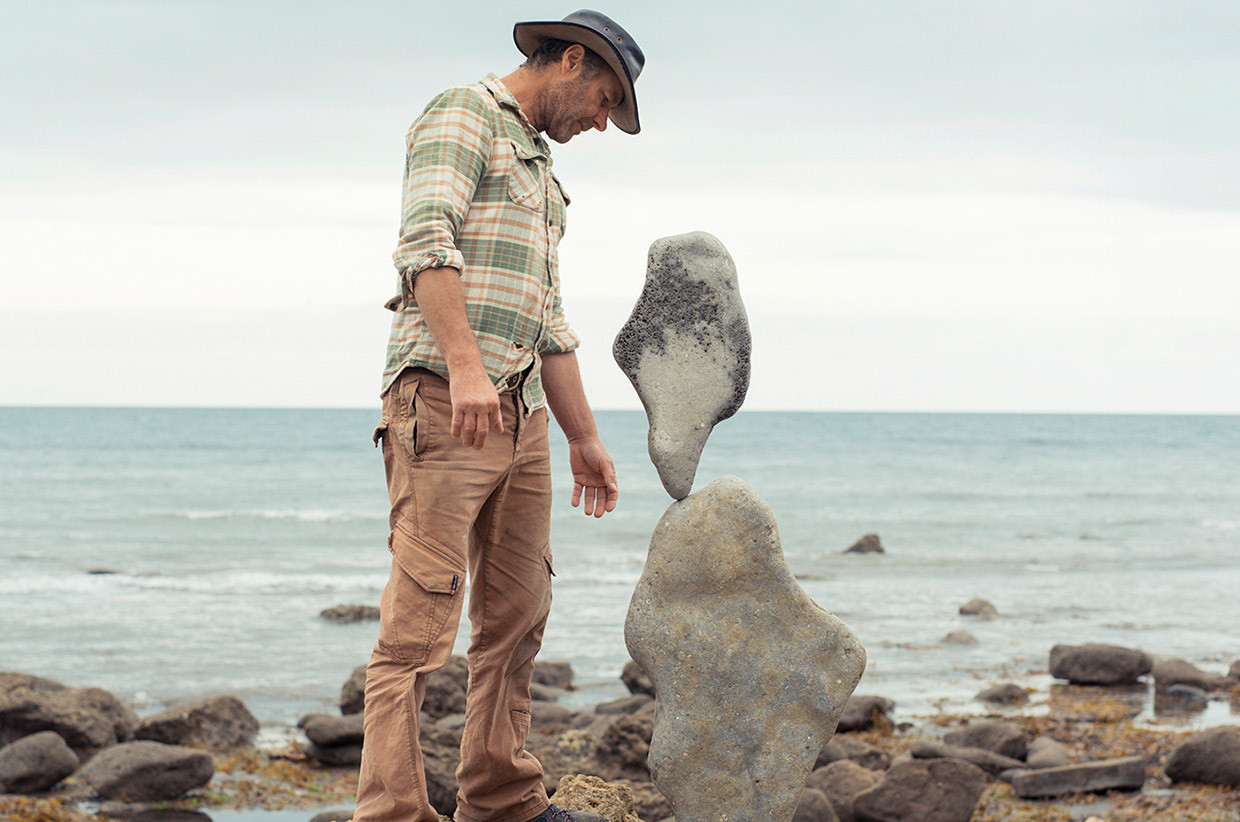 'Only in nature is there balance, perfect balance.
In nature there is no such thing as imperfect balance: everything has its time and its place, its purpose the continuing function of the planet. In the 150 years since the start of the industrial revolution, man has been hell-bent on upsetting that balance, and has had some success. But fear not – nature will prevail eventually, because balance is continuous, with no exceptions. It's just a matter of time.' – Adrian Gray
---
Adrian Gray is the pioneer of stonebalancing art.  Over the last 14 years he has been exploring the fine art of balance. His work has evolved to include new ideas and themes, but the predominant feature remains the beauty and seemingly impossible nature of balance.
Sidetracked: Tell us about your first sculpture. How did you come to want to create art in that way, and take us through the moments leading up to its conclusion. What did you learn from that no doubt formative experience?
Adrian: I cannot admit to a eureka moment, but at a certain point after a couple of years of creating stonebalancing sculptures on the beach for fun and as a therapeutic practice I balanced two rocks that looked so improbable and other-worldly that I knew I had created something unique and puzzling. Everyone loves a mystery, so to create something out of stone  that was solid and heavy yet fragile, seemingly robust and earthly but balanced and ephemeral – and above all naturally beautiful – was an exciting challenge.
Balancing stones has a very shallow learning curve, but it takes a long time to become accomplished. Like many worthwhile endeavours it takes time, practice, patience and passion. As the pioneer of stone-balancing art, it has been great to see others inspired by my work, but I always want to push the limits of what could be done and  I continuously learn and explore new ideas about how to take my art forward.
Your work is predominantly sculpture and photography based on the natural world of balance. Your sculptures use weathered stone in natural locations to capture their transient beauty. What symbolism does your work have? What metaphors do you want us to see in it? How important is art in all its forms to the world right now?
My passion is the natural world and through synchronicity I have founded a niche art form that embodies my feelings of the way forward for our beautiful planet. Balance is at the crux of the matter. If we put back what we take out, or only take what can be rejuvenated; if we keep ourselves balanced physically, mentally and emotionally; if we shared the earth's bounty equally and limit excesses and greed; if we resist polluting the land, sea and air with our waste, the world will be a better place. So I hope that if my work does have a greater meaning than the simple poetic beauty of natural balance it is as a reminder that balancing the most important aspects of human influence on the planet is our best hope for a sustainable future.
Art, whether practised or enjoyed, gives life to creativity, which is also the catalyst for expression, invention and scientific breakthrough. Good art has an impact and that impact can give rise to new emotions and inspirations, taking people forward, leading them down untravelled roads to unexpected destinations. All good stuff!
Tell us about the importance of the San Miguel Rich List to you? What place does it have in our world at the moment?
At first I was a bit surprised to find myself on a rich list… Had I won the Lottery without even buying a ticket? Well, no, but perhaps also yes. It's great to know that within the world of commerce, there are companies who value life experience and wellbeing over purely financial success. Being on the San Miguel Rich List has given me the opportunity to share my art with a wider audience, but also to meet like minded people who rate life experiences and a sense of fulfilment over the normal aspirations of our material world. Hopefully our diverse ways of working and living will help to inspire others to follow their dreams and find saner ways of living and working, bringing some balance back into this amazing world.
---
Adrian features within the Legacy Makers category of the San Miguel Rich List 2017 – 

a collection of inspirational men and women from around the world who have devoted their lives to pursuing the most valuable of all things – experiences. To find out more about the campaign, and discover other life-rich individuals, visit www.sanmiguel.com