The Finishers: A Race like No Other
From The Field
What does it take to finish the Barkley Marathons, one of the toughest races on Earth?
The Finishers tells the story of the few who have completed it.
Photography by Alexis Berg
---
'Never in a race have I wanted to give up so much. It's a never-ending struggle to stay motivated. Really.' —John Fegyveresi
---
The Barkley Marathons is a race like no other. There is no website to take entries, and participants are selected from those who find a way to submit written applications and the $1.60 entry fee. Only around 40 people are chosen to run. No GPS is allowed. The course, in the Cumberland Mountains of Tennessee, was inspired by the failed escape attempt of James Earl Ray, Martin Luther King Jr's assassin, across the unforgiving landscape surrounding Ray's prison. Runners must complete five roughly twenty-mile loops with a total elevation gain equal to two ascents of Everest, and over steep, muddy, vegetation-strewn and rocky ground. Those who manage to complete only three laps are deemed to have achieved the 'fun run'.
Since 1986, only 15 people have ever finished – around one per cent of those who have attempted it. In the 2021 race (run under special COVID-compliant conditions), there were no finishers.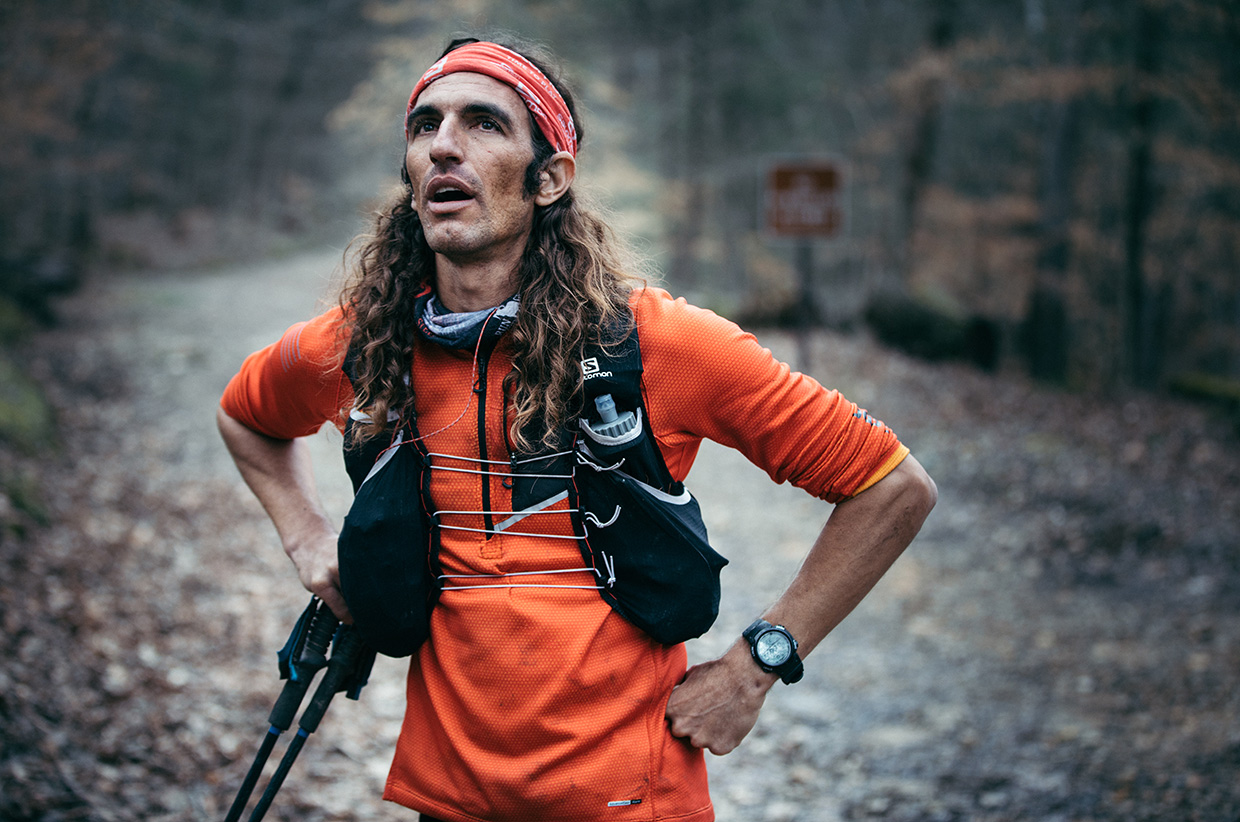 The Finishers, by ultrarunning photographer Alexis Berg and L'Équipe journalist Aurélien Delfosse, is a record of these superhumans who have completed the race. Berg and Delfosse criss-crossed the United States capturing stunning photographs and in-depth interviews with the finishers – a quest to meet those who have finished the race nobody finishes.
If this book has any lasting meaning, it is in the depiction of these shadowy figures, seemingly ordinary yet extraordinary. Each meeting was a moment of grace, heart, and intelligence.
'The definition of a finisher is simple: someone that completes 5 loops in 60 hours. But what is a finisher? Who are they really? This answer is deep and complex. Finishers are scientists, engineers, ambulance drivers, carpenters, adventurers, former Marines. It's because most of them are not elite athletes that their stories inspire us. It's because Barkley is a mirror, that we can see in every finisher a part of ourselves, a potential we have never exploited.' —Alexis Berg
As with the race itself, the book is a multi-layered journey of discovery, combining atmospheric landscape photography with candid portraiture, extensive interviews with a range of contextualising essays, raw data with gentle testimonies – all compiled in an exceptional design with the highest-quality print production. At the book's heart are the finishers' own words. Capturing the spirit of their legendary achievements and the modesty with which they live their daily routines far from the torturous course, the interviews provide unique insights into the minds and mentalities of those who have conquered the Barkley Marathons.
---
'There comes a time when body and mind face each other.' —John Kelly, finisher.
'We can't finish the Barkley without having been deeply marked by it. It's hard to explain this in words.' —John Fegyveresi
---