Swedish Adventures
Winter Spring in Jämtland Härjedalen
John Summerton // Photography by Mark Going
We stood completely still and stared up through the tall, snow-covered pine trees towards the stars, holding our breath so we could listen to the whisper of the forest. We were at the mid point of a moonlit snowshoe trek down the Southern Årefjällens mountain and this was the first chance to take a breather and reflect on what had become an unexpected adventure exploring this region of Sweden.
---
A couple of days earlier, I'd stepped off the airplane at Östersund airport, only to be serenaded by the airport manager with his guitar before heading out, armed with touring skates, onto Lake Storsjön ready to embark on my first attempt at nordic skating. The welcome was a sign of things to come. The ice was reassuringly thick and the track – called Medvinden – was regularly groomed for skating, a hugely popular Winter-Spring pastime in this area. The plan was to follow the route for 12km into the town and, with the strong wind to our backs, this would hopefully be a breeze.
In fact, the wind meant that very little physical movement was required and we were soon swept along with nerve-racking speed. My biggest problem, I soon discovered, was trying to stop. The supposed method was a hockey stop or snow-plough, however I decided that falling over and (un)gracefully sliding on my back for 30 metres seemed to produce the best results.
I'd been invited to Sweden alongside a team of skiers and writers from the US and Canada to explore the area of Jämtland Härjedalen and, at the same time, see what Columbia Sportswear have been doing with their new Titanium range. Clothing is critical to everything we do outdoors, so we're always keen to meet innovators and get the inside track on the future of the design and technology intended to keep us warm and dry. That and the chance to introduce Sidetracked to some of the best US and Canadian outdoor writers was an opportunity not to be missed. Once safely on the shores of Östersund, and tucking into a lunch of reindeer and elk wraps, we learned that the Swedish in this area live and work under the motto "all in". Everything they do they do with 100% commitment, whether it be sport, work or fun. It was to become a rule we would live by for the coming exhausting and inspiring week.
Jämtland Härjedalen is an hours flight north of Stockholm and is a true multi-seasonal adventure playground that embraces a true spirit of making the most of life outdoors. From our Nordic skating we travelled onward to Åre, best known for it's skiing. However, first we opted for fat bikes to tour some of the tracks in the area. It was lightly snowing and we had the trails to ourselves so soon found ourselves working up a sweat pushing the bikes and ourselves to the limits.
The following morning we took to the slopes surrounding Åre, exploring all that the resort has to offer. There's been very little snow in Sweden this year, which has made for tough conditions and a tough season for the area. Yet the slopes were pristinely groomed and in good condition so we soon worked up a healthy appetite for some lunch and sampling of the local schnapps brewed from the Buustamons Fjällgård & Distillery. In fact, almost everything we ate was locally grown and sourced, foraged or hunted. There are roughly 160 local food producers, 30 farmhouse dairies and many operating hill farms in Jämtland Härjedalen and nearly everyone I spoke too had a freezer full of meat and fish with vegetable plots in every conceivable corner. Reindeer and moose were the meat of choice with a fine selection of salmon and char for the fish lovers. The locals take great pride in their produce and it was a refreshing insight to discover the passion and focus on using great quality local food, cooked using both traditional and modern techniques.
Columbia's Titanium range was performing admirably. Specifically I was using – and virtually living in – the Jump Off Pants, along with either the Shredder Jacket or Heatzone 1000 depending on the level of activity. I'll be talking about the gear in more detail at a later date, but the short version is that this clothing range kept us super warm throughout the days and evenings. There's been some clever thinking behind design and materials and we'll be looking closer at the range soon.
Later in the week we would move on to Funäsfjällen to explore some of the off-piste areas, enjoy cloudberry jam waffles in the sunshine from the very remote Ösjöstugan hut, meet the local Sami tribes and learn about their nomadic culture, try our hand at nordic skiing and telemark skiing (both of which were about as successful as my skating) jump into frozen lakes and endure a so called delicacy of schnapps blended with the excretions from a beaver's anal glands – downed in one to the cries of 'all in!'.
But that was all to come. For now, I just continued to stare up at the starry night enjoying the moment. At first I wasn't sure what to expect from Sweden, but Jämtland Härjedalen was delivering incredible landscapes, beautiful food and many new experiences with a whole new bunch of friends.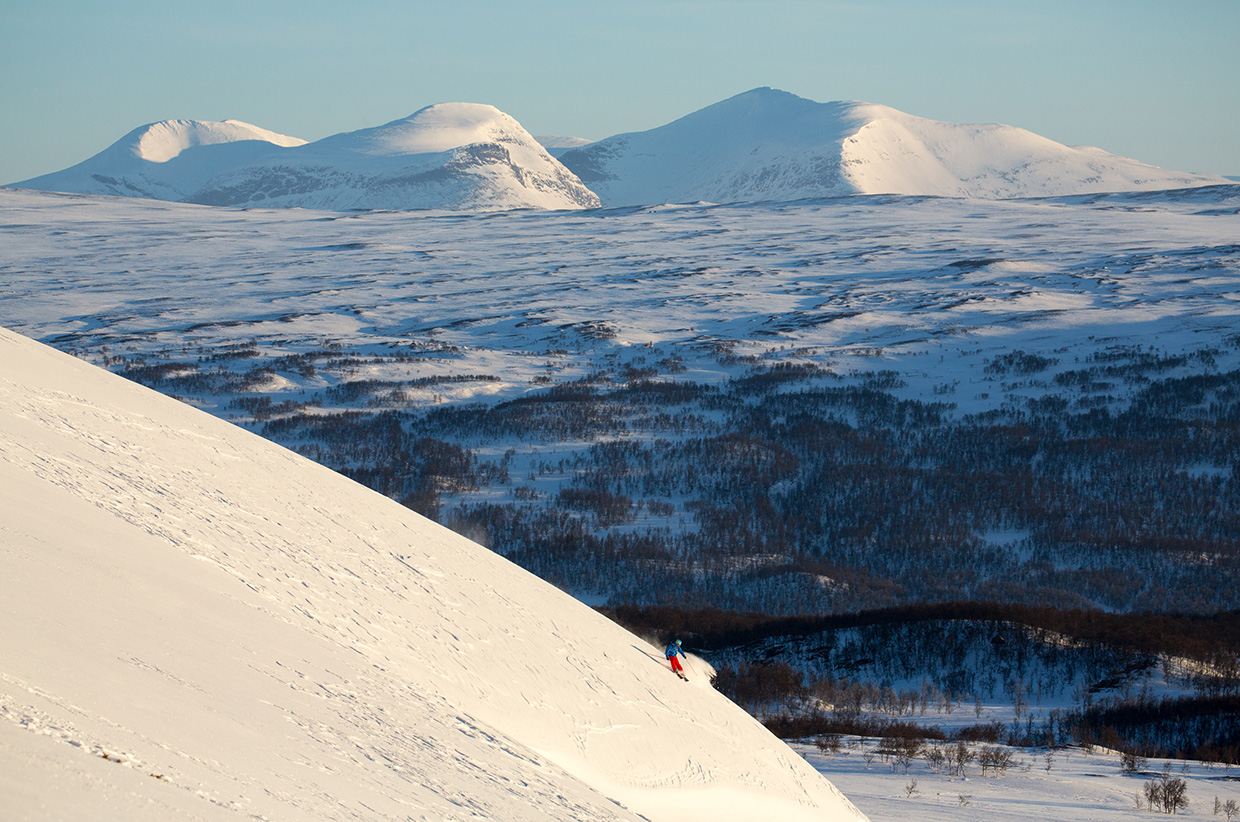 For more information on Jämtland Härjedalen visit jamtland.se. For more information on the new Titanium Range visit Columbia.com and check back on Sidetracked for our review of the range soon.