I Run To Live
Sidetracked Challenge Series
Sophie Radcliffe // Photography by Daniel Wildey
In this new Challenge series Sophie Radcliffe tries her hand at a variety of outdoor pursuits to push herself mentally and physically and to reflect and share these new experiences.
---
I prepare myself mentally for the physical endeavour that's coming. It's still dark as I start up the trail and settle into a rhythm with my feet and breath. Small footsteps, deep breaths and continuous effort. That's my goal. 'Keep moving', I whisper to myself. There's snow on the ground which saps my energy, but I don't care, it's good for resistance training, I tell myself. I'm doing what I love and I'm working for the feeling of elation that will come later.
By 7:30am I'm as far as I can go before the trail disappears under waist deep powder. It is winter in the Alps after all. I've reached the top of the climb, I've been working hard and I pause to catch my breath. Each time I do this run my recovery is quicker and this makes me smile. I think back to a few months ago and the first time I ran up here and how I collapsed in a heap at the top. Now, after a brief rest, I'm eager to continue.
Running has been the sport I've battled with the most. I felt I was never any good at it, I found it painful and boring. A twenty minute jog around my local park would leave me red-faced and sweaty. I would find it a struggle every step of the way and each time I ran I was left with the feeling that I didn't enjoy it. As I developed as an athlete and forged a life of adventure, I took on epic cycling challenges, adventure races, climbed mountains and became an Ironman. Throughout all this, running was my least favourite sport and the one I always left at the bottom of the pile of priorities.
Today, I leave my house before dawn and run in the mountains for two hours before getting on with my work. In the space of a few months I've experienced a phenomenal change in my ability and attitude and I feel proud of it. I can see huge leaps in progress and this motivates me to see how far I can take it. The reason for this change is two fold; firstly, I challenged myself to improve my running ability and change my mindset. Secondly, I feel inspired.
As I begin traversing the mountains, the rays of dawn are now well and truly up and sending out shards of the most beautiful colours across the sky behind Mont Blanc. Purples, pinks, blues, it's all there if I'm willing to make the effort to see the show. It literally stops me in my tracks as I descend down the mountain and I stop to snap a photo on my phone.
In the next hour I fly down the mountain back towards home. The endorphins are kicking in and I feel on top of the world. I love how fast I can go downhill, how effortless it feels, how free I feel.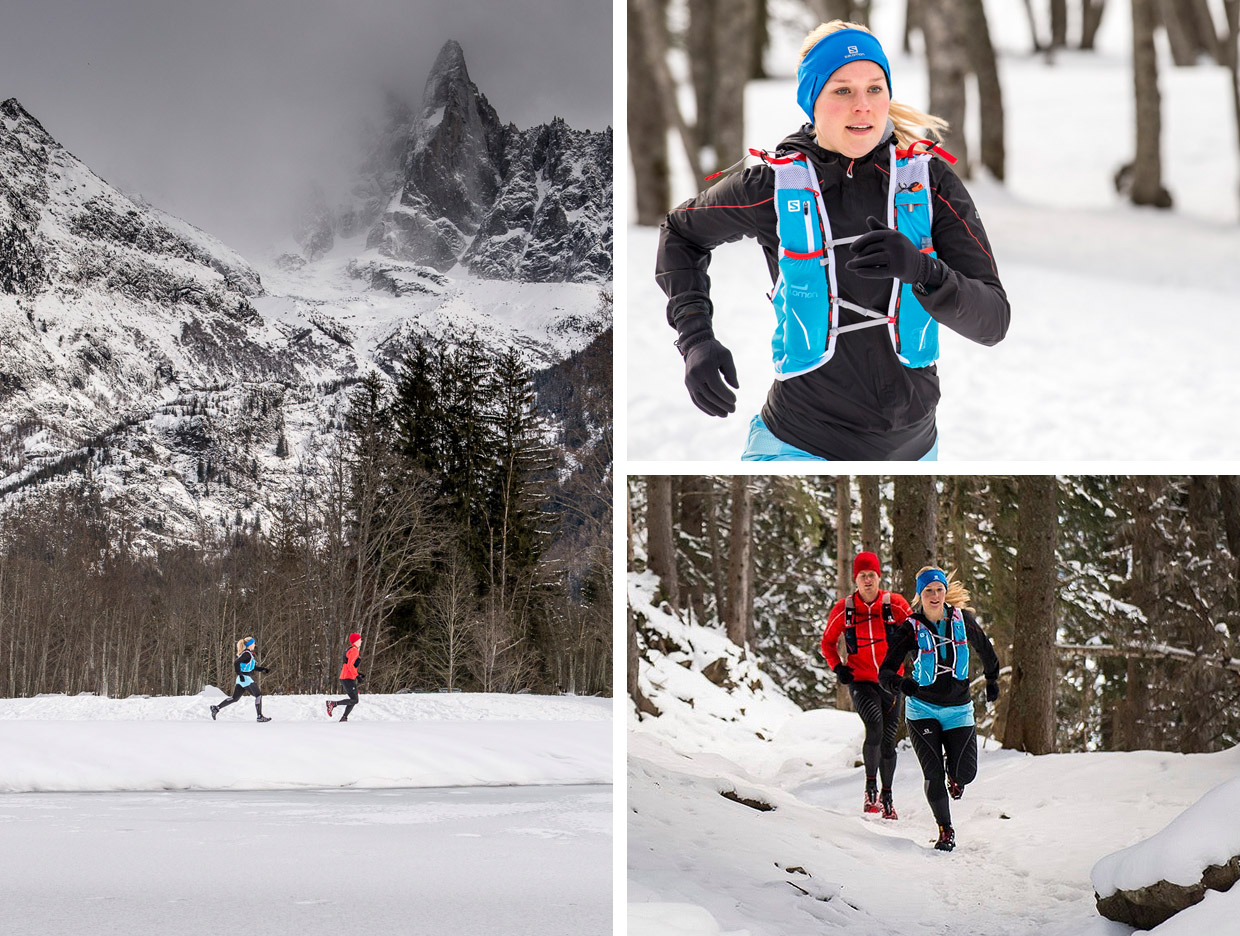 There's no doubt about it, running here is inspiring. The views are worth waking up early and climbing to the top of the mountain for. I know how lucky I am to live here and have this adventure playground on my doorstep and I want to make the most of it. When I wake up and have that moment of doubt about whether I should get up and leave my cosy bed, I look outside my window and see the stars glistening against the dark sky and the outline of the Mont Blanc Massif glowing in the light of the moon. I know it will be a bright and beautiful morning. The thought of the sunrise, of what it will look like when I'm up high, of how I'll feel when I get to the top of the mountain having run uphill for an hour, that's enough to get me out of bed and running through the streets of Chamonix towards my trail.
If I'm lucky, Charley comes with me and I use his speed and strength to push myself further. Sharing this sport, these mountains that we now call home and challenging ourselves together gives us so much both individually and as a couple.
Kilian Jornet, possibly the most incredible endurance athlete to grace this planet, has been a great inspiration to Charley and me. He is making his way through the seven summits to climb them in the fastest known times. With Kilimanjaro, Denali, Aconcagua under his belt and Mount Everest on the cards this spring, he's shattering records like you wouldn't believe. Except, he's not climbing these mountains, he's running up them.
Since moving to Chamonix last summer I started running in the mountains. I have begun to experience the world Kilian lives in and the sport he loves so much. I see the mountains every morning from my bedroom window. I look at them with wonder and admiration. I feel them beckon me, calling me to explore them, to rise to the challenge and test myself against nature. I have fallen in love with running and the affect it has on my day to day outlook. Perhaps I'm beginning to understand what Kilian means by the title of his book 'Run or Die'.
Running has now become part of my everyday life. It feeds my soul and inspires me to grow as a person. I can't imagine life without it.
Sophie Radcliffe, 29, is an adventure athlete living in Chamonix with her husband Charley. She's cycled from London to Paris in 24 hours, climbed Mont Blanc, is a two times Ironman finisher, run from London to Brighton and recently completed the world's first Alpine Coast to Coast by cycling the Alps and climbing their highest mountains in 32 days. She believes that through challenging ourselves we develop the confidence, resilience and drive to achieve extraordinary things across all areas of life.
Website: ChallengeSophie.com | Twitter | Facebook | Instagram
Daniel Wildey is a lover of adventure and wants to tell the world. His photography and writing reflect a passion for inspiring others to head to the hills.
Website: danielwildeyphotography.com/ | Twitter | Facebook | Instagram
---
Produced in partnership with Salomon Running.