Desert Heat and Mountain Storms
Story & Recipes by Kieran Creevy // Photography by Lisa Paarvio
Motes of ochre and gold cover our shoes. Grains of sand, millennia old and shaped by wind and water, feel as insubstantial as flour or dust, yet all around us we see towers and walls, hundreds of feet tall, sculpted into wondrous forms from these same grains. 1,000km to the north, the Pyrenees are locked deep into winter mode, ski tourers and mountaineers playing on frozen faces and in deep powder, while here, in Andalusia, we're bathed in bright light, desert heat, and cricket chirps.
By midday, the heat is starting to affect our dog Whip, and we've gone through our water much more quickly than anticipated, so we head down an offshoot track in search of a water source marked by a signpost. Unfortunately, when we get to the spring we're out of luck – the water is completely gone, leaving only a small puddle of mud and some resident frogs.
Backtracking uphill, we scan our Komoot maps, looking for accessible water.
With the nearest source over 20km away, Carlos offers to hike back to our car, refill our water jugs, and rendezvous with us further down the trail.
The geology of the terrain is constantly shifting, and suddenly a reflection of light catches the attention of Amaia and Lisa – they're off, eyes intently scanning the ground for tiny shards of fossils. We are humbled by their countless forms, shapes, colours, and their prehistoric origins, serving as a reminder that we are but brief specks on the ribbon of this planet's history. We take only photos of the fossils we find, leaving them in the environment where they belong.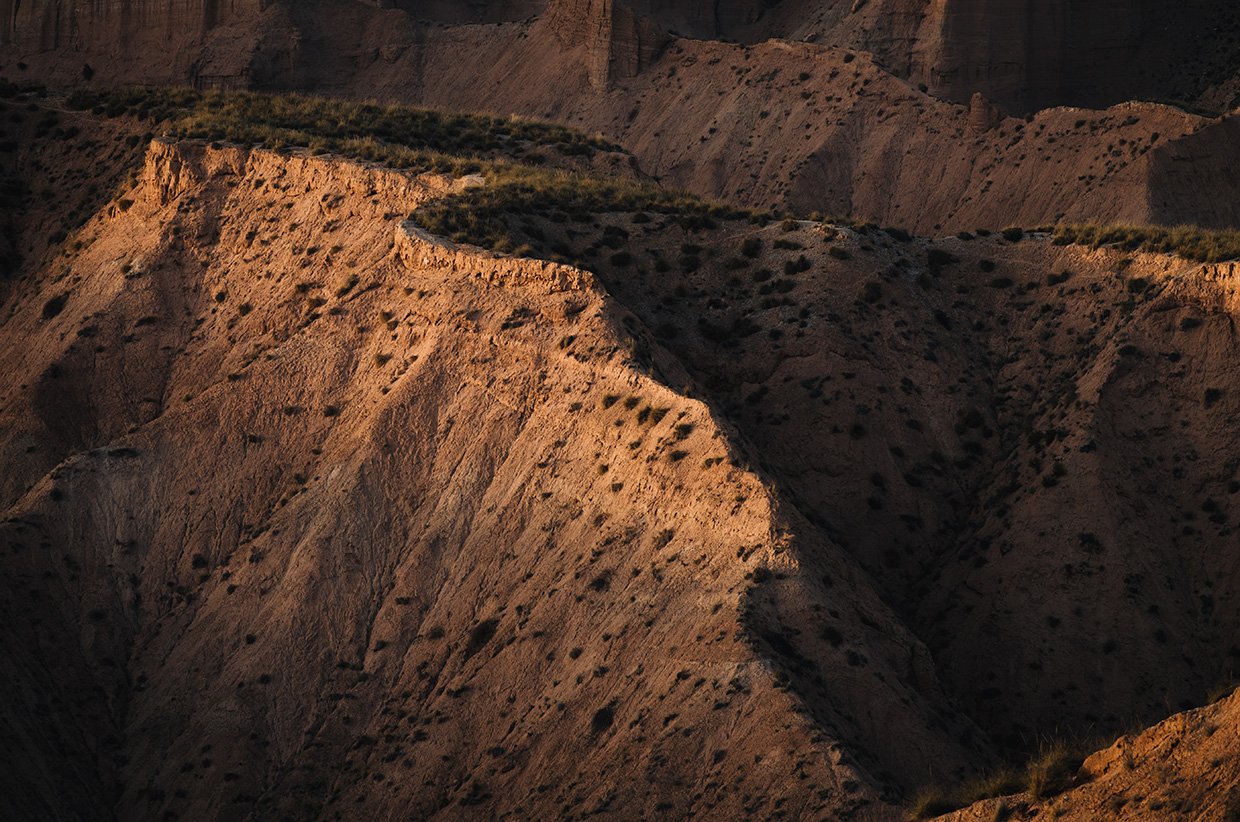 As the sun starts to lower in the sky, we make plans for a sunset dinner, hoping for clear skies filled with a billion points of light. Cresting a ridge, we keep our eyes peeled for flat open spaces where we can cook on our small camping stove. As if by magic, around the next corner we find our friend Carlos standing next to an open car boot with jugs of cold, clear water. Humans and dog alike suck down water until our bellies are full again. Carlos further impresses the team with a generous Spanish spread of fresh breads, cured meats, local cheese, and olives, all from a nearby market. His wide grin shows he knows he's scored major brownie points with everyone, Whip included.
The next morning we're on the move later than expected, the early morning chill making movement slow, and in an hour, we enter the ominous-sounding Badlands. Deep gorges, steep terrain, switchback curves and almost endless arroyo offshoots paint an intricate scene, reminiscent of the old Spaghetti Western film genre of the 70s.
We finish the trail already looking forward to tomorrow's destination: for hours of our trek in the Gorafe desert, the imposing bulk of Cerro Jabalcon was on the horizon. A solitary monolith, standing proud of the surrounding desert, its grandeur called to us.
After the desert heat and light, the green hues and thick forests feel like a balm. I'm hiking solo today in dappled light, the scent of pine, rosemary, and wild thyme rising with the morning warmth. I'm lost in thought until the silence is broken by Spanish cheers coming from above. Hundreds of sport and trad routes stud the south face of the Cerro Jabalcón, and I look up to view some climbing teams on the banded walls and fins of limestone.
I need to get moving to meet my friends on the summit, and I push hard in a race against the impending storm gathering overhead. Without warning, loose rock underfoot gives way, wrenching my knee sideways. The pain is immediate: waves radiating outwards. I'm out of action. I message my friends above to let them know what's happened. They've already laid out a perfect mountain bivvy spot, but I know I can't make it. By the time I reach the car, they've also given in to the storm, now building in intensity, and they make a fast descent to join me.
Packs, people, and dog loaded, we need to quickly find shelter for the night. We had spotted a complex of whitewashed cave houses for rent the previous day, so, trusting in faith and karma, we give them a call. We're flat out on couches 30 minutes later, wood-fired pizzas and beers in hand, and I'm not sure if we'll make it the 20m to our respective beds. We drop into sleep as though poleaxed.
Morning comes; the sky is swept clean. Time to get the stove fired up.
Goats cheese and smoked paprika grits with pan fried leek, jamon and roast hazelnut.
Ingredients:
500ml water
200-300g fine polenta (depending on how thick you want the dish)
2 tsp salt
2 tsp fresh pepper, ground
2 tsp smoked paprika
1 large leek, chopped
1 jalapeño, finely chopped
1 cup shredded cheese or mix of cheeses
1 tbsp ghee
4 slices Spanish jamon
2 tbsp chopped toasted hazelnuts
Zest 1/2 orange, finely sliced.
Method
Bring water to the boil, reduce to simmer.
Gently pour in the polenta, stirring well to remove lumps.
Add spices, jalapeño and cook until consistency of thin porridge – it will thicken up at the next step.
Add ghee, cheese and mix well.
In a pan, gently fry the leek, orange zest and jamon, mix together.
Spoon the polenta onto plates, top with the leek, orange and jamon mix, top with crushed hazelnuts.
---
Andalusian dried red pepper, tomato and onion stew with fresh flatbread.
Ingredients: serves 4
350g tin chopped tomatoes, or 4 ripe tomatoes, chopped.
2 tsp dried smoked red pepper paste, available in many Spanish supermarkets
1 red pepper, finely diced
1 white onion, finely diced
1 tbsp olive oil
1 tsp cumin powder
1 tsp chili powder
Sea salt
Fresh flatbread to serve
Method:
In a skillet, heat the olive oil.
Add the onion, red pepper paste, spices and a little sea salt and cook until the onion is soft.
Add the diced peppers, cook until soft.
Add the chopped or ripe tomatoes, cook until the mixture starts to thicken.
Taste and season if necessary.
Serve with some fresh flatbread.
---
VIEW THE ROUTE