An Unbreakable Bond
Inspiration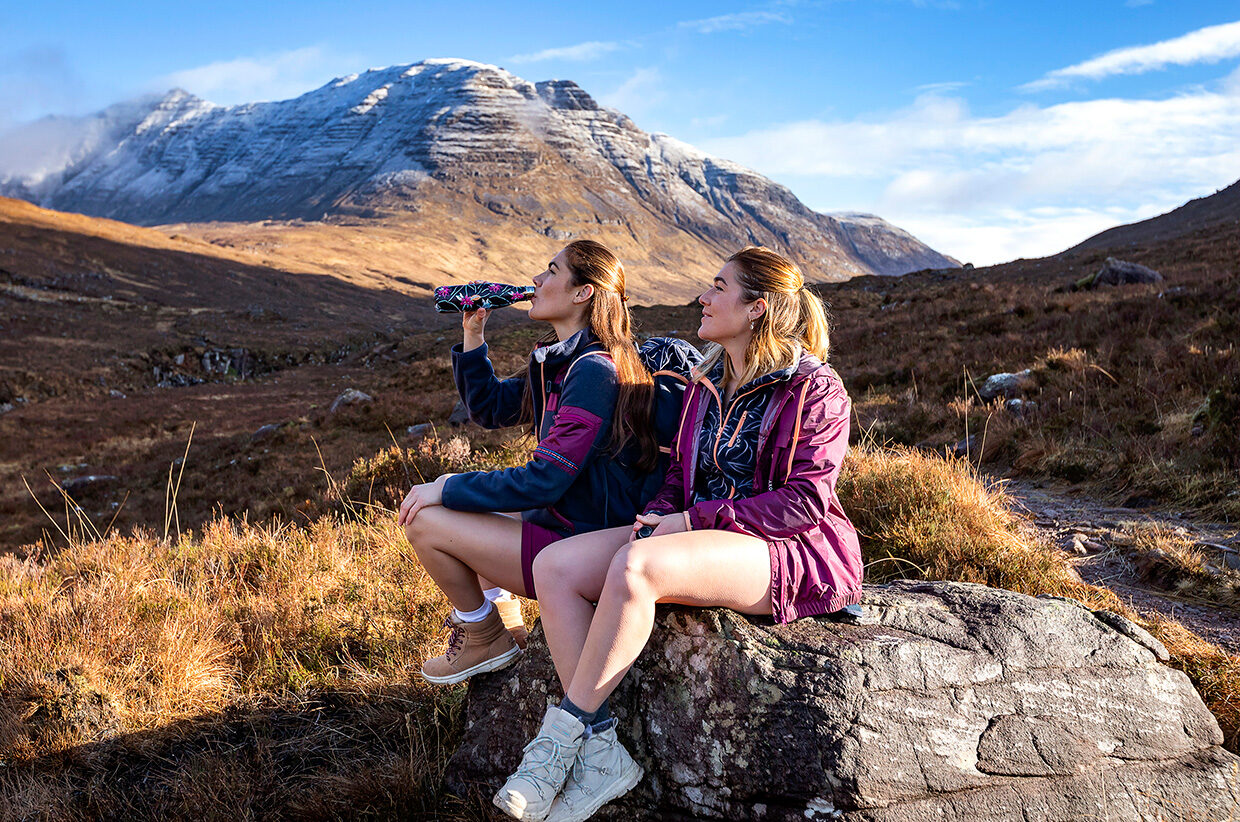 An interview with Annika and Jessica Horn
Written by Harriet Osborne // Photography by Rachel Keenan
Produced in partnership with ROXY
ROXY ambassadors Annika and Jessica Horn are sisters bound by adventure. Daughters of Mike Horn, one of the world's greatest modern-day explorers, they have made it their life's mission to seek out the undiscovered in all corners of the globe. We chat to them about their unbreakable bond, mental resilience, and fearless approach to life in the outdoors.
---
It's early March and we're taking shelter in a bothy on the north-west coast of Scotland. Sisters Annika and Jessica Horn are warming their hands around hot cups of tea, their feet resting on a stone ledge by the fire. The rain is hammering the windows overlooking Loch Torridon at the foot of Beinn Alligin, a mountain wall reaching up into the cloud.
We're here with women's lifestyle brand ROXY, in support of the new Active Explorer collection, to experience everything this area has to offer: explore mountain ranges, swim in lochs, and sample the local produce from the region. 'We recently found out that our ancestors are Scottish. So being here feels like we are retracing parts of our history,' Annika says. 'It's helping us to answer the endless questions of "who am I?" and "what is my purpose on this planet?"'
As daughters to South African-born Mike Horn, one of the world's greatest modern-day explorers, Annika and Jessica feel that their life purpose has been shaped by adventure. 'Hiking and exploring the outdoors started for us when we were very young in Switzerland,' Annika recalls. 'Our dad taught us everything he knows – from reading maps and using compasses to the equipment we would need for adventures in the mountains. When we would get to the summit, he would usually find us a safe place to shelter. Those are probably some of our fondest childhood memories.'
Years of exploration have made them natural storytellers. They studied media and communications at university, and in 2019 they co-founded Horn Media, an adventure-inspired media company delivering branded content, digital campaigns, and documentary production. 'Our dad would always tell us we can make anything happen. We just have to dream it,' Annika explains. 'This philosophy has made us fearless in the face of any challenge, and I will remember it for the rest of my life.'
One of their lifelong dreams was to become ambassadors for Roxy. 'We used to have posters of the surfers and snowboarders on our bedroom walls. We would always strive to be like those women one day – they were so fearless and strong. We couldn't believe it when they asked us to join their family.'
Now they can bring their own beliefs to the brand and inspire a new generation of young fearless women. 'We only have 30,000 days in this world, so we have to make every moment count,' Jessica says.
Every adventure starts with mental preparation. Annika explains, 'Often we need to overcome mental barriers to take on a physical challenge. It's a positive cycle. So the more you push yourself, the more you will achieve.' It's a tried-and-tested method they use before wild swimming. 'You have to be calm and relaxed before getting into cold water,' Jessica says. 'It's all about that mental preparation and telling yourself that you can do it. Accepting the cold water against your skin is the toughest part. But once you reach that meditative state, it makes you feel alive.'
Over the years, Annika and Jessica have learned to be humble in the face of nature and respectful to the elements, whatever the weather – a helpful skill when faced with all four seasons in one day. 'We've had rain, we've had wind, we've had sun. But that's the best part of nature – it's so unexpected,' Annika says. 'Nature does what it wants, and we have to learn how to respect it and adapt to any situation. You have to take your time and listen to everything happening around you.'
What has it been like to have these experiences with your sister by your side? 'Oh, that's a sweet question,' Annika says. 'It's one of life's best gifts. Sharing experiences with someone who understands you makes everything so much more special. Exploring as a duo also feeds into the other person's energy. So whenever one person is feeling cold or tired or down, they can count on the other to lift them up again.' Jessica adds, 'We don't even have to explain it to each other. We just look at each other and know what we're living.'
---