Crossing Australia: Sophie Matterson and her five camels
From The Field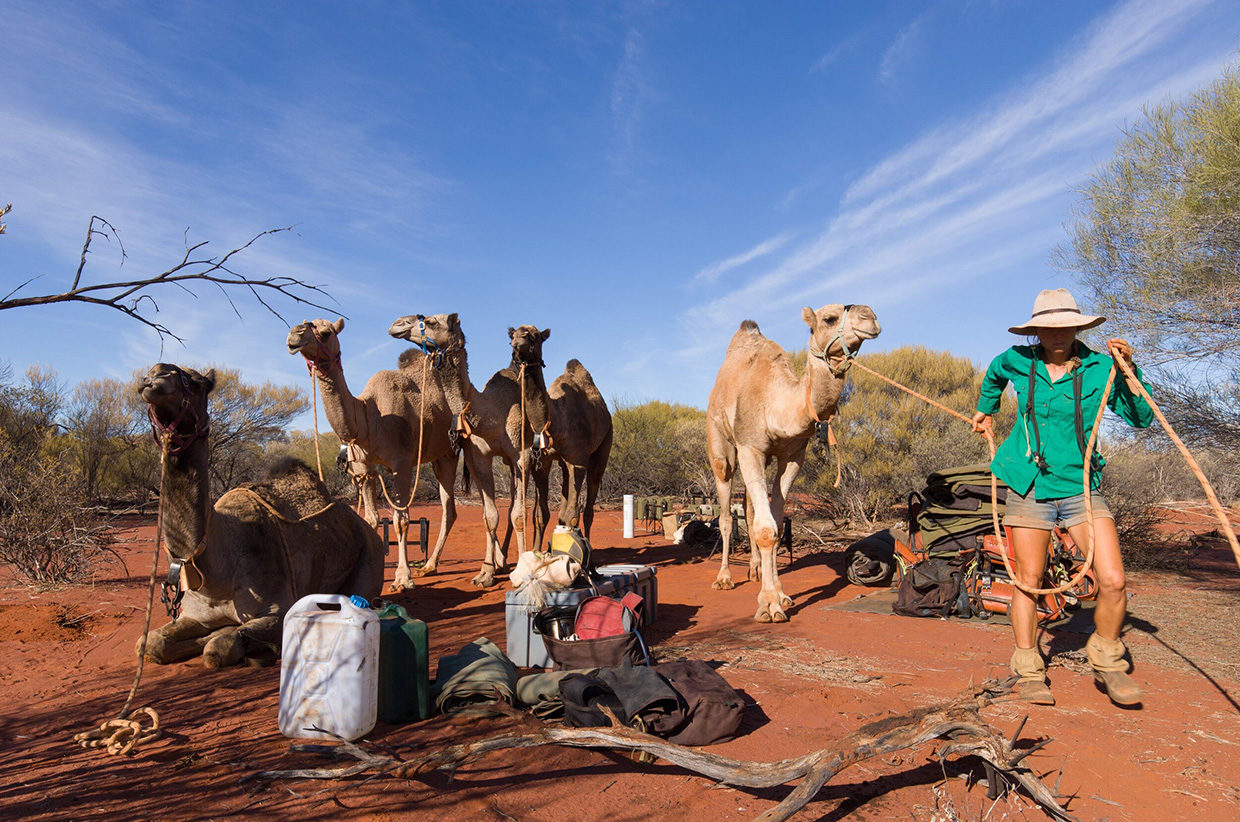 Written by Rory Langdon-Down // Photography by Sophie Matterson
At 300km in to her 4,000km trans-Australian trek, Sophie Matterson is realising the magnitude of the journey ahead. From Wooleenstation, a small farmstead in Western Australia where we speak for the first time since she left the shore of the Indian Ocean with her five camels, I congratulate Sophie on her first month's progress. 'Look at a map of Australia, Rory!' she replies, and when I do I realise what she already knows – at this pace, her planned nine-month trek may already be running behind schedule.
But for someone with both an adventurer's positive disposition and an Aussie's easy-going attitude, Sophie brushes off these numbers with a laugh and explains that both she and her camels are still getting used to their new routines, and that things will pick up.
Upon completing the journey, Sophie will be the first female with a camel herd to cross the full width of Australia. In total, the accolade of walking across or circumnavigating Australia has been completed by fewer than 50 people, including just six women. Like most solo adventurers, the 'why' is hard to answer and often isn't answered until after the journey is complete, if at all. Nonetheless I ask Sophie how she ended up standing in the shallows of the Indian Ocean with five wild camels – who had never seen the sea before – and the width of Australia beckoning in front of them.
'I simply fell in love with camels as animals and the romance of exploring remote places in a way that is part of a bygone era. With the busyness of our lives, a deeper connection to nature is something I believe many of us have lost. Connection to the land and country is something I hope to gain from this trip.'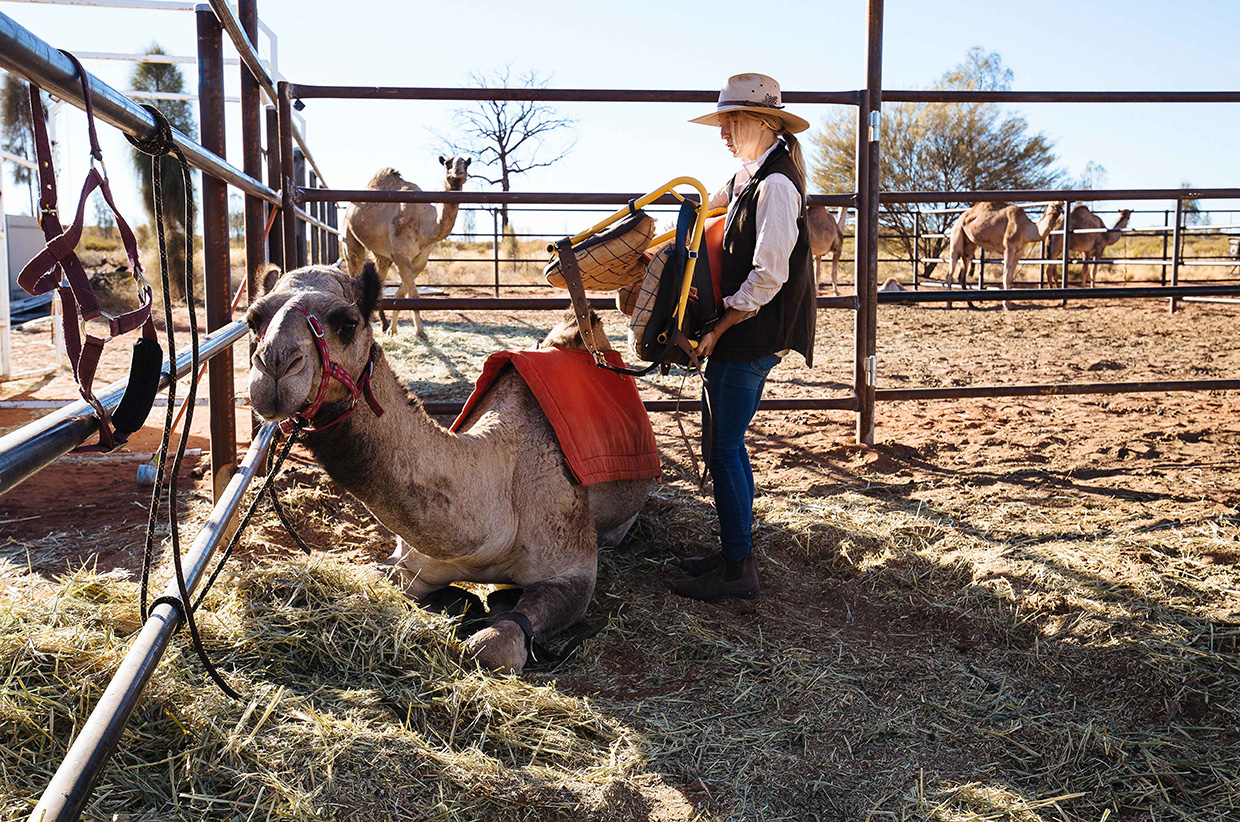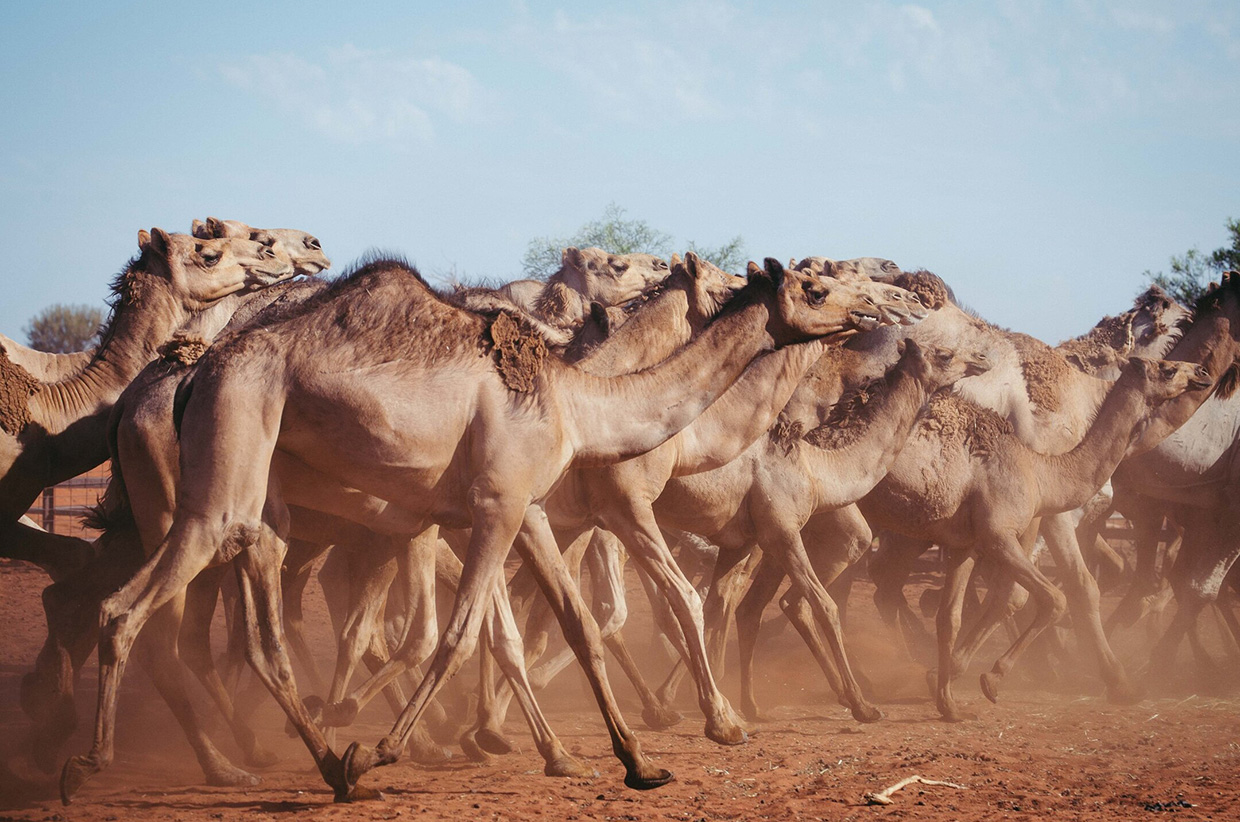 After moving away from a career as a photographer and filmmaker four years ago, Sophie found herself working on a camel farm in Uluru, Central Australia. She became a skilled cameleer, learning crafts such as saddle-making and forging hobbles. These are metal cuff-like braces that can be placed on the camel's legs to stop them wandering too far – a vital piece of equipment when camping alone with five camels in the wild. Inspired by Robyn Davidson – who completed a similar journey with four camels in the '70s, covering half of Australia – and with her own ambitions to take on a challenge alongside the animals she loves, Sophie outlined her plans two years ago.
'I think my friends and family didn't believe that I'd do it at first, which is fair enough as I've had that many hair-brained ideas that I've not followed through on!' Sophie told me when we spoke before she set off in March. 'I feel as if some of the reasons for the trip will only become apparent as I begin to walk.'
Now, one month in, she's already beginning to answer those questions. With her five camels, Delilah, Jude, Macauley, Charlie, and Clayton, which she mustered from the wild only a year ago, they've only been averaging 10km a day. Sophie and her gang are still getting accustomed to carrying heavy packs, walking and sleeping in new surroundings. Temperatures hitting 40°C by 10.00am and not cooling off until sundown means they have to start walking early in the morning to get some distance under them before having to take shade during the mid-day heat. On top of this, the camels' feed has been sparse so far, which means they're low on energy, but Sophie expects that to pick up as they move on.
Sophie and her herd have already overcome their first wild encounter. Two emus followed them, antagonising and spooking the camels one day. Quickly, Sophie put into action her safety measures of calming and restraining the camels with their hobbles. While emus aren't necessarily a direct threat, Sophie carries a gun and is trained and prepared to use it to protect herself and her camels should they encounter any more serious problems. The biggest danger they'll encounter is not snakes and spiders, which she's often asked about, but other camels. 'Wild camels can fight to the death, and when you are in a remote area your camels are your lifeline, so I must protect my herd. From talking to others that have done a camel trek such as mine it is not a matter of if I will have to shoot a wild camel, it's when.'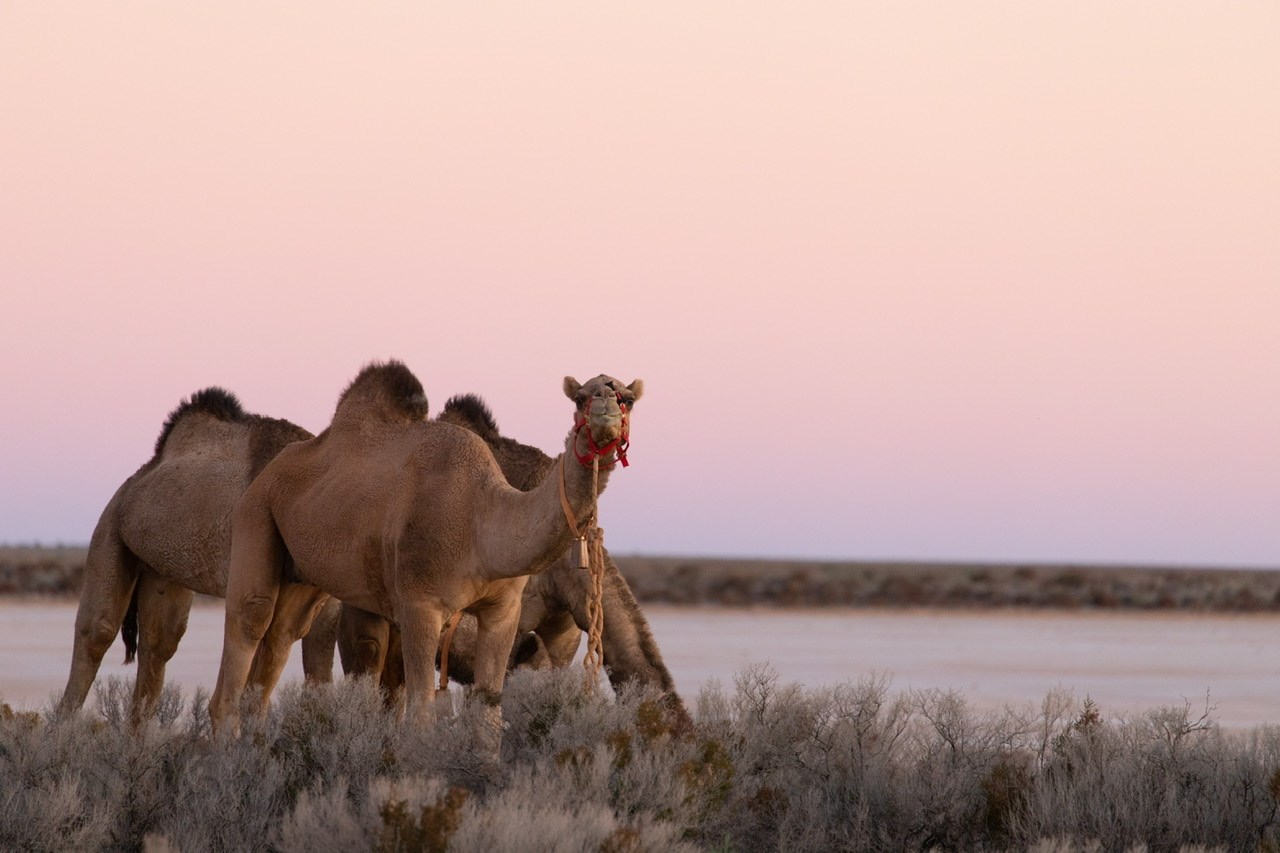 The relief that comes from putting months of preparation behind you as you hit the road and tick off the first kilometres is a welcome feeling, Sophie says. 'It's quite relaxing in a way: you can't do anything more to prepare, so you just have to be ready.' Taking things slowly on the road and focusing on the important tasks at hand, like keeping the herd moving and finding good camps each night, has enabled Sophie to take in the beauty of her surroundings and changing scenery each day – even when the camels have been misbehaving or they're low on feed.
Rewarding moments on the road punctuate the monotony of tinned tuna meals and the fatigue from having to keep herself motivated when things are tough. Sophie's even enjoying sleeping amongst the camels at night and listening to their burps and farts, which she tells me she loves ¬– it keeps her smiling. One morning she woke to find that during the night the camels had broken into one of her food boxes and eaten her apples, leaving Sophie with the kind of amused anger parents feel. 'Someone had also tried an onion, but that didn't go down quite so well.' There's no doubt that her ability to see the humour in these situations will help her reach the end.
Isolation and routine are two things that many people around the world are dealing with during the coronavirus pandemic, and although on the road she is largely unaffected by the global situation, they are two of the largest obstacles in Sophie's way, too. With the first month complete, and Sophie and her five camels getting used to each other and their journey, their small crew will become more tight knit and fluid when it comes to the difficult times ahead. Desert dunes beckon for a lot of Central Australia, which will make the miles harder – and with Australia's severe drought impacting the feed for the camels, Sophie will have to be a strong and determined leader. She may be only 300km in and with over 3,700km to go, but with her unwavering determination and ability to ride out even the most stressful situations with a smile, there's no doubt that Sophie and her camels have everything they'll need to complete their journey.
---