Jasmin Paris Completes the Barkley Marathons Fun Run
Events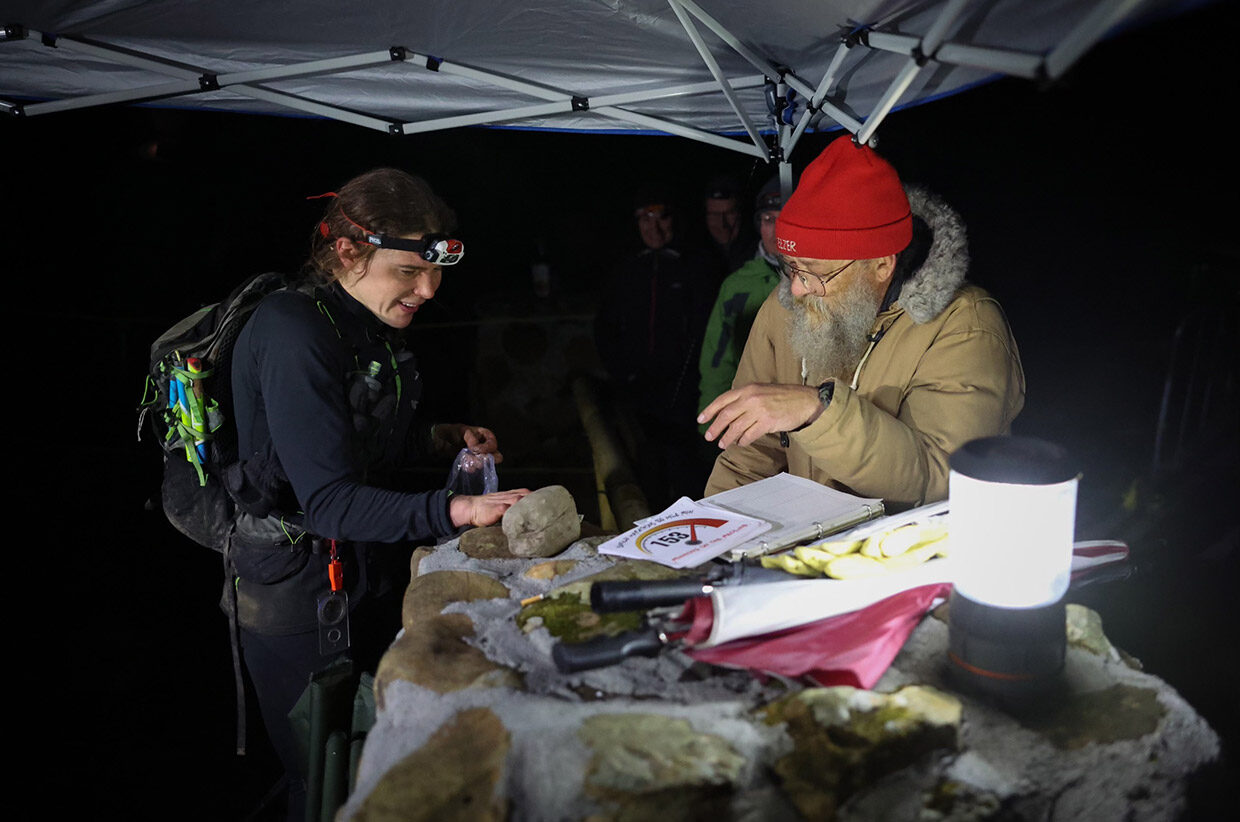 Written by Jenny Tough // Photography by Howie Stern
Once again no runners complete the infamous Barkley Marathons, but inov-8 athlete Jasmin Paris becomes the first woman to complete the Fun Run in nine years.
---
The Barkley Marathons has become one of the most infamous ultra-races in the world, largely thanks to its charismatic race director, who featured in the 2014 Netflix documentary The Barkley Marathons: The Race That Eats Its Young. Consisting of five laps that are loosely considered marathons in Frozen Head State Park, Tennessee, the course involves gruelling forest navigation and temperamental March weather. The race frequently closes the course each year with the announcement that 'once again, the Barkley won', meaning that no runner managed to complete five laps.
This year, British ultrarunner Jasmin Paris took on her first attempt at the Barkley Marathons, and recorded an impressive debut with a Fun Run finish, meaning that the inov-8 athlete completed three full laps – a distance of approximately 60 miles inside 40 hours. She was the last woman standing, completing her Fun Run with just 10 minutes to spare before the cutoff, but unfortunately already outside of the cutoff start time for a fourth lap so had to hear the bugler play. Sidetracked magazine caught up with Jasmin shortly after she returned home to Scotland.
---
Sidetracked: The entry process to the Barkley is kept as a mystery (you cannot simply sign up on a website), and a lot of the ultra world was wondering when you might show up on the start line. When did you decide this would be your next race?
Jasmin Paris: I decided at some point last summer. Of course, I had known about this race for a long time, and after 2019 [when Jasmin won the Spine Race] a lot of people started asking me when I would do it. It's an odd race for me, and didn't initially tempt me. I need to be stoked about something in order to do it, and eventually I started to feel that way about Barkley.
I think what's ultimately attractive about this race is that it's almost impossible – it's not entirely guaranteed to be impossible, it's just highly likely. That's really exciting for an athlete. You know you'll be pushing yourself to the limit of what's possible.
From what we've seen in photos, films, and read in race reports, it seems like a fairly grim experience – especially when, by contrast, so many races on the ultra calendar take in beautiful natural areas. How did you find the course?
The forest is actually beautiful, and parts of my first loop were totally type-one fun when I was running in the sunshine through the woods. But after that first lap it was definitely type-two fun. Hauling myself up and then falling down the same slopes again and again in this forest, you really start to miss the incredible trails that other races have. But that is part of the appeal – it's absolutely wild, you are immersed in the woods, and it's a real challenge.
To navigate the course you need to hang on to your map and compass, and that gets really difficult when it's pouring rain, dark, and cold. We even had heavy fog for a few hours and couldn't see a thing. Running alone in the dark, the woods can be a really intimidating place. I made some significant navigational errors and covered a lot more ground than I needed to.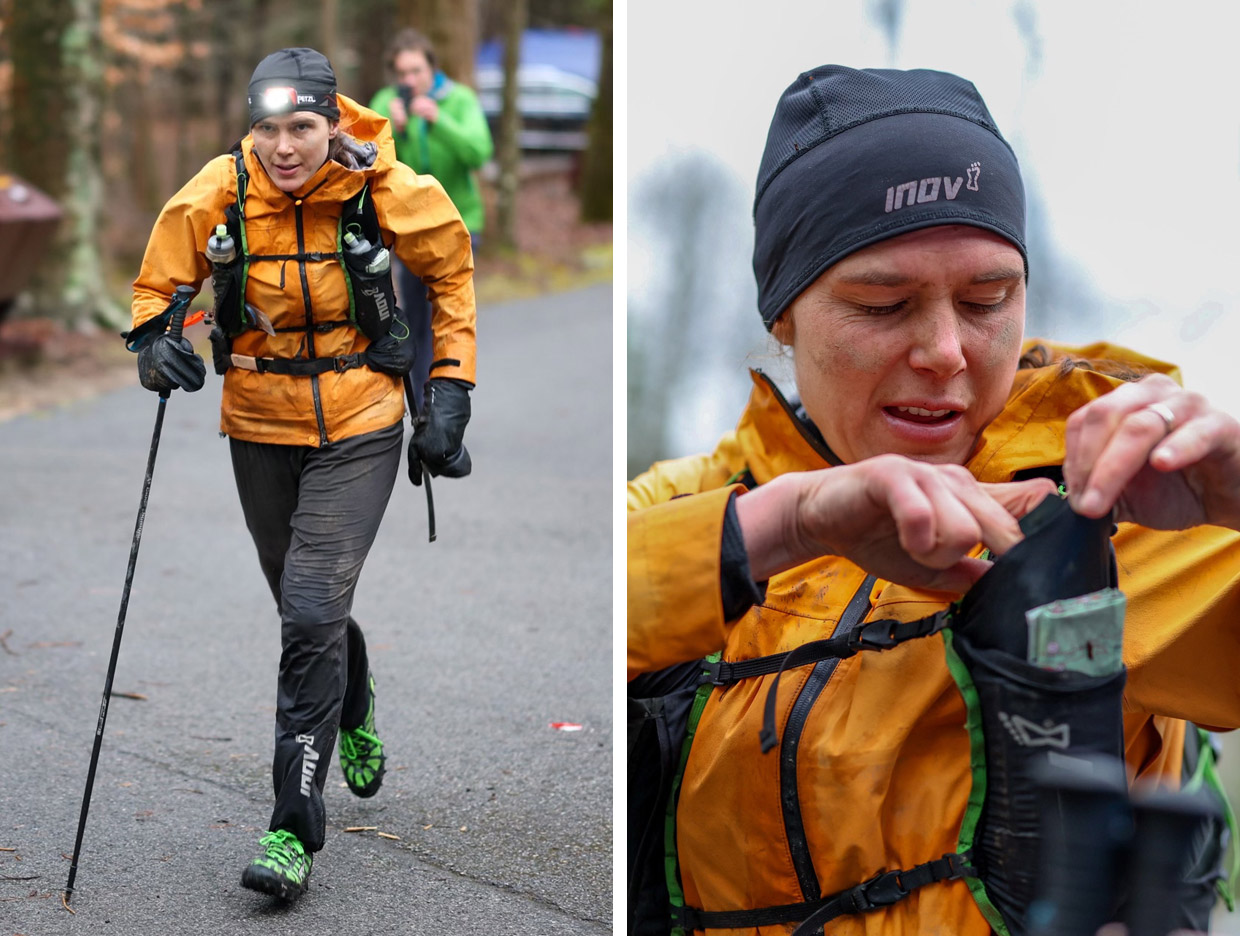 What was your strategy going into the race?
I went there determined to give it everything I had, and I know I did that so I'm happy with my result. Other than that, my only real strategy was to not go out too hard on the first lap. We all knew that the forecast was for rain and that it would get cold, so I carried a lot of spare layers. I think a lot of people run into trouble on this race due to going too light with their clothing, so I accepted the extra pack weight in order to be OK at night, and that worked well for me when the weather got really bad. There are a lot of parts when you're moving really slowly, like looking for a book (the checkpoints – where racers tear out an assigned page of a book to prove their completion), navigating, or moving through the woods. You can get really cold in those parts if you're not dressed well. After that, the race is really about getting your head down and getting to work, and sticking with it.
Were there any surprises in the event for you?
I guess there was a really pleasant surprise in the Barkley family that you instantly become part of. Running with other people was great, and at the end of the event a bunch of us went out for pizza, swapping stories from the event. I generally think that runners are good people to hang out with, but the shared experience of having attempted a Barkley felt like a unique and immediate bond between all of us there, and I feel like I want to go back just to see the other racers again.
So, will you go back, then?
It's too soon to say for certain, but I think so, yeah.
---