Journey of an Ultra-Endurance Cyclist
Inspiration
An interview with Lael Wilcox
Written by Harriet Osborne // Photography by Rugile Kaladyte
In partnership with komoot
Born and raised in Anchorage, Alaska, Lael Wilcox is a record-breaking bike racer, best known for winning the 4,200-mile Trans Am Bike Race in 2016 and setting the women's world record time for the 2,750-mile Tour Divide in 2015. Now, as she focuses her efforts on getting more women into the sport, she reflects on her journey to becoming the best female ultra-endurance cyclist in the world.
---
Lael Wilcox has been breaking down barriers in ultra-endurance bike racing since she was 20 years old. After rupturing her Achilles during a 14-hour shift at a restaurant in her home town of Anchorage, Alaska, she borrowed her mum's road bike to take the pressure off her feet. 'I realised that if I could ride to work, I could ride across the city, and if I could ride across the city, I could ride across the country. So that's what I did.'
Two months later, Lael cycled 3,000km from Montreal to Florida, covering up to 100km a day and camping in public parks. 'I didn't have much money, so I was trying to live as cheaply as possible – eating rice, beans, and ramen noodles.' When Lael got to Florida after two months on the road, she had spent everything she had saved. So she got two jobs, as a cycle taxi driver and a waitress, to save enough money to travel again. 'I continued living like that for the next seven years: saving money, living really cheaply, and then going on bike trips.'
From 2008 to 2015 she cycled 100,000 miles across 45 countries through Africa, the Middle East, and North America. In 2015 she spent three months bikepacking in Israel, which inspired her to sign up to the Holyland MTB Challenge – a self-supported mountain-bike race connecting over 850 miles of singletrack and dirt tracks, from the snowy peak of Mount Hermon in the north to the sun-soaked city of Eilat in the south. Lael entered the race as the only woman against some of the world's best endurance cyclists just to 'see what it was like'.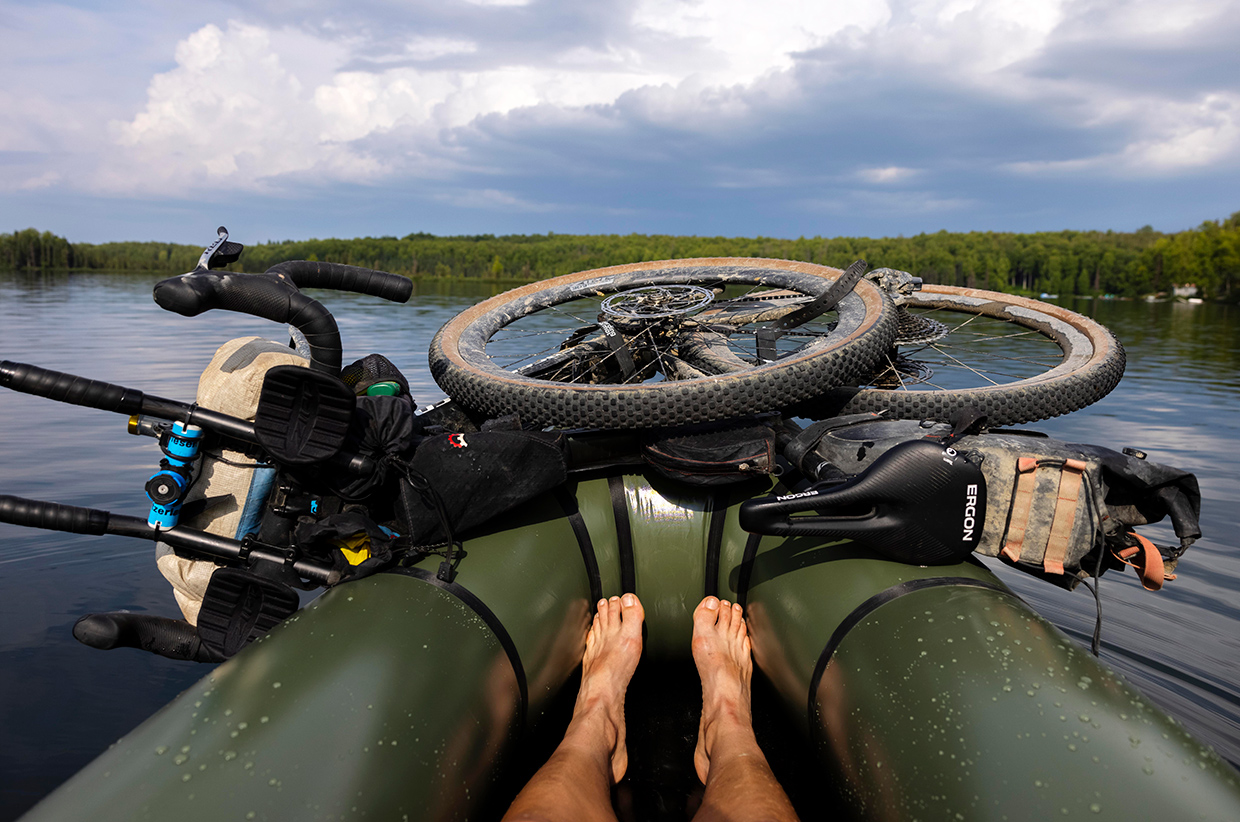 Lael pulled up to the start line on her £300 eight-speed bike with platform pedals, a pair of old running trainers, and a cotton T-shirt. 'They all thought I was a total joke,' she says. But by the end of the first day, she was winning by 40km. 'They couldn't believe it. I just thought, "I'm just going to keep riding."' Lael rode until 3.00am, slept for three hours, and got back on her bike. 'I just had to be efficient with my time and keep moving forward,' she says. Lael cycled until a storm turned the road into clay and she was forced to walk with her bike on her shoulder in the middle of the night. 'I remember thinking, "I need to sleep but there is nowhere to go and so this is my only option". It's racing but it's also survival because it's self-supported – I only have the equipment on my back.' Eventually, she found shelter under a tree on a hillside, pressing her feet into the trunk to stay upright. 'I have these extreme highs and lows while racing but getting to see the sunrise and sunset, and everything in between, is really special. When you are racing and there is a storm, often you have to stay in it. It's hard but it's also exciting to experience it under your own power.'
Although she didn't win the race, world-record-breaking victory was just around the corner. Lael became the first woman, and first American, to win the 4,200-mile Trans Am Bike Race in 2016. She set course records in the Baja Divide route in 2017 and Tour Divide women's time trial in 2015 – despite having to ride herself to the emergency room on day five. 'I have really bad asthma and was struggling to breathe. After having treatment, I continued with the race and broke the women's record by two days. It was super cool, but I couldn't help thinking that if I didn't get sick I could have done it even faster. Everybody has their physical limits and mine is breathing. Often my legs feel fine but I need air in my lungs.'
So what motivates her to do it? 'I just love spending time outside! And I love covering long distances,' she says. 'I used to just do it on foot when I was a runner. But on the bike, you can go so much further – it's so much easier on your body, and it's so much easier to carry equipment. If you're on foot, you experience far more fatigue on your joints and your bones. Every descent is a lot to work with. On the bike, it's fluid. So you can keep going forever.'
Now a sponsored athlete, Lael works with brands like Specialized, Rapha, and komoot, the route-planning app that makes it easy for riders to explore – a perfect partnership for a cyclist who previously relied on paper maps to get around. 'I used to be terrible at navigation – I didn't have a smartphone until 2017! When I started touring, I would just take the most direct route so I didn't get lost. I would stay on the same road for the whole day. You get to the destination that way, but you miss out on so many cool places! Having access to more intricate adventure routes is so much more interesting. Not only for my own adventures but for the racing as well. komoot allows me to do the sport that I do.'
Lael is now using her experiences to help other women to get into the sport. Every year, she organises bicycle adventure programmes for teenage girls and has hosted three international women's scholarships. 'The biggest barrier for women is that they've been doubted so often and for so long. Any time you go out to do something, people say, "Is it safe? Who's taking care of you?" But they wouldn't ask a man that.' Instead, Lael is encouraging women to have their own experiences and share their own stories. 'The more women see that, the more they will see it's a possibility.'
Lael is grateful for the life she lives now. 'It took a lot of hard work to get here,' she says. 'But it's given me mental and physical toughness – especially during races when having to deal with harsh conditions. It's always good to do challenges you're not sure that you can complete. The experience is more memorable that way. The more time I spend on my bike outside, the more ideas I get, and that leads to the next dream. If you hold off on pursuing the first one you miss out on the next. You never know what you're capable of until you try it for yourself.'
---
You can follow Lael's bikepacking adventures on komoot
Komoot lets anyone find, plan and share their adventures. By using the 'Find Your Next Adventure' button on the app or the 'Discover' search on the website, and searching by region or worldwide, it's now easier than ever to find the best bikepacking route Collections. Riders can then bookmark bikepacking route Collections and if needed tailor their individual journeys. To find out more, head to komoot.com
Find Lael Wilcox on Instagram @laelwilcox
Written by Harriet Osborne // @harrietosborne
Photography by Rugile Kaladyte // @rugilekaladyte
Produced in partnership with komoot // komoot.com // @komoot