One Woman Walking The World, From Bottom To Top – Lucy Barnard
From The Field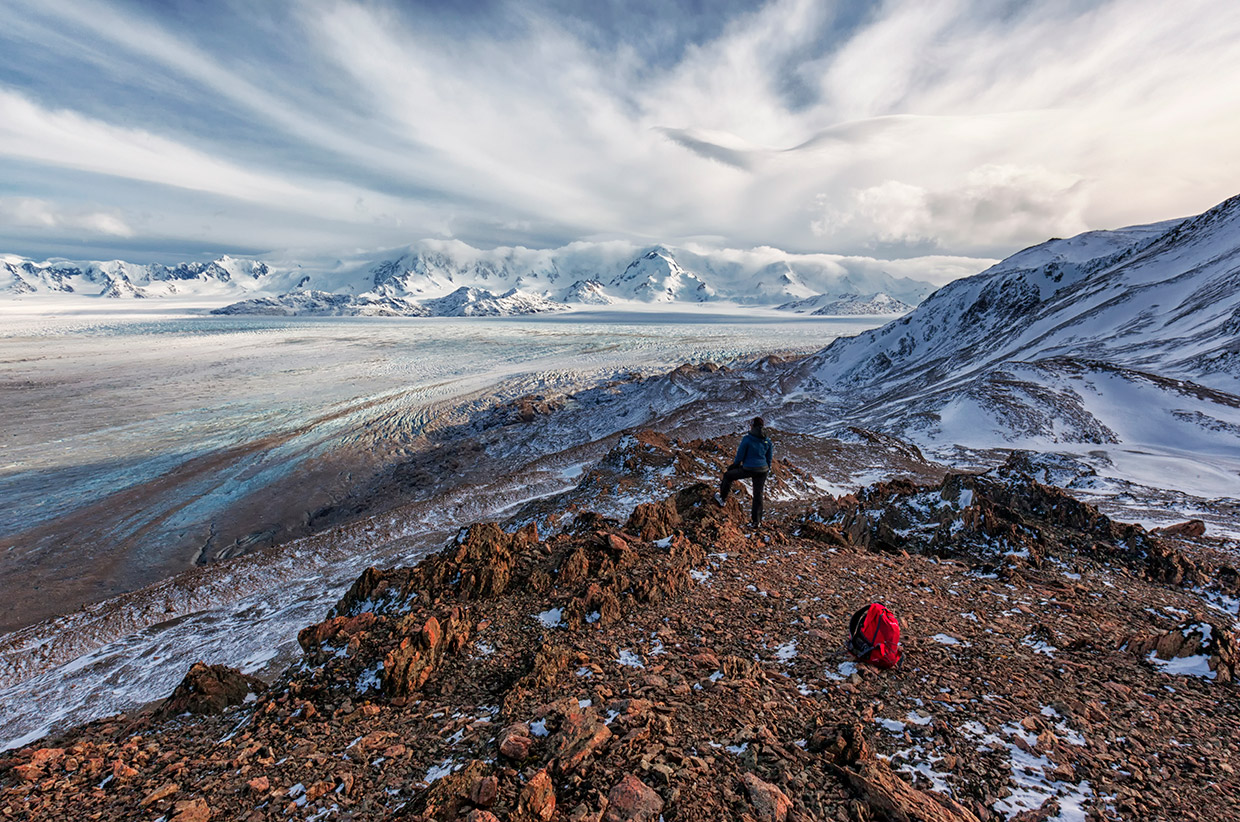 Written by Helen Taylor // Photography by Andrea Torselli & Lucy Barnard
Lucy Barnard strikes me as somewhat invincible. She's not fast, but steady. She's not idealistic, but unfalteringly pragmatic. She's not strong, but relentless. She doesn't plan to scratch her attempt to become the first woman to walk the length of the earth unless she's needed at home, in Australia, to support a close friend who's currently undergoing treatment for breast cancer.
Like the many other women quietly closing the gap between men and women in ultra-endurance challenges – like Jasmine Paris who became the first woman to win the 268-mile Montane Spine Race, and Fiona Kolbinger who in August became the first woman to win the Transcontinental Race – Lucy's no-fuss, level-headed approach to surviving the day-to-day challenges of walking from Ushuaia in Argentina to Barrow in Alaska stands her in good stead to see the attempt through to the end.
When we speak, Lucy and Wombat – Lucy's Australian Blue Heeler canine walking companion – are resting in Sihuas, a town in the Ancash Region of Peru. It's the day after Lucy's 37th birthday, and she's recovering from a nasty bout of water poisoning. 'I had to walk all day to the next town because I had no food left,' she says. 'I vomited a few times on the way.
'It's the secret to why I'm still out here. I don't have any special talents, I've never been a leader in any sport, but what I have is grit, and I can really push through the hard times. It might take me a long time, but I get there.'
Lucy is two and a half years in to her attempt to walk the length of the earth. She began walking on February 19th 2017 and expects to be walking for another three years or so. She can't be sure about her end date, as nothing ever goes to plan on expeditions like hers. On the phone, she tells me she's worn through seven pairs of shoes. On the day I write this story, Lucy has walked 48km, bringing her total distance covered to 7,188km of the 30,000km-long route from the southernmost point of South America to the northern tip of Alaska.
I've been following Lucy's progress via her LIVE tracker, where I can see how far she walks each day, where she's camping, and even the weather conditions she's walking in. Occasionally, Lucy leaves a brief message to her followers. One reads: 'I just want you all to know that today, on my rest day, I walked 5Km back through the #desert in search of lost my mat. Despite gusting wind, I FOUND IT!'
On day 584, I notice that Lucy walked a staggering 57km. On May 23rd this year I see that she wrote: 'WE DID IT! Today we reached 30km before 10am Any later, we have to wait for the sun to fade to finish Now we can setup & enjoy the day (we woke up at 12).'
Whether or not Lucy reaches the northern tip of Alaska, her journey up until this point is seriously impressive, and a testament to her strength of character. If she completes the walk – which was first completed in 1982 by George Meegan, who holds the Guinness record for the longest unbroken march of all time – she'll be the first woman in the world to do so.
So far, Lucy's walked the Argentinean and Chilean legs of the route, including kayaking the Strait of Magellan in southern Chile and walking the Atacama Desert on Chile's Pacific coast. At present, she's in Peru, from where she'll travel to Ecuador, Columbia, Panama, Nicaragua, Honduras, El Salvador, Guatemala, Mexico, the United States, Canada, and Alaska.
She plans to reach Alaska in the summer, but plans never go to plan, as she learned when she arrived in Patagonia during the coldest winter it's had in 20 years. 'I learnt in the first year that I can't scale everything up because if I make a plan it will change,' she says. 'I really just try to live in the moment.'
And living in the moment is the only way to be when you're pitting yourself against the challenges of walking the length of the earth with only a tent, food, clothing, and your dog for company – a scenario which the average person wouldn't dream of voluntarily placing themselves in.
When I ask Lucy how she justifies these hardships to herself, she pauses – she's totally stumped. With some thought, she answers: 'You know, I don't really have that self-talk because I'm so busy surviving. There's never a justification. If the next town is a day away, and I'm drenched, I just think, get to the next town. I never think of the big picture, I just think of these tiny small steps.'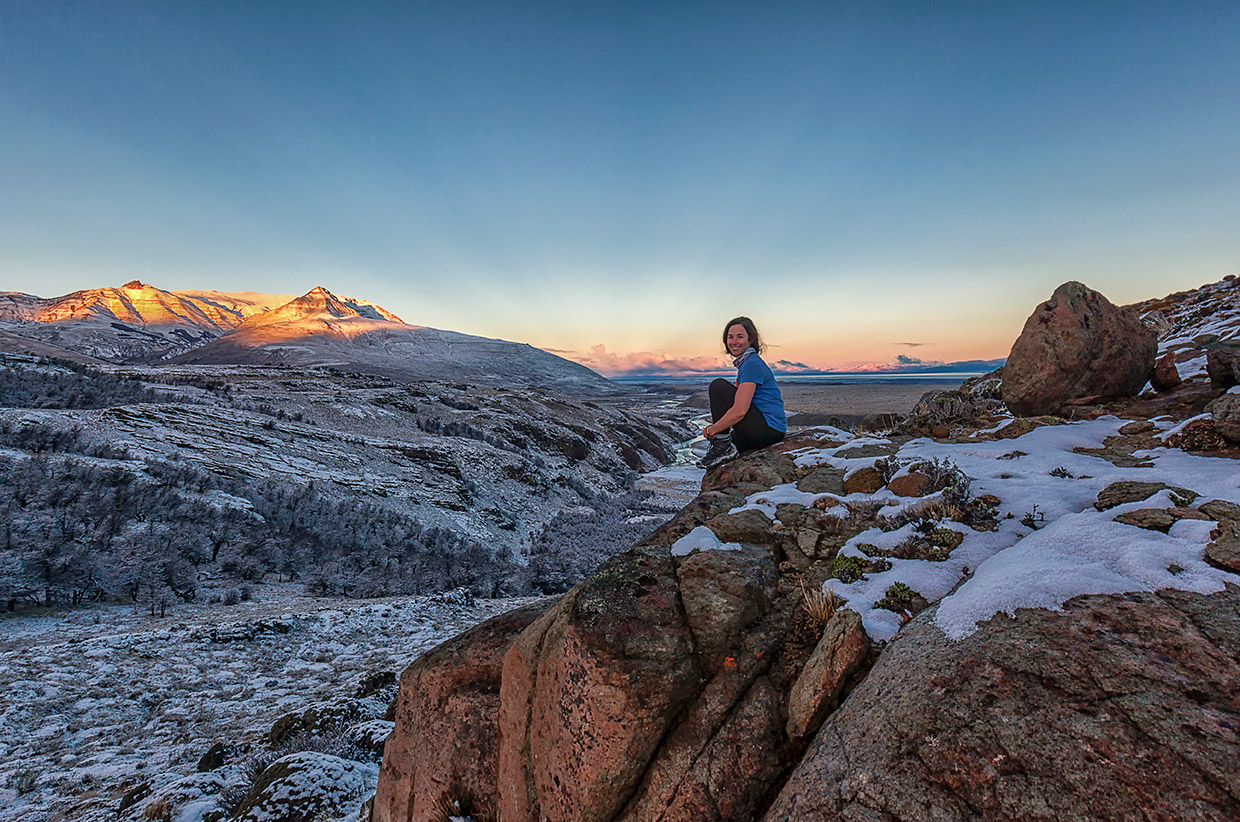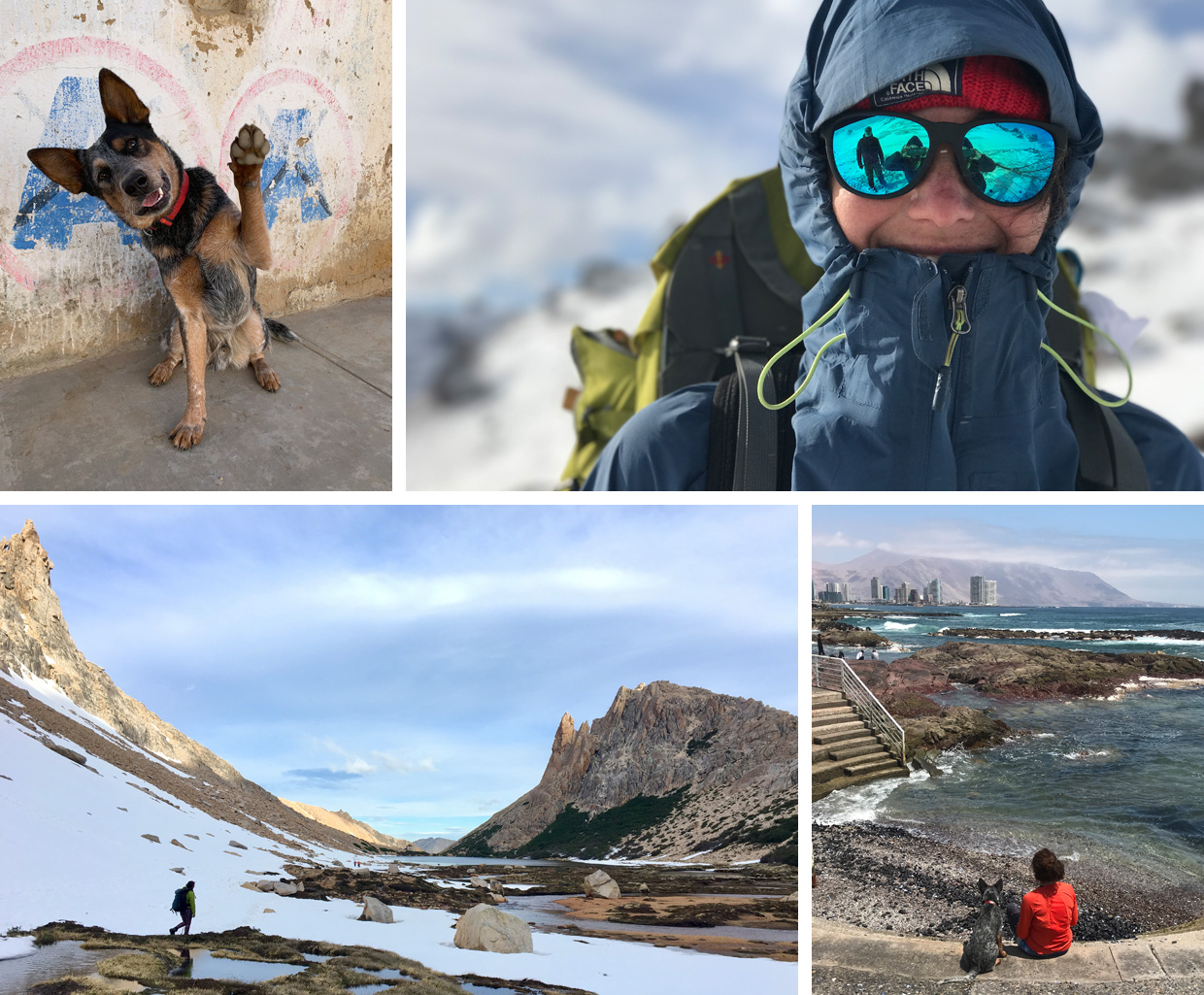 The addition of Wombat in September last year, however, has greatly improved Lucy's expedition. At the mention of his name she immediately livens up, and informs me that he's going through a phase where he'll turn his nose up at certain foods, like apples and carrots, but has developed a taste for watermelons and oranges. He's also an enthusiastic walker, and apparently turns into an 'ratbag' on their days off, when he doesn't get his 30km walk.
Joking aside, Lucy tells me that having something to touch and being able to make eye contact with Wombat has made a huge difference to her enjoyment of the walk. 'He forces me to take more breaks, which is good for my body, and having that responsibility is great for my general well-being.' She also assures me that she'll absolutely take him home to Australia at the end of the expedition, where he'll have to adapt to life as a retired adventure dog.
But a retired life in Australia will likely be an adventurous one for Wombat. Even in her 'normal' life as an account manager at Geoscience Australia – Lucy says this in a funny voice – Lucy would organise a four-day week to go climbing, hiking, or canyoning.
But why leave all that behind? 'I'm really just advocating this old-fashioned Aussie culture of giving things a go, and that you don't have to be anyone extraordinary to do the things that you love, and if you're pursuing the things you love, you're living up to the responsibility of living the life you're so privileged to have,' Lucy says.
And as much as trying to prove that adventures like hers are accessible to the ordinary person, she also wants to show that by committing to doing the things we love, we'll be happy. 'We're taught not to be so self-indulgent, and not to do the things that we really want to be doing, which is crazy,' Lucy exclaims.
Nevertheless, by doing what she loves – travelling, solo, across the world – Lucy has been on the receiving end of many bewildered looks and awkward remarks, she tells me. 'I love it when someone comes up to me and says a solo woman travelling alone isn't safe, because then I get to have a conversation with them and say, you know what, you're right, it's not safe to go out if you're not prepared and you don't know what you're doing, but I'm really glad that you're talking to me about this, because I can tell you what I do that makes it safer for me.'
When we discuss the safety of solo female travellers, Lucy's hard-nosed pragmatism reveals itself again, and rather than denying the risk exists, she explains how she minimises it. 'It's about education,' she says. By never arriving or leaving town at the weekends, Lucy minimises the likelihood of encountering locals when they're drinking. She also tells me that as soon as she arrives in town she befriends a woman, and makes that known to the rest of the town. And when she's couch-surfing, Lucy never stays with anyone who doesn't have any references. 'The women that I've spoken to, and have had that conversation with, have been my most fierce followers,' she says.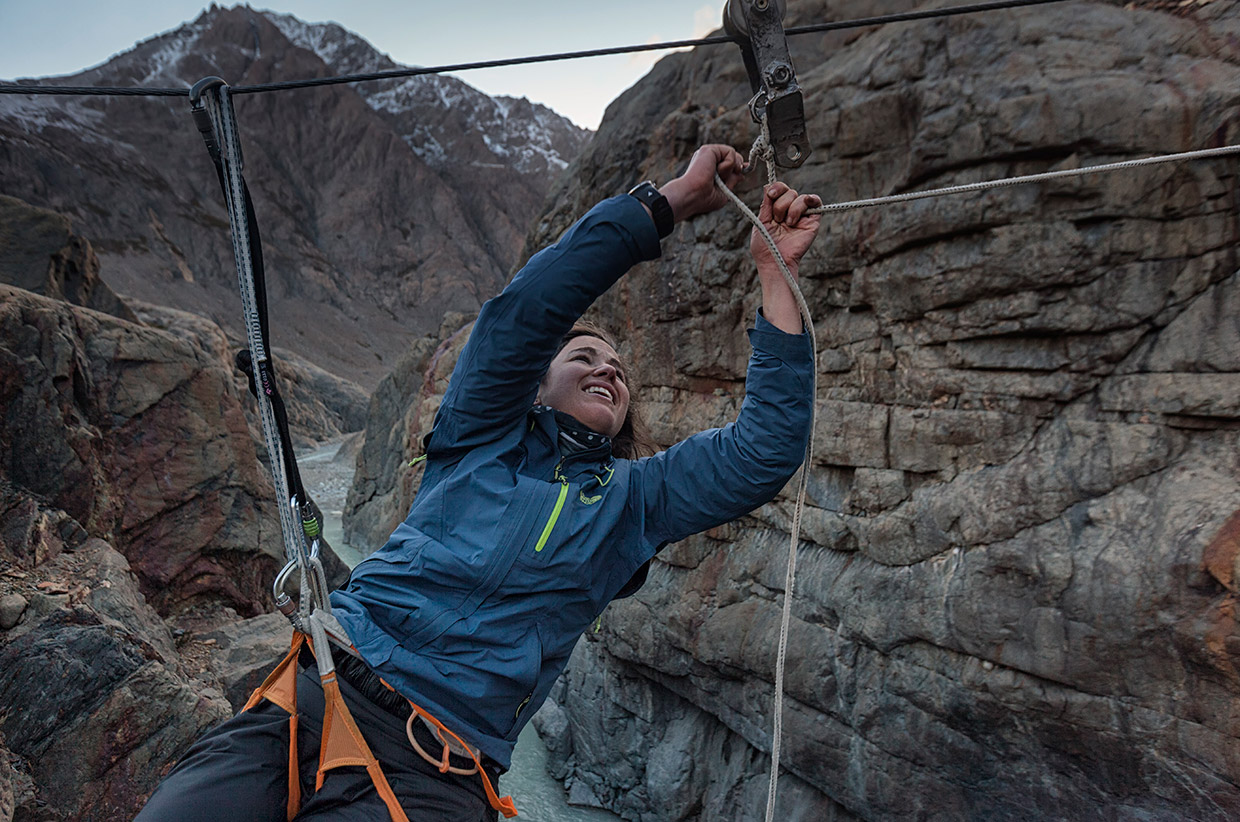 When I ask Lucy if she's learnt anything about herself during her two and half years on the road in extreme environments, she giggles. 'I haven't, I'm so sorry. I'm still that same dirtbag child, getting myself into tangled situations, jumping from one fire into the next as I always have.' It's clear that Lucy loves what she's doing. It's hard – harder than most people can imagine – but it's immensely rewarding, and most importantly, freeing.
Lucy's not living up to any societal expectations, just the expectations she sets for herself. She isn't dependant on money; quite the opposite, she's dependent on herself, and her own skills and resilience. In situations like the ones Lucy has chosen to pit herself against, money wouldn't solve many problems anyway, rather the quick-thinking, problem-solving nature of an individual.
'My resilience is my safety net,' she says. 'Because no matter how deep in mud I am, I know that I have a really high threshold for suffering, and faith in myself that I can find a solution.
'I don't need much,' she continues. 'I don't think anything is beneath me, and in that sense I'm very happy to live a very frugal life so that I can pursue this challenge, and this adventure, to see if it's possible for me to walk the length of the world.'
As is the case with many long-term record-setting expeditions, Lucy's journey has snowballed into something far greater than just the record attempt itself. Lucy is no longer walking for herself, but for the thousands of people who are supporting her on her journey, whether they be complete strangers or her closest friends and family in Australia. 'When I left, I was definitely going for the world record. But now, there are so many people giving me support and genuine care and love, that now I'm walking more because I'm inspiring people and I find that really fulfilling.
'People really have been buying into this expedition. They love that it's a world first, they love that it's something anyone could do, and I'm not just here to show it's possible for women, it's to show everyone that the worst-case scenario isn't so bad. If you do the things that you want, you're going to be OK.'
That's not to say that Lucy would opt for a permanent record-setting life on the road – she certainly wouldn't. She has every intention to return to her 'ordinary' life in Australia, working for Geoscience Australia, living in a house with a garden, and having a fridge with food in it.
'I miss having somewhere to nest and having a safe place. Having my own sanctuary, where I don't have to face the threats that I face every day, where I can relax and drop my guard. Being able to have a house and a garden, and having things that I know where they are, and knowing where I'm going to sleep at night, and knowing there's food in the fridge, are things I really look forward to having when I go home.'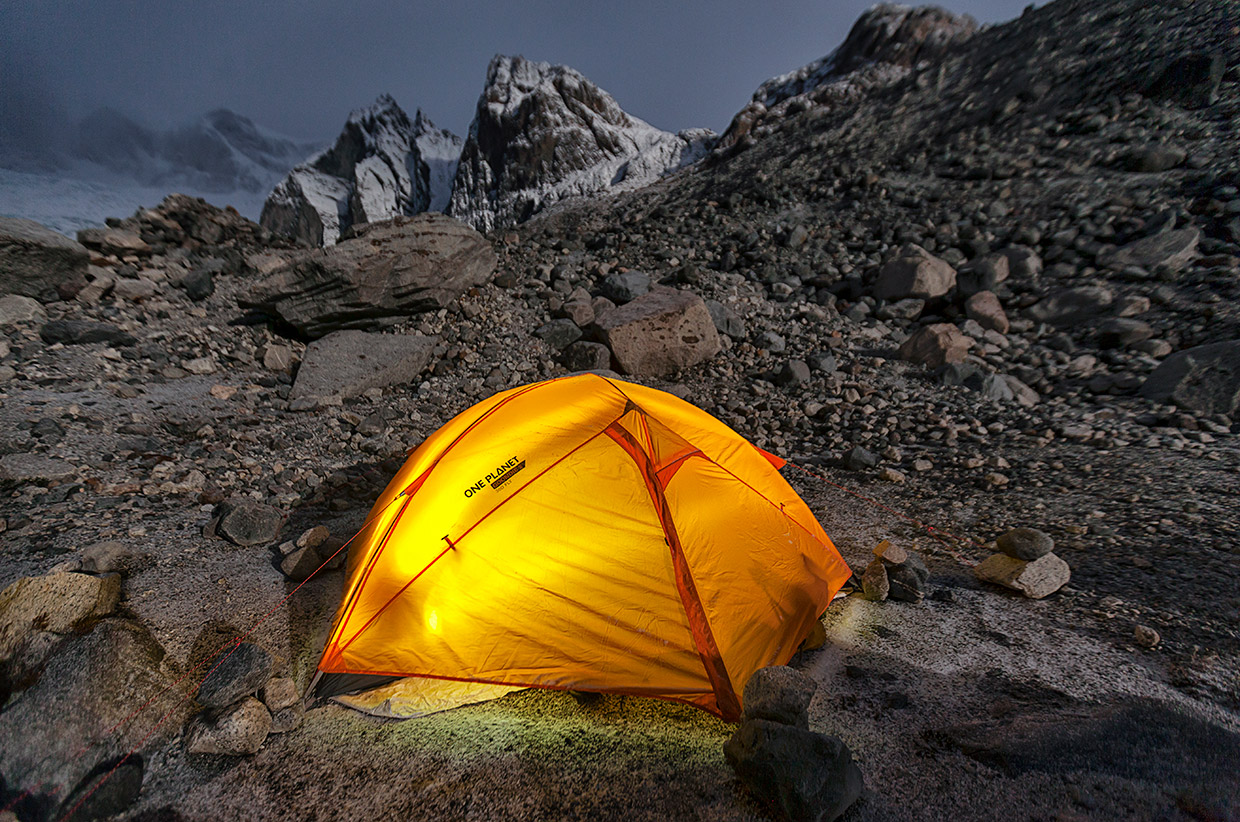 Continuing the expedition whilst knowing that her friend is undergoing treatment for breast cancer has been tremendously difficult for Lucy. I ask her if she would consider ending the expedition for this reason, and she says yes, all her friend has to do is say the word. But as Lucy sagely explains: 'The people who are negative in your life probably never liked you in the first place, and the people who are worth not doing things for would never let you not do them.' It's softness mixed with strength that makes a true adventurer, and indeed in a world-changer.
Next up, Lucy plans to change from walking with a cart to using a backpack, a challenge that will see her body adapt and change again. Her gear is constantly wearing out, and being in such remote areas, it is difficult for her to access the right gear. She asks that any traveller going her way consider dropping off a bag of gear to her. She says the adventure cycling community has been exceptionally helpful at this up until now. A $50,000 donation would also go a long way, she says, with another giggle.
She's also on the lookout for a filmmaker. 'Female adventurers don't get much attention,' she says. 'The best thing would really be to have some sponsorship to have a film made to document this, because it is an historic achievement, and it would be really nice to see it given as much recognition as other male achievements.'
---