Monte Rosa SkyMarathon
From The Field
Words and Photos: Ian Corless
For Marino Giacometti, it was a dream come true. The tears in his eyes showed it. It was here in Monte Rosa that a new sport was born just over 25 years ago, and in 2018 it was re-established – the sport of skyrunning. Start low, go high, reach a summit and then return as fast as possible. A sport free from the clutter of mountaineering equipment, a sport that is fast and light.
Monte Rosa SkyMarathon lived up to the hype and delivered beyond expectations. The 'buzz' in Alagna after the race was incredible. 'This is a proper skyrunning race,' was repeated time and time again. 'Let's have more of this Marino… let's get back to the core values of the sport and yes, let's go back 25-years!'
The Monte Rosa SkyMarathon retraced the original route from Alagna Valsesia, in the Italian Alps at 1192m, via the Bocchetta delle Pisse (2396m) to the Indren cable car station (3260m). From here the route continued upwards via the Gnifetti Hut, Colle del Lys and then the summit, the Margherita Hut at 4554m. One at the summit, participants turn around and re-trace their steps all the way back to Alagna along glaciers, ski runs and mountain paths to complete a 35km loop and 3490m of vertical ascent and equal descent.
Mountains can be fickle places but despite bitter cold and strong winds from 4000m, the conditions were perfect. The sky was blue, and the sun shone. Roped together in teams of two for much of the race, it's a race that suits ski-mountaineers as much as runners; racing across moraine, snow fields and glaciers it is the ultimate test for a special few. Strict vetting takes place in advance of the race to ensure all have the necessary skills and experience.
From the gun, Franco Colle and William Boffelli dictated the pace and looked relaxed, comfortable and in control. They were pursued by Alberto Comazzi and Cristian Minoggio, however, Colle and Boffelli were just too strong. Throughout the race they pulled away, constantly working in unison to eventually return to Alagna in 4:39:59. Comazzi and Minoggio placed 2nd but over 20-minutes later, crossing in 5:03:26.
The big news was all about Emelie Forsberg and Kilian Jornet. Forsberg just two days previously had summited Mont Blanc in a super-fast time, and now she was here, with Jornet powering up from Alagna to the summit of Monte Rosa to return in 5:03:56, just 30-seconds off second place to finish third overall. However, their time blew the ladies fastest time out of the water – congratulations Emelie on the new record. For Jornet, it was a return to racing after time away from the sport with injury. The duo beamed after the race, 'this is the sport of skyrunning,' said Jornet. 'The ambiance here is excellent, the route is incredible, it's just a pleasure to be here.' Emelie had set her sights on the record before the race, 'I wanted the ladies fastest time and with a requirement to have two in a team, I needed someone like Kilian to allow me to run a fast pace knowing that he could keep up. I lead all day and he followed.'
Tom Owens and Andy Symonds were fourth to cross the line, the duo beaming with happiness from the experience, although Symonds did say, 'I just need to be in better shape next time.' He has suffered from prolonged injury and had minimal running or training before the race, 'This race was just too good to miss!'
The first female duo were regular skyrunners, Holly Page and Hillary Gerardi, they crossed in 5:51:32 and were 12th overall. 'It was an incredible day and I had a perfect partner in Holly,' said Gerardi. 'She is more of a diesel than I, so, she took a little more time to warm up but, on the descent, she just became stronger and stronger. The course is beyond incredible and so unique. To be honest, other than say the summer Pierra Menta, there is nothing else on the race circuit like it!'
'Skyrunning differs to other sports and this is the discipline we launched in the late 1990's,' Giacometti said. 'Skyrunning has always existed; all across the world it is just that it became a formalised sport in our hands. I am called the father of skyrunning, but it is for the aspect of race organisation, when we started 25 years ago, nobody talked about this.'
Iconic legendary names such as Bruno Brunod and Fabio Meraldi (the previous course record holder*) are once again being talked about in the same breath as the new generation of Jornet, Forsberg, Colle and Boffelli.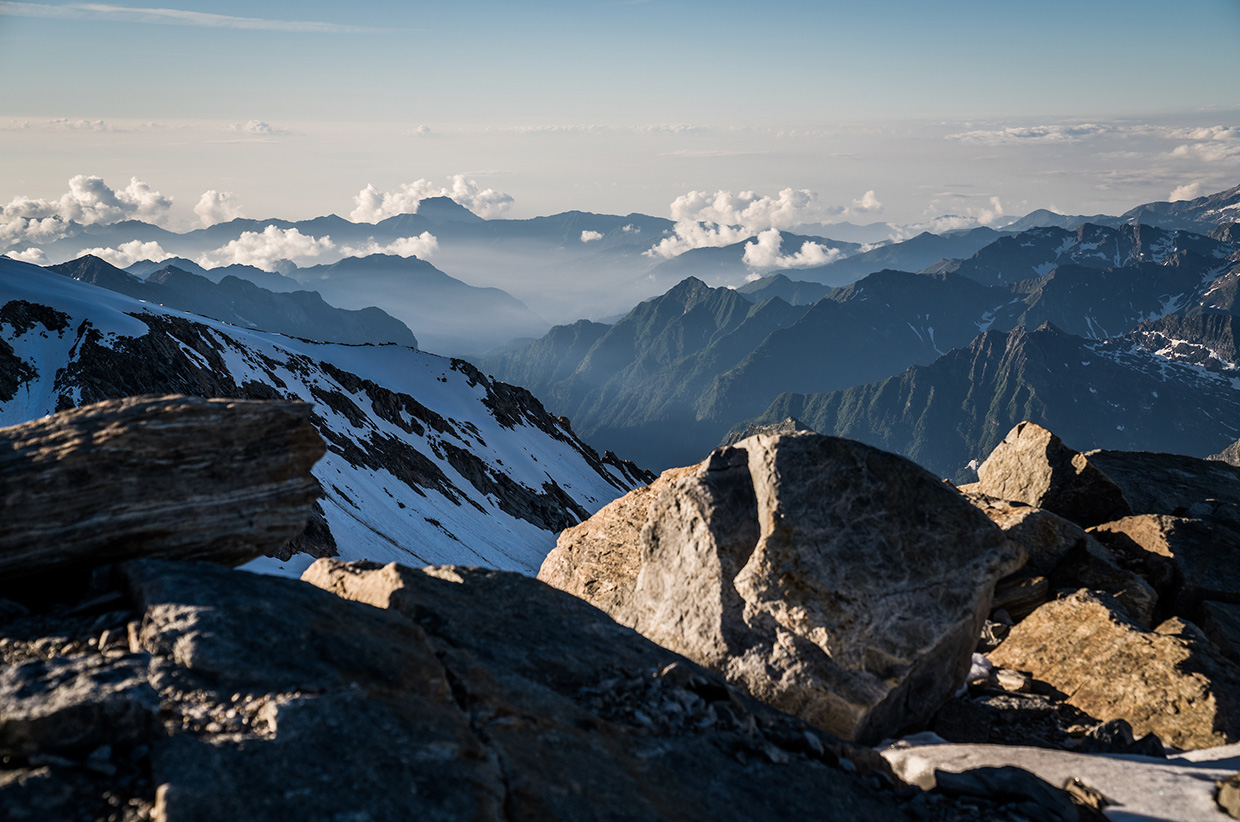 'Older generations were already skyrunner's. My grandfather crossed the mountains working for example. "We" as skyrunners added more speed but in essence it has always been the same thing, skyrunning has always existed.' Bruno Brunod says, 'What I liked was going quickly to the summit. I felt the same when I was a kid in the pastures, I always ran up and down the summits that surrounded me. It is something I felt inside, something I liked.'
The general consensus post-race was that Marino Giacometti, the race organisation team, Alagna and Monte Rosa were the real stars of the day. It may have been a return to 25-years ago, but many feel it's a new beginning!
---
Note: Just days after the Monte Rosa Skymarathon, legendary skyrunner, Marco De Gasperi, set a new fastest known time for Alagna-Monte Rosa-Alagna knocking 4-minutes off Meraldi's long standing mark. Interestingly, De Gasperi started his skyrunning career at the age of 16 on the slopes of Monte Rosa when he received special dispensation to race.
Words and photography by Ian Corless // ©iancorless.com // @iancorlessphotography