Of Goosebumps and Cheap Thrills – An Interview with Drew Smith
From The Field
Written by Hugh Francis Anderson // Photography by Drew Smith
The formula for success within the climbing and photographic communities is threefold. Start young, hone your skills, and chase progression. And it's a formula that works. But sometimes we come across those that obey no formula at all. Drew Smith is one such individual.
Drew may not be a household name, but the 35-year-old's rise within the photographic and climbing worlds has been monumental. Though he didn't start climbing until 23, and only began professional photography at 29, it is his sensibility to a life lived outdoors that has made his rise such a quick one. Perhaps it's all because of his father, who once said to him 'Make goosebumps last as long as you can and take advantage of cheap thrills.'
I catch Drew on one of his rare stopovers at his home in Salt Lake City, a place he's spent less than a month in over the past year. 'Being on the road feels more normal than being in a home,' he tells me. 'I'm always on the road.' For Drew, life is about the journey.
Born and raised on a ranch in Montana, his proximity to the outdoors was all-consuming. Whether on long cattle drives, extended hunting trips with his father, or exploring the nearby mountains with his two older brothers, he grew up on a heady concoction of wilderness and freedom. 'We get so much of who we are from our surroundings and the people who raise us,' he tells me. 'My brothers and I could just go out and explore. We had no boundaries, no borders, and a lot came from our parents' free spirit.'
Drew got his first taste for the road at the age of 19. After trying college, he quit after just two weeks and found himself on a plane bound for a remote Alaskan island and a commercial-fishing job. 'It felt so wild up there, and very different to anything I'd experienced before. I felt out of my comfort zone.' And so Drew began the lifestyle of working long, hard summer months to save enough money to survive on for the next year. Over five months, he and a friend drove from Montana to the tip of Baja, Mexico. The following year, he spent five months in Southeast Asia. 'I just wanted to see the world,' he says.
---
'When I was living on the road and climbing, I was shooting every day. My climbing progression and my photographic progression started out the same.' – Drew Smith
---
But it was after another summer in Alaska that Drew chose to remain in the USA. A keen snowboarder, he found himself in Jackson Hole for the winter season. And Jackson Hole changed everything for him. Though his restlessness and the road were calling, he was forced to stay after breaking his back in a snowboarding accident. Unable to return to Alaska for the strenuous work of a commercial fisherman, he got a job in an outdoor store to tide him over. 'I was working with climbers, so I started climbing with them. I remember that right away I loved it, and I just loved how I could see my progression and push myself without getting injured.' Though he was pulled towards other pursuits, it was climbing that gripped him. 'I said, "All right, then, this is what I want to do – this feels right."'
But after two months the insatiable itch to move become overpowering. 'I was starting to feel too comfortable, and realised that if I didn't leave Jackson Hole I might stay there for the rest of my life.' This itch culminated in a one-way ticket to Ecuador and nine months of climbing across South America. 'Ecuador has a small community of climbers and they really took me under their wing. I was inspired by their passion for climbing. I climbed every day and learned a lot.'
Back in the US, Drew moved in to his 1983 Toyota pickup and travelled across the country to visit iconic climbing spots – the embodiment of a climbing bum. It was during this time that his brother Garret, who had studied photography, gave Drew his first DSLR and told him to document his endless journey. 'When I was living on the road and climbing, I was shooting every day. My climbing progression and my photographic progression started out the same.' He started a blog, Drewsplan, but the photographic world was an alien one. He began working in seasonal construction and travelled the country managing rockfall stabilisation. These three-to-six-month jobs would sustain him for the year, but at 29, when he sold his first image, this changed. 'I quit all the other work I was doing and decided to try it [photography] and see if it worked. I lived in my vehicle. I knew I could live cheap,' he tells me. 'I could say yes to any trip and it started snowballing. I never thought I'd become a professional photographer and climber.'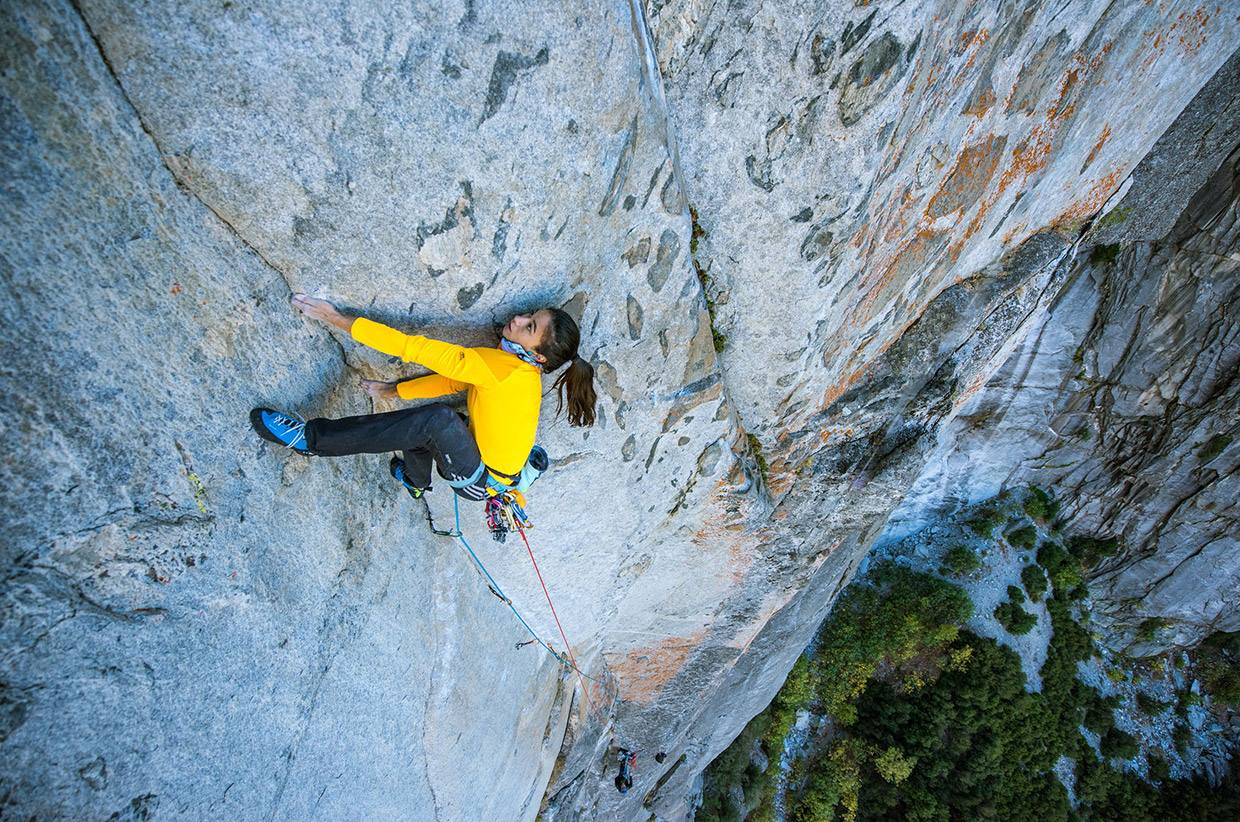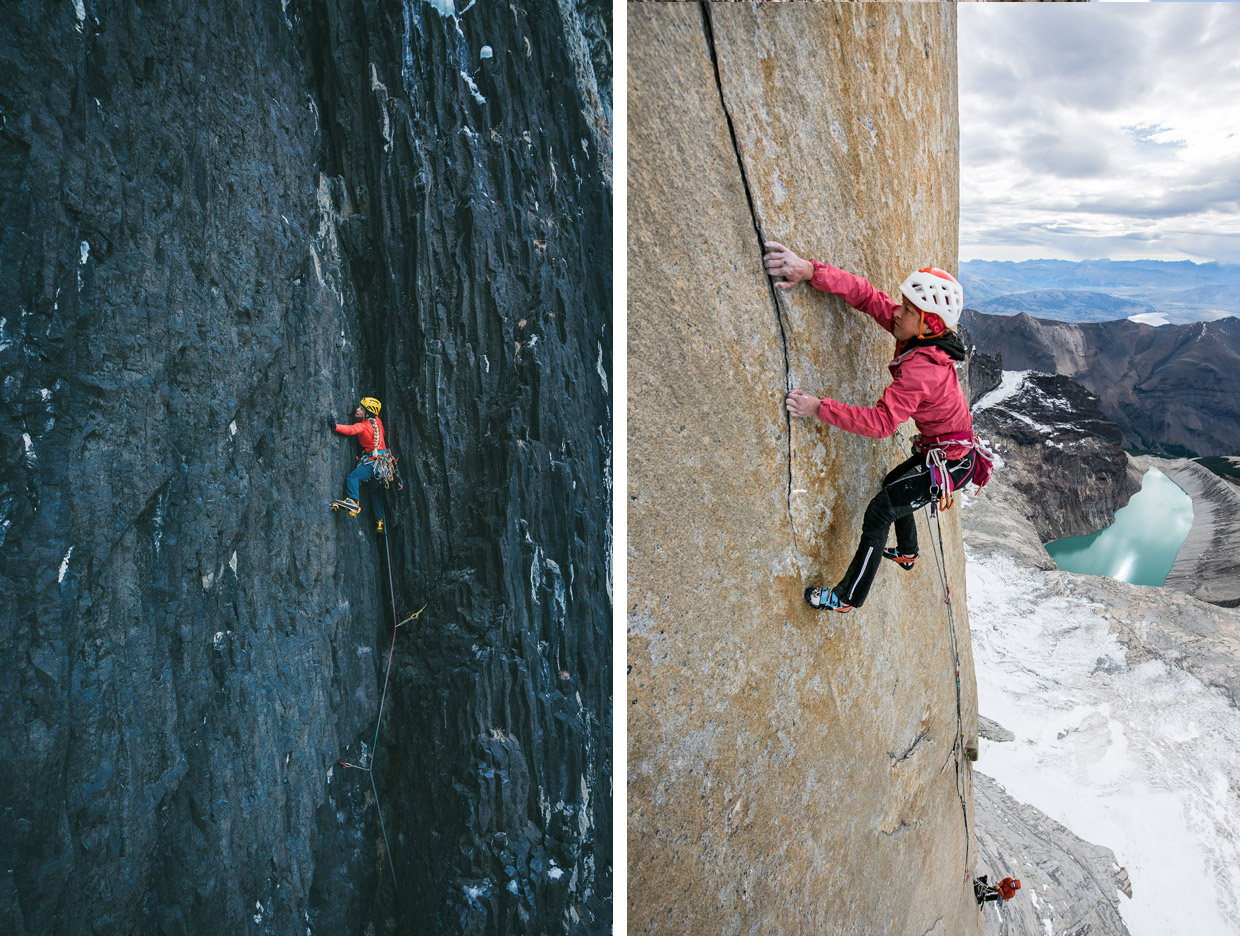 Able to both climb and photograph to a high level, Drew became a natural athlete photographer – one who could keep up and document expeditions around the globe. He secured a desired position as one of Patagonia's contributing photographers and has since shot extensively for the brand. 'Their style is about genuine photography. They don't really do photoshoots, so I go on expeditions with their athletes,' he says. 'But the majority of my work is just being on the road.' This has led him to work with a host of brands, including Roark and Firestone Walker. With the latter he has just released a documentary, A Young Man's Road. Directed by Dylan Gordon and produced by Firestone Walker, it follows Drew's travels across Western Montana with his girlfriend in pursuit of new climbs.
Of all his extensive travels, it was his first big expedition to Patagonia at 27 that has impacted him most. A close friend lost his wife to cancer and the journey was in her memory. 'We were down there for two months and we did this big climb in Cochamó Valley in Chile – a first ascent, which we named Positive Affect in her memory,' he says. 'I'd never experienced death or grief before, and it was tough because he was grieving, and I could tell he was very sad. It was a powerful trip.' Though death was not something Drew had experienced at the time, those within the climbing community must sadly face it on an all-too-regular basis. He recalls moments in the mountains when friends have been caught in avalanches and died. He was part of the Yosemite Search and Rescue team for two years, a role that involved numerous body recoveries as a result of climbing accidents. One such victim, found by Drew himself, was a friend. And he has come close on many occasions himself. In 2016, while on an expedition in Torres del Paine National Park, Drew set off an avalanche that almost swept him away. 'From these experiences, I feel it's a constant change that I'm going through – but it's a hard one to explain.'
This is where the existential undertone in his voice finally connects with me. It is one that speaks both to the curiosity and deeper sentiment of life, and perhaps one that keeps Drew questioning, searching, and discovering. This, I believe, is why he's drawn to the road, and why climbing is his sanctuary. 'When I'm climbing, it's like a meditation,' he says. 'When you're out there, you can step away from all the chaos. You're searching for that flow state where your mind and body are working together and you're fully present in that moment.'
We part ways as Drew heads off to continue preparations for his upcoming winter travels. He and his girlfriend plan to drive to the south-east and climb in Tennessee, perhaps undertake some snowboarding and ice-climbing trips and even drive down to Mexico. Being on the road, it appears, is enough planning for Drew. 'I know that if I continue to be passionate about my work, and work hard, I'll be successful and happy,' he says. 'And if success is just being happy, then that's good enough for me.'
---