Paddle against Plastic
From The Field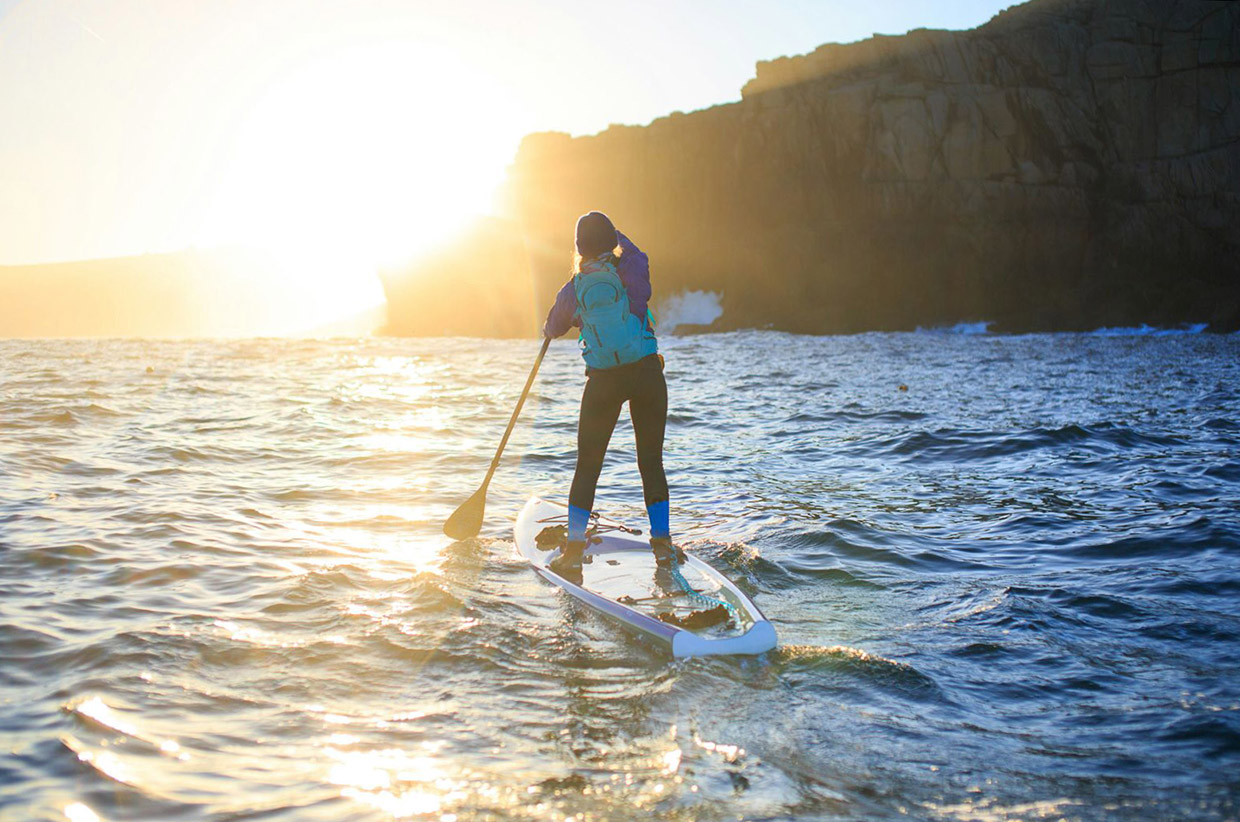 An interview with Cal Major
Photography by James Appleton
Stand Up Paddle boarding (SUP) can be traced back through the ages, the first records indicating its earliest forms were practiced more than 3,000 years ago. But it was as an off-shoot to traditional surfing that SUP gained in popularity. For decades it remained the preserve of board surfers seeking sport on waves too small to be surfed in the usual way but in the last twenty years, SUP has been adopted by racing enthusiasts, tourers and others who have recognised the potential for longer journeys that SUP offers.
In 2018, surfer, scuba diver and open water swimmer, Cal Major – affectionately dubbed Conifer Cal due to an alarmingly high number of close encounters with trees while strapped to a power kite – made national press headlines, completing the first SUP expedition from Land's End to John O'Groats. Cal's journey was undertaken in a bid to illustrate how close we all are to plastic pollution but also to highlight the positive action being taken to tackle it.
Completing the 1,000-mile journey, solo, in 59 days, Cal established a 'first' in SUP history. And from major tide races and ocean swell, to polluted canals, military firing ranges and offshore wind farms, the trip was one which challenged Cal more than she ever imagined possible.
In overcoming her exhaustion, fear and the mental lows synonymous with such extended journeys, Cal also delivered a clear message: we must reconnect our lives to the oceans and work together to protect them.
A veterinary surgeon, environmental campaigner and brand ambassador for Klean Kanteen, Cal Major speaks to Sidetracked about the Paddle Against Plastic campaign and her journey from Land's End to John O'Groats.
Cal, you describe yourself as an ocean advocate. What does that mean?
I love that this is the first question. Just a few months after I'd decided to use the term Ocean Advocate, I did a few internet searches to make sure I was on the right track! I think everyone who feels a connection to the ocean has a different reason, something very individual, and there's often a resultant drive to protect it. I think we can all be ocean advocates – for me it's about speaking out for the animals and ecosystems to protect them as best we can, but also helping to show people just how incredible these environments are and why they're worth caring about.
Land's End to John O'Groats or LEJOG, has been completed by runners, walkers, cyclists and in just about every way possible but it's not a journey which is obviously suited to SUP. What inspired you and why did you decide on this route?
I'd been thinking about it for several years, but it took my previous two expeditions, around the Cornish coast and the Isle of Skye, to believe it might be possible. Originally, I only thought it would be possible by finding inland routes, but it turns out that possible and difficult are two very different things. I'd also discovered through my previous journeys how much more we are capable of than we give ourselves credit for when thrown into an environment or situation beyond our comfort zone. I knew that LEJOG was going to be tough, but I also knew that would be how I'd learn most about myself.
Paddling the length of the UK was also significant. I wanted the expedition to highlight that wherever we are, we are not far from plastic pollution. It also meant I could explore the attitudes towards plastic pollution throughout the country and highlight the inspiring stories of individuals and communities taking positive action to tackle it.
A remarkable journey and achievement, you received the Prime Minister's Points Of Light Award on World Oceans Day for your Paddle Against Plastic campaign. LEJOG was arguably the trip which brought the campaign wider public recognition, but it's not your first SUP expedition. How did it compare with circumnavigating the Isle of Skye for instance?
It was so different! I think the Isle of Skye expedition is still my favourite to date, but when I really think back to it, I do remember telling myself day after day that I just had to get around the island and then I'd never have to do another SUP expedition again! But afterwards I craved the adventure again, and the time alone in nature which I have realised is so important for my wellbeing.
I had expected that LEJOG would just be a bigger version of the Skye trip, but it was so different. Of the 1,000 miles I travelled, the 200 on canals were the hardest. Somehow, without wind to fight, waves to battle and tides to chase, it was hard just to keep going day after day.
A surfer and scuba diver, you have been active on and in the water for many years, but you described yourself as being dangerously naïve when you embarked on your first SUP expeditions. How have you changed since then?
I suffered PTSD for several months after my first expedition around the Cornish coast – I'd been too close to getting smashed against the cliffs by powerful waves, too many times. Through the course of my expeditions I've learned a deep respect for the ocean and the power of nature and developed vital expedition skills. I have learned so much about myself, how far my mind and body can go but also my limits. It took a few close calls to accept that I was not invincible! And I've learned that it's not the done thing to paddle a 12ft SUP, with a large bag full of plastic bottles, through the line-up of an international surf contest.
On both the Isle of Skye and LEJOG expedition, you tackled open crossings, major headlands and tide races which are among the fastest in the world, all things which make the heart of anyone in a small craft at sea, beat a little faster. How did you approach these crux sections of the trip?
These were definitely the most nerve-wracking moments as there is so little room for error. I planned every crossing or tidal race again and again, making sure I was hitting them at the right times. I also made a point of asking locals for their knowledge which was often invaluable, although sometimes a bit dodgy!
There were times when I was terrified, physically shaking before getting on my board. But it was often as much of a mental game as a physical challenge, so I would visualise that entire day's paddle before setting off. I pictured the worst-case scenario and what I would do if that happened as well as how I would react when I just got tired or fed up. I quickly learned to be kind to myself which was empowering – often we are deeply self-critical.
I also carried a wide range of safety kit, even on the less difficult days – a personal flotation device, GPS tracker, personal locator beacon, and I called the coast guard every day to let them know my plan before setting off.
Did you ever feel disheartened by what you saw or encountered on the journey?
It's very rare that I get disheartened about plastic pollution. Despite its ubiquity and the scale of the problem, so much positive change is happening on an individual, community, company and government level. Staying positive is the best way to keep driving this change.
I believe people are really getting on board with the issue now – it's a tangible problem that people can see and can feel proud about tackling, even small changes being empowering acts.
But on the LEJOG paddle, the canals really got to me. In the first hour of paddling one morning, on a canal in the north-west of England, I counted 691 plastic bottles floating on the surface. Awareness of the problem and the desire to tackle it seemed far less among these inland communities, than on the coast. Moments like those are the driving force behind my mission to connect the lives of inland communities with the ocean and help people understand how their actions can affect the environment at large, both positively and negatively.
Why did you choose to undertake this journey solo?
Simply because no one was stupid enough to do it with me! Paddling around Cornwall, I wasn't alone, and I really enjoyed the shared learning, risk and adventure.
On the Isle of Skye expedition, I was completely alone, with nobody I knew on the island, and I loved it. I think in our daily lives and in our society there's so much noise that drowns out what's important. Going around Skye, I came back to the things in my life that meant something. I thought about my family a lot, about nature and animals – I felt so much. I would be laughing hysterically one minute and then crying the next. It's also where I learnt the most about myself. If someone had described the situations I would find myself in, before setting off, I'd have said there's no way I would be able do it. But out there alone, I had to, and came across a reserve of calm, strength and clarity that allowed me to make decisions and push forward.
You're preparing now for another SUP expedition to the Maldives, examining the effects of plastic pollution, ghost fishing gear and climate change with the Olive Ridley Project. What are your objectives for this venture?
The Maldives is so different from anything I've done before. We are hoping to communicate a message of positive action and embed this ethos in the campaign as well as showcasing some of the great initiatives already underway around the Maldives, to inspire further change.
We are also hoping to deliver a global call to action. The Maldives is known for its incredible wildlife and coral reefs, but it is threatened by the severe consequences of climate change, ghost fishing gear (discarded fishing nets that entangle wildlife, particularly turtles) and plastic pollution. This is all too clear to so many people in the Maldives who are doing everything within their power to tackle the developing crisis. But these are problems created by global communities, and the message is that we all need to step up, every individual, community, company and government, and do everything within our power before it's too late.
We are calling our expedition Stand Up for Our Seas, and myself, the lead vet of the Olive Ridley Project and two amazing Maldivian women who are passionate about connecting people to the ocean, will SUP 100km, engaging local communities, resorts and stakeholders along the way.
You are a firm believer in positive engagement when it comes to environmental campaigns – if there was one thing you would encourage those reading this to do, what would it be?
I certainly am a firm believer in positivity! These are big issues we're facing but there is so much that can be done. Each one of us has a unique ability to effect change, and collaboratively that change is really making waves. The first thing is to care and to recognise that your actions do count.
To care, you need to be connected to the environment. It might not be the ocean that sings to you, it could be the mountains or the forests, but whatever it is, foster that connection and allow it to grow. Ultimately, that is what will drive each of us to find ways to protect it.
---