Picture Organic Clothing: A Sustainable Mountain Brand
Gear
Stories Behind the Gear: Picture Organic Clothing
Written by Sophie Nicholson // Photography by Thomas Guerrin // Picture
Young, cool, and ambitious: Picture Organic Clothing co-founder Julien Durant created the brand twelve years ago with his childhood friends Vincent André and Jérémy Rochette.
---
The talented trio grew up together, skating and snowboarding around Clermont-Ferrand in the foothills of the Massif Central mountain range in France. Inspired by the mountain lifestyle, they often talked about starting a company, but ended up going their separate ways to do the grown-up career thing. Julien moved to Paris where he ended up working for the likes of Coca-Cola and Schweppes, Jérémy became an architect, and Vincent worked in IT.
'After a few years we all realised that following the 'normal' path and working in big cities for big companies relentlessly pursuing profits just wasn't for us,' Julien explains. 'So we decided to move back home and start working together to build something we actually believed in. Jérémy was determined that any brand we would create must be fully committed to sustainability. He didn't care whether you were a skier or a snowboarder. His vision was to start a mountain brand with fresh designs and a whole new sustainable philosophy.'
While sustainability may be the current hottest trend in the outdoor industry, the situation was different when Picture launched onto the scene back in 2008. In those days you could count on one hand the number of brands putting the environment at the top of their priority list. Why? Back then, sustainable products were expensive to produce and therefore costly to purchase. In addition, demand from the end consumer was minimal, as the full extent of the damaging effects of global climate change was not yet widely understood.
Julien and the others were fully aware of the challenges they faced, yet such was their belief in Picture as a brand and philosophy that they went all-in regardless. All three moved back in with their parents, invested €36,000 each into the company, took out some loans, and began wrestling their vision into reality.
Their decision to launch the brand in the middle of the 2008 global economic crisis turned out to be a stroke of genius. As struggling competitors were only able to release carry-over product from the previous season, retailers were primed and ready for something new. Something different. With hindsight, the timing was spot on.
In its first year of operation, Picture made its debut in 75 stores across Belgium, France, and Switzerland. The entire collection sold out in just three months.
'We didn't have stock to reorder so people had to wait a few months for the new collection. I remember for the first four years customers were pre-ordering their clothes two months before the launch to make sure they could have their Picture outfit. Every year since we have doubled our growth. After year three we were able to pay ourselves and after year five we were able to start hiring.'
By giving equal priority to sustainability, affordability, and design, Picture had demonstrated to the rest of the industry what is possible when passion and unwavering commitment are put above profit alone.
'We wanted to create a sustainable mountain brand that can be profitable without having to focus purely on profit. It's all about producing sustainable yet affordable products. In order to do this we have had to make sacrifices elsewhere – for example in marketing. Picture has always been way more than simply a business for us, and we're immensely proud of that.'
The story behind the brand's growth and success is undeniably impressive, yet the devil's advocate may question how a global brand based on environmental values balances this philosophy with the fact that all production and expansion comes with a footprint.
'As far as we are concerned, it's a matter of what goes into the cake,' Julien says. 'If you look at the outdoor industry as the whole cake, most of the businesses within that cake are making profit without being genuinely sustainable. So, if our market share within the cake grows, the end result is that the industry is more sustainable. And that's got to be a good thing.'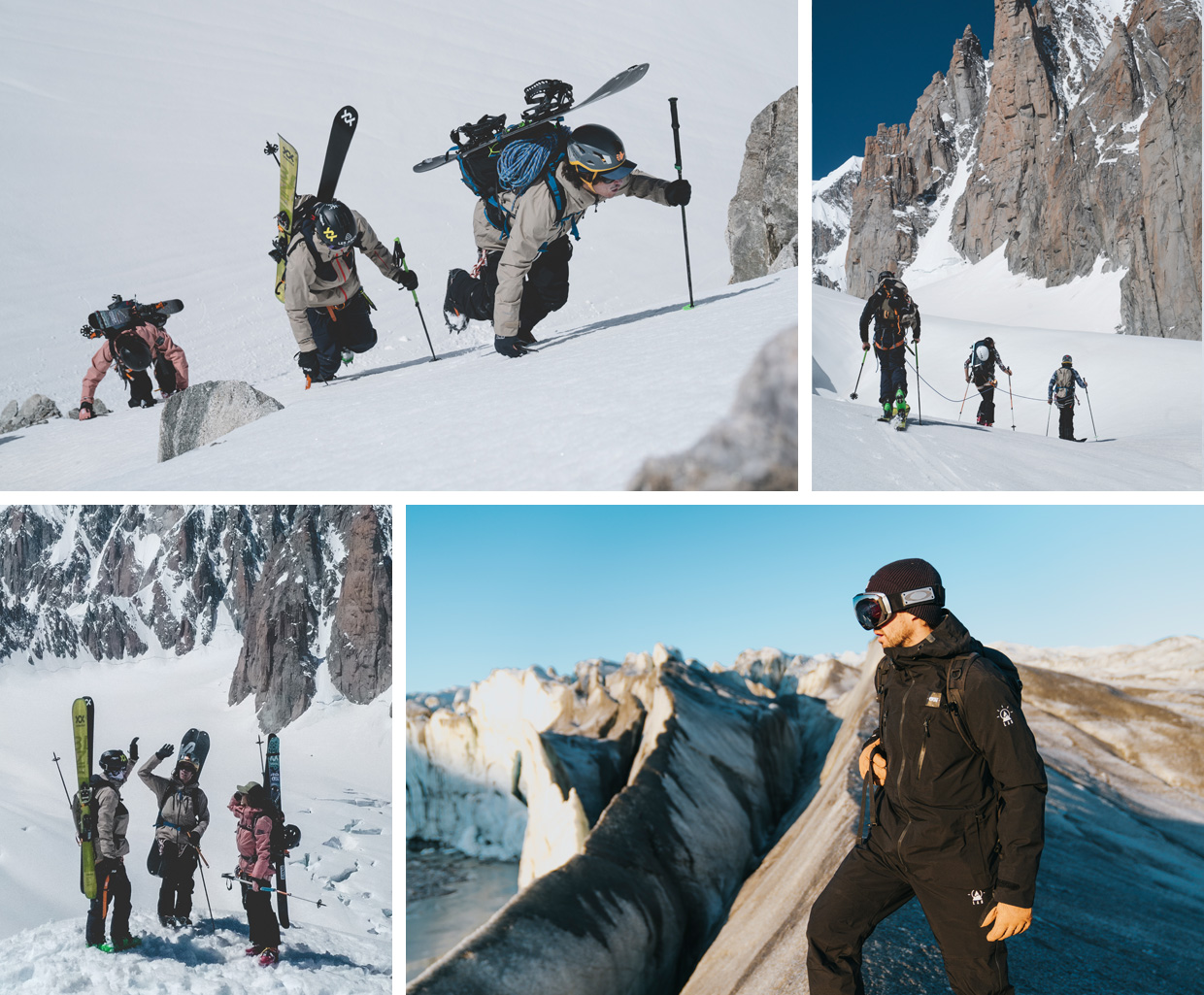 If this season's product range is anything to go by, Picture's already substantial slice of the cake is set to become even larger. While the rest of the industry is in catch-up mode, with many brands only recently beginning to incorporate recycled materials into their range, Picture have never stopped moving forward. Their current focus is on integrating bio-sourced materials into the product range and eliminating their dependency on fossil fuels.
'Bio-sourced materials, such as sugar cane polymers, are totally renewable and recyclable. They have a much lower carbon footprint than recycled polyesters so were the next step up for us. All of the products in this winter's Expedition line, including the Aeron, Demain, and Welcome jackets, are made from bio-sourced materials.
'But producing sustainable products made from recycled and bio-sourced materials is really just the tip of the iceberg. The major issue, and the biggest part of any company's footprint, is the energy you use to create those products. Burning fossil fuels generates 85 per cent of global air pollution so if we wipe out our use of fossil fuels then we can have a real impact on climate change.
'We are working with low-carbon consultancy firm Carbone 4 and using their data to analyse and improve our global footprint by moving our production to carbon-neutral countries, for example.'
Ambitious and successful they may be, yet what is arguably most striking about Julien, Vincent, and Jérémy is their confidence in communicating the brand's raison d'être – and the apparent ease with which three young friends have gone about establishing Picture Organic Clothing as one of the world's most influential green gear companies.
In the age of greenwashing, box ticking, and low-hanging fruit, Picture are able to stand so clearly apart from the rest when it comes to sustainability because they live and breathe it. And when you have the purpose and talent to support it, the world is quite literally there for the taking.
---