Review: Thule Subterra Range
Gear
Written by Daniel Neilson
Heathrow to Los Angeles. Los Angeles Airport to Santa Monica. Santa Monica to the lowest, hottest, driest place on Earth… Over 36 hours, my journey would take me from Dolgellau to Death Valley.
We picked up Bianca, our 1985 Dodge Ram RV, in Santa Monica. It was the kind of camper that effortlessly inspired travel and exploration. The driving of it, being honest, wasn't quite as effortless. As we left Los Angeles, at one point I counted 10 lanes of traffic in each direction. Fine in a new SUV, not so fun in a van pushing 34. Yet as we left the city and along the Roman-straight roads we cranked the tunes and began to think about our trip to Death Valley – in particular, to photograph some of the darkest skies in the world.
With us we had cameras and drones, laptops and phones, passports and insurance documents, clothes for the mountains and clothes for the desert. Our lives were in four bags.
As regular travellers, John – Sidetracked's founder – and myself, a travel writer, have developed all manner of hacks for travelling more easily (although I still forget something every time). We've also developed little annoyances in the luggage we've used. We travel a fair bit, so when we filled our bags from Thule's new Subterra range for our Californian road trip, we knew we'd test this luggage to its fullest.
Thule have designed the Subterra range with three key goals: to keep gear protected, to last a long time, and to look good. The final point can be immediately ticked. The design is certainly sleek and eye-catching. But what of the functionality for the kind of trip we were taking?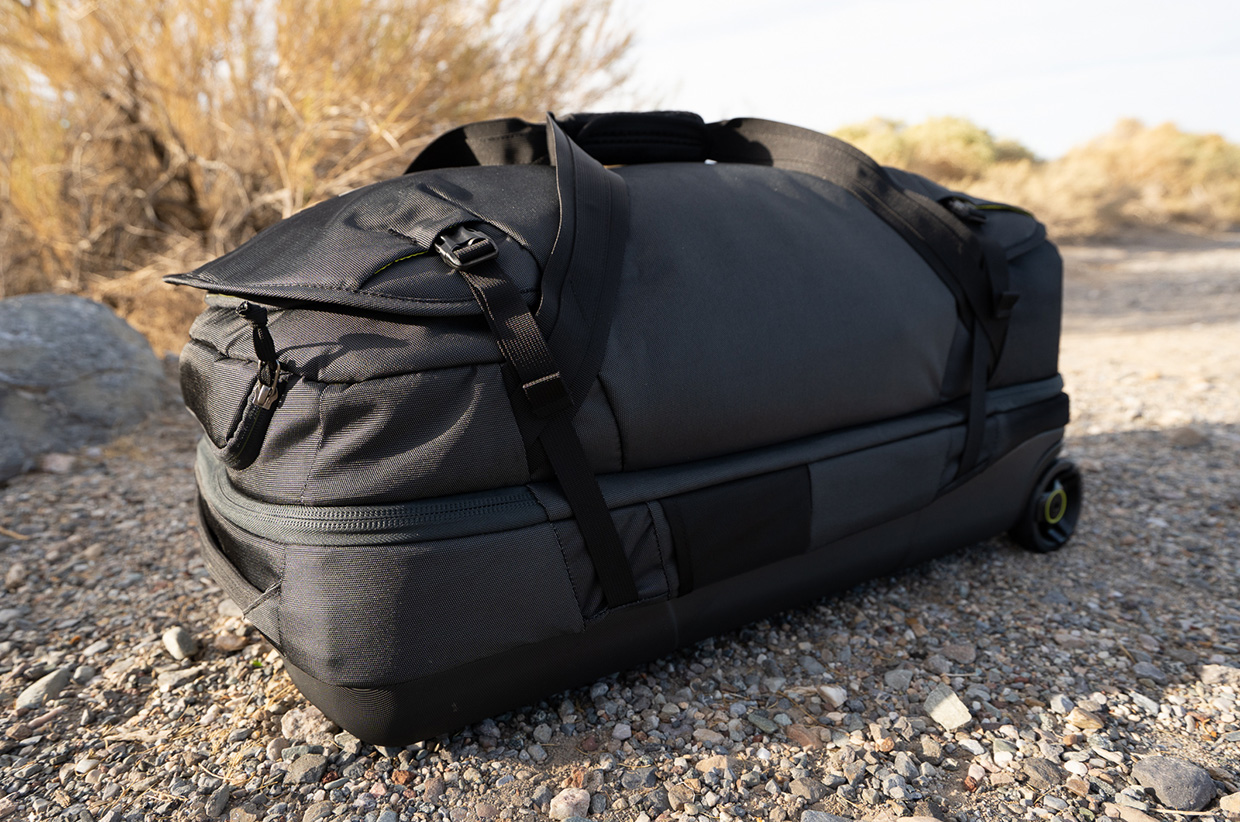 My journey to Death Valley started in Wales. By car and by train to a Heathrow airport hotel. By bus to the airport, where my two pieces of luggage were split: my Thule Subterra Luggage 70cm, a rolling duffel, disappeared along a conveyor belt while the Thule Subterra Backpack 30L stayed with me. While luggage marketing understandably concentrates on the end destination, the functionality is tested in the hard realities of travel – one of the harshest being airport security. So successful was this Subterra Backpack 30L carry-on bag that I've since become something of an advocate for it, often boring friends with how easily the laptop can be taken out of the dedicated side pocket. I then show them how you can lift a flap in the central opening and put your laptop in there. I've become a luggage bore, but the details matter. Another function I loved was the ease with which you can open the front pocket and empty your valuables into a safe, zipped pocket while you go through the metal detector. When you've gone through security many times, as I have this year, this is a significant design innovation.
Inside the bag, I had a computer, phone, drone, and a camera, as well as three magazines, three books, and a notebook – all easily swallowed by the main pocket and a large front opening. In the side pocket was my 1L Hydro Flask. The whole bag and separators within are well cushioned. I never worried once about the valuable contents being bashed around. And on this trip, which involved the full bag falling from the top of the RV during a rare corner, being carried across dunes in the desert, and subjected to a Halloween night out in Venice Beach (perhaps the toughest test), no contents were damaged. There are perhaps two pockets too many inside, but the simple ease with which items can be thrown in without tugging or getting stuck on these pockets is a testament to the designers.
Out in LAX and to pick up the duffel, which I found as well protected as the backpack. And then into a taxi, then into Bianca, and on the road. Luggage, we're realising, goes through a lot (and who knows what happens to checked baggage once it trundles off down a conveyor belt?). Inside, the duffle is expansive. Like much of the new Subterra range (including the Thule Subterra Carry-On 55cm we've tested), one half of the pack is zipped off as a separate section, useful for dirty clothes and to ease closing it. The other half is also accessible from the top. A small pocket by the handle is great for stowing keys and small valuables. It also comes with a short strap that can attach to one of the laptop bags also available in the range. With that, it is handle up and pull away smoothly on two oversized wheels. While the top is shielded with insulation, the bottom half of the bag is a moulded polycarbonate back panel. Even the handle feels very solid. And that's really my overriding comment on these bags: they just feel quality. I believe they will last and I'll continue to bore people who'll listen. They are versatile, and that means they'll get a lot of use.
On just one journey, these bags travelled more than 18,000km in car, van, RV, train, plane, conveyor belt, taxi, and precariously on the back of a scooter. They experienced extreme cold in a plane's hold and were left in an RV in the hottest place on Earth. And looking at them now, they look new. Well, except the one that may have had beer spilt on it in a dive bar in Venice Beach.
---