Roraima – Success In The Lost World
From The Field
Photos: Coldhouse & Berghaus
Leo Houlding has led a team to successfully complete a new free climbed route on a huge big wall in the Amazon rain forest. The team of six, plus two local guides, climbed a new route on the 600m, continually overhanging Prow of Roraima in Guyana. Houlding, a veteran of many major trips, was joined by 21-year-old Anna Taylor, experiencing her first big wall expedition. The core team was completed by Waldo Etherington, Wilson Cutbirth, Dan Howard and Matt Pycroft.
Mount Roraima is a 2,810m high tepui that sits on the border between Brazil, Venezuela and Guyana, deep in the Amazon rain forest. It is the location that inspired Arthur Conan Doyle's classic work of fiction 'The Lost World' and more recently the Pixar animated movie 'Up'. After arriving in South America and arranging a tricky parachute drop of equipment near the base of Roraima, the team completed a 53km trek through pristine, untracked jungle before starting their attempt on the wall.
Just getting to the base of the prow involved 'vertical tree wrestling' and crossing a swamp, while also trying to avoid some of the more dangerous local wildlife, such as poisonous snakes, tarantulas and scorpions. Once on the wall, the climbers lived on portaledges hanging hundreds of metres above the jungle, while the tropical climate presented regular deluges of heavy rain. The route up the overhanging wall itself was extremely challenging, with lead climbers Leo, Anna and Wilson each putting in huge shifts to forge the free route that was their main objective. With time running out before they were due to leave the country, and despite the weather taking another turn for the worse, the team finally completed the full route and also succeeded in getting locals Edward and Troy to the top, the first Amerindians to stand on the summit of Roraima.
Leo Houlding comments: 'Journeying through this landscape and up the Prow of Mount Roraima with our Amerindian friends was a unique, profound joy. For centuries, their ancestors have told stories of the "Mother of the Great Waters", and there they were, stood atop the summit with their new friends – eight equals, sharing a journey through this sensational environment.'
Anna Taylor adds: 'It's been a wild month with highs and lows – crazy storms, spiders, snakes, scorpions, waterfalls, endless ascents, vertical mud slides, swamps, slime forests, river crossings, countless cuts and bruises, plenty of suffering, bags of exposure, and some pretty amazing pitches of rock climbing. All in all, it's been the most incredible experience of my life.'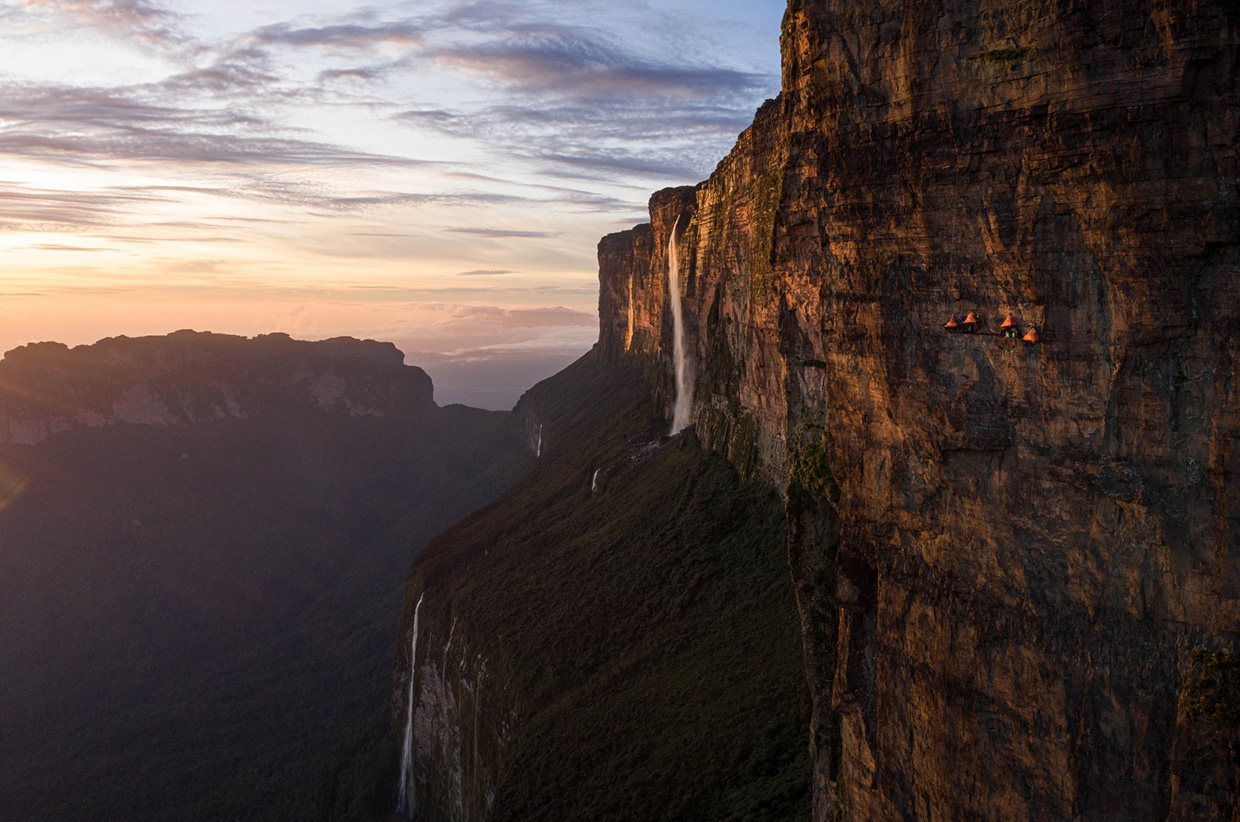 Matt Pycroft of Coldhouse Collective has photographed, filmed and documented progress throughout the expedition and comments: 'The route is yet to receive a formal name or grade, but Leo mentioned that the grades can be misleading on routes like this. Climbing E6 in the Lake District on a summer's day is a different scene to onsighting unclimbed, loose rock a two-hour helicopter flight from the nearest city. What we do have, though, is a new free climbed route up the Prow of Mount Roraima. Leo's aim is to summit, of course, but the dream is to climb these lines free. This is the first time a route has gone fully free on one of these major expeditions. The magnitude of this cannot be overstated, and is a testament to Leo's meticulous planning, leadership and talent as an adventurer and climber.'
---