That Feeling Of Life
Melissa Arnot talks us through her journey to the mountains
Tarquin Cooper // Photography by Jon Mancuso
'I try to approach every climb as though it's a first ascent, even if I've done it before. You can climb the same route 100 times and it will always be different. I love that. You're exploring every moment. But knowing that you're the first people to be walking on that part of earth? That's so rare – it feels incredible, special and magic.'
---
When I'm offered the chance to interview the climber Melissa Arnot, the first thing I pick up on is the fact that she's climbed Everest five times, guides clients all over the world and recently led an exploratory mission to some newly opened peaks in Nepal. Wow. There's nothing new, of course, in female alpinists – just ask Gerlinde Kaltenbrunner or Lynn Hill – and Arnot, 32, stands in a long tradition that stretches back to those doughty Victorian women of the 19th century.
Her journey to the hills is a unique one, however. The Sun Valley, Idaho resident grew up in the mountain states of Colorado and Montana, miles from the nearest town. Her parents were naturally mountain people but her climbing resume didn't actually begin until after she left college. For some reason, Arnot elected to study in Iowa. 'It's totally flat,' she laughs. 'It's in the Midwest, the flattest part of the States. I totally rebelled against my parents like all kids do. I wasn't into mountains at all!'
That changed when she got back home and fell in love with the mountains that she'd grown up with. 'I went back to Montana to visit my parents and I really saw the mountains for the first time and realised I needed to be back. So I quit my job [writing ads], put everything in the back of my truck and moved to Montana.' That summer she lived out of the back of her truck and an old friend showed her the ropes as they set about peak-bagging local hills. 'I immediately fell in love with it. I knew immediately that was exactly what I wanted to be doing,' she says.
From there her climbing evolved rapidly into technical climbing, although unlike most climbers she got into ice before rock. 'I did the totally backwards progression,' she says with another laugh. 'And the last thing I ever did was go in a climbing gym! I was like, this is a crazy sport, I've never done this before!'
Climbers and adventurers often groan when asked about the whole 'why' thing. (George Mallory's oft-repeated 'because it's there' remark was as much a one-fingered salute to an annoying journalist's question as it was a clever and philosophical response.) And yet, discovering what drives someone to climb – if you can get the honest answer – remains fascinating. Arnot's reply is no exception.
'It sounds funny but it just makes me feel like myself,' she says. 'It's like riding a bike; you have that feeling you're doing what you're meant to be doing; that feeling of life.'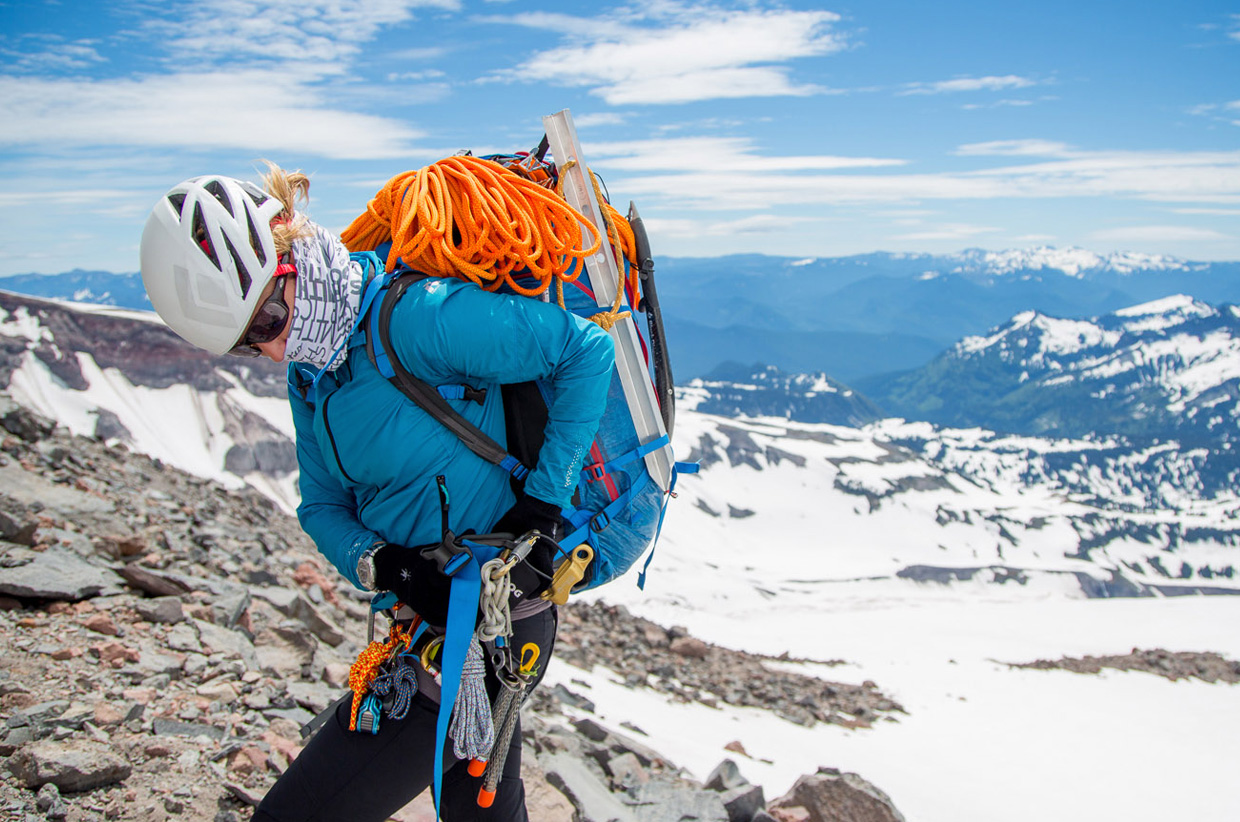 With its obvious dangers and physical stresses, ice climbing is not your average climbing rookie's first starting point. Arnot explains why she took to it. 'It's a very high-consequence sport, much different from rock climbing in that way. You can't really fall when ice climbing: there are sharp things tied to every one of your extremities. I liked that. I liked that I felt very accountable. I felt very on it. I had to be as good as the route I wanted to climb – and there's no way to cheat that. Sometimes there are ways to inch your way along in other disciplines of climbing and be not quite good enough for the route you're on and still get by, but ice climbing's not that way at all.'
Nowhere is the need for self-reliance more in demand than when you're exploring new ground, making first ascents. Two years ago, after a decade of climbing and eight expeditions to Everest, Arnot found herself on an expedition to eastern Nepal on the border with China.
'We had no idea where the peaks were,' she says. 'We had no maps, and Google Earth is blocked because of China's imaging rules. It took five to six days to get to the region, then another five days of climbing over granite massifs, looking around, looking at the GPS and an old Austrian topo map to identify the peaks.'
She and climbing partner Ben Jones and photographer Jon Mancuso successfully made the first ascent of a beautiful mountain called Mustang Himal, 6,280m. Surprisingly, she says the climbing was not so different to climbing Everest – or any other well-trodden peak.
'For me, I try to approach every climb as though it's a first ascent, even if I've done it before. You can climb the same route 100 times and it will always be different. I love that. You're exploring every moment. But knowing that you're the first people to be walking on that part of Earth? That's so rare – it feels incredible, special and magic.'
They hoped to climb a couple of other peaks but were unprepared to face huge granite walls which the maps and Google Earth had not revealed. 'We have hopes to go back for sure,' she says.
Returning to Nepal is a given. Arnot is deeply committed to the country and its people thanks to the Juniper Fund she set up with David Morton to provide immediate financial support for Nepalese families who've lost a loved one to the mountains. They're currently supporting 34 families for up to five years. Having done eight seasons on Everest – and summited five times – Arnot has enjoyed her share of triumphs on the mountain, but has also borne witness to many of its tragedies.
She was at the scene when a Sherpa mob attacked the climbers Ueli Steck, Simone Moro and Jonathan Griffith a few years ago, and was there last year when the devastating earthquake struck. For those of us who've been fed a diet of Everest horror stories, from overcrowding to avalanche danger, the appeal can be difficult to understand. So what makes Everest rock?
'The bad things are such a tiny sliver of a snapshot of any given day in a very long season,' she says. 'Most of the season is about camaraderie; you'll see a huge international group of people, helping each other out in every way, getting through the challenges of nature at the highest level. For the most part, you see the best side of people. It's really fun.'
Arnot is keen to return – she's still fired to summit without using supplemental oxygen. 'That's a big personal goal,' she says, adding, 'I'm very average athletically. The only way I'm exceptional is that I can tolerate discomfort more than a lot of people – I won't quit.'
And as she's keen to point out, there's no disadvantage to being a woman. 'One of the greatest things about big 8,000m mountain climbing is it's super gender neutral. In that atmosphere you're just a human, and it's challenging for everybody.'
---