Into The Mountains
Aaron Doering with Jeni Henrickson
The cityscape that greets us on our arrival in Nepal takes us by surprise. Everest has always dominated our image of this Himalayan powerhouse, with the recent tragic avalanche fresh in our minds. Our own journey, however, begins in the sprawling capital city of Kathmandu. From there we will travel on to lesser-known sites that offer the adventurer a different perspective of Nepal.
We are in Nepal searching for inspirational sustainability stories that form the heart of our four year Earthducation project. Nepal is ideal for us. Though it is relatively small in size, it is home to eight of the world's ten highest mountains and the largest concentration of glaciers outside the polar region. These glaciers feed almost all the major river systems in Asia providing a lifeline to over 1.3 billion people.
Kathmandu is a tangle of muted brown buildings laced with a dusty chaos of motorcycles, cars, buses, and pedestrians. It feels as though the entire city has taken to the streets and sidewalks as we crawl from the airport. We are surrounded by a crush of vehicles and pedestrians that seem to follow no predictable rules. The honking of horns is unrelenting, though it thankfully fades to white noise as the day wears on.
We travel to the Thamel district of the city to meet with Mahabir Pun, an inspirational social innovator and sustainability pioneer, who is a legend of sorts in Nepal. Raised in the small mountain village of Nangi, he went on to build a network connecting 175 remote villages to free wireless Internet service through his Nepal Wireless Networking Project. His work helped improve the quality of education and jobs, and has won him numerous accolades. Mahabir is meeting with us both to share his thoughts and personal stories on sustainability as well as to help us plan for our forthcoming trip to his home village of Nangi, nestled at almost 8,000 feet in the shadows of the Annapurna and Dhaulagiri ranges.
Mahabir's vision fifteen years ago was to make Nangi a place where community members would want to stay, and have the opportunity to stay, through access to education and employment. One of the biggest challenges in remote villages such as this is the opportunity to earn an income that can support a family. In many families the male head of household has to move away to earn an income, leaving his family at home for months at a time. While he is away mothers and children are often left working the fields. Another challenge is the preservation of culture. In a changing world it is difficult to retain traditions of the past especially when few elders remain from whom to learn those customs.
Nepal is home to eight of the world's ten highest mountains and the largest concentration of glaciers outside the polar region. These glaciers feed almost all the major river systems in Asia providing a lifeline to over 1.3 billion people.
The next morning brings a full day of travel from Kathmandu to Nangi. A short flight ushers us to Pokhara, which radiates a quieter feel than Kathmandu, less chaotic. We strap our gear atop a taxi and are immediately off to the village of Beni to meet our guide to Nangi. The countryside drive is a welcome relief from the bedlam of the roads of Kathmandu.
In Beni we meet Chitra Pun, a former Nangi resident who will serve as our interpreter and guide. When we ask Chitra how long the 21-mile drive to Nangi will take, he smiles slyly and replies, "A long time." A number of locals join us for the ride up into the mountains – and we soon understand what Chitra meant. The road from Beni to Nangi opened in 2010. It took three years to build and is unpaved. It is littered with boulders and tire ruts – serious terrain that only specialised vehicles can traverse. Chitra describes the ride as "jeep walking" and I think that is the perfect metaphor.
There are fewer than 500 people living in Nangi, a remarkable community that has managed to retain cultural values and traditions while bringing running water, electricity, and cutting-edge technology into their village and school.
My colleague Charlie's view from his side of the jeep is straight down the mountain. He describes it as a living nightmare, as he hates heights. His hands are sweating for the full six hours it takes to climb the mountain, switching back and forth on hairpin curves the entire way. The drive gifts us stunning vistas, with intricately terraced farm fields blanketing the mountainsides in all directions.
We arrive in Nangi just as dusk settles in. We'll have to wait until morning to try to catch a glimpse of the high Himalayas that flank the village to the north, including the peaks of Dhaulagiri and Annapurna, the seventh and tenth highest mountains in the world.
There are fewer than 500 people living in Nangi, a remarkable community that has managed to retain cultural values and traditions while bringing running water, electricity, and cutting-edge technology into their village and school. Even in this remote village, we have internet access within the "community lodge" or via our BGAN satellite, which allows us to provide online daily updates for the education program we're running.
In Nangi we are staying at a community lodge built by the Himanchal Education Foundation. The foundation, spearheaded by Mahabir Pun, is made up of residents and friends of the village who have joined together to transform Nangi. From solar panels to water pumps, Internet, sustainable farming practices, and electricity, the local community and volunteers from around the world have made Nangi a model of sustainability.
To get an understanding of the Nangi school and education system, we spend the following day interviewing teachers and students. We learn that the introduction of computers and technology in the village has allowed young people the opportunity to stay in the village to receive an education rather than travelling to urban centers such as Kathmandu and Pokhara. The teachers use technology to teach everything from programming software applications to learning about different cultures around the world. Students tell us that education is the most vital part of their life, as it provides them the opportunity to achieve their dreams and goals.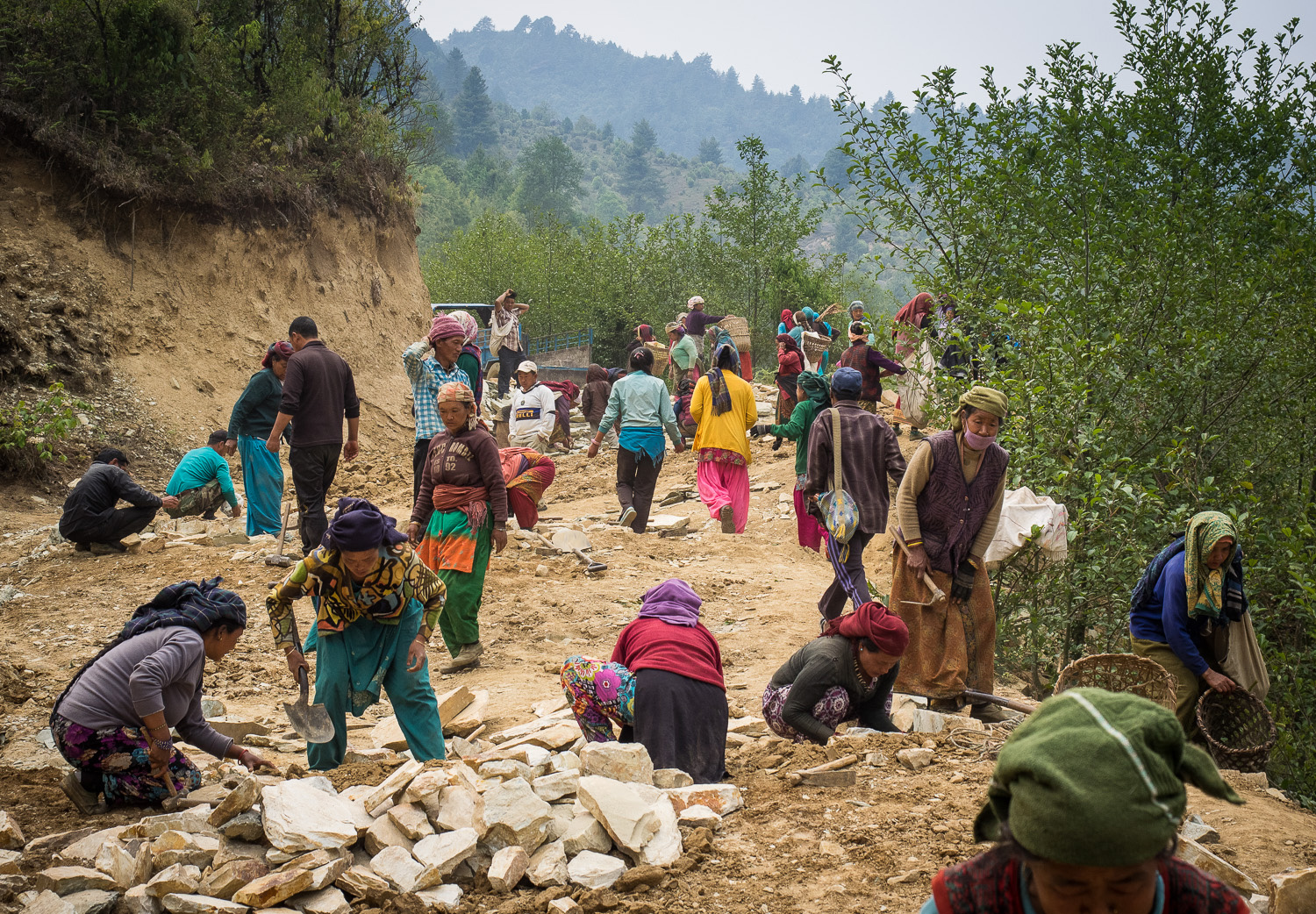 Outside the school we visit a group of women who run a paper-making project in the village. They demonstrate how they spend their days collecting wood, shaving imperfections off the bark, soaking and drying the bark, and ultimately crafting the bark into pulp and then paper. The Nangi Paper Project employs many women in the village and brings money to the village through the sale of paper to countries outside Nepal. The paper is used in products ranging from notebooks to wine holders.
Our afternoon is consumed with a trek across an idyllic valley – a lush green landscape covered with terraced farming. During our hike, Chitra showcases another sustainability project in Nangi – the First Year Nursery Project. In canisters lining the mountainside, trees that will take from 20 to 80 years to mature are planted. The villagers tend to the plants using local dung for fertiliser until the plants are big and strong enough to be transplanted into the forest. Wood is critical to the community as all cooking and building in the village uses timber. No propane, gas, or metal is used.
As we trek the steep mountainside and enter a forest, we come to a shrine. Chitra explains that the shrine is sacred to the people of the region. In August each year, villagers from all around the region trek for days to visit it. Everything is sacred in this forest. If a person removes anything, it is said to bring bad luck to the entire family.
We next reach a group of villagers working on the construction of a road by hand, using tools that mirror those used hundreds of years before. Men are bringing rocks to the location, and women are splitting the rocks, removing the soil, and building up the road to make it more secure. Almost a hundred community members are working at the site. Nangi Village leader Laxman Garbuza explains the importance of the road to the villagers. It brings greater wealth and a higher quality of living to the village, and everyone participates in its upkeep.
From the road construction site we trek to a small farm where a family is ploughing and planting their field using oxen and a wooden spade. The oxen, guided by a farmer with a constant smile, plod methodically back and forth across the terraces of the mountain. The whole family is participating in the planting. The labour is intense.
We meet the neighbors who invite us into their home, handcrafted with brick and mortar and a bare floor of dirt that is neatly swept. The home has two main rooms, one for sleeping and one for cooking. The youngest daughter has a poster of her favourite pop star in her section of the main room. Although most of my interviews focus on sustainability and education, I simply had to ask the mother of the family, "What is your biggest daily challenge?" She thinks for a second, smiles, and responds, "I have no challenges. My life is perfect." I have to smile in return. Why is it that I see time and again as I travel the world that often those with the least are loving life the most? Yet another reminder of how to live life, and why we need to treasure what we have – those things immediately in front of us we sometimes take for granted.
We head back to the village centre after an unforgettable day of inspirational conversations and visits. Our trek ends with a tremendous thunderstorm. A thunderstorm as only can be experienced in the mountains of Nepal. As we hike back to the village, thunder booms, lightning flashes, and intense rain pours down, followed by hail. We put on raincoats and enjoy the experience. After all, how many times in life do you find yourself hiking through a raging storm on a mountainside in rural Nepal?
With a passion for the Arctic, the environment, and education, Aaron Doering has more than a decade and thousands of miles of experience dogsledding and skiing the circumpolar Arctic while educating students around the world online. Since 2004 he has completed three-week to six-month-long Arctic expeditions at least annually, including in Canada, Russia, Alaska, Fennoscandia, and Greenland. In addition he has been traveling to climate hotspots on all seven continents for his Earthducation project.
An associate professor at the University of Minnesota, Doering is a laureate of the prestigious humanitarian Tech Awards, and a fellow for both the University of Minnesota Institute on the Environment and the Royal Canadian Geographical Society. He also holds the Bonnie Westby Huebner Endowed Chair in Education and Technology, and is director of the Learning Technologies Media Lab. A published author and frequently sought-after speaker worldwide, Doering is an adventure learning pioneer who has engaged, motivated, and inspired students, teachers, and the general public around the globe through his adventures, online projects, writing, and recent TED talk.
Website: chasingseals.com
Website: earthducation.com
Twitter: @chasingseals
Vimeo: doeringaroundtheworld/videos