The Bigger Picture
Brendan Leonard follows mountain sports photographers Dan and Janine Patitucci
around Europe searching in vain for borders between life, work, and art
In the breakfast room at the 230-year-old Hotel Rosenlaui, I take a few minutes to sip a cappuccino and scribble thoughts in a notebook while we wait for the morning sun to pop over the Engelhörner, a row of jagged limestone peaks soaring 4,700 ft above our chairs. I feel like I'm getting away with something, stealing a moment of leisure just before another steep 2,000-foot approach hike. My friend Dan convinced me to come here this morning with him and Simon – just for fun, not for a photo or magazine story this time. It's one of the few days in Switzerland's rainy 2014 summer in which the sun will shine all day. We had just returned from a climbing trip the night before, after a five-hour drive in a packed car careening around Switzerland's windy mountain roads, and I was exhausted; but when Dan tells you something is going to be great, it's hard to say no.
Dan Patitucci is one half of PatitucciPhoto, with his wife, Janine Patitucci. They're based in Interlaken, Switzerland, a jumping-off point for adventures in one of the most inspiring mountain landscapes on Earth. They've shot photos all over the world, but some of their most recognisable work has come from their backyard – a few hours' drive from Interlaken, or in the Dolomites, where they lived for five years.
Dan and Janine are both photographers – that is, they both make beautiful images with their own cameras – but in much of their work, they only pack one camera body and Dan presses the shutter most of the time. If PatitucciPhoto is a car, Dan is the engine: finding inspiring locations, dreaming up the trips, selling the concepts to magazines and companies, and leading the group on the trail. Janine is everything else that keeps the car on the road: managing the production aspects of setting up shots in the field and making sure everything is perfect, executing trip logistics, and putting in marathon sessions of photo editing once the trip is over – these days, as important a part of making images as the actual camera work.
I have spent a total of almost two months with the Patituccis over three trips to Europe, in France, Italy, and Switzerland, accompanying them on climbing and trekking trips for magazine stories. I've even acted as a model for shoots in a pinch. The one thing I've learned in those trips is that any situation can be an opportunity for a shot that might appear in the pages of a magazine – from a short trail run during which Dan and Janine are only carrying a small point-and-shoot camera, to a seven-day hut-to-hut trip in the Alps, to month-long expeditions in the Himalaya.
Our day in the Engelhörner is no different. Despite the inertia of wanting to order another cappuccino and keep writing in my notebook, Dan, Simon and I pack up and start up the approach trail to find a climb. Four pitches of steep limestone later, we top out and Dan fires off a few shots from the summit. Six months later, I find the spring catalogue for Outdoor Research in my mailbox, and on page seven, Dan's photo of Simon from our day in the Engelhörner.
Brendan: Dan, a PatitucciPhoto shot is usually a team effort between the two of you. How does that process usually work?
Typically, when we start shooting something I'll shoot first and kind of dive into the scene to see how it feels. These days Janine does more of the assisting and serves as my second set of eyes. As I'm doing my thing, she'll often see something I'm missing and make suggestions. She'll also take her turn at some point in the process and do her own thing. That can be a more creative version of what we're already doing. Usually, I'm getting the 'must do' first, which either evolves into something else, or the other person does something entirely different. Being two is great for getting a big mix of each look.
Dan, a lot of the places you guys go are not easy to get to, and you work with a pretty trimmed-down photo kit. What's your typical setup on a multi-day shoot in the mountains?
We're all about simplicity and light. I always cringe when people ask what we shoot – I know I'm going to disappoint them if it's gear talk they're after. We shoot a Canon 5d Mark III or 1d Mark IV. For almost every mountain shoot, we take a Canon 16-35 f/2.8 or 24-105 f/4. If we have the room, we'll include a Canon 70-200 f/4. No flash, ever, and very rarely a tripod.
Gear for running and ski touring shoots will usually be a 5d with the 24-105, or a Sony a6000 if we're really performing the sport and carrying gear, which is often the case. So too with climbing, but then it is a 5d and 16-35. Other shoots allow for a bit more gear, but even then we'll only add in a 70-200 and/or fisheye.
I once watched a photographer stumble around desperately trying to sort through a mountain of camera kit to get a shot, only to miss it. I don't want to be that guy. That, and we are athletes doing the subjects we shoot, so we can't be weighed down. We focus on doing interesting things that create the opportunities for shots.
But, that said – we do have commercial and pure editorial shoots as well, when we have to be photographers producing images first and foremost. For these we often tap into the toolkit and experience we've developed through our style of shooting on the go, where you have to think quickly.
Janine, you guys obviously have the mountain sports photography nailed – a very distinct, recognisable, marketable style. Do you ever talk about evolving the business to include other topics or stories?
We've done travel stories involving portraits of interesting people in an area. And we've just shot a fun assignment on fondue and winter sports. This type of work is not as visible but we enjoy shooting it a lot. Otherwise we stick to what we're passionate about. Sometimes we make it the 'year of the bike' or 'the year of climbing,' etc., and we come up with special projects for it. I'm currently lobbying for 'the year of endless summer and beaches'.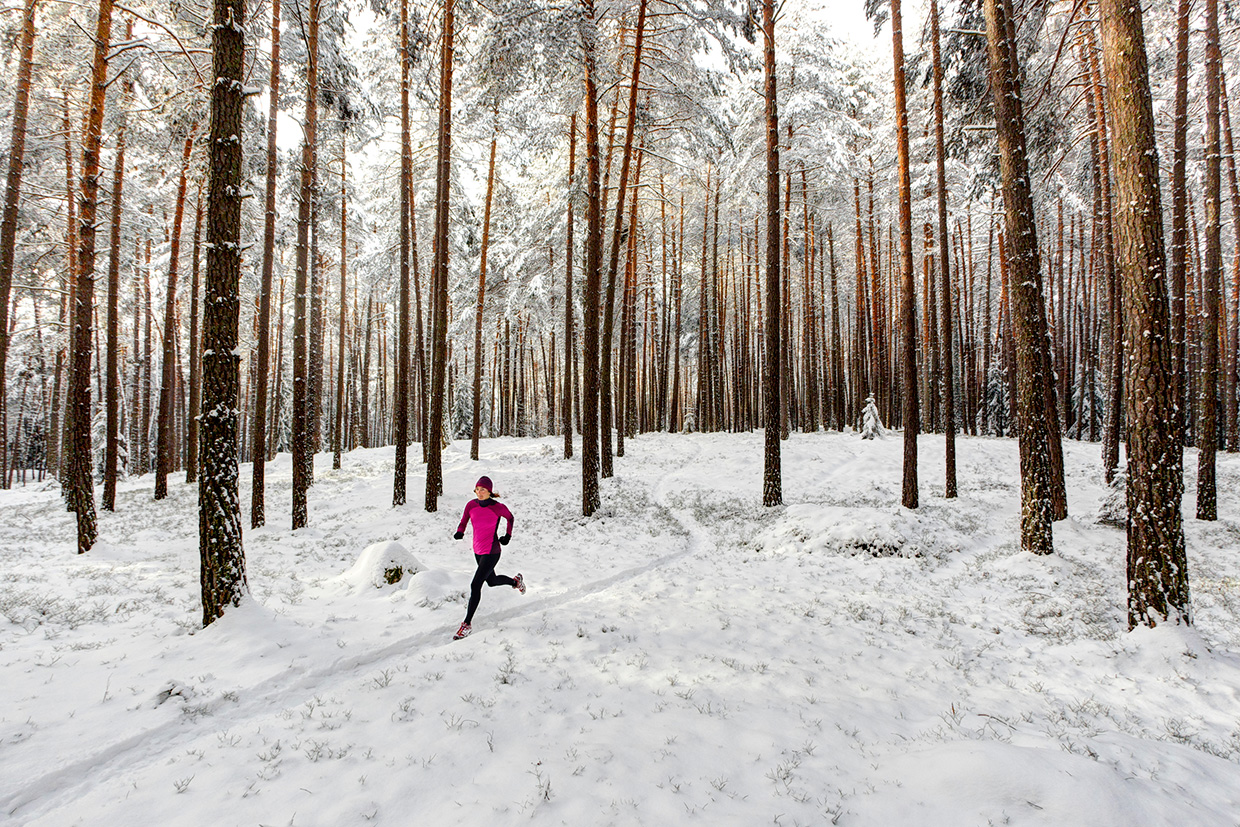 Dan, at what point did you decide that, instead of pursuing individual careers as photographers, you'd work together?
I don't think we ever consciously made that decision, it just happened. We dove into the outdoor industry together and immediately started documenting what we were doing as climbers, runners and mountain people. At the time – in 1999, but it's still probably true – to open the door into the outdoor photo world was through experiences, how you documented them and communicated the project to potential clients. We had a lot of ideas, projects and friends that all came together. We have always been side by side through all this. Our friends in Switzerland call us 'Danine' as we're rarely apart.
Janine, what's something people might not know about two photographers working as a team, that is possible for you guys, but might be difficult for someone working on their own?
Dan and I have different skills and complement each other very well when it comes to shooting, editing, marketing, book-keeping, digital processing, trip research and all the other million things in between. We also motivate each other to get out for projects. I don't know how you could get it all done as one person.
Dan, it seems that your photography career began just as media was entering a new age of change, and print media wasn't the only option for publishing photography. How have you evolved your business model to keep making a living as photographers?
It would seem that it all happened pretty quickly, analogue to digital, print to online, but I think when you're in the trenches working it's all pretty slow. Things have settled into what they are today – which is an entirely different environment for distributing images, but much the same for making them. Sure it's digital, but you still have to get out there and get it done. I still hang from ropes, run ahead to get friends going by, hope that the first skier nails the turn before it's tracked, and that people's eyes aren't closed.
While the supply of photos is sky high, so too is the demand – and there is still a huge need for a reliable service, not just some dude who will trade pics for sugar water. So we strive to be known for quality and reliability.
Where things have really changed is in how work is generated. Budgets aren't as high as we'd like, so several brands might all have their hand in one project. So too with editorial. A lot of editorial assignments these days wouldn't happen without brands supporting them. It can be seen as selling out, but it's reality. A lot of pieces get moved around to make things happen. Maybe in 1999 it was a bit more straightforward, or maybe we just like to pretend it was – it's fun to refer to the good ol' days.
Janine, you weren't a climber when you and Dan first met, and you've learned to climb – obviously very well, and in some amazing places. What has Dan learned from you over the years?
He used to get mad and frustrated at small things. My motto is: does it matter in the bigger picture? Often we get wrapped up in a situation but does it really matter in a week, a month or in a year? He's becoming Swissified in that way a bit.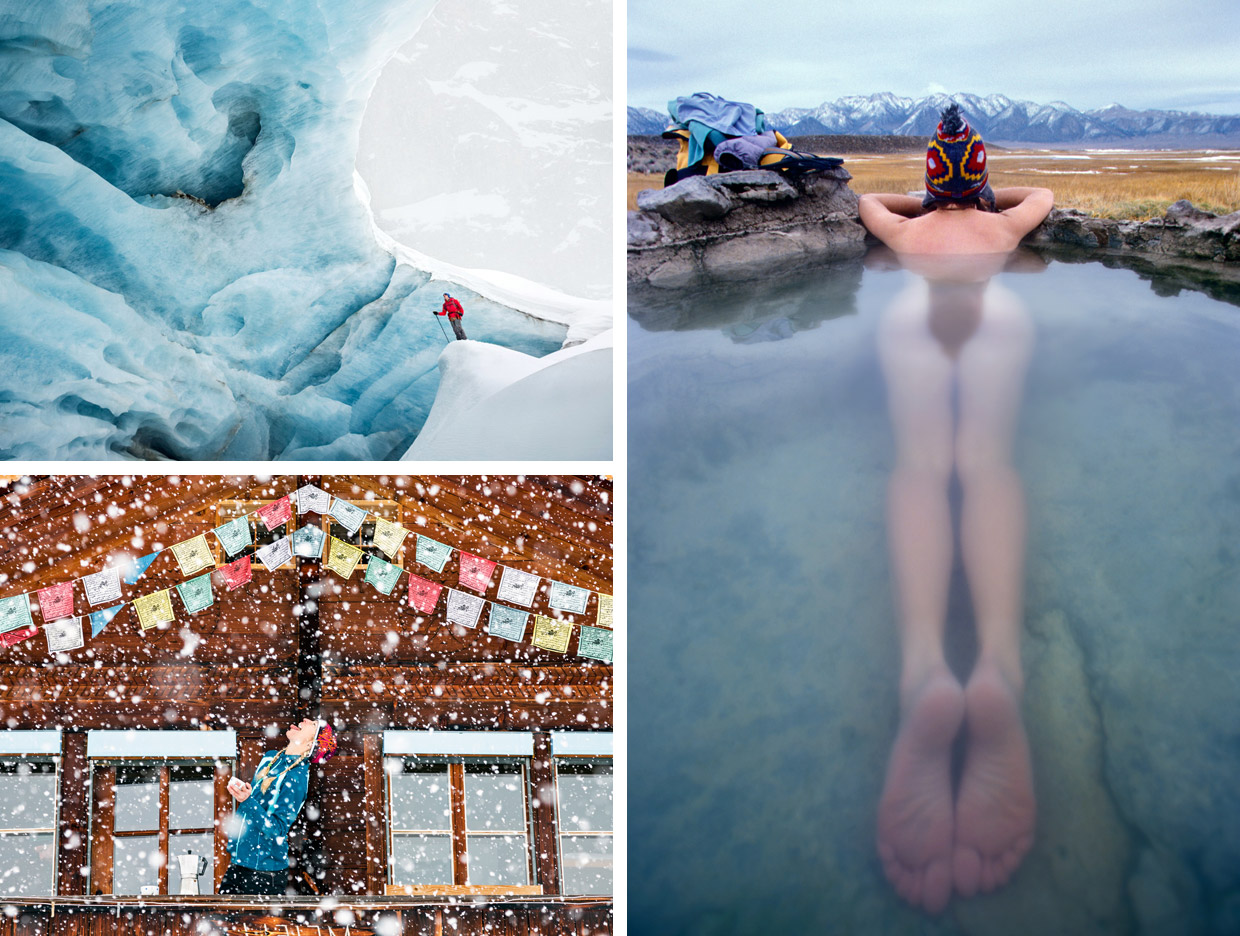 Dan, you make images for lots of commercial clients. How do you keep the soul in what you do?
We continue to do our own trips and shoot them for the clients we work with. No stress, no demands, just trips with friends to have great experiences and make photos along the way. We also get into the mountains most days for training or fun, and it's not such a high percentage of time with a camera. The things we see, places we pass, and emotions we experience all feed what we'll later do for making images.
Janine, you grew up in Switzerland, moved to the US, met Dan in photography school, lived in the US for several years and then Italy, and now your careers have brought you back to Switzerland. How has it been for you, growing as a photographer and then returning to your home country to see it in a different light?
Now being back in Switzerland I'm discovering many new areas of the country that I'd never been to growing up. We tend to be lazy and explore only the closer areas around us. Why drive three hours just to see another mountain if there is one only 30 minutes away? Before I met Dan I'd never seen the Matterhorn in person – but now I've stood on top of many peaks I looked at from my living room window growing up. Of course, as photographers we have the curiosity and exploring bug.
Dan, you've travelled all over the world to shoot, but your backyard, especially the Swiss Alps and the Dolomites, continues to provide the backdrop for some of your most iconic images. Do you think you'll ever stop discovering great new places in Europe?
Never! I sometimes get anxiety attacks that I won't get to see everything I dream of. Our 'To do/To see' list just gets longer and longer; we can't keep up. And I'm totally happy going back to many of our favourite places in the Alps.
---
Dan & Janine Patitucci will be presenting a three day Mountain Sport and Outdoor Photo Workshop in Grindelwald (Kleine Scheidegg), Switzerland – at the base of the Eiger from September 4th 2015.
During this three day, intensive program geared to more advanced photographers and those interested in becoming a working professional, learn all about shooting the best possible outdoor images, working in challenging terrain, digital workflow, breaking into the industry, pricing and business skills.
For more information on the course visit viewfindercenter.com or follow them on Twitter @patitucciphoto or Instagram @danpatitucci.
---
Brendan Leonard is a writer who focuses on adventure, travel, and human experiences. For more information visit semi-rad.com or follow Brendan on Twitter @semi-rad.