Ten Days in Bangladesh
A Photo Journal From Simon Urwin
DAY ONE: LONDON – DHAKA
18 hours door to door. Bangladeshi immigration officials are as friendly as meet-and-greet travel reps. I exit the airport to a wall of noise with energy crackling through the air like a thunderstorm is about to hit. The reality is a national strike with demos, riot police and 3 people already dead. I hook up with my local fixers and can tell that organising this shoot is going to be as easy as herding cats on crack.
DAY TWO: DHAKA
My wake-up is a tinnitus-inducing symphony of asthmatic car horns. I head to the old quarter of this sweaty mosh pit of a city. It's electric and thrilling, like being plugged into the mains. Almost every street corner leaves an image burnt onto your eyeballs.
At the central mosque a noisy incident kicks off during Friday prayers as a fundamentalist takes grave offence at the presence of an infidel with a camera. My heart hasn't raced so fast since I was mugged and beaten up at knifepoint in South America years ago. I get rescued by friendly worshippers, grab my kit and quit while I'm ahead.
DAY THREE/FOUR: DHAKA – SRIMANGAL
If Dhaka is like a punch in the face, Srimangal is an affectionate tickle under the chin. I never knew a horizon full of tea bushes could be so serenely beautiful. Hours of negotiations via two translators (English to Bangla, Bangla to Deshali) secures access to a colonial tea estate and its workers. They stop, we chat, I shoot. It becomes one of those unpredictably magical moments when something inexplicable passes through the camera between shooter and subject.
DAY FIVE – SEVEN: SRIMANGAL – BANDARBAN
I arrive in kidnap and insurgent territory. There are endless double-takes at the rare sighting of a foreigner, each one followed by a smile. An imam surprisingly allows entry to the Islamic religious school. The head teacher is not so welcoming and after 3 clicks of the shutter arrives and kicks me out.
Water gypsies are moored up nearby on a stretch of the river which is also community bath, swimming pool and washing machine. Bridge traffic comes to a total standstill as bemused drivers watch me wade in fully clothed, Nikon in hand.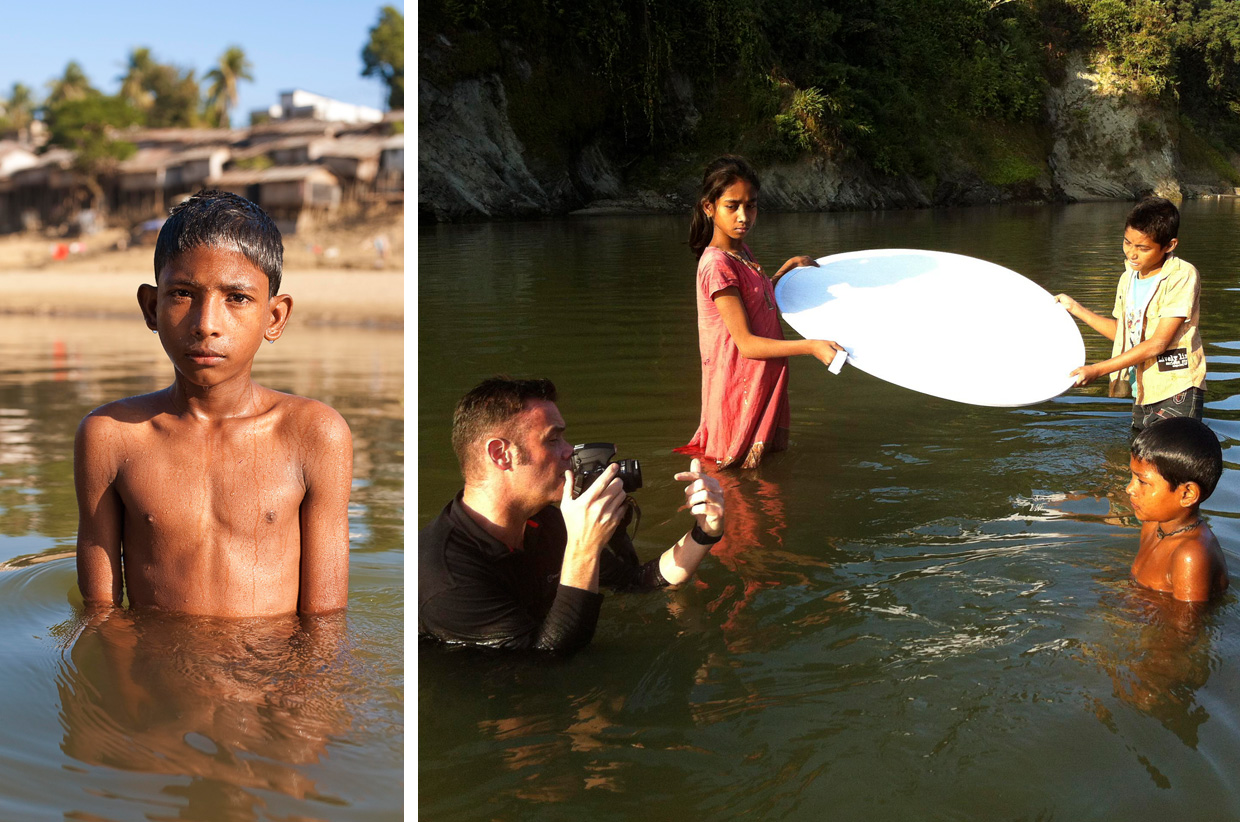 DAY EIGHT – NINE: CHITTAGONG
A kid called Munna catches my eye and I lie in a carpet of cow shit to shoot him brushing his teeth. I wonder what the rest of the world is doing this time of the morning. I genuinely love my job.
It's taken weeks to find a way in to one of the city's infamous breaking yards where container ships are surreally parked up on the beach like industrial pedalos then picked apart for scrap. I'm permitted just a few minutes with one worker: Akbar, 22, job title: 'cutter man and hammering'.
DAY TEN: DHAKA
Back in Dhaka, we coax a bride-to-be out of a women-only beauty parlour. She happily poses before departing for the ceremony and the start of married life.
Over in the tanneries district Mohammed, a rickshaw puller, provides the perfect photographic finale. Of the passengers he has to carry he also delivers quote of the trip: "fat one, thin one, or fat one with 10 wardrobes, it's all down to luck."
---
Simon Urwin is a former award-winning TV exec who in the course of a 20-year career experienced tribal life with the Himba in Namibia, investigated hallucinogenic plant medicines in the Peruvian Amazon, explored the Jordanian desert with the British Special Forces and attempted to 'Bring Back The A Team' in Hollywood.
An avid traveller – 65 countries and counting – he now works as a travel & lifestyle photographer with clients including John Lewis, Tesco's, Historic Royal Palaces and Lonely Planet Traveller magazine.
Twitter: @SimonUrwinPhoto
Facebook: Simon Urwin Photography