The Guide
A Lifetime in the Mountains
Written by Nick Parks // Photography by Neil Irwin // Film by Skyrise Productions
Mountain guide Nick Parks looks back on a lifetime in the high peaks, helping others to enjoy and explore the mountains.
---
'Well done, Parks! Here, tie onto this end of the rope and lead us to the edge of the glacier. After what you've just been through it will be quite easy…'
It happens so fast; one moment I'm walking carefree across the ice, the next the ice under my feet collapses and I plunge downwards. Miraculously my feet hit a ledge. Looking down, I see nothing but blackness on all sides. No rope, no crampons, no companions. I call out. Nothing. Sound doesn't travel far in crevasses. Above me I can see the beautiful blue sky and I make the decision to get myself out. I nudge my way carefully skywards, holding onto my ice axe with every nerve in my body, focused on one thing only: survival.
It's my lucky day – despite my best efforts to the contrary. I am just 17, in Iceland on my first expedition, and certainly getting the full mountaineering experience, falling (literally) headlong in love with mountains. Perhaps it's a character-building experience, because I emerge from that Icelandic black hole vowing to spend my life exploring the mountains and helping others do the same.
***
Mountains can be dangerous places, and the bond between guide and guest is much more than simply the rope that joins them. Trust is essential on both sides. For me it's critical to establish this early on. It doesn't matter if it's a day off-piste skiing or a multi-day climbing expedition; forging the bond of trust is at the core of my relationship with my guests. My role is always to give them peace of mind so that they achieve their goals in maximum safety.
Becoming a guide is a long and demanding process. It was another 10 years before I qualified as an International Mountain Guide, undertaking my mountain apprenticeship from Welsh rock climbs to heliskiing in New Zealand's Southern Alps. I achieved my IMG qualification in 1987, and I carried out my final work experience with the well-known Swiss guide Martin Epp, 10th person to successfully climb the notorious Nordwand of the Eiger. My own milestone on this face was to climb it in the week of its 50th anniversary, a year later; Swiss TV filmed our solo up the White Spider icefield from helicopters overhead.
Along my path towards becoming a guide I found myself returning more and more frequently to the Val d'Anniviers and the village of Zinal in Switzerland. I have built my home here, literally building the chalet! Getting to know this special corner of the Alps, its history, its people, watching it develop and seeing first-hand the impact of accelerating climate change, is fascinating and insightful.
All mountain guides share a love of adventure, but more than anything I love exploratory adventure. The circus that surrounds the highest peaks has never attracted me. I'd much rather visit the little-known peak 15m below the 4,000m contour than the mobbed summit above 4,000m. The thrill of exploring new mountains, meeting peoples from different cultures, and most importantly sharing adventures with friends, are what make me tick.
In 1989 I visited the Pamir Mountains in the western Chinese region of Xinjiang, travelling on the Karakoram Highway through Pakistan to the fabled Silk Road city of Kashgar. Over 10 days of dusty travelling, the sleepy Chinese border guards hardly raised an eyebrow – or looked up from their pool tables – as they stamped our passports at the checkpoints. We entered a rural part of the world that seemed little changed from the days when Marco Polo wandered the Silk Road. But the expedition didn't go as planned. The camels we had hired for the eight-day approach to base camp mutinied on day two, and we had no choice but to hastily revise our climbing plans. Instead of our planned itinerary, Dave (the expedition doctor) and I made the first ascent of White Sail. We also spent a fortnight in the shadow of the magnificent Muztagh Ata, and the doctor and I vowed to return one day and climb it.
Thirty years later Doc Dave and I returned to successfully tackle Muztagh Ata on skis. The Xinjiang province I had visited as a young guide in 1989 was a world apart from the Xinjiang we arrived in three decades later. This time our movements were scrutinised by facial-recognition technology designed to track the local Uyghur people at every step. Kashgar is virtually unrecognisable as the Chinese seek to convert it into a mega city and 'educate' the Muslim Uyghur population at the same time. Even well before setting foot in Xinjiang, the planning process could not have been more different. In 1989, years of expedition planning by snail mail with the Chinese Mountaineering Federation had gained us a blanket permission to attempt 6,000m peaks in the Pamirs. In 2018 the internet made it abundantly clear that the CMF would only give permits in Xinjiang for one peak – and only one route on that peak, namely Muztagh Ata's 'tourist route'. To cater for the demand, the Chinese built a road to base camp – dispensing with the camels – and, especially for July 2018, a giant screen for watching the FIFA World Cup.
But however much things had changed, some things remained the same. 7,500m is high, and the need to know and trust each other as a team was as important in 2018 as it had been on White Sail many years earlier. Much can go wrong: altitude sickness, avalanche, equipment failure, dealing with individual mountaineering and skiing ability on glaciated terrain. Splitting the group can be a tough decision, dealing with the personal disappointment of any team member who doesn't get to the top (although Doc Dave did). If 30 years of guiding has taught me anything it is that involving the whole team in decision-making is essential to success. Sharing a tent with Doc Dave allowed us to discuss the daily issues and share the mountaineering experience – as well as England losing the World Cup semi-final.
Putting together this trip as a guide enabled me to share once again a memorable mountain experience with an old friend and help him to achieve his ambition of summitting a 7,500m peak.
The years between White Sail and Muztagh Ata saw me guide many other trips to remote regions: Patagonia, Nepal, Kashmir, Ladakh, Zanskar, Antarctica, Greenland, Kyrgyzstan, even Scotland. Wherever I am, the bond of trust remains paramount between me and my team. They expect safety and enjoyment, and trust me to deliver; in return I expect them to respect my decisions and, in an emergency, be both able and willing to follow my instructions. My desire to survive is at least as strong as anyone else's. I need to know that my team are with me.
I love all mountain activities, but if I had to choose one there's no doubt that I live to ski. I was lucky enough to first put skis on in 1971. My parents had dangled the carrot of a ski holiday if I passed my eleven-plus, and, to everyone's surprise – especially my own – I did. Skiing has been the constant theme of my life ever since, with ski racing followed by a winter of ski instructing in Scotland, but it was the lure of travel on skis away from pistes that really attracted me. That's been fortunate, too, as skiing soft snow is easier on one's body than mountaineering. Backcountry skiing has extended my guiding career.
But I have noticed enormous changes in the mountain environment since I first began to ski – and especially in the last 10 years. In the Alps there's no doubt that things are more dangerous in summer, and even in winter it's often more difficult and dangerous too, with snow conditions less predictable. Less snow seems to be the norm, resulting in more days lost to storms or periods of mild temperatures. The glaciers have become more crevassed. Seracs fall more often. Melting permafrost leads to greater instability and more rockfall. As well as the direct consequences for guiding as a profession, this makes me think twice about guiding routes that used to be considered safe. There is much visible impact on a larger scale, too, as communes are spending millions building defences, changing the face of the landscape.
All this was brought home to me as recently as February 2022 when I discovered that a local glacier, the Moming Glacier high above Zinal, has become much more technical as a result of winters with fewer and smaller snowfalls, revealing dangerous crevasses – and making a much-loved journey difficult and dangerous to ski, taking it out of reach for most skiers.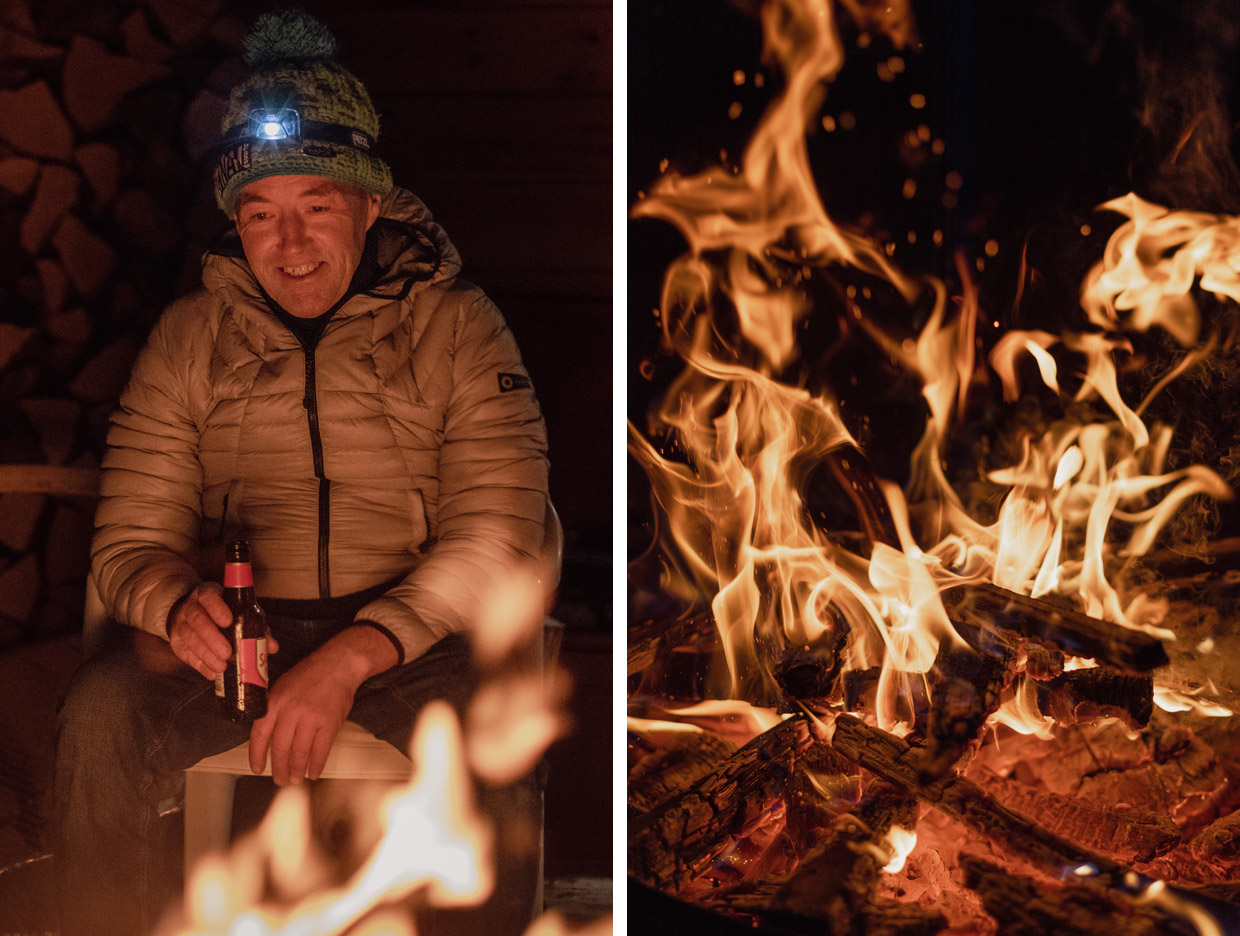 Fast forward 45 years from my Icelandic black hole, it's winter in the Alps and I'm edging my skis onto a 30° slope. My mind is computing observations around me, my eyes and ears straining for the warning flags; any recent avalanche activity? How have the wind and sun affected the snow? I look for the safest line. Avoiding convexities in the slope where the snow is most likely to be under tension, I search out the islands of safety, always considering 'what if'. At the top of the slope behind me, my guests are waiting and watching, trusting my judgement.
No red flags today. As I release my edges and drop into the fall line, light powder snow billows up around my boots. This is what we wanted – untracked powder. I smile inwardly and focus on drawing a template of tracks for my guests. At the foot of the slope, I beckon to them to join me. One by one they arrive alongside me, grinning from top to tail.
Grinning guests are why I keep guiding. There are tricky days, of course, but nothing beats a perfect day in the mountains, summer or winter. The pleasure is immeasurable.
---