The Night Sky
Astrophotography in Death Valley
Daniel Neilson & Elliot Simpson
Produced in Partnership with Visit California
The sun setting over Death Valley is an event. It's the time of day visitors plan for, and food at the few restaurants is served around those times; no-one misses sunset over Death Valley. It is one of nature's great spectacles and then, a couple of hours later, nature reveals even more beauty: some of the clearest night skies anywhere on Earth. That's why in our 'characterful' 35-year-old camper van we were eagerly watching the altitude markers along the road climb and climb to get to Death Valley for sunset. 1,000ft, 2,000ft, 4,000ft, 5,000ft. The engine seemed as relieved as we were upon reaching the first great pass at the Darwin Plateau, but the brakes were less impressed as we watched the altitude makers go down again, even steeper. At the bottom of Panamint Valley, we stopped and stared up at the spectrum of colours that painted the mountains. Ochre, yellow, deep red, brown, all in harmonious contrast against the celestial blue sky.
Up again, we chugged to Towne Pass at almost 5,000ft, and then Death Valley revealed itself. The Mesquite Flats, with their ever-shifting dunes, were framed against the backdrop of the craggy Amargosa Mountains. We still had a couple of hours until sunset, but already the harsh, washed-out midday sun began to pick out some definition on the dunes and mountains. Shadows lengthened across the landscape. It was far richer in texture than it had first seemed. As we started the long descent down to the park at Stovepipe Wells, the temperature noticeably increased too. A heat haze shimmered above the flats.
Photos: John Summerton
We drove straight to the Mesquite Flat Sand Dunes, instantly recognisable from Star Wars, as the sun turned red. The shadows swept up the valley with surprising pace, leaving the mountains a deep red before being cast in blue as the sun disappeared over a distant peak. At that moment, the unseen life that ekes an existence among the harshest conditions on Earth was shifting too. Roadrunners, ravens and lizards were turning in as bats, scorpions and the kit fox were awakening. We heard the howl of a coyote loud and clear.
For the next couple of days we explored Death Valley. We visited the lowest place in North America and climbed through deep canyons and discovered places called Coffin Peak, Desolation Canyon, and Devil's Cornfield. We'd also spent the nights mesmerised by the clearest skies we'd ever experienced, able to clearly see shooting stars, satellites, and the International Space Station in its orbital loop.
Capturing this remarkable scene photographically was harder, which is why we were thankful for the advice of Elliot Simpson, a photographer who specialises in the night sky and who also spent the autumn exploring the national parks of California. We had a chat with him about his work and getting some astrophotography top tips.
Photos: Elliot Simpson
Sidetracked: To kick things off, will you share with us how you got started in photography?
Elliot: I had a Sony DSLR growing up. It spent most of its time on the shelf; when I did take pictures I never got round to editing them. We then skip to post-university when I was looking for a new hobby. I had money for the first time and my DSLR had broken during the final term of university, so I decided to purchase a Sony A7 with some old Minolta lenses and get out there. I started photographing cityscapes, animals, cars, you name it. It slowly progressed into what I love shooting now when I tried astrophotography and started exploring the UK.
How has social media (Instagram) helped you grow as a photographer? Are there any downsides?
Instagram has been a great platform to display my work and connect with like-minded individuals whom I can consider genuine friends. It's given me the inspiration to get out there and explore the world. It does inevitably have its downsides, especially when you start judging your work by the number of likes you get and followers you have. Instagram won't be around forever and I think people need to remember that.
How do you see things changing for landscape and outdoor photographers over the next few years?
With the abundance of outdoor photographers, especially on Instagram, I feel like you'll have to try a lot harder to stand out – not just visit those 'hype spots'. I am excited for the advances in technology, especially with drones. A few years ago the image quality of drones was pretty bad but now you can travel with something like the Mavic 2, which almost delivers DLSR quality in such a tiny package.
I would also like to see people using their influence through social media and their photographs to raise awareness of the pollution and the destruction of this beautiful world. I know it's something I want to get more into this year.
What's been your most inspirational moment or experience through photography?
Seeing the aurora borealis for the first time in Iceland was a night I'll never forget. This was during our first trip as photographers (I'd previously been three years ago but it was cloudy the entire time). We kept a keen eye on the KP forecast, hoping for some activity. As we were driving along from shooting the sunset we saw the sky light up and the aurora begin to dance. We frantically pulled over, whipped out our tripods, basically screaming with joy waiting for the images to expose. The composition wasn't great, but just seeing them with our eyes was good enough.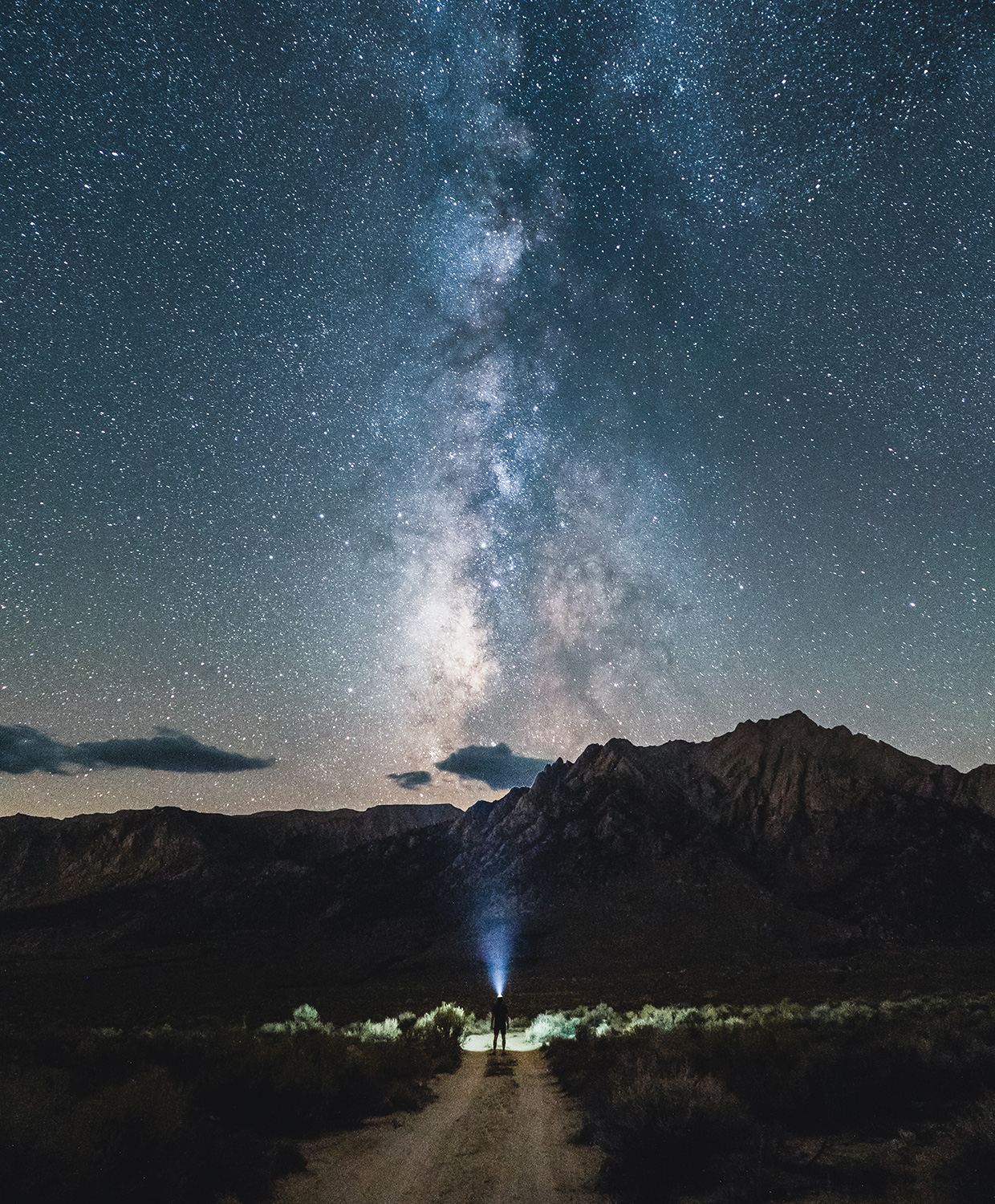 Photos: Elliot Simpson
If we were able to get our hands on your camera bag, what would we find in there?
My bag at the moment contains:
Sony A7III and Sony A7 (as backup)
Sony Zeiss 24-70mm f/4
Sony 28mm f/2 with 21mm converter
Sony Zeiss 55mm f/1.8
Sony 70-200mm f/4
DJI Mavic 2 Pro
MeFOTO RoadTrip tripod
Remote timer
MacBook Pro
What kind of research do you do before leaving for a trip?
That all depends on what kind of trip I am embarking upon. I generally look on Google Images, Google Maps or Earth for potential points of interest and camping spots, to research trails for hikes, and where the decent cafés and pubs are for that much-needed food afterwards. I use PhotoPills a lot to find out where the sun, moon and Milky Way will be at certain times, and I also use the app's VR mode, which lets you visualise this stuff on top of the view in front of you.
Once you arrive at a new location that you have not been to before, how do you spend your time searching for compositions?
I usually do this by running around like a madman until I've found some compositions I think will work. I am not one to just get one shot on a tripod; I like to try and tell a story with images, so will get a few from different locations. I have found using a walkie-talkie to set up compositions with people in the distance for scale to be very handy.
What are the ideal conditions for night sky photography?
For shooting the Milky Way you want to be shooting around the new moon phase to minimise light from the moon. You also want to be somewhere dark – light pollution will ruin your chance of seeing the Milky Way. Clear skies are best although some cloud along the horizon isn't so bad!
When we were in Death Valley, the sky was just incredible – near-perfect conditions. Once we left the small town, and wandered off the beaten track, there was absolutely no light pollution. The stars were beyond belief.
Have you learnt any clever tips or techniques for night sky photography?
When I shoot the night sky I will generally stack my exposures and use Starry Landscape Stacker for cleaner images. I also use a remote timer to expose the foreground as it is usually very dark compared to the night sky. While a new moon phase is good for the Milky Way, I do enjoy using the moon to my advantage to light the scene. This is something I want to experiment with more often.
What are the biggest challenges when shooting the night sky?
Finding your way around in the dark without falling over and smashing your gear! I think finding composition in the dark is the hardest, coupled with the fact that you're usually tired – as it is late at night – and often cold, as you're standing still for long periods of time.
Can you share any useful resources for night sky photography planning?
I would say PhotoPills is the best app when planning to shoot the night sky. The VR feature is just awesome. But I would say that the best thing to do is to and head out and practice as often as possible – there's a lot to be said for trial and error. And enjoy it! I don't think there's a better way to spend an evening.
---
Photography by @elliotjsimpson
For more information an Death Valley National Park, visit nps.gov/deva
Produced in partnership with Visit California.
visitcalifornia.co.uk // @visitcalifornia