Wild and Free
Written by Annika and Jessica Horn // Photography by Rachel Keenan
Produced in partnership with ROXY
It all started with a letter we received from our New-Zealander grandmother…
'Hello my darlings,
'I've been meaning to write for some time to let you know a little about your Scottish forebears. (It may be true, or it may not, but it makes a good story!)
'A Spanish galleon was shipwrecked off the northern coast of Scotland (that part is true). Some sailors made it to land, but one Spanish sailor needed to be comforted. I can only imagine how! Hence the start of several generations on my mother's side. They were mainly Scots, but a little bit of Spanish too. I don't know what year, but I would assume the 1700s, about six generations back. (I've made that up!) It would be nice if a bit of Spanish blood became obvious but the Mathieson side seems to have taken over… except perhaps for you, Annika?
'I hope you are both very well and are having some fun. Covid is still getting in the way down here and no doubt putting a damper on things. That being said, many restrictions are slowly being lifted, but will it ever come to an end?
'Fondest love Grandy xx'
After reading Grandy's letter, there was no doubt about it. Jessica and I had been longing for an outdoor adventure, and now we knew exactly where we'd be heading: to the land our ancestors had once roamed, to discover what the Scottish Highlands had to offer.
The adventure began when we jumped in our van and made our happy way towards the rugged north-west coast. Excitement filled the air. It was hard to believe we were finally here! As we drove along the meandering roads, Scotland's celebrated lochs slowly but surely appeared around every turn. In all our previous adventures, Jess and I had never witnessed the elusive beauty of a landscape speckled with the glistening waters of lochs.
We set up base on the outskirts of Torridon: a tiny village on the shore of Upper Loch Torridon, surrounded by wild beauty and terraced, prehistoric mountains rising up from the glens below. We immediately saw that this would be the ideal spot for long hikes, cold swims, stunning sunsets, alone time, and much-needed peace of mind. It is so easy to get caught up in our daily lives that we often forget to take the time needed to escape and resource ourselves.
At the end of a road we spotted a rusty roofed refuge. Our approach revealed the delightful setting of the place we were going to call home for the next three days – cosied up in a private bothy on the Ben Damph Estate, surrounded by nature and overlooking Torridon's Upper Loch.
Jess and I could only look at each other in appreciation. 'This is exactly what we need,' I said, and she nodded her agreement. So we kicked off our shoes, fired up the log burner, and sat down to take in the view. The setting sun had begun to put on a show. It lit up the sky in nuances of orange and yellow, mirroring the dancing flames that were warming us up within the bothy. We amused ourselves at the thought of jumping back in time and bumping into our ancestors 'comforting' themselves as Grandy had humorously suggested in her handwritten letter to us. We didn't want to be anywhere else.
***
Silence, soothing and absolute, woke us the next morning. The fire's glow had long since died down and I could feel the tip of my nose carrying the night's chill. We grabbed our yoga mats, laid them out on the grass still damp from morning dew outside the bothy, and sun-saluted the rising sun. Our muscles soon warmed up once we got our blood flowing, and, minds in check, we were readier than ever to tackle the day. Kindling and a flame coaxed the bothy's stove back to life. By the time the kettle started whistling, Jess and I had already mapped out our action plan for the day.
We packed up our gear, left the comforts of our bothy, and headed out to the mountains. Nothing beats that feeling of excitement we get when entering discovery mode. There's something special about stepping out of our comfort zones and jumping into the unknown. Ever since we were kids, Jess and I have been exposed to a world of adventure and travel. Our father, who happens to be an explorer by profession, always travelled with us whenever possible. As a result, we've had the chance to see the world from a young age. At times, we were so young that we were incapable of grasping our sheer good fortune in witnessing such places with our own eyes.
In 2015, shortly after the tragic loss of our mother to cancer, our father decided we needed a change of scene, and we embarked on a life-changing adventure. He and his two climbing partners were planning on summiting K2 in Pakistan that year, and we were to accompany him to base camp (just above 5,000m). A week-long hike took us through unbelievable scenery, across various terrains, and into a positive spiral. The grandeur of nature at its purest form healed our deepest wounds and gave us hope for the future. Ever since that trip, Jess and I have developed a fascination for mountains – particularly reaching the tops of mountains. So, as well-trained second-generation adventurers, Jess and I had done our due diligence and spotted the Scottish summit we would climb: Benn Alligin (Gaelic for 'jewelled hill'), a mountain of breathtakingly beautiful pinnacles and ridges north of Loch Torridon.
As we climbed, the nature reserve's ancient pinewoods welcomed us with sunrays piercing between the trunks, reflecting off the bark in a hazy golden glow. Snow-topped summits glinted in the distance; that's where we were headed. The hike was smooth and steady to begin with. We stopped occasionally to admire the hidden waterfalls plunging through gorges below and even the occasional eagle soaring above. After a couple of hours, more exacting terrain and weather began to test us, but we always see this as part of mountaineering – a challenge to be relished, not avoided. Sharp, exposed scrambling on a rocky crest led to a summit as rugged as we would expect for a mountain of such stature. We climbed cautiously until we reached the highest point, and celebrated our little achievement with a warm cup of tea. The views were extensive and surprising: deep, glacier-sculpted glens, and mountain walls almost impossibly steep leading to the ridgelines of the nearly giants Liathach and Beinn Dearg. Below us, the loch glinted.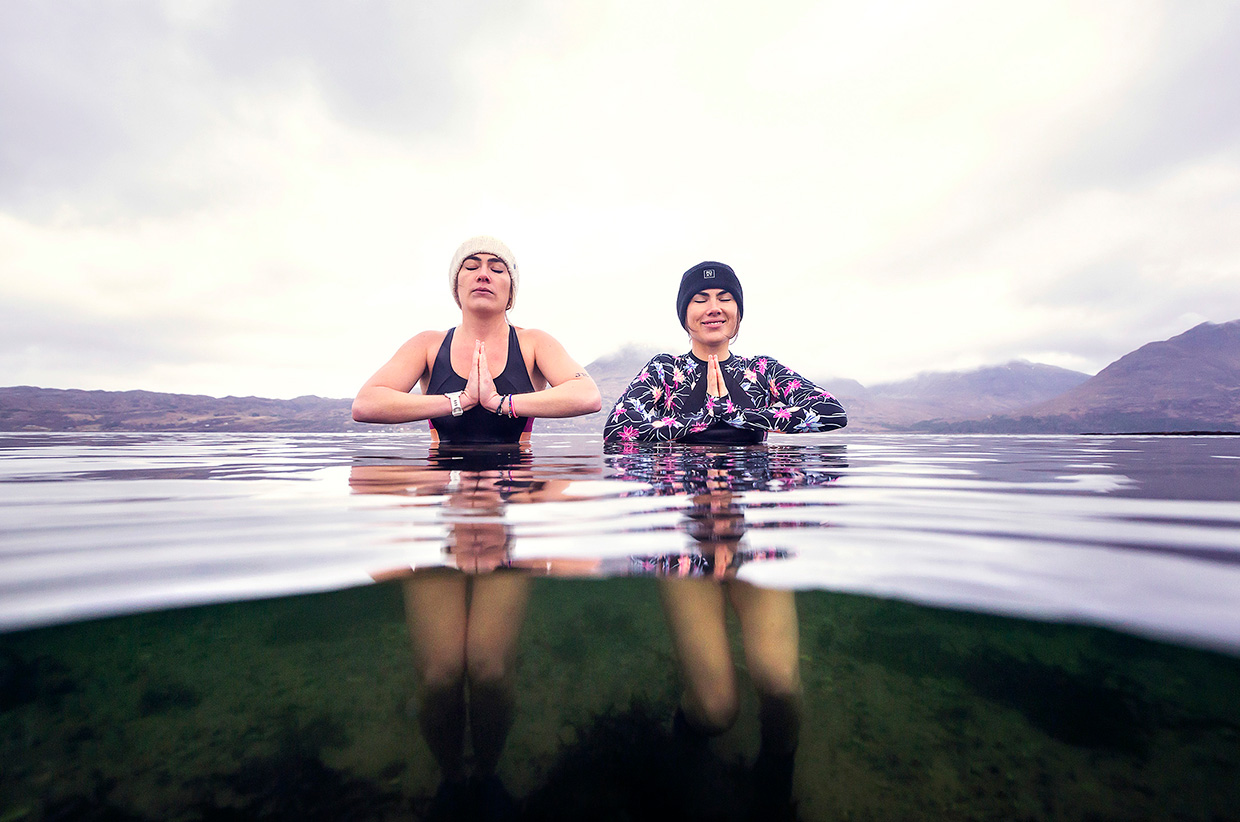 Energised by the sense of satisfaction and achievement after a day in the mountains, we made our descent. And then, feeling brave, we headed back to the bothy to prepare ourselves for the true Scottish experience: a cold-water swim in Loch Torridon.
Ever since we started practising cold therapy, dipping into rivers and lakes during the Swiss winter season, people have asked us: 'Why the heck would you do that? The water is close to freezing. You must be crazy!' And, in all fairness, the question deserves to be asked – it does take a little crazy to break a hole through the ice to snuggle yourself into cold water. For those still new to this, cold therapy is a practice that involves exposing your body to cold conditions (water or air), activating your natural healing abilities, and developing a sense of health and well-being.
Nothing about plunging your entire body into near-freezing water is easy. But the challenge is what first attracted us! It is only impossible until you make it possible. You can condition your body to withstand the extreme through simple pre-dip breathing exercises, a little courage, and a lot of focus.
The first few seconds are often the toughest. It is the moment every inch of your warm body is wrapped within a body of water at close to 0°C, urging you to rush back out. Your senses start to freak out, but you remind yourself that what happens within takes the win.
So, you gather your wits and focus on breathing… in… out… in… out. Slowly but surely, your heart rate paces down, and you settle into a zone where mind over matter leads the show. That's usually when you might start feeling an overwhelming sense of warmth coming from within your belly. It's hard to explain, like a burning flame dancing on the tip of a red candle. Seconds rapidly turn into long-lasting minutes, and eventually, when your body tells you so, it's time to head out.
Cold therapy is about listening to yourself and pushing yourself. It's about discovering who you are and what you are capable of, giving your body many health benefits you never knew you needed.
Coming out of the water, we never felt more alive – and were eager to make the most of the final hours of daylight. We headed to the Shieldaig peninsula, where we wandered through the village and watched as two grey seals chased around the bay. Then we made our way across the lowlands back to the bothy to cosy up by the fire and reflect on a bracing but thrilling day.
We had wind; we had rain; we had sun. But that's the best part about nature. It does what it wants, and you have to adapt. You have to observe, listen, and watch what is happening around you. Scotland is the perfect spot to escape back to nature and experience a true summit-to-sea adventure.
---
Written by Annika Horn // @annikahorn
Featuring Jessica Horn // @jessicaahorn
Photography by Rachel Keenan // @rachelkeenan9
Produced in partnership with ROXY
This feature has been produced in partnership with ROXY, to celebrate the launch of their Active Explorer collection, available now.
Note: Cold-water swimming can be dangerous if practised without knowledge, experience, and/or expert supervision. Keep immersion brief, avoid swimming alone, and make sure you have warm, dry clothing to change into afterwards. Find out more via The Outdoor Swimming Society