Climbing Other Mountains
In Conversation with Jared Leto and Jimmy Chin
Written by Daniel Neilson // Photography by Jimmy Chin
Produced in Partnership with Gucci & The North Face
At the end of 2020, Sidetracked teamed up with Jared Leto and Jimmy Chin to showcase a new collaboration between The North Face and Gucci. After a climb and photoshoot in Joshua Tree National Park, we put the two Oscar winners in a (virtual) room to interview each other. What followed was a fascinating discussion on climbing ethics, Jared's recent discovery of the sport, and a very near-death experience…
---
Jimmy Chin is possibly the world's most accomplished climbing photographer. He's shot National Geographic covers with Alex Honnold, he's climbed Meru with Conrad Anker and Renan Ozturk, making an award-winning documentary as he went, and won an Academy Award for Free Solo, the film about Alex Honnold's once-in-a-lifetime free solo climb of El Capitan in Yosemite. And then there's Jared Leto, star of Blade Runner 2049, Fight Club, Academy Award winner for Dallas Buyers Club, and lead singer and songwriter of Thirty Seconds to Mars. He has a new crime thriller out soon with Denzel Washington and Rami Malek called The Little Things (released in cinemas and HBO Max on January 29th). Oh, and he's an accomplished climber and good friends with Alex Honnold, Tommy Caldwell, and Renan Ozturk. Jared even directed a series of outdoor films on US National Parks called Great Wide Open. He's almost certainly the first Oscar winner to climb El Cap… except for Jimmy Chin.
Jimmy and Jared have been friends for years, yet even in a year of video calls this far-reaching conversation flowed like the two friends they are. They finish each other's sentences, they joke with each other, and they are always unerringly honest. We simply sat back and enjoyed the spectacle of two friends discussing the importance of environmental stewardship and an eye-opening first-hand account of when Jared nearly died climbing.
At the time of the call, Jared was dialling in from an Airbnb in a California desert settlement, recording music, climbing, and reminiscing about their trip. Jimmy was in Kauai, Hawaii.
---
Jared Leto: I've got my studio set up here, recording music as always. I'm in Pioneertown, and the Airbnb that I'm staying in has got a Western town on the property. So we set up a studio in the saloon. It's pretty cold out here, but it's beautiful as always. Actually, I was thinking about you today because we're back in Joshua Tree.
Jimmy Chin: Are you climbing?
Jared: I've been climbing a bit, and I want to go back to that spot and get revenge on that one climb we did at the end of the day. Oh, I did lead Double Cross, though [a 5.7+ climb in Joshua Tree].
Jimmy: You know what's funny? That's the first rock climb I ever did.
Jared: Yeah, that's why I did it – because you mentioned that to me. And I've also done some rock climbing recently in Nevada. But what are you up to? You're still in Kauai and you're surfing?
Jimmy: For sure. I get up super early here and work, and then paddle out and try not to get vaporised by some of these sets. It can be pretty wild out there.
Jared: I would love to surf. I've done it a couple of times. I got my ass kicked in Brazil once but I did love it. Maybe I should've started a little sooner, but I love that you're able to get out there.
I've been thinking about the Joshua Tree shoot and I was so glad that you were able to be part of this. I always believe the best way to do these things is to work with your friends – the people you respect, admire, and are comfortable with. And that's exactly the case here. We just went out to try to do something exciting that we were psyched about and, hopefully, proud of. As well as being in a place we all love and have history in.
Jimmy: Yeah, it was a highlight of the year. It's been so crazy with production recently, and this is one of those perfect intersections of us going scouting, and getting some fun climbing and hang time in. And the shoot was really fun because it's so different to what I normally shoot.
Jared: It's cool to do in a place that we both love as well. The light is magic, and the features are just incredible.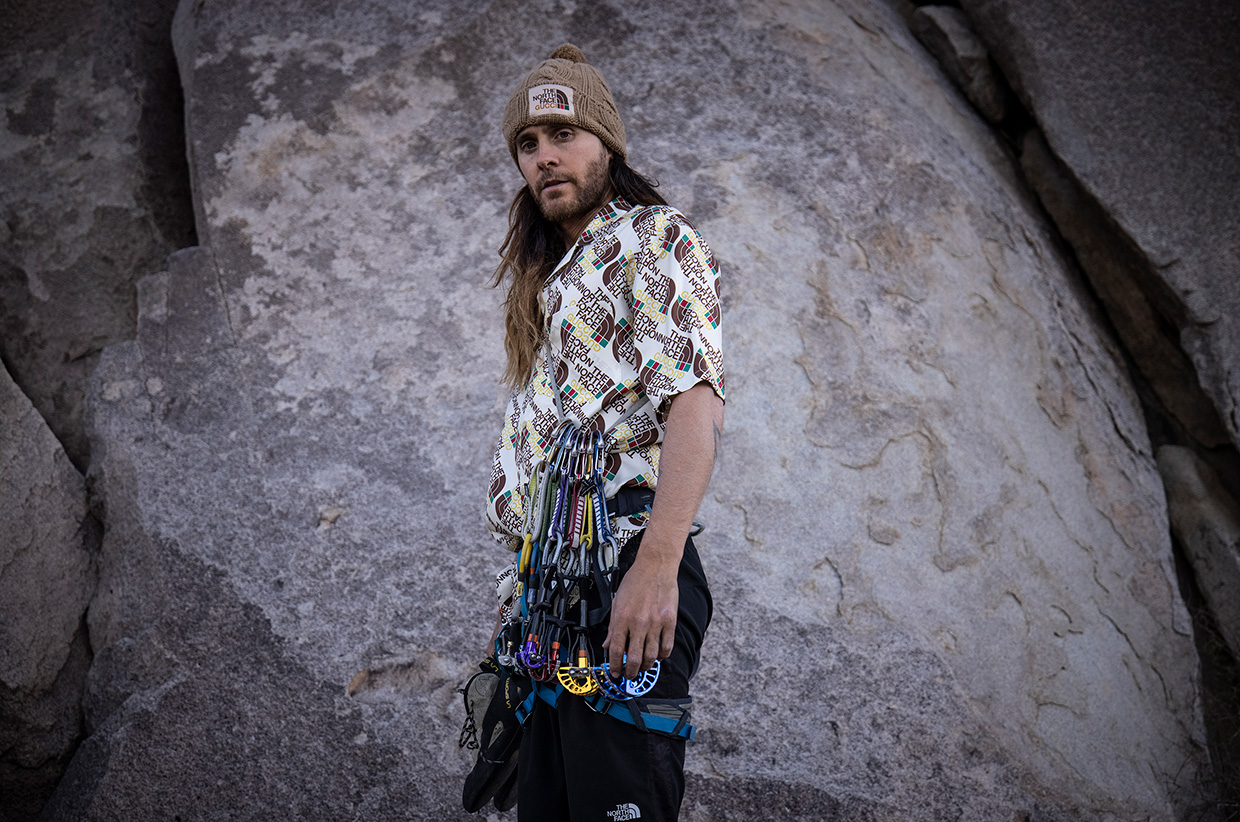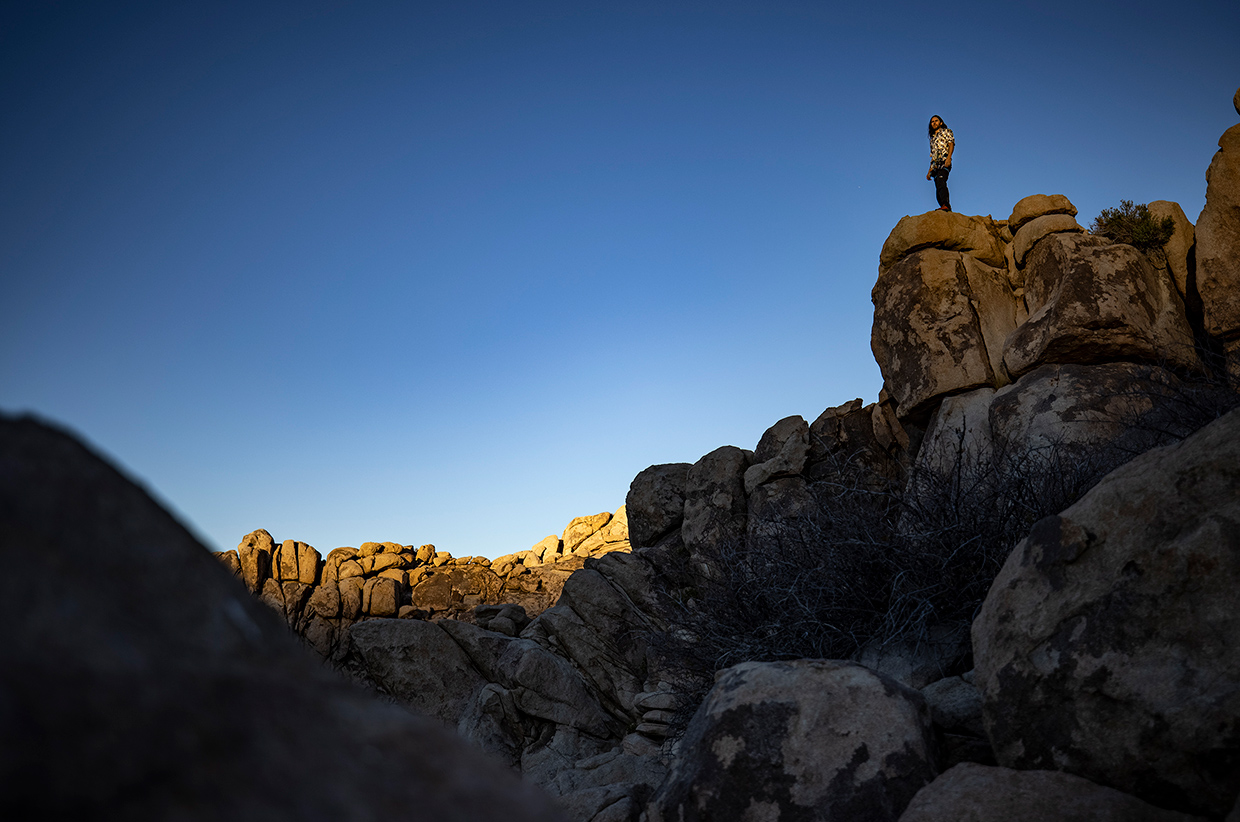 ---
In 2017, Alex Honnold free soloed El Capitan in one of the greatest climbing feats in history. Jimmy Chin and Elizabeth Chai Vasarhelyi directed the documentary film Free Solo with National Geographic. It won an Academy Award for Best Documentary Feature. Making a brief appearance in the film (well, his voice does) is Jared Leto, a personal friend and occasional climbing buddy of Alex Honnold.
---
Jared: So let's talk about Free Solo – being privy to that masterpiece was pretty cool. It was an exciting time because we all knew what was happening before it was happening. It was intense and terrifying all at the same time. I was up in the Valley at some point and you guys were filming. We ended up filming and interviewing.
Jimmy: That moment made it into the film because it was so critical describing the climb. And you played the role of the audience, asking, 'Well, why is it hard? Why hasn't anybody done it?'
Jared: It's like the big dumb question. They were looking at El Cap and I asked, 'Why not free solo that?' What did he say? Basically, it was, 'Well, look at it.'
It's interesting when you watch climbers, especially people that have been doing it so long – there's this kind of grace and beauty to their movement, because you're watching a human being at their most efficient and decisive. This is true of you as a climber, but the same is also true of you as a photographer and filmmaker. It's really fun to watch you in your element because you have that same grace and decisiveness when you pick up a camera. I've seen it out on El Cap and now I've seen it in Joshua Tree.
So many people appreciate your climbing as much as your photography. And I guess we're similar in a way because you're a filmmaker, a photographer, and a climber, and I do multiple things as well. And I guess we both just don't like a lot of downtime.
Jimmy: You've never told me how you got into climbing?
Jared: Well, I always wanted to be into climbing. I even bought a pair of climbing shoes as many amateurs do. It's like: 'OK, if I get these shoes, I'm gonna start climbing.'
I found that I spent a lot of time in the woods as a kid. Even in cities, I would find the biggest park. Whenever I was outside, I would end up scrambling around, bouncing around from rock to rock, but I never knew anyone who climbed. I went on to be so busy with music, and film, being on tour all the time. I said this to Alex [Honnold] before – it's like I was just climbing other mountains.
But five years ago, I decided to make a documentary called Great Wide Open, and I thought that if I made this documentary, it would trick me into getting out into nature and climbing more, and that's exactly what it did. And it had a bunch of amazing people such as Tommy Caldwell, Alex Honnold, Renan Ozturk, and Sasha DiGiulian. So that's how I became friends with them all. And I've been climbing ever since.
Jimmy: It's that recent? I assumed you had been climbing a lot longer. I mean, for the record, everybody out there, Jared is a very good climber.
Jared: At first, I think, ignorance was bliss. I would just climb, running up Middle Cathedral with Alex, simul-climbing*. I thought simul-climbing was normal climbing. It's also fun.
Jimmy: And you thought climbing with Alex Honnold was normal climbing, too. I remember thinking that you seemed to be really comfortable climbing with Alex and using the systems that Alex told you to use – those are not normal systems.
Jared: It was just flat-out ignorance. I was fortunate because I think there's something beautiful about the naivety. Of course, I always felt like I was in safe hands, but I didn't know better, and that allowed me to be more free.
Jimmy: You probably now understand, at least to a degree, that you were on an accelerated programme. But it's also a great way to take people into climbing. Instead of imposing the normal limitations that people think that you have to have to start climbing, Alex is exactly the type of person that would throw all of that out the window and just take a look at you and say, 'Well, you should be able to do this' – and you were. And then, before you know it, you're sending 15-pitch routes with him.
Jared: It's amazing, and I have a lot of gratitude for it – to all of you. And the other thing that's fascinating to me is the system of ethics, or set of values that is shared amongst you, Tom [Caldwell], me and Alex and others out there. I think that is really compelling and attractive. It's really something to share with the world when and wherever it's possible. And there's a humility there too. Of course, there are moments when you're looking at the face of God and you feel something special, but there's an expected humility that's kind of thrust upon all of you guys. I think it's pretty amazing.
Jimmy: When you said there's an ethic besides the humility, can you specify what that is?
Jared: I guess maybe it takes an outsider to see it, but it's the expectations that you have of yourselves about your behaviour, your stewardship of the outdoors, your accountability. The honesty and the transparency expected of people, the style in which you approach or attempt or complete a climb. Someone could write a beautiful book around it and share it with people – I would love to read it. I think this ethic is passed down through generations and carries on the tradition of some of the greats from other eras.
And that's not pervasive in every vertical that I explore in my life. It might not be expected amongst actors, or musicians, or social media stars. I'm not saying that people don't have a set of values or ethics at all. I mean, many people do, but I just find that climbing shares a common sense of values that I find really interesting and compelling.
*Simul-climbing is when all the climbers in a team move at the same time. The first climber places protection and the last removes it.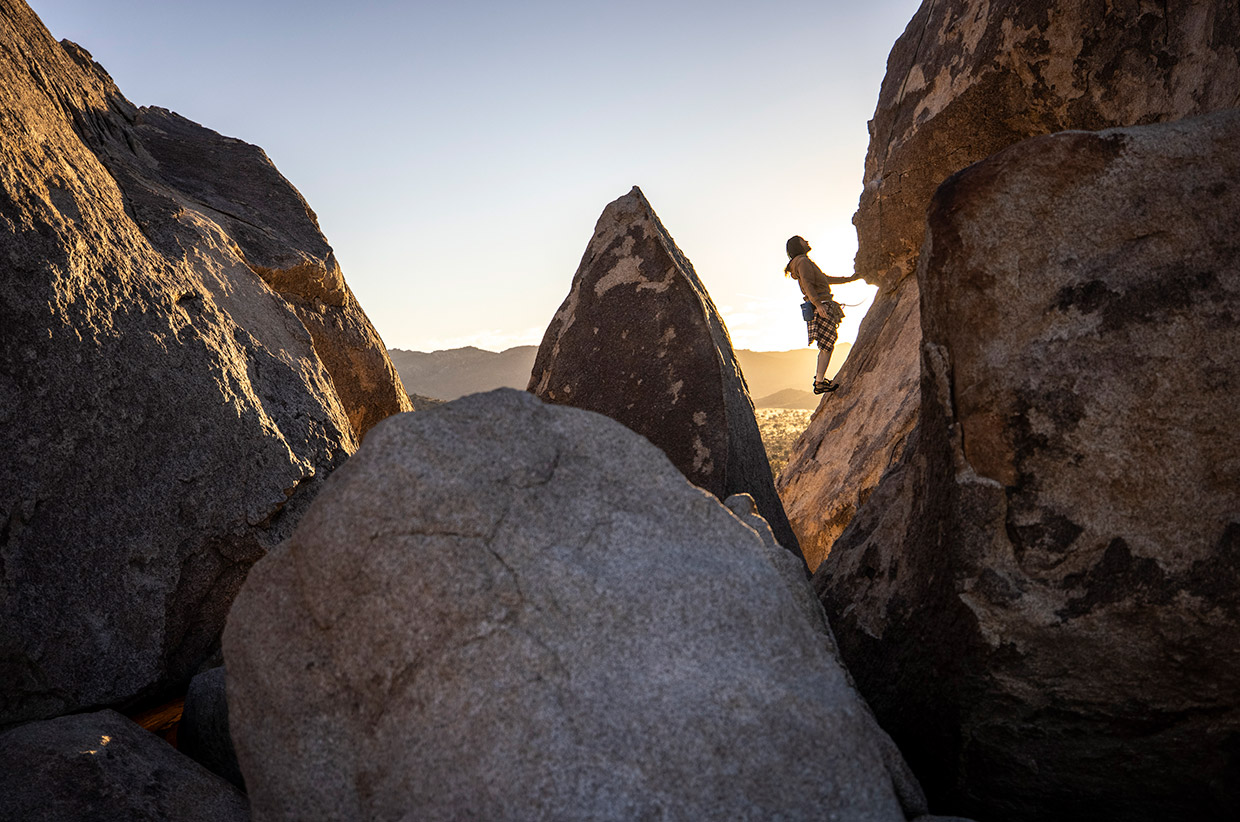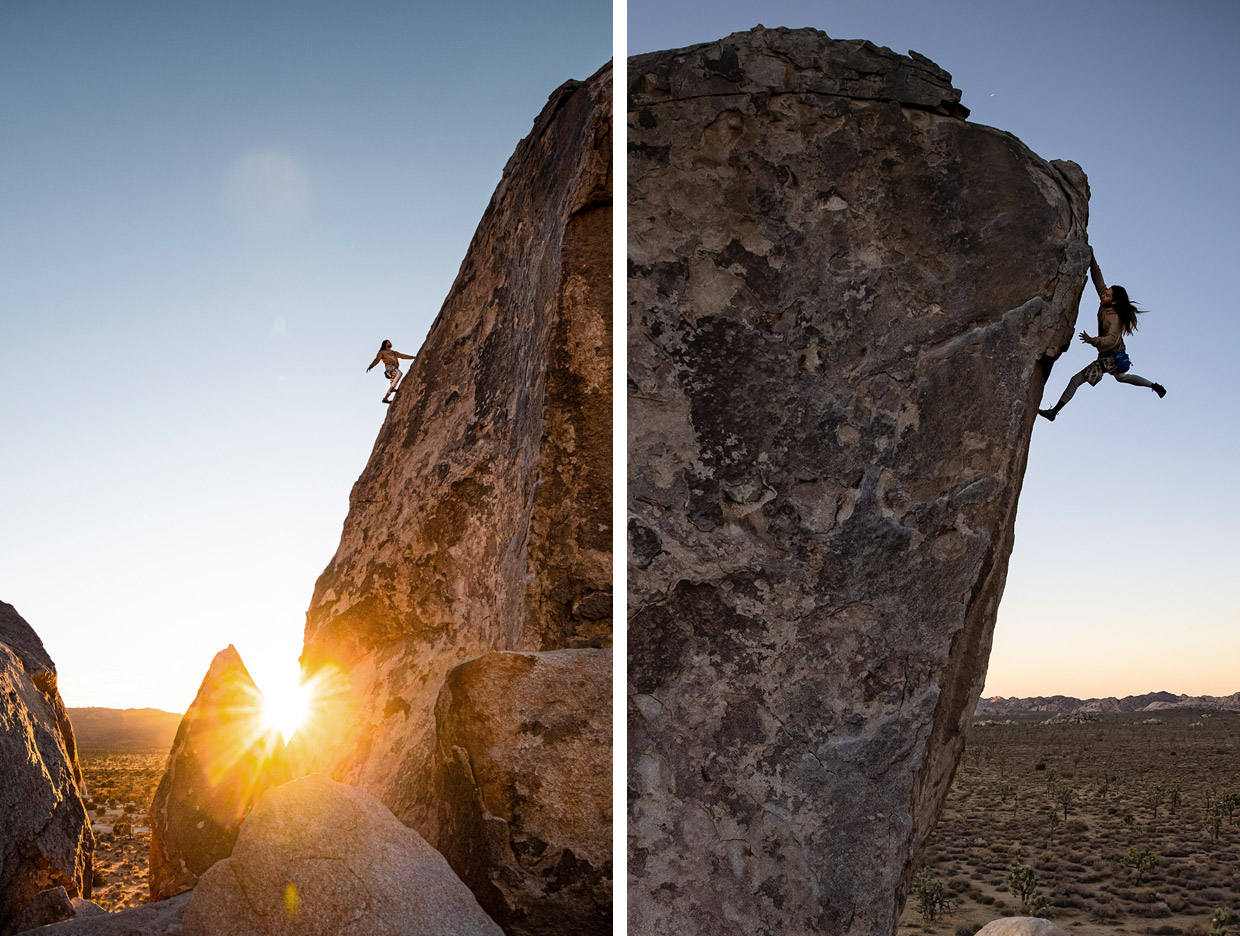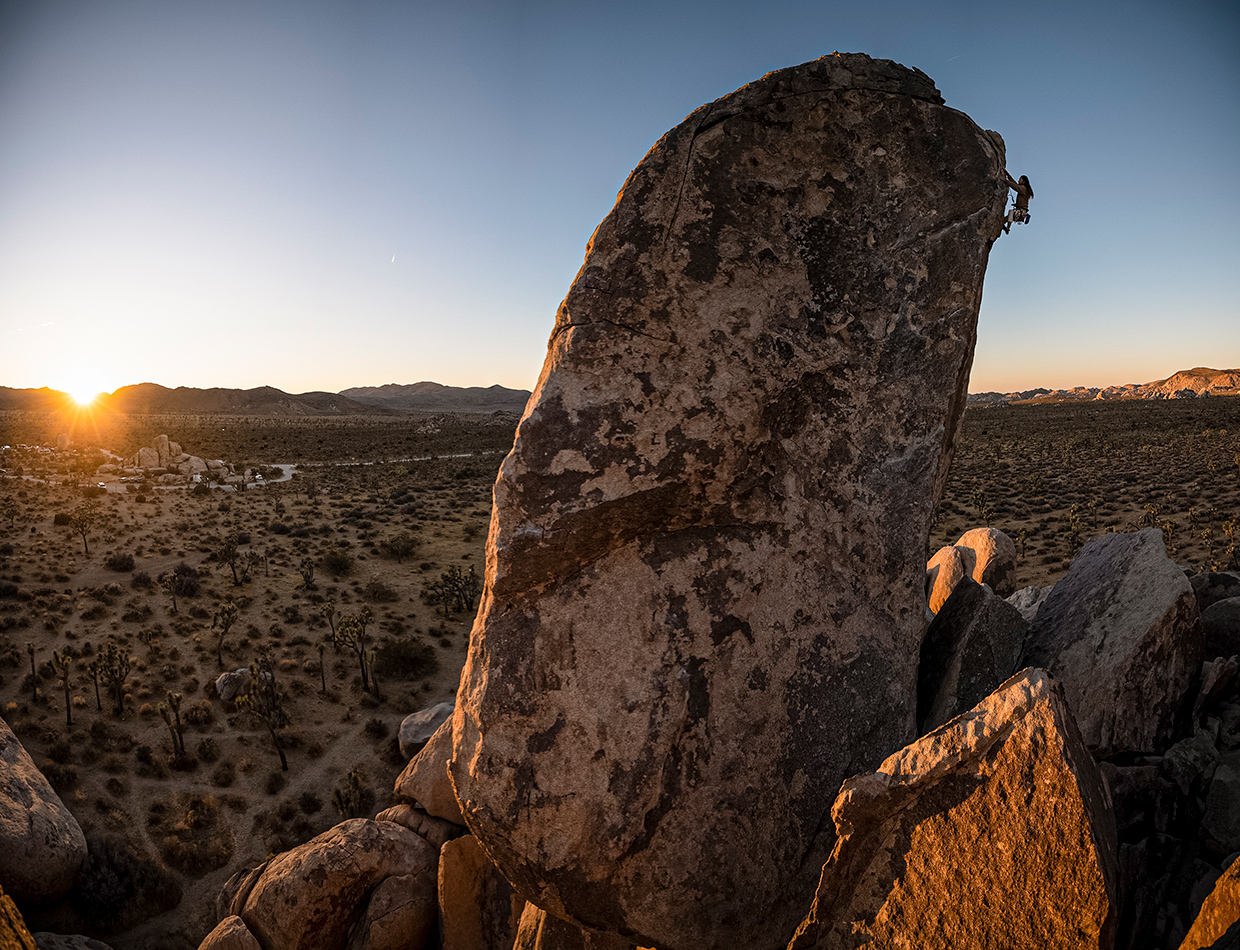 ---
In early 2020, Jared was climbing with Alex Honnold when he fell. The rope failed and he described it as 'the day I nearly died'. Here's what happened.
---
Jimmy: What was the scariest thing that's ever happened to you on a climb?
Jared: You know, what's interesting is that it was scary, but there was this kind of matter-of-fact reality that I was probably gonna die in a moment. And you know what I felt? Funnily enough it was sadness. It all happened so quickly but I had a feeling of, ah, really? Is that what's going on? Is it my time now?
I was doing a multi-pitch with Alex. It was a beautiful day, a beautiful climb, fairly mellow, and then I got to a spot where there was a roof, and, of course, he was already up top. It was very windy and hard to hear one another. I looked at the next pitch and I thought, oh, I'm definitely gonna take a fall here because it's way above my paygrade.
I could look at it but I couldn't calculate how to do it. We were 600ft up and I was pretty sure I was going to take a fall. But I had to give it a go. So I went up, reached up, cleaned some gear that was there. But as I thought I would, I took a fairly decent fall, and swung out over the abyss. And as soon as I swung out there's only one feeling when the rope rubs against the rock; you feel a kind of k k k k k k k k k.
Jimmy: Yeah. You feel it going through the rope into your harness.
Jared: Yes. And you just sense it. It's like a radar right to your heart and head. I looked up and I saw that the rope was getting cut where the rope and the rock were connecting. Just from one swing, I saw it just go pop, pop, pop, pop – the core of the rope was kind of exploding on the first swing out. And then when I went back, pop, pop, pop, pop, a little bit more on the other side. And I screamed up to Alex, 'Lower me', which he quickly did, and as I swung back the second time again, pop, pop, pop. And I knew if I didn't grab a hold of the wall that I would probably, you know… this is probably it. I missed it and I came back out, and he lowered me again. Pop, pop, pop. As I swung to the wall, I grabbed hold of the wall.
Then he came down, but I think the fear or the adrenaline kicked in afterwards. It was an anomaly. You know, we went on and did another multi-pitch after that. And then he said to me, 'Do you want to finish it?' And I laughed and replied, 'Are you fucking kidding me? I am done with this for now.' But I do want to go back and try it again and see if I can accomplish it now.
Jimmy: Well, we've both seen that emotion, how when you actually think you're going to die, you move past the fear part and you're already in the part where you're like, 'Ah… I kinda didn't wanna die today.'
Jared: It is just that matter of fact; a little melancholy. It certainly wasn't anyone's fault. It was just a full-on anomaly, one of those bizarre things, you know… shit happens.
Anyway, it was a lot scarier when Tommy Caldwell basically pushed me off the edge of Taft Point so I could learn how to jumar on a dynamic rope with no knot at the bottom of it. That was pretty funny. A tourist was up there looking at us, and he goes, 'Wait, that was your first time? Don't y'all wanna practise off the side of your houses or something first?' and I was like, 'Yeah.'
---
Gucci creative director Alessandro Michele decided to team up with The North Face in an effort to create fashion that has a longer life; many of the fabrics are made from regenerated materials. But it's also a collection that delves through The North Face's fabric archives and emerges with a distinctly 1970s look. It is never, however, at the expense of function. Read more about The North Face x Gucci collaboration here.
---
Jared: It's interesting to talk about the collaboration between The North Face and Gucci. I have a very close relationship with Gucci, and that's based around creativity and respect. And I really love the people who work there. One of my closest and dearest friends is Alessandro Michele, who is the creative director of Gucci.
His story is amazing. He worked there for years and years, and when a designer left Gucci and they needed a collection in a matter of days, the CEO approached Alessandro. They were going to hire someone from the outside, some big shot designer to come in. I think Alessandro was a little lower on the totem pole at that time, but they turned to him and said, 'Do you think you can do this?' and he just said, 'Si'. And he put together this collection that was not only good enough, but it reset the bar – and reset fashion.
He's a true artist and the most gentle, loving person on the planet. And I've always been a big fan of The North Face. I'm inspired by the story of the founders, and what they did – their stewardship of the land down in Patagonia, Chile. My mom was always a big fan of The North Face too: a really solid company that helps people gear up for activities I love and respect. I think they put a lot of care and thought into the stuff they did together with this collaboration, and you can see it in the results.
Jimmy: I've been working with The North Face for… this would be my 20th year. I also knew the founder very well, Doug Tompkins, and I'm actually working on a film about him. But I like when all of these different things kind of intersect. And the idea of going climbing with you was exactly what I needed; to go do some shooting that was fun. But your connection with Gucci and Alessandro, and then my connection with Doug…
Jared: Yeah, it's pretty cool. I mean, it's kind of…
Jimmy: Organic.
---
Read the other stories in this series: In Search of the Yucca Man and Celebrating the Spirit of Exploration.
Jared Leto has a new crime thriller out soon with Denzel Washington and Rami Malek called The Little Things (released in cinemas and HBO Max on January 29th). He's also starring in a new Sony Marvel movie called Morbius coming out soon. He's involved in a documentary called A Day in the Life of America on PBS, which was shot in all 50 states in 24 hours.
Early in 2021, he's shooting a film about the Gucci family with Ridley Scott. Other cast members include Lady Gaga, Al Pacino, Jeremy Irons, and Adam Driver. Combine that with a Disney movie and 50 songs out from his band in the next couple of years, and you have a very busy Jared Leto.
Produced in partnership with Gucci & The North Face
@gucci // @thenorthface // #TheNorthFacexGucci
Photography by Jimmy Chin // @jimmychin
Featuring Jared Leto // @jaredleto
Interview by John Summerton // @johnsummerton
Written by Daniel Neilson // danieljneilson