A Message of Hope
From The Field
In Conversation with Explorer Mike Horn
Photography by Dmitry Sharomov
Born in South Africa and now living in Switzerland, Mike Horn is probably the world's most famous living explorer. In 2016 he began the Pole2Pole expedition, a circumnavigation of the globe that ended in 2019.
Mike believes that, if he can show enough people first-hand the rapid environmental changes sweeping the globe, we can better understand the impact of climate change, and – more importantly – begin caring enough to take action.
For the Pole2Pole expedition, Mike worked with Speedcast, a global provider of remote communications, to share his journey in real time with the world. His goal was for the immediacy and drama of his message to achieve more than he had achieved before in illuminating the reality of our threatened planet. After the Arctic Ocean crossing, we caught up with him in Hong Kong to talk about bringing extreme adventure to a global audience as it happens.
---
Sidetracked: Hi Mike, thanks for chatting to us. Could you tell us about some of your most recent and memorable adventures?
Mike: I swam down the Amazon for 7,000km once, and then followed the equator around the world for 40,000km. I've explored the polar regions and I completed the a solo circumnavigation of the world around the equator. In 2006, I went back to the Arctic and did my first winter expedition to the North Pole. Then I went down south for a South Pole trip in 2007 and 2008. I climbed three 8,000m peaks without oxygen in alpine style, which means we carried all our food, shelter, and equipment as we climbed. In 2016 and 2017 I completed the world's longest crossing of Antarctica. And in December 2019, I crossed the polar ocean by boat and skis.
A life of exploration is not a road travelled by most people. What made you choose this path?
I'm a person who is curious. I want to go out there and discover not only new land but my own potential as well. I like to say that we have about 30,000 days to live and we can't waste even one. For me, it's very important to be able to live my life to the fullest.
We do take a lot of risks, and if we make mistakes our lives as explorers are cut short. Sometimes, things happen that completely demotivate me. The challenge to overcome all those problems becomes part of my life. You can make fear your home and have this feeling that you are really living life to the fullest.
And how have technology and connectivity during your expeditions helped you achieve your mission?
I think that having communications in the field is essential for modern-day exploration. It lets you go far away while staying close to the people who support you. In the old days, you would see boats sail out of the port and they might come back – or they might not. You would only know a year or two later.
Not everyone is capable of climbing the highest mountains, crossing the North Pole, swimming down the Amazon, or circumnavigating the world in a boat. Technology lets you take millions of people along with you and show them what the world really looks like. You can share the philosophy of exploration today because you can communicate directly from the adventure itself, and that inspires people.
You and your friend Børge Ousland recently completed a crossing of the Arctic ice. What did you see and learn on this journey?
While I was crossing the polar ocean, the ice was a lot thinner than it should have been – and the people who followed my expedition online were able to see for themselves the open water that should not have been there. Our whole planet is changing. The physical feat of a hundred-day crossing of the pole had never been done before, but when people see the impact of climate change for themselves, they're able to understand the scale of the problem we face – that was the important part.
We were expecting to see a lot of polar bears. In 2006, when I did the first-ever winter expedition to the North Pole from Russia, we ran into polar bears every third or fourth day. This year, I crossed the polar ocean from Alaska all the way to Spitsbergen, more than 2,000km on the ice in 90 days, and I didn't see one until the day before Christmas, when a mother and two cubs visited us. It gave me hope, and we were able to share that with millions of people – millions who can finally see that if the polar bears are changing their habits and are no longer on the ice, then it's our responsibility to change our habits, so we can exist together in the future.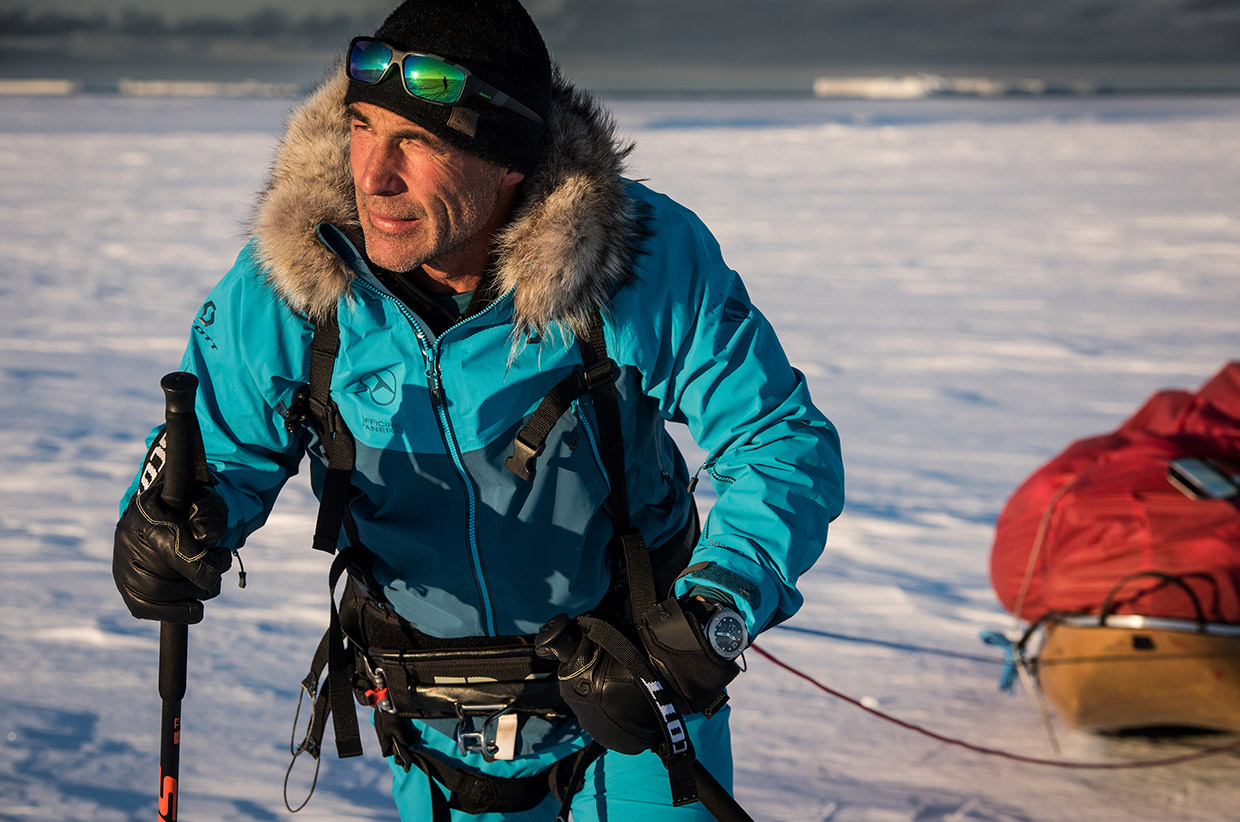 If you think back to expeditions before social media, how does today compare in terms of your ability to have an impact?
When I swam down the Amazon, I didn't even have a satphone. On my first expedition to the North Pole, I had to carry so much weight in batteries just to be able to send a position message every five days. But now, with the system set up for me, I can push one button and in seconds you know where I am. I can send photos and text and emails instead of taking notes on paper that I have to carry with me.
After the expedition, which was followed by millions of people around the world, I was invited to the World Economic Forum in Davos, Switzerland to speak to the world's leaders about the changes in the Arctic Ocean. That's the power of sharing in real time. Everyone doubts scientists these days if they speak about a study they did, but people listen to you if you put your life at risk crossing the polar ocean. All the world's leaders were in that one room and listened for 30 minutes to what I had to say, simply because the press was so interested in my exploration.
The president of France asked me what we can do to make the world a better place and live in a sustainable environment. I don't have the answers – I'm just an explorer, but what I do know is that if we all do something together, instead of always looking to politicians to make the right decisions, then we can lead the change.
What's your next expedition?
I am heading up north again to get closer to Greenland as the seasons change and winter is coming to an end. On my polar crossing, it was dark 24 hours a day, and that doesn't send a message of hope. I would like to show life coming back to the Arctic, with the belugas and polar bears going out hunting. Giving hope to people is as important as telling them that they have to be careful because the ice is melting. We've got to be able to give hope – and the moment when you show life, that's when people have hope.
---
Mike is currently embarking on his next adventure to the eastern part of Greenland, where he will sail around Svalbard to collect data on whales. The goal of this project is to have enough data to establish natural reserves where whales are free to reproduce, feed without stress, nourish their offspring, and have a comfort zone to live in harmony with humans and nature. Sailing through the constant flow of massive icebergs, the team will also go on land to discover the diversity in landscapes and wildlife. Throughout the expedition, the crew on board Pangaea will share their adventures with an audience across the globe.
For more information, visit http://www.mikehorn.com/ or follow Mike on Instagram @mikehornexplorer.
Dmitry Sharomov is a freelance photographer based in Russia. He has followed Mike Horn on his expeditions around the globe since 2012.
Twitter: @DmitrySharomov