Against the Wall – Tommy Caldwell
Inspiration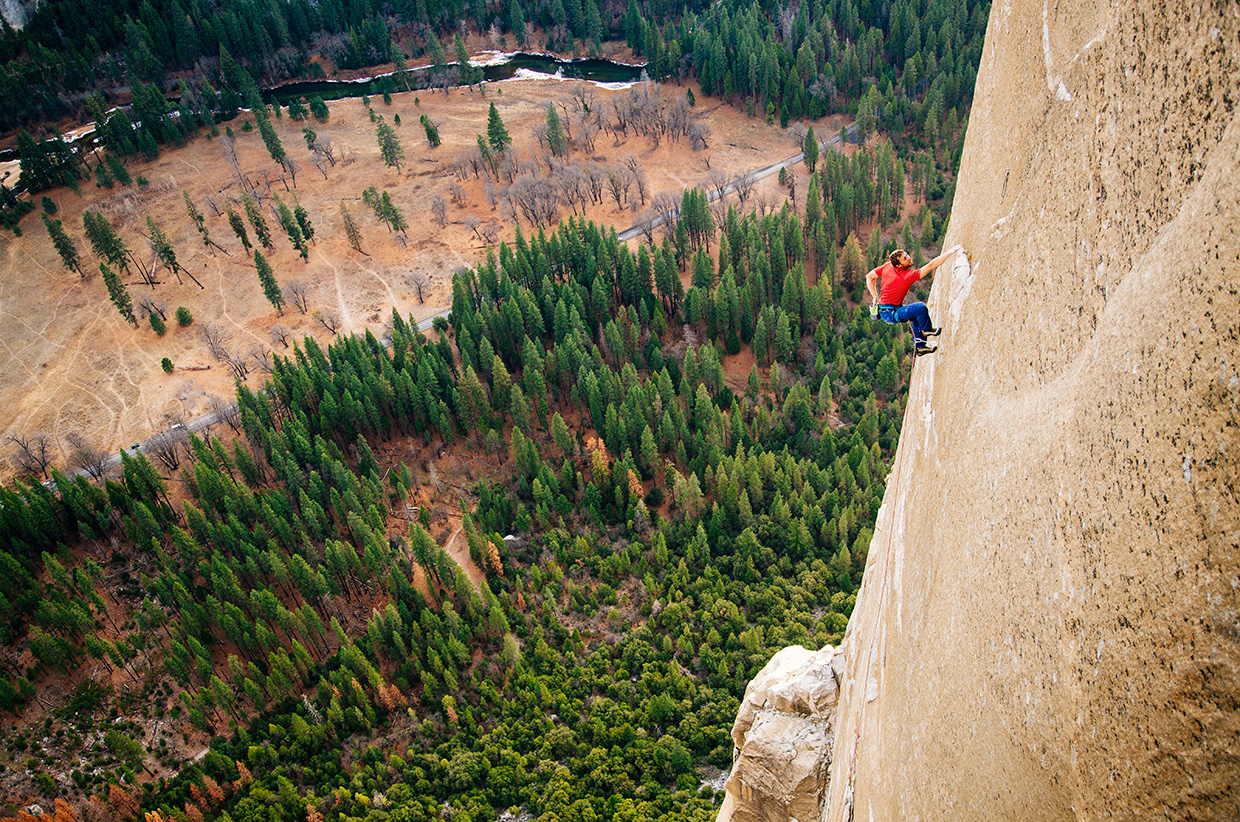 Written by Hugh Francis Anderson
'We hear the wind racing from a half mile away, a roar in the darkness mixed with the pitch of a scream. The volume rises, drowning out all other sounds. We sit like gargoyles, legs stuffed in sleeping bags, backs against the wall.' – Tommy Caldwell
The opening segment of Tommy Caldwell's 2017 memoir The Push brings the rawness of one of the most daring climbs in history to the fore. On January 15th 2015, Caldwell and his climbing partner Kevin Jorgeson completed the first free climb of El Capitan's Dawn Wall. Considered by many to be the hardest free climb ever accomplished, Caldwell and Jorgeson's feat was further immortalised in the acclaimed 2018 documentary, The Dawn Wall. Yet Caldwell's life up to this moment is more fascinating and filled with tales of adventure, adversity and elation than one might initially think. So, to discover more about his exceptional life, I tracked him down in Barbizon, near the European bouldering Mecca of Fontainebleau, France, while on a climbing holiday with his family.
At 40 years old, Caldwell's life can be likened to that of the proverbial phoenix; a succession of rises and falls, of great achievements and harrowing declines. Raised in Loveland, Colorado, climbing was a part of Caldwell's life from an early age. 'It was a family thing, which in the US was quite rare back then. Climbing was very much thought of as an extreme sport for most people, but my dad was a mountain guide and really into it, so we saw it differently,' he tells me. 'He raised me by going out in the mountains and taking me to climbing areas. We'd just climb mountains and travel all over the place.' Caldwell's earliest memory is as a three-year-old huddled next to his father deep in a snow cave high in the Colorado mountains. And it was also with his father, as a seven-year-old, that he first travelled to Yosemite and climbed El Cap. Climbing, for Caldwell, was always a way of life. 'When I was young it was just a hobby, but I totally fell in love with it, and at some point, it became something that was absolutely an obsession.'
Caldwell writes in The Push, 'I'd adopted my dad's "work hard" mantra and become maniacal in my pursuit of fitness and skill… The idea that I could be the best at something was the most tempting elixir in the world.' And the best he quickly became. He was considered one of the top sport climbers in the world while still at school, and in 1993, at just 14 years old, he experienced his first international climb, on one of his father's CMS assignments to guide in Bolivia. 'In a very real way, I'd gone to school that summer in Bolivia; I learned what really mattered to me.' And so Caldwell's climbing career blossomed. And the moment it all changed came when he joined his then partner, the climber Beth Rodden, on a North Face-sponsored expedition to Kyrgyzstan in August 2000. 'I had travelled to Europe, I'd been to Bolivia to climb mountains, but they were quite gentle expeditions really,' he tells me. 'Kyrgyzstan was the first one that was a full-blown expedition. The amount of planning that went into it was insane, and it really was my first big international climbing expedition.' But things quickly took a turn for the worse.
Unknown to the team, the Islamic Movement of Uzbekistan had declared jihad against the Kyrgyz and Uzbek government and crossed the Kyrgyzstan-Tajikistan border, some 10 miles from Caldwell and his team, just days earlier. With news quickly spreading that there were foreign climbers in the Ak-Su and Kara-Su valleys, Caldwell and the team were hunted down and taken hostage at gunpoint by the militants. Some six days later, with the onset of starvation and the militants' numbers down to just two, the team of four decided to try to overpower the remaining militants. When one left to find food, and the other, known to the team as Su, was leading them up a 2,000ft mountainside under the cover of darkness, Caldwell realised the moment had come. 'The strength has been growing into a monster inside me, emerging from nowhere, from everywhere, unlike anything I've known,' he writes in The Push. 'I accelerate across a series of footholds with the swiftness of a mountain goat, staying silent in the shadows… I lunge for the strap of the gun slung over his shoulder. I pull as hard as I can and push his shoulder. His body arches backward through the blackness… His body lands on a ledge with a sickening thud, and then bounces toward oblivion.'
At just 22 years old, Caldwell believed that he had just killed someone. And although it later emerged that Su had survived, the event changed Caldwell's life beyond measure. 'It was one of those events where I can quantify my life as everything that led up to it, and everything after that,' he says. 'It was an absolute coming-of-age moment for me.' And the effect of this? 'We all struggled in certain ways, but the net effect for me was that it lit a fire within me. When death becomes tangible, you know you have to live every moment to its fullest after that.' I wonder then how Caldwell's approach to fear has changed since, and whether the notion of conquering the unknown outweighs the notion of fear itself. 'Yes, I would say that is the case. There is fear, there's definitely fear, but the way that I deal with it is to treat it like fuel. It helps focus me. When there's a certain amount of fear, that's the only time in life when I feel that I'm firing on all cylinders. So, in a way, you become addicted to seeking out the experiences that most people would consider fearful. I wasn't born like that, but I think Kyrgyzstan changed the way in which I processed fear.'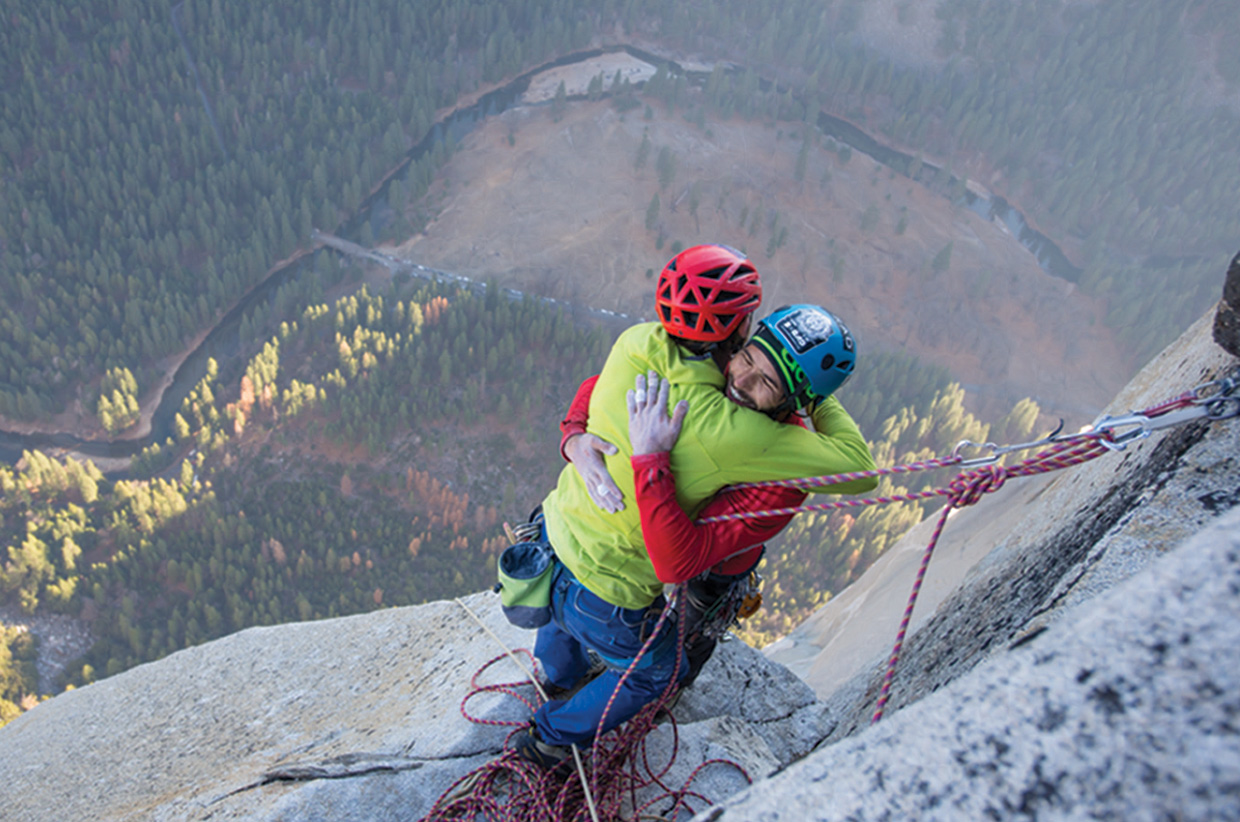 And though Caldwell's fire was blazing, he would have to overcome one more difficulty before becoming the climber he is today. At his home in Estes Park, Colorado, in November 2001, Caldwell accidentally cut off his left index finger above the middle knuckle on a table saw. Though it was reattached, doctors told him that he would never be able to use it again to climb, and he made the decision to have it removed. To many, this meant the end of Caldwell's climbing career. But to Caldwell, it was the beginning of the next chapter, and he placed third in a local bouldering competition just three weeks after leaving hospital. In time, he would go on to dominate the world of free climbing, with many notable ascents of El Cap – including West Buttress, Dihedral Wall, the Nose, and Magic Mushroom. He also formed a strong climbing partnership with Alex Honnold, whom I interviewed for Sidetracked after his 2017 free-solo climb of El Cap. Together, Caldwell and Honnold achieved the first all-free ascent of the Yosemite Triple Crown, and the Fitz Traverse on the Argentina-Chile border. 'The most memorable climb that I'd done before the Dawn Wall was with Alex, called the Fitz Traverse in Patagonia. It was just five incredible days living on the top of this mountain range entirely alone, just travelling through the mountains.'
But it was his successful climb of the Dawn Wall that catapulted Caldwell to worldwide fame. It's a tale of sheer determination and stubbornness. The seven-year project consumed Caldwell, but how did it all come to be? 'There were lots of thing really. I was going through a period of my life when I needed something to focus really intensely on. I had just broken up with my wife, so I was at this place where I needed a distraction from all the emotional turmoil. After a year or two I started to get really excited about the project and loved the way that working towards this climb made me live. I was super motivated and energetic and was striving for mastery in a way that I hadn't in the past. But it was also the combination of all the skills I had acquired throughout my 30 years of climbing. It was incredible.' After a phone call from Kevin Jorgeson, a world-renowned boulderer, who asked Caldwell to teach him how to climb big walls, the two began working together. With one big-wall climber and one boulderer, a perfect symbiosis of technical skills allowed the pair to teach one other enough to make an attempt possible. 'It took him a while to get used to it,' Caldwell says of Jorgeson. 'But then he started doing the moves that I couldn't do and guided me through how to do them and helping me believe that they could be done.' In this time, he also remarried and had two children – Fitz (named after the Patagonian Traverse) and Ingrid – yet the Dawn Wall remained his faithful companion behind it all.
After 19 days and some particularly trying sections, namely the 5.14d-graded pitch 15, which Caldwell overcame on day 10, and Jorgeson some 6 days later, they reached the summit. 'My feelings were so mixed, but it evolved over time,' he tells me. 'The high moment was the day before we topped out, as we both knew that success was going to happen, and that we'd been on this incredible adventure together. It was a real moment of brotherhood.' Though a barrage of media awaited the climbers at the top, and Caldwell wanted to share the moment with Jorgeson and their family and friends alone, he notes that 'it was a validating moment to see so many people that wanted to be there for it, especially when you spend seven years climbing one wall – you start to wonder whether you're insane.'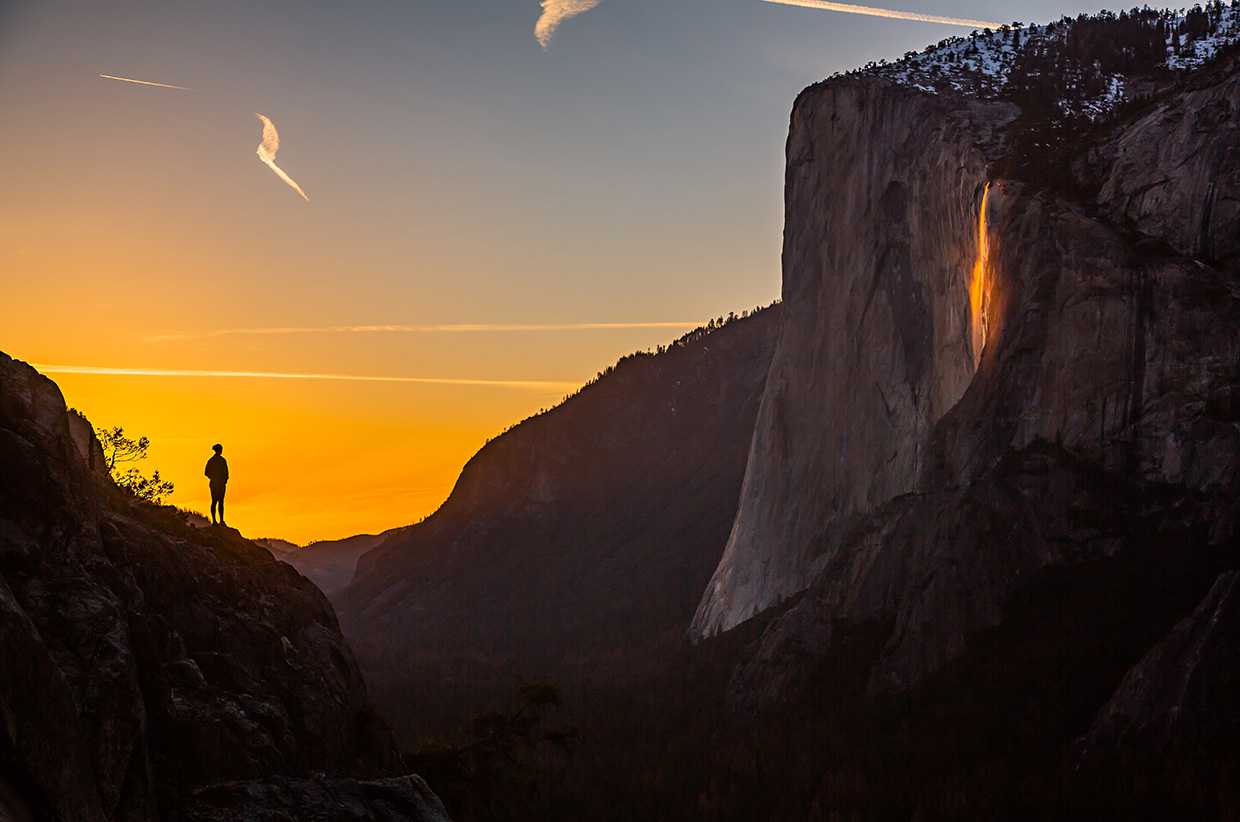 I ask Caldwell how his approach to climbing has changed with two young children, and whether his attitude to teaching them to climb is as powerful as his own father's was for him. 'Yes, absolutely. I now very heavily consider all the climbs I do,' he says. 'I just need to be more conscious from afar.' And one of the reasons that he's in Fontainebleau is that it's a place that climbing families come to teach their children in a familiar and safe environment. 'Climbing has brought me so much in life that I want to expose them to it and give them the option to choose to do it when they're older.'
Just before we ring off, I ask what it is that Caldwell loves about big-wall free climbing. 'I think I love the environment, and I love the grandness of it. It's one of those things in life that seems as if it shouldn't work,' he says with a laugh. 'You look at certain climbs and think, "that should not be possible". And then you break it down and it becomes possible. It keeps you questioning the limits of possibility, and that's what I love the most.' A man who has experienced both the absolute highs and the terrifying lows of life yet maintains a humility that is commendable to witness, Tommy Caldwell represents more than just a world-class athlete. To me, he is demonstrative of the highest levels of human endeavour, of a spirit and resolve that can never be extinguished.
---