Lucerne Through A Lens
Inspiration
Adventure photographer Pascal shares the best places to go and things to do in Lucerne, Switzerland, after a lifetime capturing the Alpine trails and snow-capped mountains.
Written by Harriet Osborne // Produced in partnership with Switzerland Tourism and Lucerne Tourism
---
With panoramic views of the mountains in a stunning lakeside setting, Lucerne in Switzerland is a destination for many seeking travel and adventure. Nestled amongst 73 snowy peaks is Engelberg, a quintessential Alpine town with a laid-back feel that attracts outdoor enthusiasts from all over the world. It's also the home to Pascal, an adventure photographer and ambassador of Lucerne. We speak to him about what makes this region so special and why he has taken permanent residence in the town he grew up in.
---
Sidetracked: Thanks for chatting to us Pascal. Firstly, how did you get into photography?
Pascal: When I was a kid I filmed a lot of snowboarding videos with my friends in Klewenalp-Stockhütte, a small ski resort above Lake Lucerne. Every spare minute we would do what we love: snowboard, film, and edit. Gradually I moved to stills and now I focus on photography. I've been shooting landscapes for 10 years now.
As an adventure photographer, you spend most of your time outside. Why is the outdoors so important to you?
Being outdoors gives you the time and space to rearrange your thoughts with no distractions from busy surroundings. It's just you, your thoughts, and that goal, that peak in the distance. Nature provides the air that we breathe, the food that we eat, and the water that we drink. It's essential for life on our planet. That is something we should appreciate and it's why I always respect nature. From a visual perspective, too, the outdoors is just beautiful.
You're an ambassador of Lucerne, a compact city in snow-capped mountains. What makes this region so special?
You have everything you need in one place. There is the beautiful Lake Lucerne, where you can go swimming, kayaking, or paddleboarding. The mountains are on your doorstep and amongst them you can do everything from casual hikes to super-fun bike rides. There is a natural river wave at Bremgarten, a 45-minute drive from Lucerne, where you can go surfing. And then you have the picturesque Altstadt, a medieval old town where you can relax in bars directly by the lake in the summer.
When you're not shooting photography, you're skiing, hiking, or climbing. Where do you go for these activities?
Andermatt is a village south of Lucerne with great activities all year round. In the summer there are many hikes with astonishing views over glaciers. You can walk up to Sidelen-Hütte, the highest hut in the canton of Uri and owned by the Swiss Alpine Club. It's an A-frame cabin with views of the mountains – a perfect place to get a cold beer to quench your thirst. In the winter it's great for ski touring and freeride skiing. You can ski up to Pizzo Centrale, where there is an impressive view to the south of Switzerland (Ticino), to the east (Grisons), west (Valais), and north (Uri) – and then you have a 1,500m freeride back to Hospental. From there, it's a short bus ride back to Andermatt.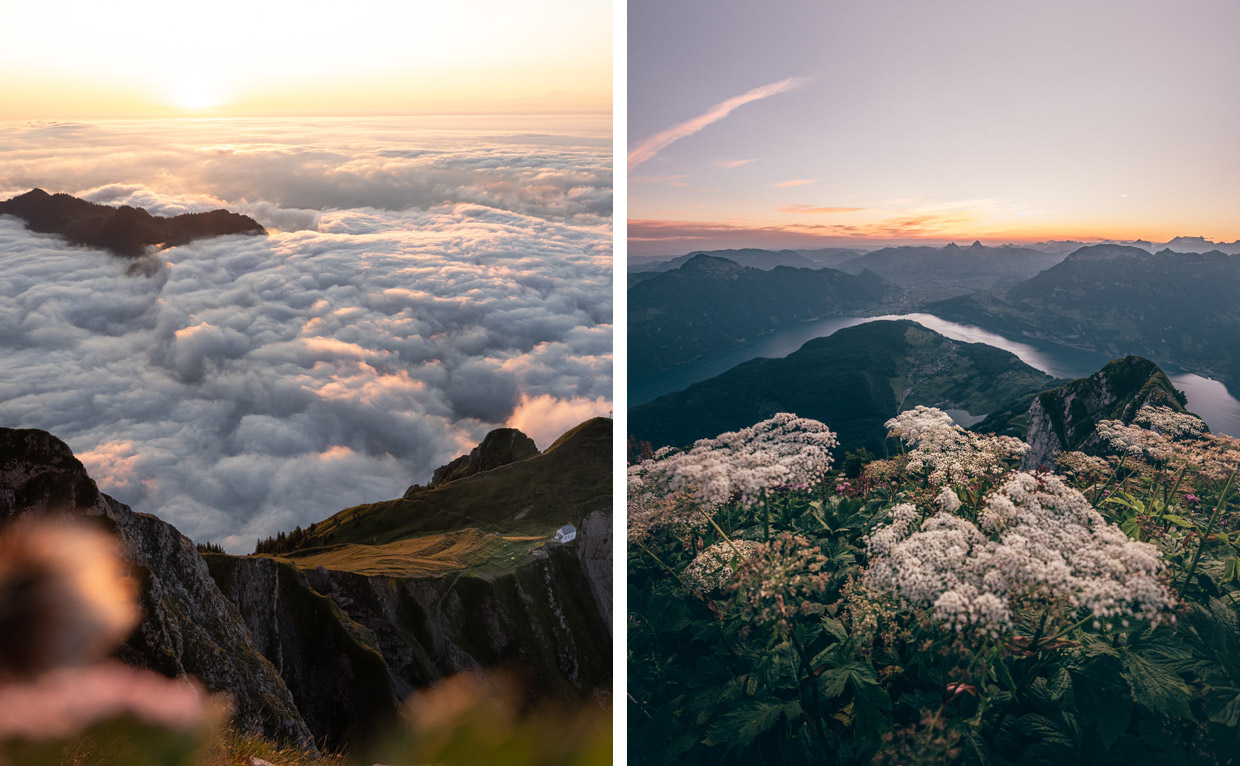 Can you describe a perfect microadventure in Lucerne? Where you would go and what would you do?
I would take the small gondola that gives you panoramic views of the mountains to a place called Niederbauen above Lake Lucerne. Then, I would take the one-hour hike to the top, Niederbauen Chulm, where you have breathtaking views. The region looks unspoiled, and Lake Lucerne looks like a fjord from up there. It's really beautiful especially when the sun rises behind the snowy Alps. You really feel the world awakening. Nothing compares to the calmness at that time in the morning. It's just priceless.
Where are your top places to visit in the region?
I would definitely go to Pilatus. This mountain is famous for a reason, with 360-degree views of 73 Alpine peaks. I would also hike up to Fronalpstock on the other side of Lake Lucerne, for a stunning view over the lake. I wouldn't miss a visit to Fürenalp, a hidden gem high above Engelberg. From there you have views of Titlis and another mountain called Gross Spannort. It's an amazing landscape.
What do you hope to achieve in your photography?
If I can inspire just one or two people to spend more time outdoors, to appreciate it and respect the beauty of nature, that would make me very happy.
'When the sun rises behind the snowy Alps, you really feel the world awakening. Nothing compares to the calmness and beautiful light. It's just priceless.' – Pascal
---