Millican: Made to take you anywhere
Gear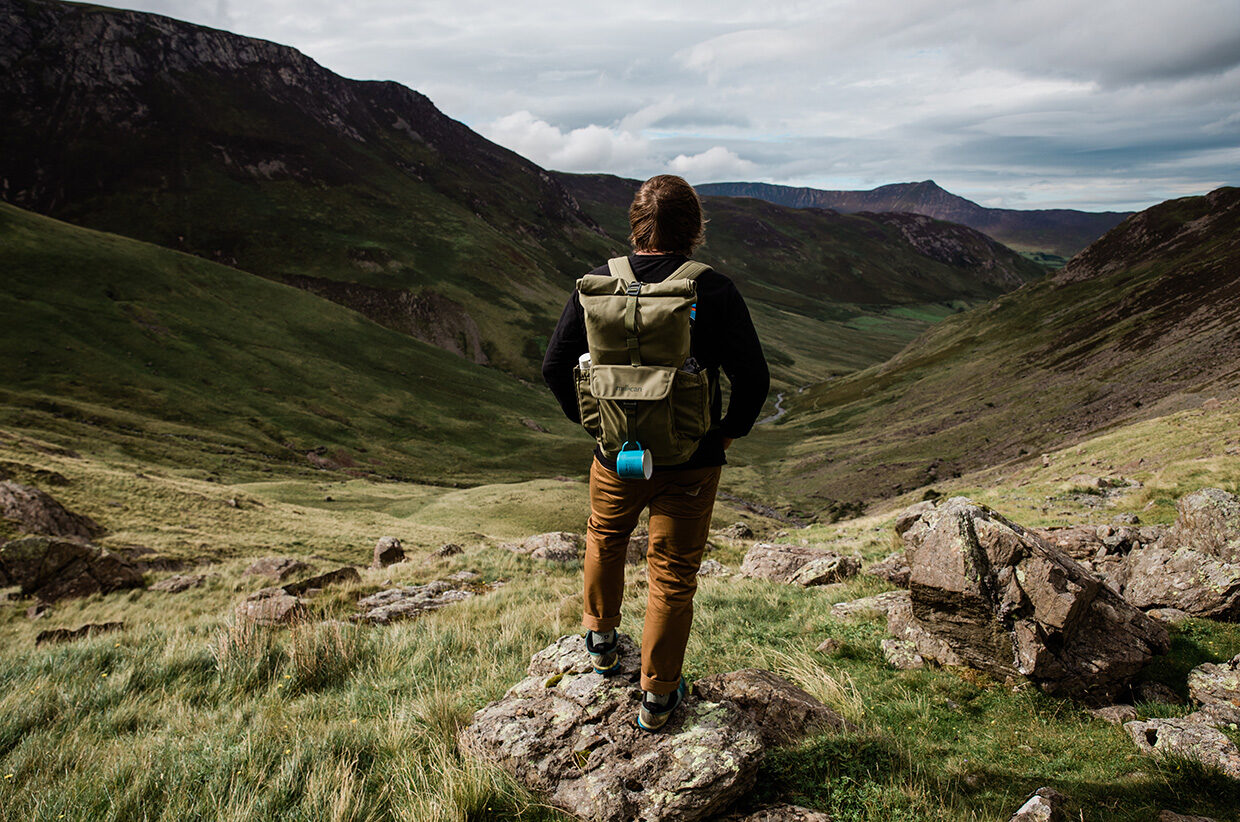 Stories Behind the Gear: Millican
Functional and responsible bags that are built to last a lifetime
Written by Harriet Osborne // Photography courtesy of Millican
'We're not at the top of a mountain or hanging off a cliff, we're not extreme like that. It's a human powered adventure on your own two feet.' – Jeffrey Bowman
---
In a farm nestled at the foot of Skiddaw, a mountain in the Lake District, Millican brand director Jeffrey Bowman watches on as the light gently shifts through the seasons.
Jeff, who has been at Millican for six years, is responsible for bringing the brand's alternative approach to adventure to life, producing bags that are made for modern living and built to last a lifetime.
'Our alternative approach is about the transition between work and adventure – you only need one bag to do both,' Jeff says. 'It has a nod to the heritage of hiking and being outdoors, but it also has the minimalism and urban feel of the city. Being outdoors is something we need now more than ever. Time to reflect and to connect with each other, to do things in our own time, not to rush through life.'
Millican has been powered from an office in Keswick with panoramic views of the Lake District since its launch in 2009. Jeff works closely with co-founder Jorrit Jorritsma and a tight team of three managers who cover communication, marketing, and finance.
Millican has daypacks for everyday adventures, hiking backpacks for trails, and accessories for travelling light as well as over-shoulder bags and overnight bags. When seeking inspiration for their designs, the team look no further than the landscape outside their window.
'It's really important that we are here. The Lake District reminds us of the responsibility we have towards the environment. We select the colours for our bags from what we can see in front of us,' he says. 'It's also a brilliant testing ground. The weather up here is pretty unpredictable sometimes. We all use the landscape in different ways: riding, camping, hiking. It's a Millican approach to adventure. We're not at the top of a mountain or hanging off a cliff – we're not extreme like that. It's a human-powered adventure on your own two feet.'
Over the years, Millican has developed its own material, the Dalton Canvas, which is made from 100 per cent recycled polyester. This hard-wearing, lightweight, waterproof yarn is made exclusively for Millican by a fabric producer in South Korea and uses the equivalent of 44 single-use plastic bottles per 25L bag. Every 1kg of rPET, a sustainable fabric made from 100 per cent post-consumer waste, keeps 60 water bottles out of landfill.
All materials are approved by bluesign®, a system that eliminates harmful substances from the beginning of the manufacturing process, setting the standard for an environmentally friendly and safe production.
Millican outsource the bag-manufacturing process to a factory in Vietnam, which they visit once a year for regular external audits. They supply partners with the Millican Code of Conduct, outlining best practices on everything from labour, environment, working hours, and emissions; factories must agree to and sign this.
'Offsetting our CO2 footprint is all part of our responsibility road map for 21/22 that we're working our way through,' Jeff says. 'For a small team it's a case of ticking things off as we go, moving from one priority to the next.'
There are a number of priorities that Millican can tick off already, including putting offcuts to purposeful use. They recently partnered with field rug brand Moorswood to create fold-away roll mats, made from leftover fabric for the base and reclaimed hosepipes for the straps. The first batch of 10 sold out in just 30 seconds.
Millican also has a Re-Home Your Bag project, where the team breathes new life into old bags, fixing any wear and tear and passing them on to social projects, communities, and charities in the UK. So far they have sent pre-loved bags to Action for Conservation, the Bristol Bike Project, and Craggers: Adventures For All; all have introduced them to new homes.
Instead of producing new collections each season, Millican focuses on the key bags they know people want. 'It's much more responsible – we produce product when we need product,' Jeff says. 'This way, we can tell the story, share the story, and put the product directly into someone's hand.'
Having a close connection with the Millican consumer is important. Last summer, they launched an Everyday Adventure campaign to inspire people to seamlessly transition from work to adventure.
'We've traded far-flung corners of the world for days spent exploring our own back yard, discovering wild swim spots and corners we've never thought to walk around,' Jeff says. 'In Everyday Adventure, we've been following a happy tribe of Millican wanderers as they explore what it means to adventure every day. They have found new ways to unwind, moments of peace and quiet, and a better work–life balance.'
By definition, a bag is a common tool or flexible container used to carry everyday items. To Millican, they are so much more than that: a Millican bag is a symbol of freedom, a reminder to live in the moment and refuse to conform. Adventures on our own two feet can be a part of everyday life; we just have to take the first step.
---