New Israel National Trail FKT
From The Field
Words & Photos: Ian Corless
At 6am on Tuesday 12 March American ultra-runner Michael Wardian departed the Israeli town of Eilat to attempt the fastest known time (FKT) of the 631-mile Israel National Trail (INT), supported by Canaan Running Adventures founder Zoli Bihari.
Michael is a legend in the ultra-running community, having recently won the Abbott World Marathon Challenge, running seven marathons on seven continents, and adding an additional three marathons to that to set a world record for the fastest average time for 10 marathons in 10 days.
Hikers on the Israel National Trail usually travel north to south, but Michael runs south to north. Ian Corless recounts the attempt to Sidetracked:
---
DAY 1
Distance: 87.81km
Time: 13:21
Altitude gain: 3025m
The landscape and scenery were truly spectacular. But beauty came at a price as the trails were technical, with plenty of ascent and descent, plus intense heat. It was clear from the outset that Mike's target time for the day would need to be extended. The day's highlight was Timna Park, where the landscape and views were stunning. Mike looked tired at the final feed point at Beer Matak, at 61.5km, and disaster struck as he missed the turn to our bivouac spot, continuing on the INT. On the plus side, he ate into tomorrow's mileage. Total trail time: 13 hours and 20 minutes.
DAY 2
Distance: 98.63km
Time: 12:02
Altitude gain: 1089m
Mike slept like a baby last night, but we hit a curveball early on – the day's route went through a military base, which we couldn't pass between 7.30am and 9.30am. Our early start was scuppered. Mike set a good pace nonetheless, and the terrain was flat. He checked off mile after mile, stopping only for 5-10 minutes to fill up on coconut water, avocado, egg whites, Pringles, bread, hummus, and vegetables. Natural wonders Vardit and Barak Canyons were mind-blowing. Pacer Uri accompanied Mike here to make sure he traversed the canyon water pools safely. Once out of the canyon, it was flat miles to the end. Mike was a man on mission today, finishing in darkness at 8.00pm.
DAY 3
Distance: 86.88km
Time: 12:39
Altitude gain: 2784m
Mike had a sleepless night, waking often to stretch his legs. At 6.20am he set off, and was 'feeling great'. After 10km the fog disappeared and the sun shone through the clouds. The weather held for the rest of the day. The Makhtesh Ramon region provided Mike with a stunning backdrop, and as he climbed the sky cleared with bursts of sunshine. The exposed ridges of Har Yahav were breathtaking before a wonderful descent to the riverbed. Mount Saharonim was void of sunlight but no less spectacular. Later, the climb from Ramon River to the Green Backpackers Hostel, then to Mitzpe Ramon, was the perfect way to bring the day to a close.
DAY 4
Distance: 70.35km
Time: 13:01
Altitude gain: 2307m
Today the team were continually blown away by Mike's attitude. He never tires, is always positive, and gives continual thanks to the team. He is always prepared to add one extra mile to his day. There were two incredible highlights today and both involved technical challenges: Hod Akev and Karbolet. The first had a steep climb and a wonderful singletrack descent with ladders and via ferrata. The latter, Karbolet, is the hardest section of the whole Israel National Trail – and it was stunning. It involved a long climb with rungs, exposure, and technical sections. Once at the summit, the trail went up and down, mostly on angled slabs of rock. After getting down, Mike continued for another 5km to finish the day at 9.30pm, with 13 hours on the trail.
DAY 5
Distance: 88.14km
Time: 14:00
Altitude gain: 2766m
We camped close to Mike's day-four finish, with several four-by-fours, small tents, a roaring fire, barbecue, a few beers, and the stars shining in the sky. The morning was cloudy, cold and windy, with flash flood warnings issued, so it was imperative the team stayed alert. Mike was on the trail just after 6.00am. Gusting wind and heavy rain showers made for a tough day. Word on the trail was getting out and Mike was being met by more and more runners who cheered him on. As the hours passed so did the miles – Mike was like a machine. He pushed into the night to the ancient city of Tel Arad. The rain poured down and the wind gusted and buffeted. Mike ran 91km today.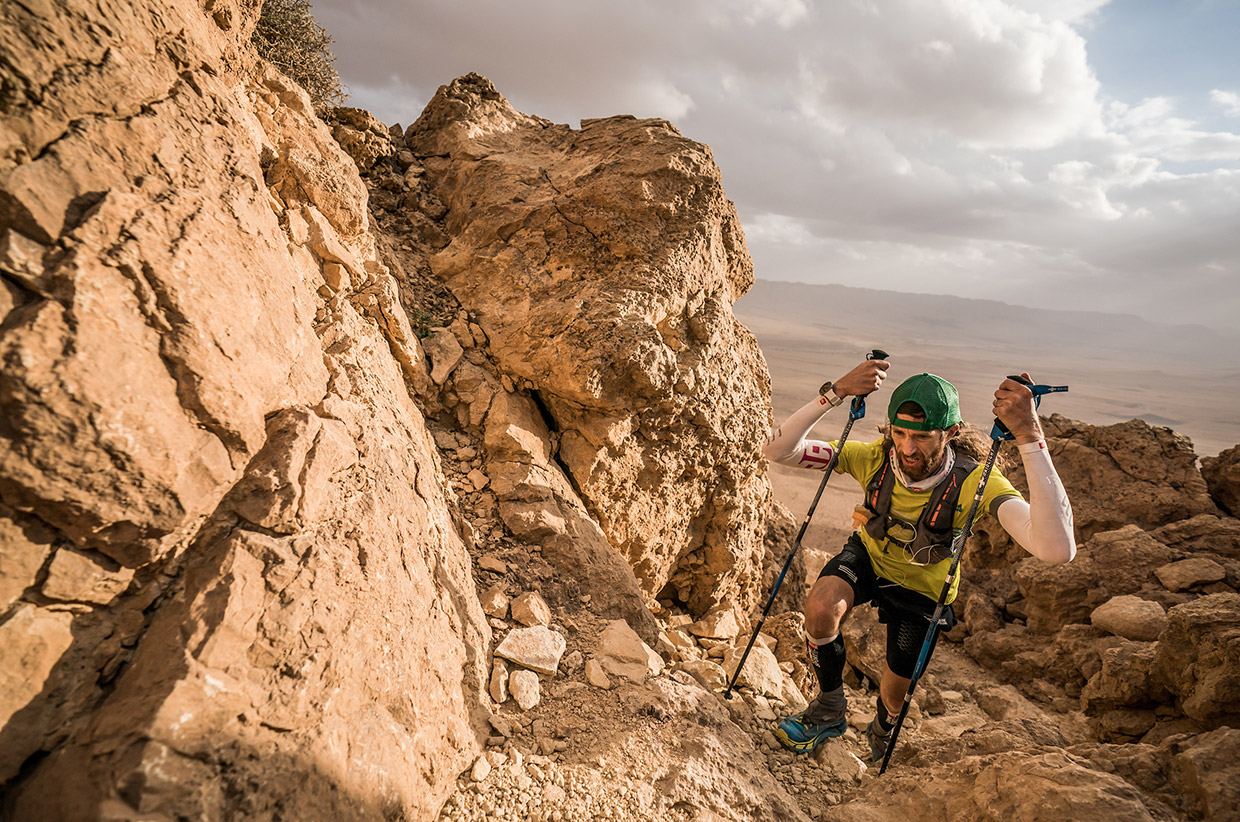 DAY 6
Distance: 125.48km
Time: 18:04
Altitude gain: 2509m
Yesterday's rain, mist, and cold did not disappear, but Mike smiled regardless. He left at 6.30am with two pacers, Uri and Yarom. Conditions for the first 30km were a challenge, with intermittent rain, cold, and grey mist. The grey slowly disappeared, and patches of blue penetrated the clouds above. Mike scoffed noodles, sandwiches, ice cream and soup, but struggled to consume more than he was expending.
From 50km Mike picked up three additional runners. One of them, Yair, was 74 years old. When Yair left, four runners joined who had travelled from Jerusalem. Standing water from yesterday's rain made sections of the trail difficult to pass. By 8.00pm, at Beit Guvrin, Mike had completed 98km. He took a break, changed his socks, ate soup and noodles, and ran another 24km, bringing the day's total to 122km.
DAY 7
Distance: 105.06km
Time: 14:56
Altitude gain: 2842m
Mike finished at 30 minutes past midnight last night. We were asleep by 2.00am. Running an FKT is a balancing act and in retrospect the last 12km on day six were a mistake. It would have been better to stop, have a good sleep and wake the next day feeling refreshed. However, at 8.30am Mike was on the trail with a pacer. Many members of the Israeli running community joined him – at times the run looked like a scene from Forrest Gump. We passed the Jerusalem mountains, skirting the edges of the city. At 61km Mike's legs still felt good. At 73km darkness came and for the first time in the day he was alone on the trail. By 9.15pm, he had covered 89km at Mitzpe Modiin. He closed the day at 100km.
DAY 8
Distance: 103.93km
Time: 14:27
Altitude gain: 500m
Without a doubt, Mike is feeling his runs now. Today we passed the city of Tel Aviv. It's the mix of city and desert that makes the INT so unique. Roads replaced trails, and trees replaced buildings. And then the sea and the beach arrived. A total of 20 runners joined Mike today.
At 4.50pm on Poleg Beach, Netanya, disaster almost struck. Mike was freezing cold as the wind whipped in off the sea. Wrapped in blankets, he couldn't get warm. He finally decided to move and left at a slow pace looking more like a polar explorer than a runner departing to set an FKT record. He arrived at Beit Yanai at 7.20pm, picked up more pacers, and then pushed on to Givat Olga, arriving at 8.50pm. The final 12km push to Aqueduct Beach in Caesarea rounded off the day at 105km.
DAY 9
Distance: 88.51km
Time: 15:09
Altitude gain: 2551m
Finishing before 10.00pm, having a warm shower, a good dinner, and a sleep in a real bed can work wonders. After a difficult day eight, Mike needed everything to click into place over the night to make day nine manageable. Mike set off at 7.22am with a pacer. The Israeli run community are rallying around this FKT in a way that has never been seen before in this country. People want to be involved in history being made.
The 'green tunnel' day involved miles and miles of green vegetation and narrow paths. The terrain was not playing ball, slowing Mike to a pace that would lengthen the day and reduce recovery time. He reached Zichron Ya'akov at 9.23am, then Ofer at 11.50am, and Mearot Creek at 1.55pm. A change in terrain and a technical climb spurred Mike on. A 10.00pm he reached the finish.
DAY 10 (PART 1)
Distance: 85.73km
Time: 14:09
Altitude gain: 2330m
Sleeping on the floor of a run store has never felt so good. Calculations confirmed that Mike had between 170km to 190km to cover. To achieve that in 24 hours after the previous nine days was an impossible task. We awoke at 6.45am and Mike wasn't feeling it. He looked jaded and emotional. The route was another 'green tunnel' day with climbing and some paved roads early on passing through congested streets. Route marking was a real issue, which didn't help Mike's mood. The early parts of the day were a struggle and it was hard to see Mike fight the fatigue demons.
Summiting Mount Tabor, Mike cheered up as three pacers joined him. Tiberias came at 9.08pm and Mike was pacing the pacers. They all commented on how fast he was moving. At 10.23pm the team arrived at Mount Arbel, the entrance to the National Park, where an impromptu camp was arranged to abide by rules which state that the park is out of bounds at night.
DAY 10 (PART 2)
Distance: 105.7km
Time: 17:07
Altitude gain: 2922m
The unplanned stop at Arbel proved a blessing in disguise. It had been a tough call to rework logistics, but it allowed Mike and the whole team to rest. At 5.00am Roman arrived to pace Mike and at the first glimmer of daylight the duo departed into a technical section within the National Park.
By Hukok Bridge, the running clan had increased to nine. The level of support that Mike received from the Israeli community was nothing short of wonderful. This journey would have been so much harder without them. HaPitul came at 10.35am, then a climb through a dense section strewn with rocks. On steeper sections Mike slowed to a walk and used his poles to maintain a good speed. As daylight finally started to fade for the last time on the INT, Mike and his pacers arrived at Yesha Junction, where they dropped down to a river bed, climbed up, then finally the running was good. The journey was completed in a wave of emotion.
---
Mike Wardian successfully ran the length of the 631-mile Israel National Trail in 10 days 16 hours and 36 minutes, setting the new record for the fastest known completion time of the INT.
Photography by Ian Corless // @iancorlessphotography