Pedaleando – Bikepacking Northern Patagonia
From The Field
Laura Nitzsche shares her experience bikepacking solo from Bariloche to Piedra Parada in Argentine Patagonia.
Written by: Emily Hopcian // Photography by: Sofía Mejía Llamas
In February, Laura Nitzsche bikepacked solo along Argentina's Ruta 40 from San Carlos de Bariloche to Piedra Parada. Bicycling is a tradition in Laura's family. Her father has done many of his own bikepacking trips in Patagonia, and her family has their own bicycle company in Bariloche.
Though she comes from a family of experienced cyclists, it was important to Laura to do this trip solo, and she completed the journey – roughly 320km on paved and gravel roads – in three days. Most of the people she encountered were friendly, though travelling solo as a woman in this way evoked a variety of responses from people.
From the mountains to the steppe, Laura encountered changing landscapes and conditions, especially as wildfires in and around El Bolsón broke out during her journey. She witnessed the impact of those fires on her ride – and also as she drove back to Bariloche with her friend Sofía Mejía Llamas.
In conversation with Sidetracked, Laura provides a glimpse into her external and internal journey while pedalling from Bariloche to Piedra Parada.
---
Sidetracked: Can you walk us through your childhood in Bariloche, especially among a family of cyclists?
Laura Nitzsche: My parents are both from Buenos Aires. They met there and came to live here [San Carlos de Bariloche] when they were 27 years old or so – the age I am now. My father was already into bikes in Buenos Aires, mostly race and track bikes. When he came here, he set up a workshop and worked in an electricity co-op. He also set up a bike workshop. After some time, he began to dedicate himself solely to the bicycle shop and became the neighbourhood bike maker. It's funny because, at some point in their lives, almost everyone here in Bariloche has taken their bike to my dad.
My father's workshop was next to our house. So, as a little girl, I spent a lot of time there with him, wanting to help, lending a hand where I could. I later realised that it was a trick to entertain me, but it was also fulfilling for me. Obviously, since I was little, I've always had a bicycle. My siblings, friends and I would spend all day riding our bikes around the neighbourhood.
My father is still the biggest cyclist in our family, and my brother has become a big cyclist as well. Throughout my life, my father has often travelled by bike, and he continues to do it a lot. He's travelled for months at a time in Argentina, Chile, Uruguay, and Europe.
Have your father's adventures inspired you? If so, how?
Yes, his adventures motivated me. At first, it didn't attract much attention from me, as it was simply part of my life, of our family's life. However, over time, I began to realise what traveling by bike was and what it meant. I grew quite curious.
As a little girl, my bike was very much a part of my life, but travelling by bike wasn't something that had caught my attention. It also seemed crazy to me – until I did a longer outing over a few days with my father. That's when I realised that travelling by bike is something almost anyone can do.
Another thing that inspires me a lot is the space my father has in his house where he hosts cyclists. It works like couch-surfing, but it is specifically for cyclists. My father and our family have met so many people from around the world that way.
Have you bikepacked before? Were those trips with others or done solo? What did those trips look like?
I've bikepacked before, but I'd never done so solo. Two years ago, I travelled by bike with my brother from Bariloche to Volcán Lanín and across the border to Pucón, Chile. We spent 10 days or so pedalling. It was quite a calm trip, which aligned with our plan to enjoy it. We travelled in the fall, and alongside beautiful days, there was very little traffic. It was nice to share that adventure with my brother. Sharing something like that generates a deeper bond.
What inspired you to bikepack from Bariloche to Piedra Parada in February? Why did you want to go, and why solo? Why was now the time to do it?
I wanted to know Piedra Parada. I hadn't been there previously, but many people had told me about it. I've also been involved in a conservation project there – working on some illustrations and drawings – and wanted to know the place where the work I was doing was taking place.
In truth, more than anything, I had a bike I'd recently built and really wanted to use it. I thought about travelling with someone. However, it's difficult to find someone who likes this kind of plan and can do it. Even more, I wanted to go alone to challenge myself in the loneliness of the situation.
What did the pace of your days look like on the road? Did you meet people along the way?
I would wake up around 7.00am and eat a good breakfast, which is difficult for me to do so early in the morning. But hey, I tried. I would break down camp, assemble everything on my bike, and go cycling. For lunch, I'd look at the map and imagine where it would be nice, ideally near the river. So I'd stop for an hour to have lunch and rest and then keep going. In the evenings, I would also look for a place to set up camp, cook dinner, and rest.
I met very few people. The first person I interacted with was in El Maitén. At the entrance to the town, there was a policeman who was taking the information of all the people who came and went. I'm not sure if it was due to the pandemic or not. I chatted with him for a while, and he made some comments I didn't like very much – about me travelling alone and that sort of thing.
At the campground in El Maitén, I met a Chilean guy who was also travelling by bike and doing a medical internship there. Meeting him was good. We chatted a lot about his travels. Then, on a day with a lot of wind, while biking, I crossed paths with a Chinese man who was also biking south – much further than I was – along the road. We exchanged a few words over the intense wind, but since he was travelling with a lot of gear, I passed him and didn't see him again.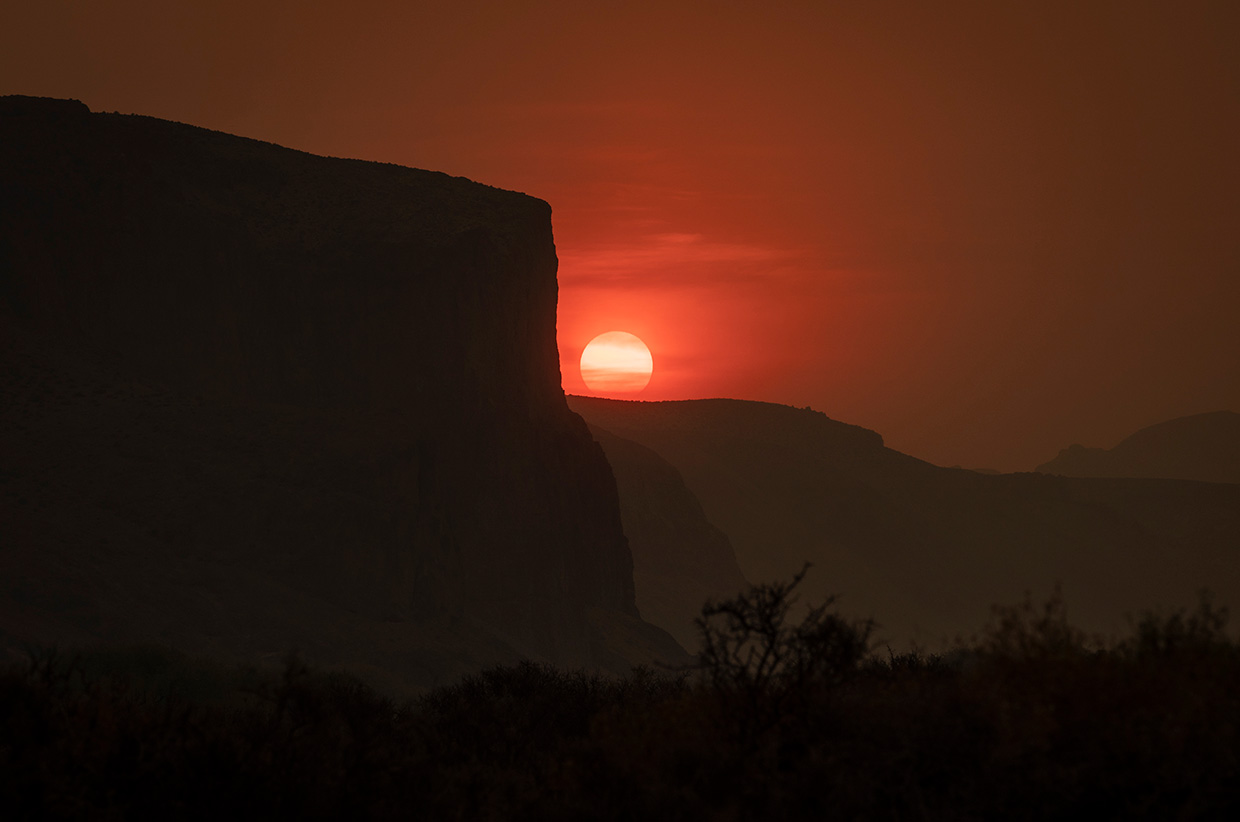 Were there moments that gave you pause or made you afraid, especially travelling solo as a woman in this way?
Yes. As a woman, that fear almost always crosses your mind at some point. You can't let your guard down. When I arrived at the campground in El Maitén, after the encounter with the policeman, I ran into a car with a couple of guys. I don't remember what they told me, but it was something unpleasant. After the talk with the policeman and then this weird encounter with these guys, I was left with an ugly or unsettling feeling.
In general, I feel that things here have changed a lot. It's been a long time since someone said something like that to me, so it was weird to go back to that feeling.
On the flip side, for the moments that make you hesitate, there are more moments that reassure you – like meeting the Chilean guy, who was divine, at the campground in El Maitén. Those moments turn the scale a little, reminding you that, in the end, there are more people who are cool and willing to help you than those who are not. On my last and most difficult day of cycling, there were many people who stopped to say hello and ask me if I needed anything.
There's always the possibility that something could go wrong. It's a delicate balance to recognise that fear and why it exists but also not let it hinder you from doing things.
What did you enjoy most about the experience? What are your favourite moments or memories?
The moment I reunited with Sofía [my friend who was meeting me in Piedra Parada and driving back to Bariloche with me] was very exciting, especially as I'd had a very intense day of cycling in the wind for many kilometres and did not have signal to know if she was actually coming or not.
Also, I remember arriving to El Maitén. I passed through Cuesta del Ternero, which had caught fire several months prior. It was a big wildfire, and I couldn't believe the aftermath of the burn. As I left Cuesta del Ternero, it started to rain – it hadn't rained there for a long time – and there was a beautiful wind pushing me south. It encouraged me, and seeing the rain fall in a place that was so destroyed was quite beautiful.
You bring up an important point. During this time, Northern Patagonia was experiencing a number of wildfires. You saw the impact of those fires on your journey – both heading south and then north. What was that like?
Yes, the wildfires ended up being a key character in my entire trip. Once I was in Piedra Parada with Sofía, as we were walking through the canyon on our second-to-last day, we started to see a very strange light. At one point, we climbed above the canyon and saw tremendous smoke coming from the north. Since we didn't have signal there, we didn't know what was happening.
When we hiked out of the canyon and returned to the campground, we learned that another wildfire had broken out near El Bolsón, El Hoyo, and Epuyén, roughly 200km north of us. Throughout the day, ash began to fall in Piedra Parada. The winds were so strong they were carrying the ashes from the wildfire all the way to us. That evening, I rode out along the road on my bike. Sofía was in her car. We saw an incredible sunset, though it was the result of something so terrible and devastating.
Once we were back with signal, we began listening to the radio in the car. In Gualjaina [the town closest to Piedra Parada], we loaded Sofía's tank with gasoline, and got water – fortunately, we had a lot of food – because we didn't know what the situation would be like further north.
Passing through the zone of the wildfires impacted both of us. The whole valley had burned from one side to the other. So many homes and businesses were destroyed. People were in shock. We couldn't believe it. Once we were back in Bariloche, Sofía and I joined our families and friends in collecting and distributing donations to victims of the fires.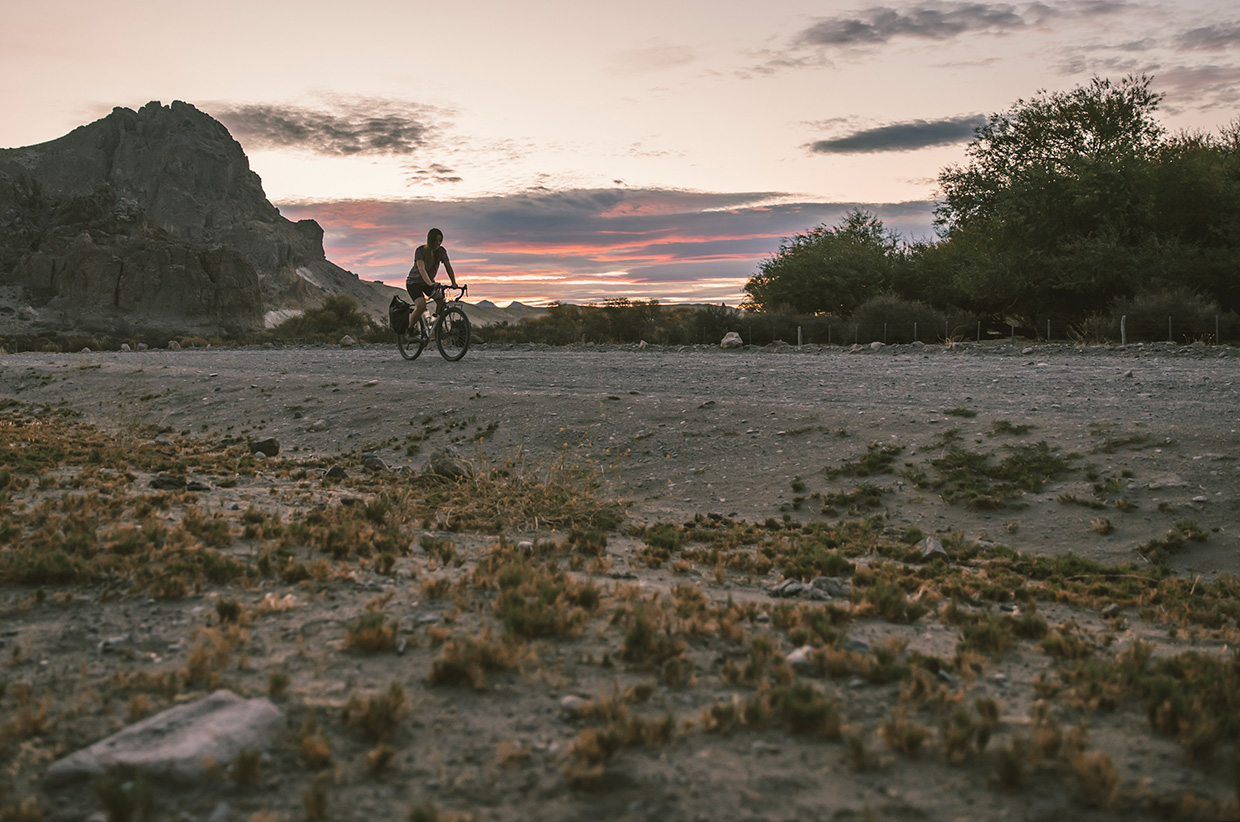 I can't even imagine what it would be like to see that damage, especially since you'd passed not far from there only a few days earlier. On a different and perhaps more positive note, what was it like to arrive in Piedra Parada – not only the end of your journey but also a new place for you?
We arrived after Sofía and I crossed paths, at sunset. It was amazing. Piedra Parada – even just arriving in the area – is so impressive. You can't stop looking around. Things keep popping up.
We spent four days there, exploring the place. For us, new and different things didn't stop emerging. After seeing so many photos of the canyon, it was crazy to see and experience it in person. Once you're there, you realise that everyone has their own perception of the place and way of experiencing it and communicating that experience, especially based on what they're doing there.
I brought supplies with me to draw and paint. Sofía had her camera. So we took a lot of photos. I also brought my flute with me and played a lot, especially in the side canyons and cracks, which have incredible sound. It was fascinating.
What was your greatest joy or takeaway from this bikepacking trip? How does travelling by bike make you feel?
I feel very self-sufficient and independent. Those are two things I really like about travelling by bike. It's also very simple. It makes travelling very easy, and really gives you another view of the route and places you pass through. There's something about the speed at which you're going – which is the result of your own physical effort – that makes you see the route differently.
I think there's also the capacity to experience things in a much more intense way when you're travelling by yourself.
Do you have plans or dreams for another bikepacking adventure?
Yes. My brother and I really want to bike the Carretera Austral in Chilean Patagonia as well as throughout Europe. It would be an opportunity to visit all those people who've stayed with my father while doing the same here in Argentina over the years. He's hosted many Europeans, and they've invited us to visit them, so we really want to go.
---