REVIEW: adidas TERREX Free Hiker
Gear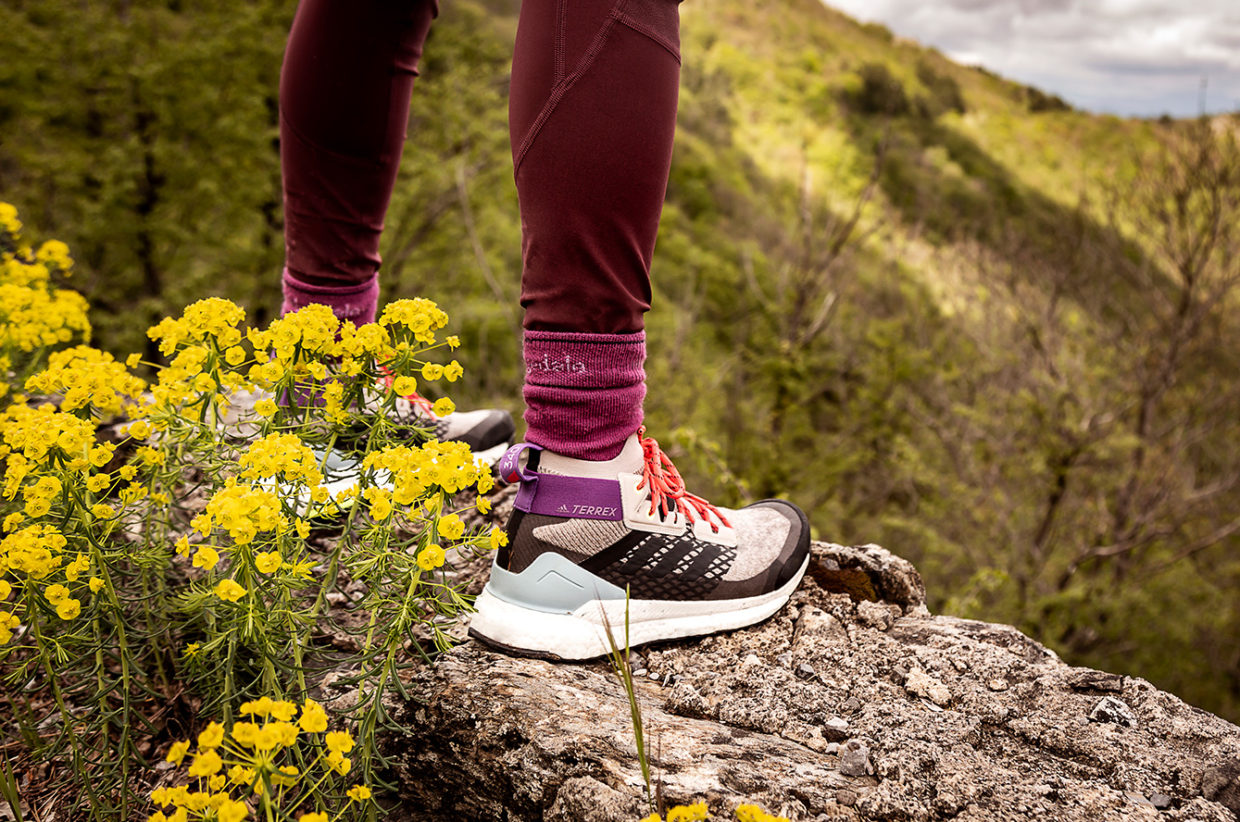 ITEM: adidas TERREX Free Hiker
PRICE: £170
STYLE: Walking shoes
ACTIVITY: Hiking
WHAT THEY SAY: The sock-like build and adidas Primeknit upper hug your foot for an adaptive, snug feel with every step. The Torsion bar provides a stable, controlled and natural flex of the midsole and foot.
---
'April?' my Boulder-dwelling friends asked me when I'd arranged a visit. 'Yes, why that tone of voice?' 'Well, you never know what weather you're going to get. It's usually perfect all year round… but April?'
I didn't really have a choice of dates for my Colorado trip, but how changeable could it be, I asked myself? (Having already asked some locals, I should have perhaps listened to them first.) I arrived in Denver to sweltering temperatures, above 30ºC. I was wearing shorts and briefly even considered a spray mister that other people were using, but by the time I jumped on the bus from downtown Denver to nearby Boulder a couple of days later, it was well below 0ºC with several inches of snow ploughed off the road. The weather forecasters, never ones to miss a dramatic headline, called it a 'snow bomb cyclone'. Alongside visiting some breweries, my plan was to spend time hiking in the foothills of the Rocky Mountains. After all, Boulder is one of America's great playgrounds. The only problem was that I'd only booked carry on… and brought one pair of shoes.
Those shoes were the adidas TERREX Free Hiker, a shoe that at first, frankly, I had no idea what to do with, but then quickly became pretty much permanently attached to my feet. Even given the wildly unpredictable weather I was to expect, I knew I'd be fine with these. Why?
The TERREX Free Hiker Shoes are described by adidas as 'lightweight shoes built for ultra-comfort on long hikes'. And for what they are, in fact, it's hard to exaggerate just how comfortable these shoes are. Adidas has taken the idea of the trail shoe and flipped it, twisted it and, well, knitted it.
Key to these shoes is the Primeknit uppers that bring a sock-like fit. They're remarkably giving, which makes them perfect for travelling or long days on the trail where your feet are going to swell. The breathability is also high, meaning that in warm weather your feet will stay fairly cool, but a water-repellent treatment also means that they shed most of the water, or as I discovered, snow.
From my cabin in Chautauqua, I could see the Flatirons, the rock landmark that you'll see on postcards, tourism literature, and logos across Boulder. By the time I arrived, the bomb cyclone and accompanying Twitter storm had passed. There was still some snow cover, but the evening sun was out, and the trails were mostly clear. Keen to get out into the mountains after a few days in the city, I put on my shorts and went for a run up to the base of the Flatirons.
I regularly wear adidas TERREX trail-running shoes, and I think they're excellent; just the right balance of underfoot security and cushioning. And while the Free Hiker isn't designed for trail running, at 382g (size 9), they're exceedingly light. They also use the hugely popular Boost cushioning designed to offer excellent energy return. And while a knitted fabric is surprisingly durable, there are abrasion-resistant reinforcements and a moulded toe cap to protect the shoes and your toes. There's another moulded section around the heel.
Underfoot, as I've written before, the Continental Rubber grip is one of the best I've come across, especially in challenging wet conditions – that's to say steep, narrow paths up to the Flatirons over snowmelt! The torsion bar underfoot also adds to the stability.
The next day, my friends were keen to take me on a substantial hike in the mountains above Boulder. Again, the Free Hiker performed brilliantly – I mentioned just how comfortable they are, right? These are not for scrambling or mountaineering, they're very flexible, but for long days on clear trails, I'd be hard pushed to imagine anything I'd rather wear. In terms of fit they are curiously like a mid boot, without offering a mid's excessive support.
And after a hike, well, I swapped my hiking trousers for a pair of jeans, and actually got a compliment on them in the taproom of Upslope Brewing Co.
Boulder is known for two things: the outdoors life and craft beer. We were there to enjoy each aspect, and my one pair of shoes fitted in fine for both.
---