Review: Arc'teryx Atom LT Hoody
Gear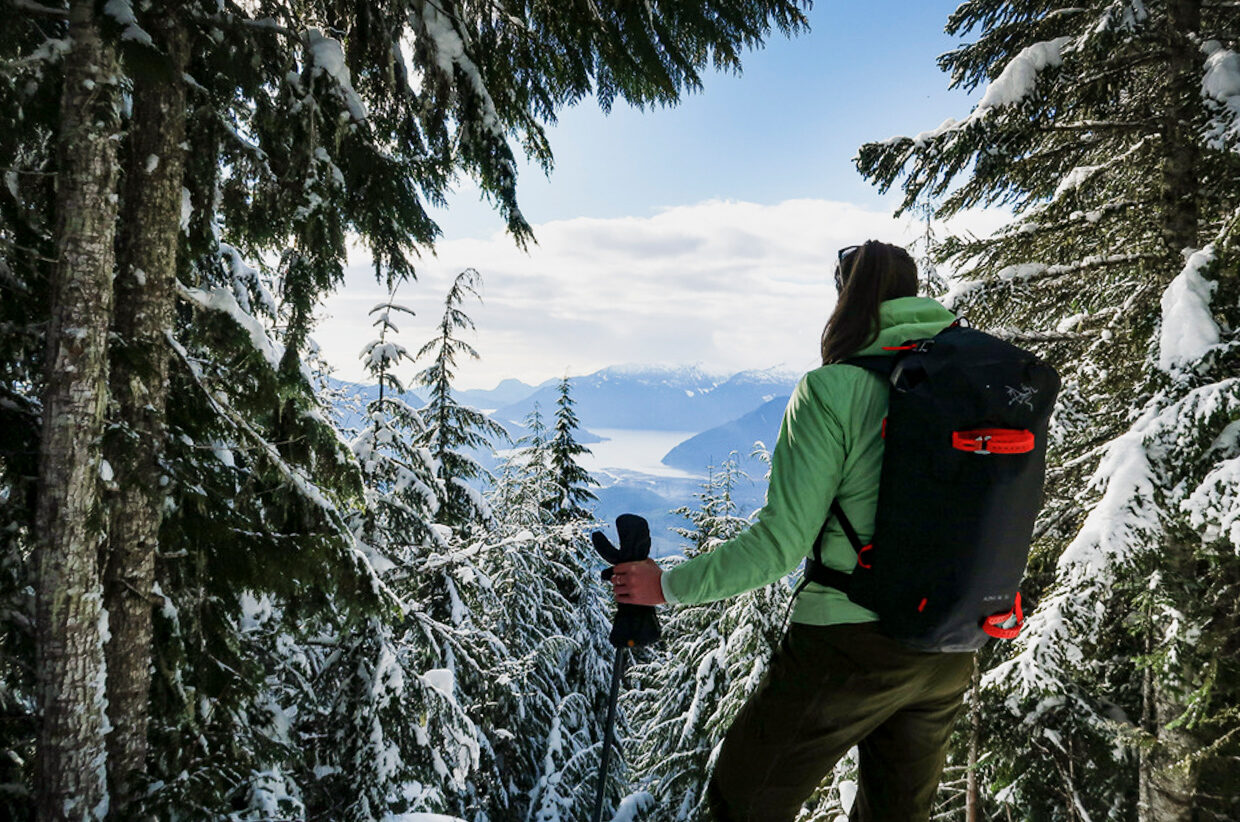 A light, versatile synthetically insulated hoody that works as a midlayer and standalone
Written by Jenny Tough
ITEM:
Arc'teryx Atom LT Hoody
PRICE:
£220
STYLE:
Synthetic Midlayer Jacket
WEIGHT:
320g
WHAT THEY SAY:
Steeped in the alpine, this versatile hoody has warmed climbers, hikers, backcountry skiers and downtown commuters. Worn as a midlayer or standalone, it performs across a range of conditions and output levels. Coreloft™ Compact insulation retains warmth even if wet and has loft retention that withstands years of packing and unpacking. The water resistant Tyono™ 20 face fabric is soft, breathable and durable, stretch side panels improve ventilation and freedom, and the insulated StormHood™ adds warmth.
---
The winter chill has firmly settled along the Canadian West Coast, and frost has hardened my favourite trails, increasing to proper snow at higher altitudes. Despite the cold, dark days, the locals don't flinch – evidence of cyclists, trail runners, dog-walkers, snowshoers, ski tourers, and even fly fishers are all present in the same park on the same day in Squamish. And as I pass the variety of trail users, I keep noticing the same jacket. This is the region where Arc'teryx was born, and our uniquely challenging weather where mountains and ocean meet in the North Pacific have clearly inspired the brand, and it's no coincidence that the Atom LT Hoody is so popular among these avid outdoorsey Canucks.
The jacket is a staple in this neck of the woods, and in only four iterations from Arc'teryx has achieved a legendary status as a must-have outdoor item. In Fall 2020 the latest model was launched, making minor tweaks like a longer fit and greater durability, increasing it's already widespread popularity. The Atom series focuses on lightweight, all-weather durability, and the hoody is arguably one of the brand's most successful products in the line.
My first impression of the Atom LT Hoody is one of suspicion – it's incredibly lightweight. I am skeptical that something so light could keep me warm, but as I reach the first switchback up a snowy trail on a frosty morning, I am happily proved wrong. Filled with Coreloft Compound insulation, it is capable of achieving an industry-leading warmth-to-weight ratio, and the Tyono-20 outer fabric means weather-resistant performance – an imperative quality here on the 'wet coast'.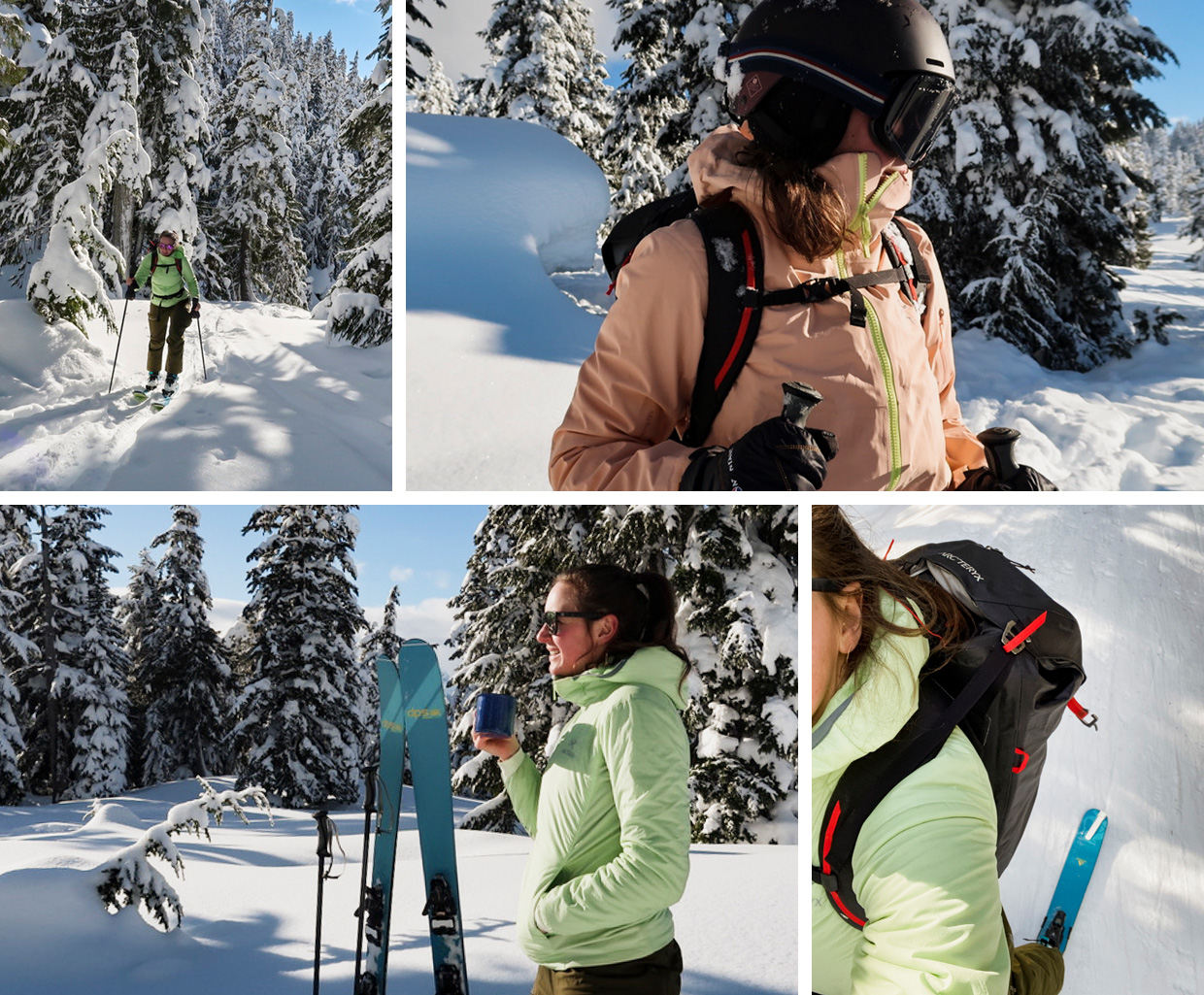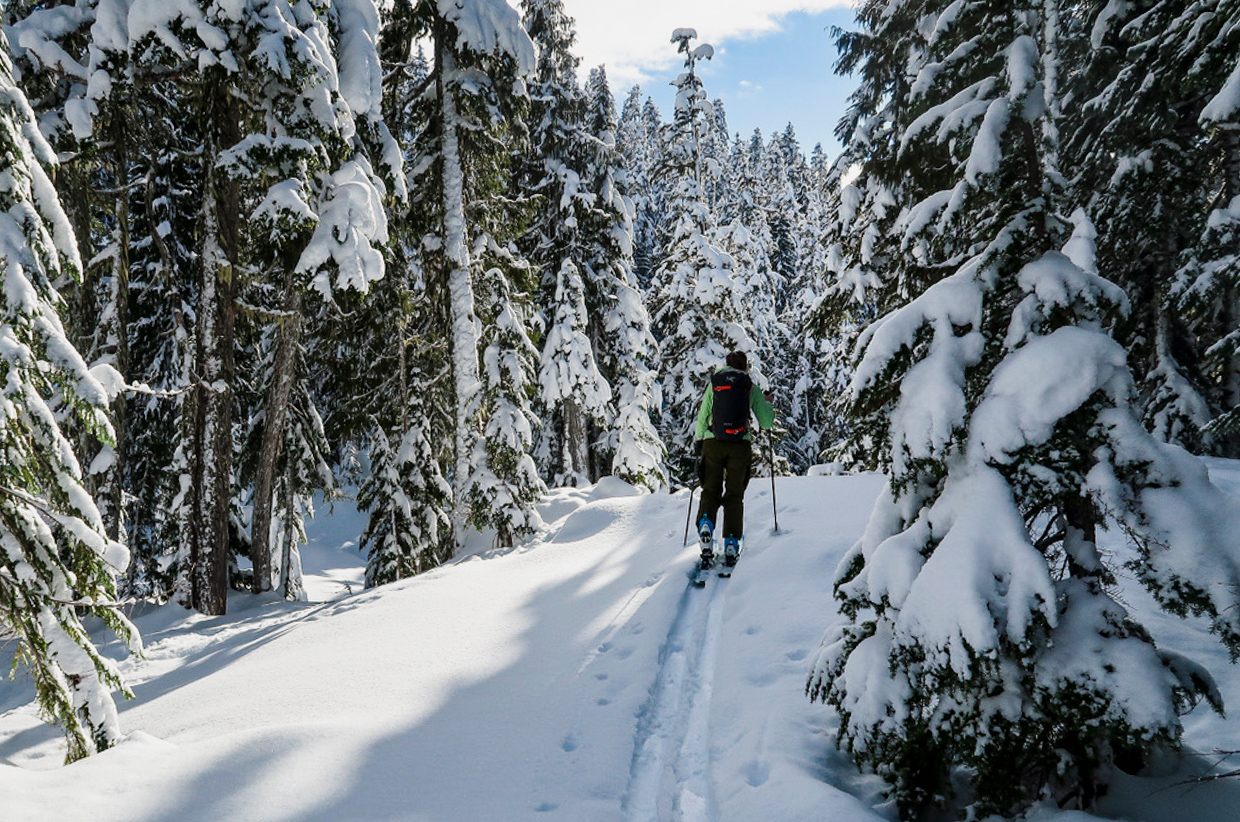 As I skin up through the forest, enjoying the serenity that only walking uphill with skis can bring, I gradually begin to warm up, and pause briefly to adjust, removing the hood and unzipping a few inches. The zipper is easily operated with my clumsy ski gloves, which I decide I don't need, and they fit comfortably inside the generous pockets. The adjustable hood, which fits snuggly, negates the need for carrying a tuque, and the stretchy fabric makes it easy to pull on and off as the trail takes me in and out of the cold wind.
The Atom LT Hoody is a remarkably comfortable jacket. Outdoor sports in the cold can always feel a bit limited by cumbersome layers, but with flexible shoulders, an adjustable hem, and stretchy side panels, there is no limit on mobility, and the lightweight sensation lets you feel a little less cooped up inside it. The buttery-soft exterior is silent and cosy, like wearing your favourite jumper – only this one is robust enough to tackle outdoor activities. But perhaps one of my favourite features is the large pockets – having enough room for phones, headlamps, spare gloves, snacks, etc, is one of the first things I'll look for in a jacket. While this hoody doesn't fold into its own pocket (other Arc'teryx models do), the three pockets are still substantial and comfortable.
All good Canadians know that the key to winter sports is in layering, and the Atom LT Hoody is a perfect midlayer paired with a shell jacket on more gnarly days. With its incredibly airy design, I find myself constantly stuffing it into bags wherever I go, satisfied that I'm prepared in the event that I need to stop on the trail and stay warm, but I will not feel remotely encumbered by carrying a warm coat with me. It packs to an impressively small size, and mine has already spent time in saddle packs, ski rucksacks, and trail running vests.
Technical features aside, perhaps the main reason that this particular jacket from Arc'teryx is spotted so frequently on the locals here is its attractive design. The fit is relatively slim, and cuts just below the hips. Like most Arc'teryx outerwear, it comes in a range of fashionable colours, and looks just as at ease with a pair of jeans in the city as it does on the skin track. It's easy to see how it built a reputation as a go-to, all-rounder product from British Columbia's most famous outdoor brand.
I emerge from the woods at the top of the trail, and a cold wind collides with me instantly, but the warmth I've generated skinning upwards through the forest stays insulated inside my jacket as I begin my transition from uphill to downhill mode. Before I begin peeling my skins off, I pull up my hood and fish out my gloves. The elasticated sleeves tuck confidently over my gloves, without any faffing with velcro. I pull the front zip – easily operated even with thick gloves – right up to my nose, while I begin the delicate operation of neatly folding skins and swapping my bindings over. I pull on my outer shell for the return ski, and the layering system fits perfectly over the slim-cut Atom LT Hoody.
I take a moment to enjoy some tea from my flask while admiring the view, and then it's time to descend through the trees and head back to my kitchen table/office. When I skid into the parking lot a few minutes later, I am still warm, but not sweaty. Perfectly comfortable, and with a big grin from a brief morning ski in my backyard.
---