REVIEW: Haglöfs Grym Evo Jacket
Gear
ITEM:
Haglöfs Grym Evo Jacket

PRICE:
£310
STYLE:
 3-layer waterproof
ACTIVITY:
Hiking
WHAT THEY SAY:
A tough and technical jacket. This 3-layer shell jacket boasts all of the features you need when you're deep in the wildest bits of wilderness you can find.
---
We'd walked four miles before I took my jacket off, up the stony path towards Llyn y Fan Fawr and, somewhere above it, Fan Brycheiniog, the highest point in the Black Mountain range in the Brecon Beacons. Not that we could see it, on a day that started with torrential rain, moved to drizzle and by mid-afternoon a low mist. Worse, I was carrying a paddleboard on my back and camping gear on my front. In short, I was wet. Or should have been. As I pulled off the coat, given the amount of sweat that I was exuding, I would have expected the inside to be loaded with condensation. In reality, it was only mildly damp. It was clear: the Haglöfs Grym Evo Jacket was very, very breathable.
As we stopped for lunch at the lake, I popped it back on to shield against the wind falling off the cliffs climbing up to the summit ridge above us. The scenery was as dramatic as the weather. Millions of years of geological tumult had left scars on the landscape. The unique topography of the Brecon Beacons was these gently rising mountains that then fell hundreds of metres directly below. For us, this means an extended playground. We'd planned to test ourselves against the hills and then paddleboard on the lakes beneath them. The rain fell again, and we climbed higher. I zipped up under my chin and panted onwards.
Many, many factors need to come together to make a great waterproof jacket: the design, the materials, the hood, the cuffs, the ventilation, the pockets. It goes on. The Haglöfs Grym Evo Jacket consummately blends dozens of factors that tips it into 'great' territory.
The material, as we've already said, is very breathable. It's a three-layer material, so a jacket that is designed for hard-wearing, rugged situations. It would stand up in winter mountaineering situations as well as, you know, carrying cumbersome packs up big hills. Noticeable too is the relatively soft face fabric – a lot less crinkly and noisy than similar jackets, and made from 100% recycled polyamide. It is treated with a fluorocarbon-free DWR that keeps the water rolling off.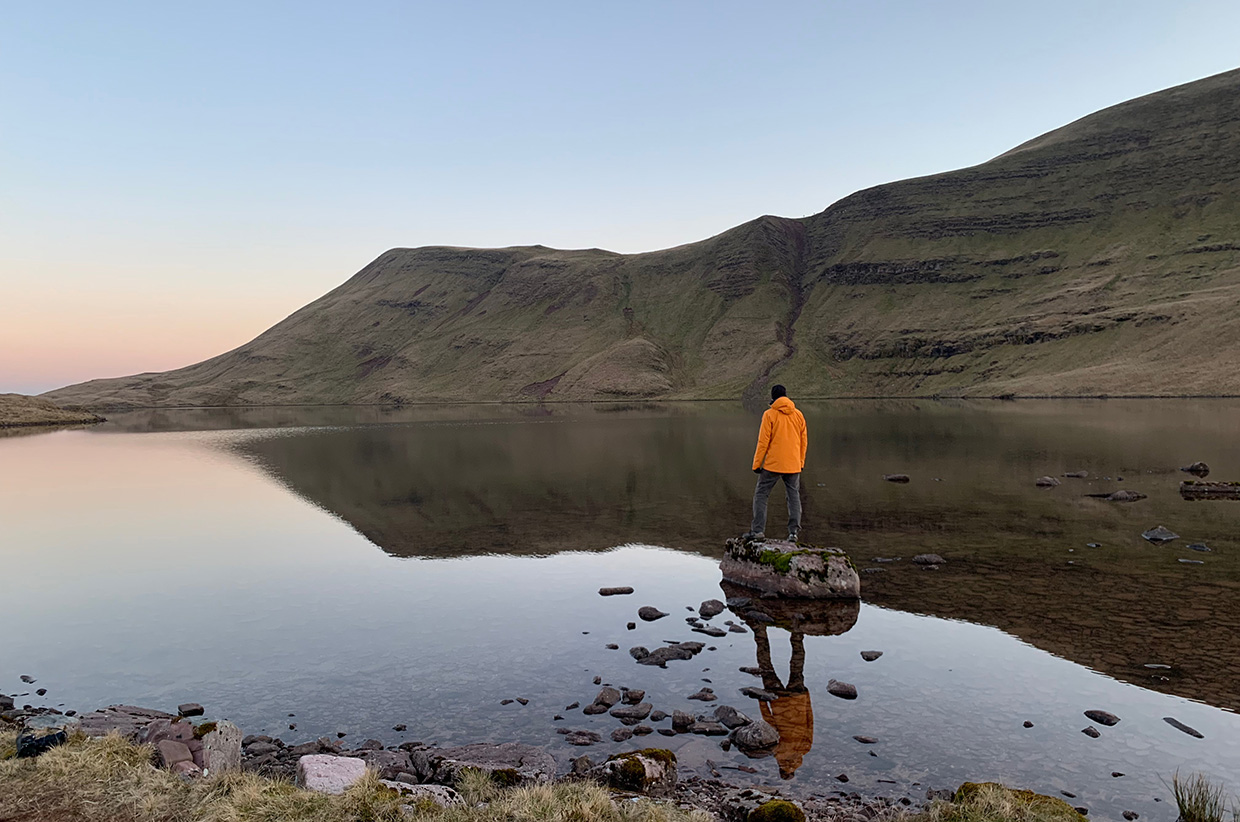 The fit and features of the jacket are essential components in making a jacket breathable. Under the arms, lengthy zips open to allow the breeze in but little water. The fit, tailored for layers of clothes underneath, also helps.
Other features are top-drawer, including a three-way adjustable hood. There is a stiffened peak, but I'd rather have a wired peak. It's also a relatively long jacket, with a dropped rear hem: not too common these days, but a feature we like. The two hand pockets have storm flaps and are designed for use when you've shed your backpack (they are cut off by the hipbelt), but there's an ample chest pocket too. Another feature is a RECCO reflector in the brim. We wouldn't need it today. Even as we woke in the morning to a frost-covered tent, the snow had disappeared on this early April day. Unzipping the tent, it slowly became apparent that there was not a cloud in the inky skies.
I sparked up the stove, put on a down jacket and the Grym Evo, and started to pump up the paddleboards. Being honest, I didn't overthink it about the coat, and that's just how it should be. Rain: put on jacket. Wind: put on jacket. Cold: put on jacket. Not all waterproofs are like this. Not all waterproofs would stand up to these freezing conditions. In the Grym Evo Jacket, designers at Haglöfs have built a hard-wearing but versatile jacket, with a tactility, softness and comfort that has me reaching for it over others I've been testing. Its environmental credentials haven't gone unnoticed either.
The day finished with bright winter sunshine and my jacket stuffed in a backpack. It was soon out again for a bike ride, and again for a dog walk. It's earmarked for a trip to the high Alps next month, but not the ultralightweight camping trip in June. I can go lighter then. But for days when the weather is dramatic, this is the one.
---