Review: Marloe Watch Company Morar 310
Gear
Review and photography by Daniel Neilson
Photography by Cat Vinton & John Summerton
ITEM:
Marloe Watch Company Morar (Sands)
PRICE:
£449
STYLE:
Dive watch
WEIGHT:
101.3g
WHAT THEY SAY:
The Morar is built to perform in the harshest of conditions – whether you're 100 metres below sea level or 1,000 metres above it. With a solid stainless steel case and 120-click uni-directional bezel, not to mention the sapphire crystal and anti-magnetic caseback, the Morar will take pretty much anything you throw at it.
---
Loch Morar is the deepest freshwater lake in Britain, plunging 310 metres to its depths. This ice-cold loch in Lochaber, Highland, is inhabited by Arctic char, Atlantic salmon, sea trout and eel. It's such a harsh environment, that during World War II, the Special Operations Executive – designed for espionage, sabotage and reconnaissance and other 'ungentlemanly' methods – took over the loch-side Swordland Lodge, a Victorian hunting lodge for their training. Whether 'Churchill's Secret Army' found the Loch's biggest mystery is as hazy as its methods. That mystery is Morag, the monster of the deep, who, alongside Nessie, actually sounds quite friendly. The first sighting dates back to 1887, and it once stuck the boat of Duncan McDonell and William Simpson who described it as brown, 30-feet long, and with three dorsal humps.
Our first sighting of it, however, was etched onto the back of the Marloe Watch Company's Morar dive watch.
The Morar is the latest collection of watches from the Marloe Watch Company, a British company founded by Oliver Goffe and Gordon Fraser in 2015. Both Oliver and Gordon had the same vision: to create beautiful mechanical watches – no battery required, no electronic reminders to stand up, no emails flashing up on your wrist.
Since launching, the Marloe Watch Company has brought five collections to market, each inspired by locations resonant in British adventuring: the Coniston, where Douglas Campbell broke the water speed record and the Haskell, named after the strait crossed by Captain Robert Falcon Scott as he set off from Ross Island on his ill-fated Antarctica expedition. Each watch is designed to withstand these kinds of expeditions, as well as being elegant and something you'd choose to wear every day.
This is how Jim Garratt came to be wearing one climbing a crag above a small lake in Cornwall. We'd travelled to Kudhva, a Cornish retreat, to discover where the locals play. Jim's passions are surfing and climbing, and this location offers both. He lives right next to the 45 acres of Kudhva, a place with architectural hideouts and tree tents, but also a diverse, gnarled, terrain. He climbs from a pontoon which he sets adrift; there's only one way down and that's with a splash.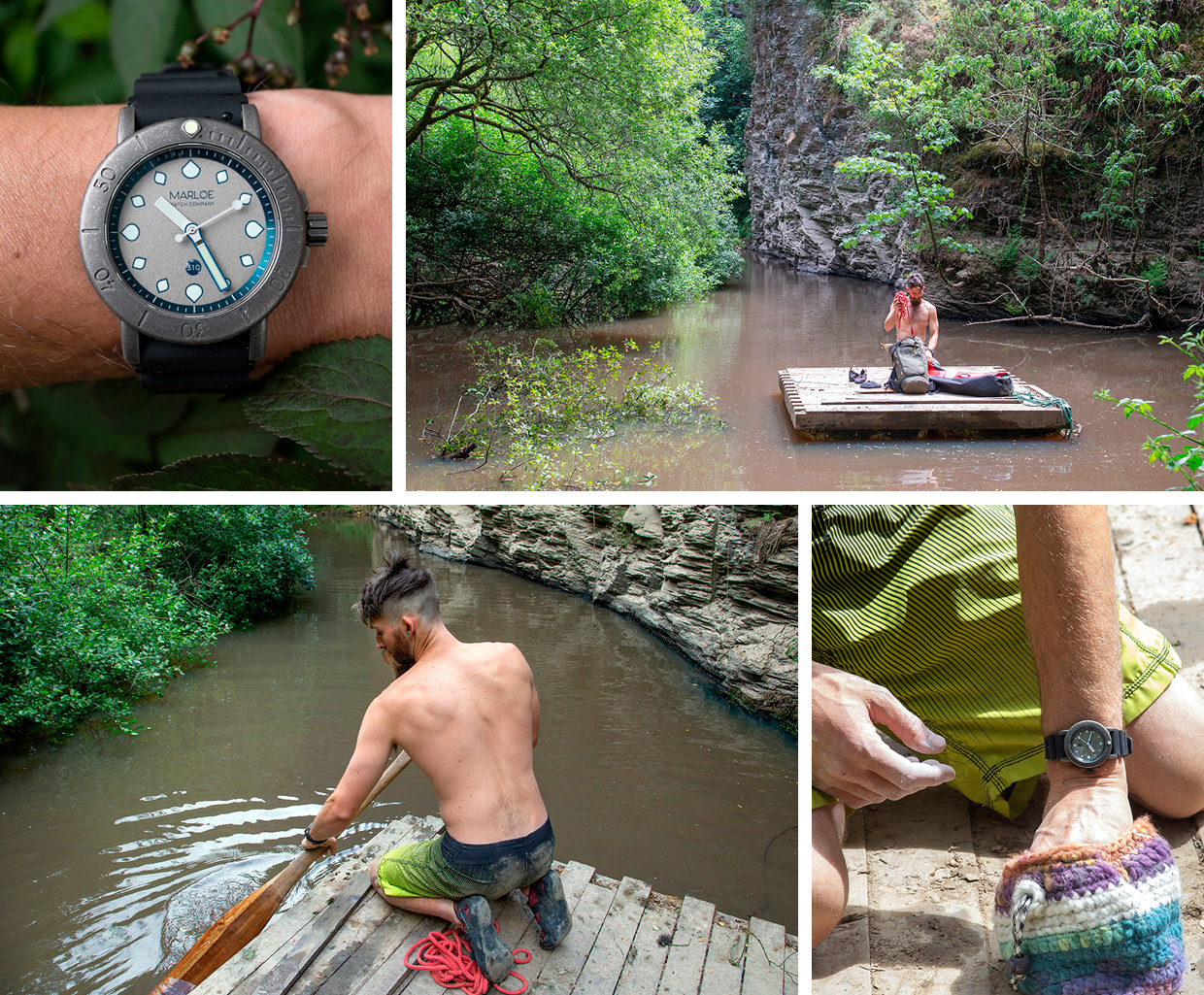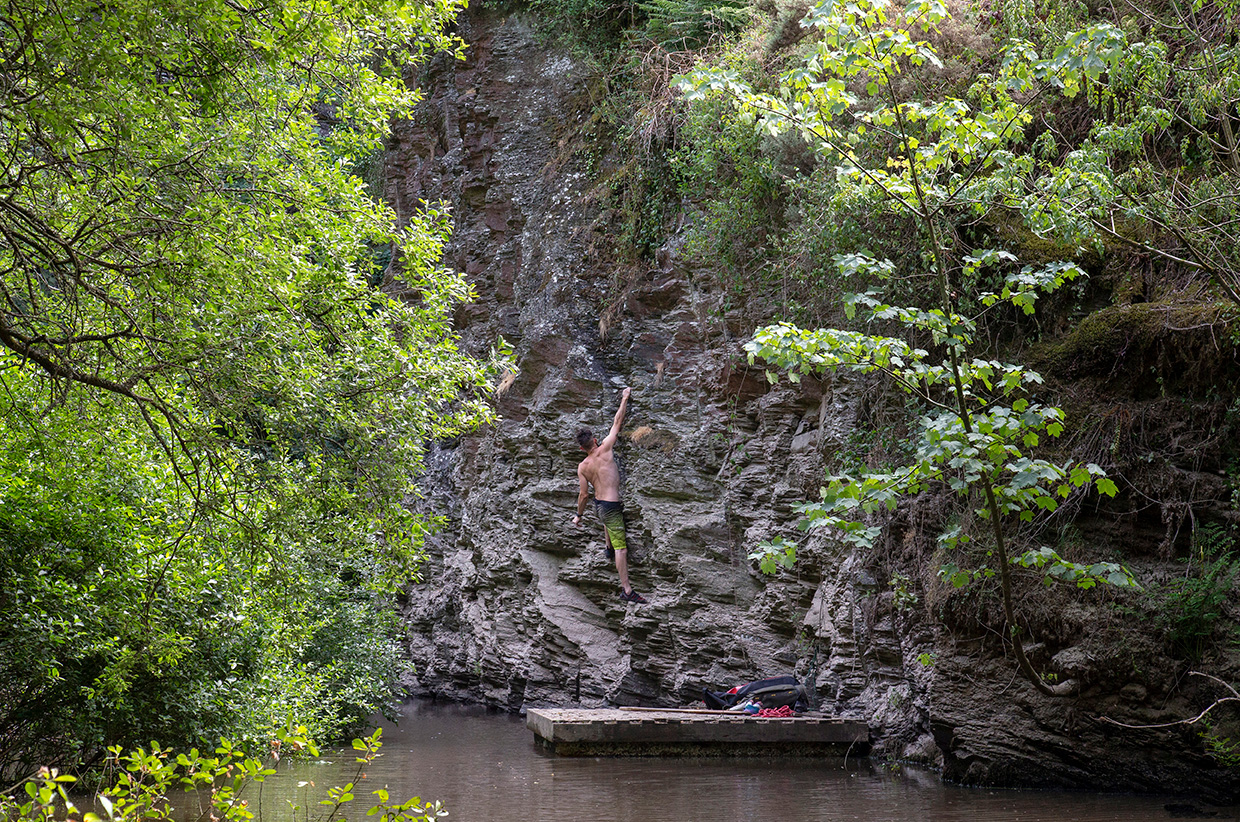 The Morar, of course, is designed to withstand much more than a splash into a lake. It's been three years in the making and always guided by the founding principal of nothing unnecessary. It looks beautiful, naturally, but everything on it has function as well as form.
The Morar 'Sands' edition has a silver-grey face, inspired by the beaches on Loch Morar and the dial markings represent shells. The face also has luminescent hour markings and hands. The case is solid gunmetal-plated 316L stainless steel coming in at 12.4mm thick and 40mm in diameter. The glass uses sapphire crystal with an anti-reflective coating and the case back is anti-magnetic. There is a unidirectional 120-click bezel, designed to be moved with gloves on. It's a positive, unmistakable case with deeply engraved numbering. Similarly, the crown, designed to look like a diver's cylinder valve, requires unscrewing to adjust – no chance of accidental knocks. Inside is the Miyota 9093 movement with a 28,800bph smooth hand sweep which has the ability to be manually wound. And it can withstand diving to a depth of 310 metres.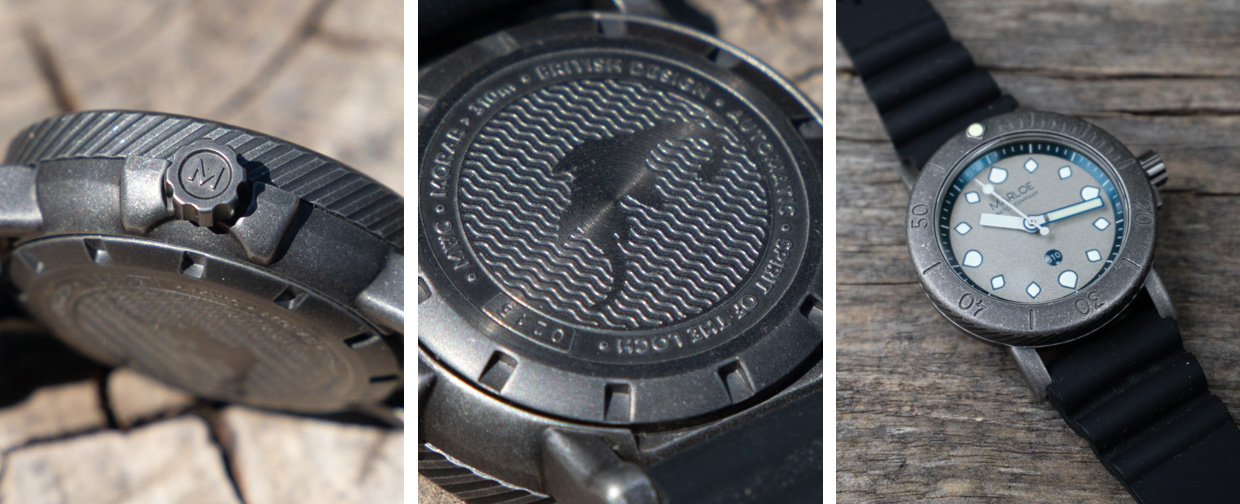 The Morar is an item of beauty; elegant, deeply pleasing, yet one that is built to last, and last, for generations even. It's ostensibly a diving watch, but if it can stand up to some of the harshest environments on earth, it can stand up to ground level travel and high altitude climbing. This is a watch for all of the time, no matter where your adventures take you.
---