Sup Against Sup: The Welsh Coast
From The Field
Sian Sykes is paddleboarding for 60 days, circumnavigating Wales via the coastland, rivers and inland waterways, to raise awareness of the impact of single-use plastic. This is the SUP against SUP expedition. Ian Finch catches up with her during the coastal phase of the adventure.
---
It was 10.30am and Sian had already paddled 20km. From my clifftop vantage point at Morfa Bychan I shielded the sun from my eyes with a hand gesture equal to a military salute. I focused, squinted and refocused, all in a bid to relocate the lonely silhouette at sea.
As she appeared between the turquoises of the coastal swell, I intermittently made out the long circular rotation of her strokes; the brief sparkle of sun on the paddle blade acting like a beacon. I noticed the configuration of expedition bags stowed at the front and back of the board. Sian's familiar paddle technique was propelling her north-east along the rugged Welsh coastline.
Since my previous time photographing Sian on the Shropshire Union Canal, she had weaved down into the mighty Severn estuary with its second-fastest tidal range in the world. She had also crossed one of the most complex coastal waters in the UK: the shipping channel of Milford Haven. Slowly moving north-west past seven Ministry of Defence firing ranges, she had put in 60-70km days in complex sea conditions. At times heavy winds had forced her inland and into the generous arms of small coastal communities. At this point, amongst the windstorms and intermittent sun, she was the first female solo paddler to reach this far circumnavigating Wales.
After spotting Sian from the headland, I made my way down the coast by car to the quaint harbour at Aberystwyth. I know what six weeks on expedition look and feel like. It's a cacophony of tiredness, wonder, and beautifully irregular suntans. However, when Sian arrived, she looked the same as the day I left her: chirpy, strong, and sporting that new suntan. After a resupply and brief check-in with the RNLI she was back to business, driven to push on under mid-day sun and serene waters. Before leaving, we decided that our RV point was 14km past Aberystwyth and deep within an area of undulating sand dunes. It was a secluded spot tucked away at the mouth of a narrow estuary.
With the dunes behind me I waited barefoot on the dark sand of the beach. It was 8.00pm and the sun was in its final moments. 100m offshore, beyond the breakers, Sian sat on her board, slowly bobbing and dipping with the swell. After 10 hours she paused whilst making preparations for a surf landing over the barrage of white-crested waves. She had paddled all day to get here, a monumental feat in mist and changing conditions, and it was now a matter of making it to shore.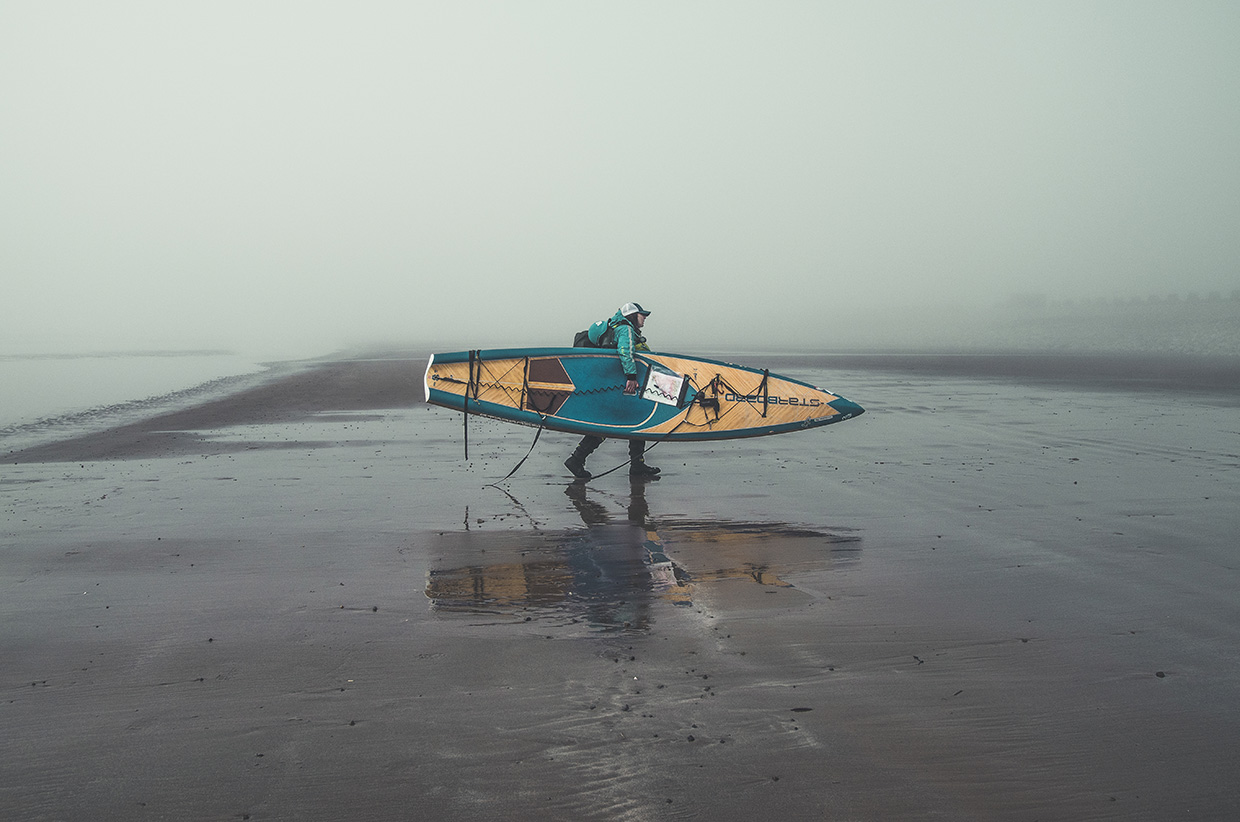 A rolling wave flipped her board in the fading light, resulting in a dip into the frigid coastal waters. Her approach to the shoreline had become a swim and Sian was relieved and exhausted as she dragged her board in. We moved to our wild camping location further up the beach. That night, from the dry comfort of our tents, we lay nestled and hidden amongst the wispy marram grass of the dunes. As the waves tumbled into the dark shoreline I thought about her ongoing strength – not only physical but also mental. Today was one day in many when she had been tested, and it wasn't going to end here.
The following morning I sat with Sian as she made her kit preparations before a long stretch towards Barmouth. Small coastal birds ducked and weaved amongst the dunes. As she sat in the porch of her tent with a mug of turmeric tea, Sian told me, 'Being on this trip has made me realise how caught up I was in my daily life. I missed the whole essence of what I'm about, which is leading a simple life and being self-sufficient. I enjoy expedition life and encountering different people and ever-changing environments. I love the simplicity of it.' It was here I noticed how Sian sparkled when she spoke about this subject.
An hour later, watching her paddle back out into the surf, I photographed in quiet admiration. Even though we would reconvene later that day in Fairbourne, I'd finally uncovered a personal insight into her journey circumnavigating Wales. It seems that her drive for adventure is not only based on raising awareness of single-use plastics, but also a search for simplicity and connection; in the people she meets and the landscape she calls home.
Minutes later she melted into the rolling temperament of the ocean. I wondered, was that the true essence of expeditions – to undergo and endure, to simplify and to connect?
I know what I think. You decide.
---