The Silent World: The Arctic Whale project
From The Field
Written by Hugh Francis Anderson
The ocean, it has been said, is the final frontier. Only by looking under the surface does one come to appreciate its enormity. 'The sea, the great unifier, is man's only hope,' said Captain Jacques Cousteau. 'Now, as never before, the old phrase has a literal meaning; we are all in the same boat.' Sadly, as the years go by, Cousteau's words grow only truer and truer, yet there are those championing the ocean and its inhabitants. And Andreas B. Heide, a Norwegian marine biologist and adventurer, and the man who freedives with wild orcas, is one such champion.
A light north-westerly breeze ruffles the sails of Barba, Andreas's compact 37.5" exploration yacht, as we sail out into Gandsfjord, Norway. It's 9.00am and the sun has only just breached the horizon. Despite the evidence of winter that dusts the surrounding mountains, the sun casts its warming radiance over the seascape. 'I've always been very curious, and always looked at the ocean and thought about what was under the surface and what was beyond the horizon,' Andreas says as he gazes across the bow. 'You get a feeling when you look at the ocean, and perhaps this feeling is a little stronger with me.'
Andreas's fascination with the ocean started at a young age. Growing up in the oil town of Stavanger, the ocean was, quite literally, on his doorstep. And it was here that his fascination first took hold. 'Looking back at my childhood, the ocean was more like a creature than an element,' Andreas says as he passes me some woollen gloves; the sun is warm, but the air frozen. 'We [Andreas and his friends] grew up learning how to respect it, and it was always a source of curiosity and excitement.' It is this unanswerable curiosity that seems to lie at the very core of all adventurers, past and present. Andreas regales me with tales of his childhood, of running out into winter storms to see if he could get close enough to touch the waves; sailing off in homemade rafts even though he couldn't swim; and whiling hours away catching crabs in the shallows. 'Growing up this way and being responsible for ourselves, I think we learnt a lot.'
Though the ocean has always been a part of Andreas, and he got his first motorboat at the age of 10, it was not until he was 29 that he started sailing. Diving, on the other hand, gripped him early on. He was freediving at just 7 years old, and after three dives with an instructor in Corsica at the age of 16 he bought his own kit and started diving alone. Within two years, he was doing so as part of the Norwegian Navy. 'I spent two years in the military as a diver and parachutist, which was very useful background training for what I do now. We would dive with rebreathers and exit from submarines, so you learn to take care of yourself.' After a short career in the military, Andreas's fascination with the ocean led to a postgraduate degree in aquaculture at the University of Bergen, which is where his affirmative passion for the ocean and its inhabitants came to the fore. Following this, he stayed in Bergen to work for the Institute of Marine Research. 'I have always been intrigued by natural science. Life in water is so enigmatic and inaccessible. Aquaculture is marine biology with a specialisation in fish farming. Although a conservationist, I still have a pragmatic approach to nature. The key is sustainability.'
It was Andreas's love for both diving and the ocean that triggered his obsession with whales, and he has already garnered significant global attention as one of the only people in the world to freedive with wild orcas. He dived with them for the first time while on an assignment as a photographer with a group of tourists in Arctic Norway. 'The first time trying was rather scary. What goes through your head is what you imagine,' he says with a smirk. 'I enjoyed the experience, so the next winter I sailed north with my own boat to enjoy the freedom it provides to track them on your own.' From this moment, Andreas's orca project always had an educational purpose. So much so, in fact, that he hosted the BBC's Blue Planet team on one of his expeditions. He cites Sir David Attenborough, Captain Jacques Cousteau, and Fridtjof Nansen as his heroes. And, like his heroes, Andreas too wants to expound the ocean. 'What we do is about capturing the audience's attention and ultimately using it in an educational context,' he says. 'I think it's harder to disregard the ocean when you know the creatures in there. And the orca is a brilliant ambassador for the ocean; they're so recognisable and they're so well known.' His expeditions have already taken him to Svalbard, Jan Mayen, Greenland, and as far north as the pack ice surrounding the North Pole. But he's pursuing more.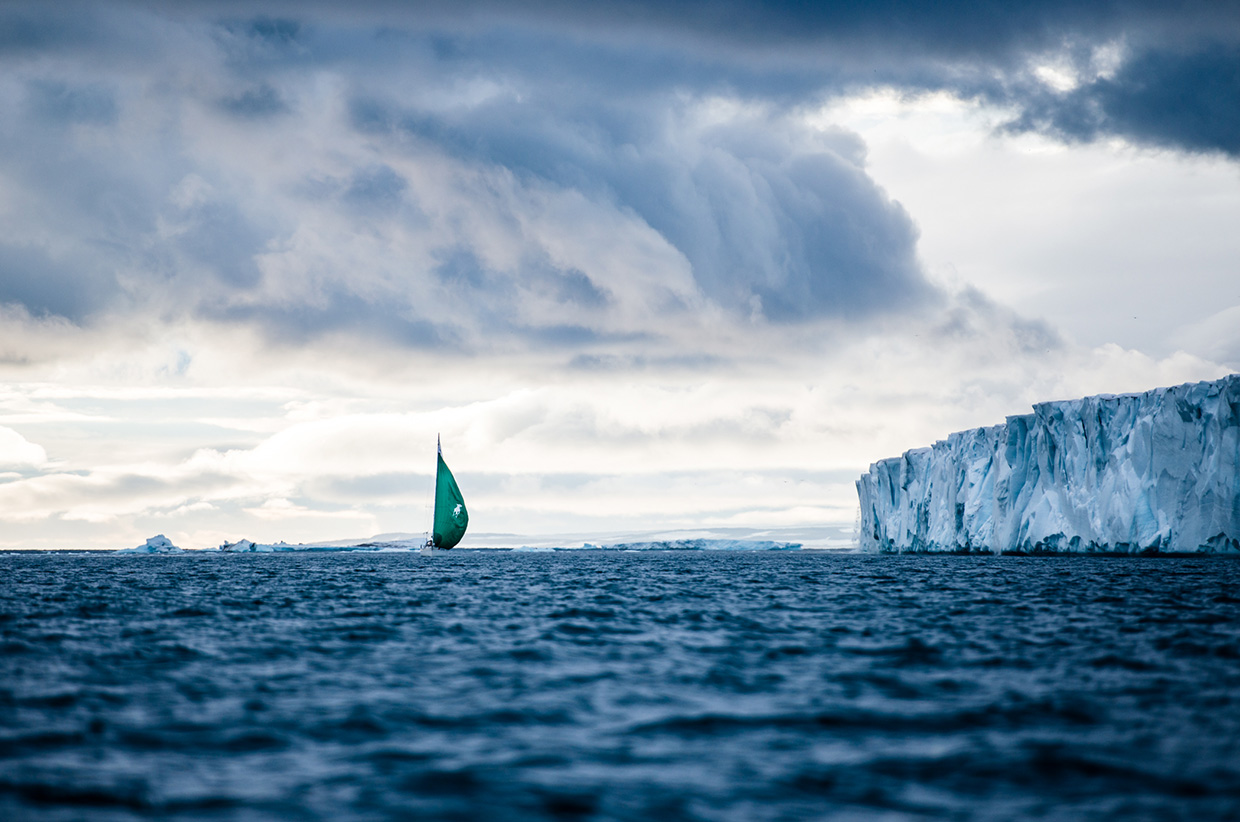 The impact plastic is having on our oceans is really just coming to the fore. It is estimated that 8–12 million tons of pure plastic waste goes into the ocean each year. While choking and ingestion are killing marine and bird life by the thousands, it is the micro and nanoplastics that infiltrate organisms lower in the food chain that are most alarming, with research showing that microplastics have risen all the way up the food chain and are now present in almost every human. And that's not to mention the individual elements wreaking havoc in our oceans. A 2018 study published in Science shows that polychlorinated biphenyls (PCBs), a highly carcinogenic chlorine compound banned over 40 years ago, is having such devastating effects on orcas that up to 50 per cent of the population may be dead in the next 30 to 50 years. As Andreas states, 'What questions should we be asking ourselves when whales wash up dead, or when firstborn orca calves die from pollutants?'
So, as these ocean plastics reach alarming levels, Andreas's latest project, Artic Whale, which he conceived with Impact Manager Sandra C. Ness, aims to document the effect these plastic pollutants are having on the whale population. Through the research and storytelling of scientists, photographers, documentary filmmakers and writers, Artic Whale aims to not only raise awareness but garner actionable scientific research too. 'Ultimately, what we want to do is to use spectacular storytelling to engage the greater audience to care for nature,' Andreas notes. 'It's the conservation side that gives meaning to it all. I would be wrong to be out there without a greater purpose.' While there are numerous parties involved, it will be Diane Seda, a sailor and scientist specialising in marine pollutants, and Marianne Rasmussen, a research professor at the University of Iceland specialising in marine animals, who will lead the scientific studies. And their work will be documented by numerous wilderness photographers, including Andreas himself, alongside revered 360º VR and audio acoustics freediver Fabrice Schnoller.
Setting off from Stavanger earlier this month, the team made their way to the Shetland Islands to first document dolphins, pilot whales, and orcas. They are currently sailing around the Faroe Islands in search of white-sided dolphins and bottlenose whales before crossing the Atlantic to Iceland in search of blue whales. By taking both blubber samples and by flying drones over the whales' blowholes to collect breath samples, Andreas and the team aim to further discover how much micro and nanoplastic is infiltrating a diverse range of species. They also plan to run a plastic trawl while sailing to see how much plastic is in some of the remotest parts of the Atlantic.
Andreas sails Barba between the islets that dot Stavanger's coastline. Here, the proof of a rich maritime history is plain to see, and Andreas explains that Stavanger was once a booming hub for the herring industry and shipbuilding; we pass many of the wharves and quays that still show evidence of historic net-makers and boatbuilders. Enjoying a bowl of piping-hot fiskboller (fish balls) in the cockpit, I ask Andreas what fuels his explorative nature. 'Ocean adventure is always fuelled by a great curiosity. I think it's critical, even though I am "grown up", that I am still fuelled by the same curiosity and the thrill of the adventure,' he says with fervour. 'Whenever I look at the ocean, I am curious about what hides underneath. Whenever I look at the horizon, I still wonder what's behind it.'
As we approach Stavanger, where we part ways, I'm reminded once again of Cousteau, who once wrote, 'The sea, once it casts its spell, holds one in its net of wonder forever.' To me, Andreas B. Heide is the embodiment of this sentiment. Enchanted by the ocean of his youth and staunchly fighting for lasting change within it, he is nothing short of a modern-day pioneer.
---