Trangia: Stormproof Stoves
Gear
Stories Behind the Gear: Trangia
Founded in harmony with nature
Written by Harriet Osborne // Photography courtesy of Trangia
Manufactured amongst alpine trees and falu red houses in Trångsviken, Sweden, Trangia stoves have enabled adventurers to explore without limits for the past 70 years. Built to last a lifetime, the cookers have become family heirlooms, passed down through generations with stories that inspire adventure.
---
Few things nourish the soul more than cooking outdoors. For the past 70 years, Trangia stoves have enabled campers and mountain wanderers to stay well fed while exploring, with a reliable tool that is built to last. Characterised by its simplicity, the Trangia stove combines functionality with aesthetic, often becoming an heirloom for outdoor enthusiasts all over the world.
Trangia was founded by John E. Jonsson, a talented tinker who started manufacturing household pots and pans from aluminium in Sweden, in 1925. When the industrial holiday was introduced in the 1930s, entitling workers to paid time off, the demand for camping equipment grew. John recruited his two sons, Olle and Erik, and started developing a stove specifically for the outdoors. By 1951, the family had created the first Trangia cooker, a lightweight and durable stove that could withstand any weather. John named it after Trång, the waterside village he'd grown up in, with an 'ia' at the end, which stands for 'in aluminium'.
Aluminium has been the metal of choice from the very beginning. It's non-toxic, has a high thermal conductivity and provides excellent resistance to corrosion. It's also highly recyclable, a property which lends itself to the brand's commitment to sustainability. 'The cookers are currently made from 50 percent recycled aluminium,' says Sustainability and Communications Manager, Hanna Hervall, who joined the team of 75 outdoor enthusiasts last year. 'We always try to minimise how much metal is cut off when we make the pots and pans, but any little scrap pieces left over get sent back to the manufacturers who turn it into new material for us.'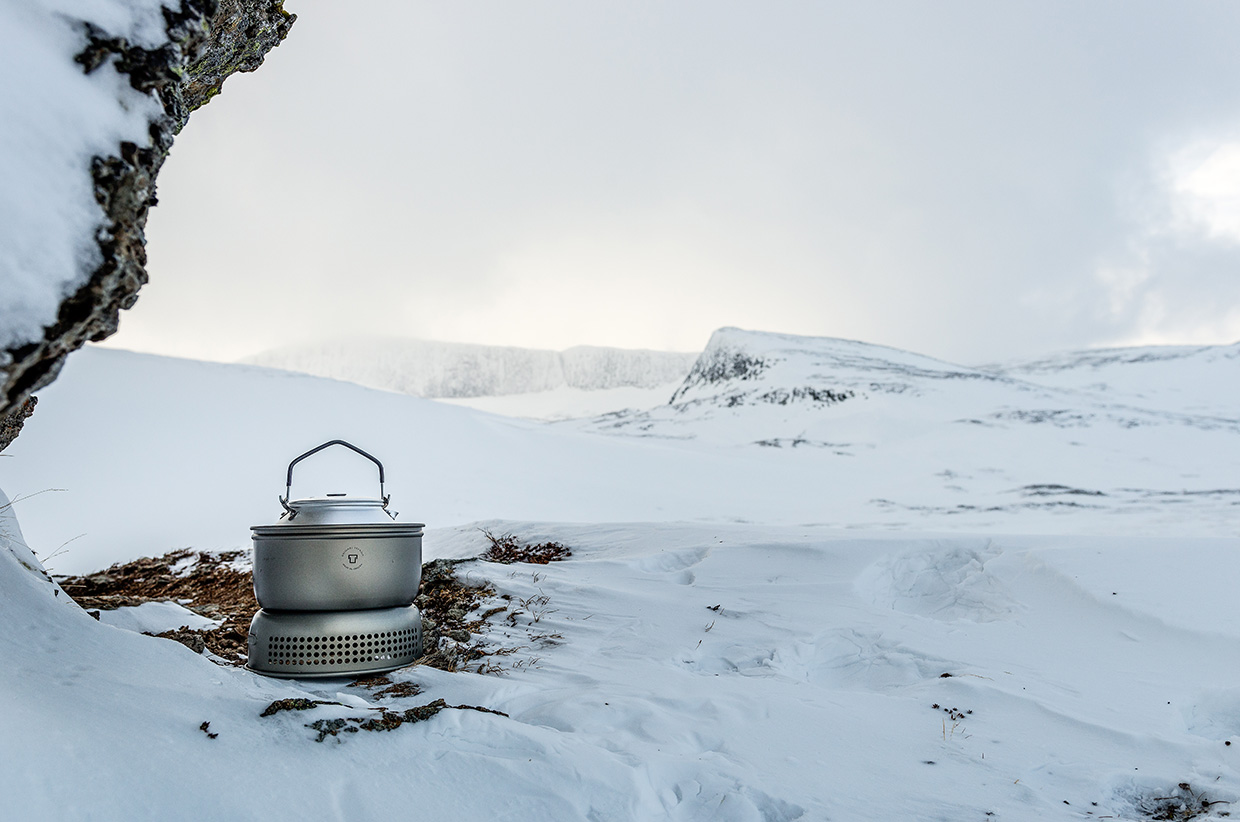 The factory is still based in Trångsviken, and the village's proximity to the mountains was a deliberate choice. It reminds them of why they exist and the responsibility they have towards the environment. The water used during surface treatment undergoes a purification process before leaving the factory. Packaging is also critically important, with a move to eliminate any plastic elements in favour of environmentally approved and 100% recyclable cardboard and paper. Above all, the aim of this fourth-generation brand is not to produce single-use stoves, but to have the processes in place to ensure they last a lifetime.
'We have always been very good at replacing parts on broken stoves. No matter how old it is, there is a spare part for it. We don't want you to throw it away and buy a new one,' Hanna says. 'We want you to pass it through generations. We have been manufacturing them this way long before sustainability became such a buzzword.'
Trangia cookers come in three different sizes: Mini for one person, Small 27 for 1-2 people and Large 25 for 3-4 people. The two larger sets come with two saucepans, a frying pan and the option to add a kettle. The Mini set has a saucepan and a frying pan. What makes Trangia unique is its compact design and multipurpose components. For example, a two-part windshield with ventilation holes can increase or decrease oxygen supply to the burner, while the frying pan also acts as a lid that can be used on top of pots to speed up the heating process and save fuel.
Four different burners are available for different outdoor pursuits. The most popular, the spirit burner, is run on an ethanol-based fuel which is renewable, easy to use and environmentally friendly. The gas burner is convenient for families with young children who need to regulate the flame and while the gel burner has similar burning properties, it comes in a handy pouch that is easier to wedge into a tightly packed rucksack. The multifuel burner, which comes in an aerosol canister, is a more advanced option for extreme weather.
The majority of Trangia's marketing is through word of mouth. A 'Trangia Stoves' Facebook group has been set up by fans to share stories about their stoves, overcome issues and offer useful advice and tips on how to use specific burners. 'If a customer wants to discuss nitty-gritty hacks, we often send them there,' Hanna says. 'They have such a strong connection to us because of the memories they have of being out in nature. How can you not love that?'
To honour their loyal fans, Trangia recruits real people who use the cookers as ambassadors for the brand. Hanna explains, 'We want to hear the stories about the old stoves and where they have been. Like a band T-shirt with the tour locations and dates. People transfer whatever emotions they have towards Trangia onto the next person. We want to capture the handing over of these traditions.'
Their ambassadors are made up of day-hikers, nature-lovers and filmmakers. They also work with adventurers embarking on expeditions. Adventurer Lina Hallebratt recently carried her Trangia on skis and dog sleighs as she navigated through the Swedish mountains to the point where Norway, Sweden and Finland meet. Elsewhere, Ciara Harringon, from Ireland, and Veiga Grétarsdóttir, from Iceland, will be using a Trangia as they paddle 4,000km along the Norwegian coast in a kayak.
Trangia is a brand that personifies experience, competence and design. It's founded on the desire to share good food and conversation in harmony with nature. Hanna adds, 'We're not the fanciest, the fastest, nor the ones who send out press releases for new products all the time. We haven't changed much over the years. We're like an old friend that you can trust.'
---