Life in the Ger
An Inner Adventure in Mongolia
Julien Fumard
As a child, I was fascinated by the exploits of the great adventurers. Climbing ice-covered peaks, reaching the poles by ski, or crossing the oceans alone seemed so surreal, but somehow I got lost on the way until I reached my thirties. Since then I have tried to catch up. Although I remain fascinated by adventurers and demanding expeditions, I am not an athlete – and, apart from getting lost in the mountains with my tent and faithful camera, I am not fond of sports in general.
But adventure is not only about records or world firsts, and it does not always need strength and sharp reflexes. First and foremost, it's something that makes you grow as a human being, and the only thing it needs is a kick in the butt to get you out of your daily routine, out of your comfort zone. I like my adventures to be without a goal, but not without purpose, so I decided I would experience the life of a nomadic family of herders in the winter of the Mongolian steppes. For a month, I'll see how these people cope with the harsh climate in a 10 square meters felt house called a ger. Will it be the simple life I have been dreaming of?
After 20 hours on a bus through the steppe, trying to sleep with my head against the frozen window, the view of the ger makes me understand that I have finally arrived. Two little kids dressed in traditional clothes run behind the motorbike and welcome me with a mix of curiosity and apprehension. At this moment I haven't yet realised that travelling into the steppes of Mongolia is like going back in time. Of course, there is the motorbike, the solar panel, a telephone and an old black-and-white TV set. But most of the traditional way of life is still alive and well in this winter camp.
There is a spiritual aspect to entering a ger for the first time. The door is low to keep the warmth inside, so one has to bow, as if paying respect to the spirits of the house. Made of wood and felt, with a stove at the centre, this is now my new den, the place where I will laze by the sacred fire after hours spent alone in the freezing steppe with an undisciplined flock. I will live under this roof with a family of four, plus a couple of young sheep arrived late in the season and too fragile to sleep outdoors with their kin.
Made of wood and felt, with a stove at the centre, this is now my new den, the place where I will laze by the sacred fire after hours spent alone in the freezing steppe.
The change of lifestyle is radical. As a software engineer, I was used to spending hours swearing in front of a computer facing problems as virtual as the applications I had to fix. All the stress and complications of the binary world are now far away. My way of life is easier than ever: wake up, clean the frozen yak dung from my surroundings, take care of the young animals, eat, drink litres of hot tea, herd the flock, eat, sleep. A simple house for a simple life. Is it not what I was looking for?
Once the culture shock has faded, though, life becomes strangely uniform. No Facebook, no emails, no phone calls… not even conversation, as my host and I share no common language. I feel unexpectedly lonely and bored. I can no longer blame the younger generations of Mongolia attracted by the city lights: like the steppe itself, time here seems to stretch forever, especially in the hard times. I start to doubt all the science I learnt at school. A minute is definitely longer when I'm emptying myself outdoors, in the middle of the night and at the mercy of -30°C before the wind chill factor, than when having beers with friends at the pub.
I feel happy to have the chance to witness such intimate moments. This is what adventure means to me, this is exactly what I'm looking for: being so immersed that I feel as one with the place I'm in.
After about two weeks in this situation, and a sciatica getting worse every day, my dreams become more and more incoherent. I see myself eating Cocoa Krispies or ruling the world wearing costumes right out of a sci-fi movie from the sixties. Something is wrong. What the hell am I doing here? I want to go back home. From a dream, Mongolia has become a nightmare.
Luckily I find my saviours: Chinese noodles for the belly and a walking stick topped by a goat skull for the back (not sure the skull is of any use, but it looks cool). Although I cannot be of help any more with the firewood or extracting ice blocks from the frozen river, our sole source of drinking water, I double my efforts as a herder and babysitter. I don't want to be useless – the family's wellbeing depends on the efforts of every one, even the kids.
For most of us, happiness is not a granted state of consciousness. We have to seek it and strive for it. A positive attitude is necessary to create a virtuous circle so I spend most of my free time with my hosts, trying to learn a few words of Mongolian, teaching English, but mostly communicating with gestures and drawings. We spend good moments laughing together, and the little Batchimeg, five years old, even learns French curses. She imitates me stretching my back in a grin of pain as I swear — words I hope she will soon forget. Despite the hard times, simple moments like these shield me when misfortune strikes. They are the memories that will keep me on the road when I've become too old to move. Once conscious of that, waking in the middle of the night with a terrible thirst and finding my glass of water completely frozen makes me think 'f**k thirst, this is awesome!'.
Mongolia is often referred to as the 'Land of the Blue Sky'. So when the wind stops, keeping an eye on the flock I can let my soul wander peacefully, lying under the sun. With the beginning of Tsagaan Sar – the Mongolian new year celebrations, lasting for a month – new faces come and go with their most beautiful costumes, bringing gifts and wishes of health, happiness and good fortune. As the sun sets, I look for shelter around the stove of the ger. Often I'll find my hosts surrounded by family and friends with plenty of food and vodka, laughing, singing, and sometimes even crying for loved ones that belong to this world no more. I feel happy to have the chance to assist such intimate moments. This is what adventure means to me, this is exactly what I'm looking for: being so immersed that I feel as one with the place I'm in.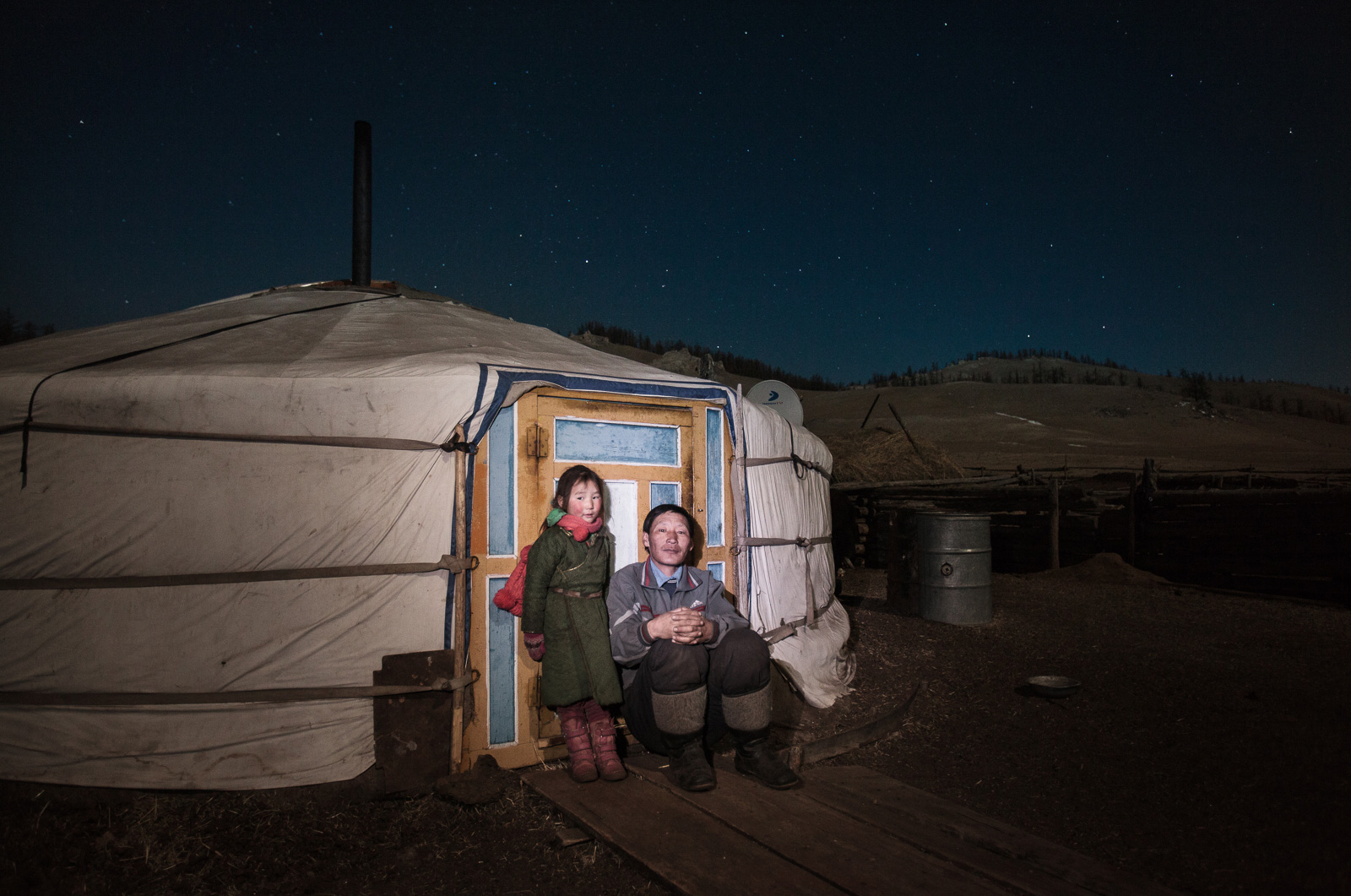 So is this the kind of simple life I have been looking for? Let's not indulge in easy conclusions. Life in the steppe is beautiful and there is a certain romanticism in it. One could easily see the nomadic way of life as a perfect antidote to our own over-complicated modern existence. But life in the steppe is clearly not for everyone and only by experiencing it could I understand how hard it is. I strongly believe that the path to happiness is paved with hardships, but too many of them and you'll find yourself lost.
Even for those born to it, coming back to their original lifestyle after years elsewhere can be difficult. Zara, whom I met on my way back, explained it took her no less than three years to get used to the Mongolian way of life again. But, she says, 'It was worth it. Now I feel great here!'. So if you are ready to endure its inherent hardship for long enough that body and soul consider it natural, only then can you finally say: 'this is the life I was looking for'.
As far as I am concerned, although this experience taught me a lot about myself and the relationships I have with my kin and with wilderness, I still feel the need to continue my quest for the lifestyle that fits me best. Or maybe it is just another excuse to continue wandering through the world. Life in the ger was hard, but unforgettable.
Although living under the sun of Provence, in the south of France, photographer and traveller Julien Fumard longs for the lights, the landscapes and the people of the cold areas of this world, and the relationships that tie them together.
Website: julienfumard.com
Facebook: /jfumard
Instagram: @JulienFumard
Twitter: @JulienFumard