Ski Adventures Between Fire & Ice
Melanie Bernier // Photography by Steve Shannon
It all started with a New Year's resolution to check items off the 'want to ski' list. As a dedicated and passionate backcountry skier, going on wild ski adventures is the best way to achieve self-growth and peace of mind. I had been dreaming of going to Iceland to ski steep couloirs for as long as I can remember. There is something magical about this rugged landscape of snow and ice that pours into the sea. I am not sure if it's the rugged coastal scenery, the harsh weather, the extremes between fire and ice, or simply the unknown, but the lure of this Arctic adventure was impossible to resist.
Shortly after the 2016 New Year celebrations, my friend Bob and I headed for a 12-hour canoe and ski mission in our local Monashee Mountains. On our paddle back through the cold mists of the lake, caressed by snowflakes, we hatched a plan to do an Arctic ski adventure in Iceland: pure exploration without agenda.
Months went by without thinking too much about the exciting trip to come. I was racing in ski mountaineering events across Europe, while Bob was busy working and skiing around Revelstoke, British Columbia, with photographer and adventurer Steve Shannon. With no plan, no set objective, no expectation other than exploring, we ventured across the ocean, excited to put our skis on and see what adventures we could find.
Bob and I started our journey just outside of Reykjavik. Within a few hours of landing we were bumping down a backcountry road, heading towards Mosfellsbær and a beautiful array of ski lines in excellent spring condition – a great way to get rid of the jet lag, and those first turns helped set a pace for the rest of the journey. Right away we came up with funny and inventive names for all the couloirs we skied, as if we were the first people to ever set foot on these slopes. With high fives and smiles from ear to ear, we set camp for the first night in the wild outskirts of Borgarnes, where the melody of the nearby river allowed for well-deserved sleep.
The next day, we headed north towards Ísafjörður. Watchful as predators, we relentlessly hunted for exciting, skiable couloirs, and were rewarded with an aesthetic sliver of snow terminating in a grassy field just outside Súðavík. At the end of each day we visited the famous 'Hot Pot' – a natural geothermal hot pool.
While walking to the Ísafjörður facility, our gaze was drawn to a fabulous steep line, narrow from top to bottom and about 600m in length. The couloir haunted our dreams all night as the furious wind rocked us to sleep.
With no plan, no set objective, no expectation other than exploring, we ventured across the ocean, excited to put our skis on and see what adventures we could find.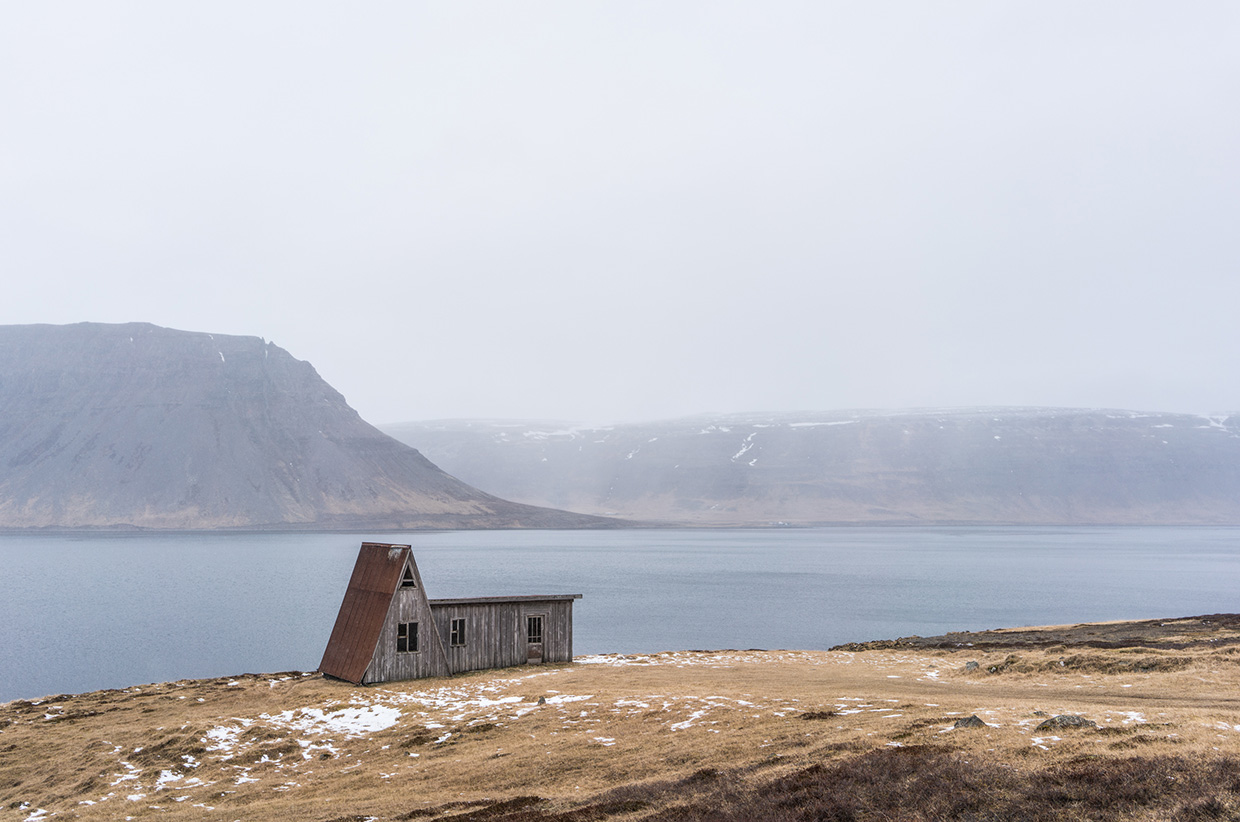 In the morning light we decided to have a look at the so-called 'pool-oir', our new nickname for the ambitious wild line. Bootpacking with skis on our backs from the start, the anticipation and excitement followed every step. As we finally reached the top, we realised that the snow quality was going to be a 5/10 at best – but the experience, the views of the fjord and the small town spreading along its shore scored a 25 in my book. We swooped down on our skis, finding joy in every moment.
However, the next day, we woke up to a real Icelandic winter storm. Savage gusts blasted snow horizontally across the flats and the mountains, and the ocean pummelled the rocky shores with angry waves. It was a smart decision to give our skis a rest – our one and only down day during the whole adventure. We went around the north-west tip of the island, enjoying the wild waterfalls and rugged, unpopulated hills. The storm made everything seem even more remote – travelling through a deserted landscape, making our way in the blizzard searching for the next mountain to climb.
That night, we spent hours lying in Icelandic moss, which had the effect of memory foam on our body. We watched the full moon cross the sky and were caught in a perfect moment, frozen in time, wanting to be nowhere else.
After the storm came the sun. Rays of sunshine – and warmth, almost – penetrated the cold mist of Þingeyri. We continued our journey south towards Tálknafjörður and Patreksfjörður, managing to climb and descend two to four couloirs a day between fits of driving narrow and windy roads that seemed too narrow to squeeze past oncoming traffic. In our quest to find beautiful lines we soon realised that we would have to learn to accept the variable conditions and stop yearning for the effortless powder we were used to back home. We skied everything from ice to slush and every type of crust that you can imagine. Finding couloirs in Iceland turned out to be a three-person job: the driver looked for skiable options, the helper kept an eye on the road, and the third person supervised the first two while providing snacks.
We followed the good weather to Vatnajökull National Park to discover its glacier, the largest in Europe. Then our attention focused on Hvannadalshnúkur (2,110m), Iceland's tallest peak – and surrounded by heavily crevassed terrain. Windows to climb and ski this peak don't come often, but we were blessed with ideal conditions and light winds only gusting to 70km/hr. We negotiated the broken terrain and the blistering wind to finally reach the highest point of the island, surrounded by unbroken white in all directions, a glaciated wonderland of snow. It must have been -35˚C at the summit; the group hug and photo to celebrate our accomplishment took place in a very timely manner.
The first turns from the summit were like skiing on millions of ice mushrooms. We slowly dropped to lower elevations where the snow went from very marginal to fast corn, allowing us to carve amazing turns through tight canyons all the way to valley bottom. That night, we spent hours lying in Icelandic moss, which had the effect of memory foam on our body. We watched the full moon cross the sky and were caught in a perfect moment, frozen in time, wanting to be nowhere else.
We were lucky to get two extra days of good weather to explore the area a little more. We skied exposed lines above glaciated terrain, walked carefully on ice waves and open crevasses, and dropped into steep faces hoping that the bottom would not lead to a dead end. Maybe the lack of hot springs in the national park convinced us that a lagoon dip was appropriate, but it was probably the coldest water I'd ever soaked in. Although chilled to the bone, I have never felt so alive. That night the sunset glowed brilliant pink. It made me feel warm inside despite the uncontrollable shivering from our glacial dip.
Up the east coast we drove, stopping for a break at the beautiful Jökulsárlón Lagoon, where chunks of ice from a distant glacier come to die on a lonely sandy beach. It is a beautiful place to sit in silence and watch nature at work. Our eyes could barely register all the beauty around us.
After a quick visit to Dalvík and Ólafsfjörður to celebrate my birthday and ski some ocean-side peaks, we decided to continue our journey without wasting time. When we finally arrived to Ólafsvík and its famous volcano Snæfellsjökull, the sun was setting on the snow-plastered volcanic slope. The sky transformed from deep blue to purple to red and pink – a photographer's wet dream. The scene was too intense for us to keep driving and we found some trails that brought us to the most amazing ocean-sculpted lava rock beach, black pebbles contrasting against the white foam of the Atlantic.
That night, the colours, the sounds and the smells were so overpowering that they brought tears to my eyes. The three of us scurried about on our own little adventures before climbing up a loose rock tower to sit in silence and experience the raw beauty of this place. The wind was so fierce the next day that we couldn't even open the van doors into the wind, let alone attempt to ski up the volcano. It was now time to make our way back to the airport. On the last evening we once again found ourselves in Mosfellsbær skiing into a beautiful sunset: a fitting way to end this unforgettable journey.
We originally came to Iceland for a ski adventure but what we experienced was nothing short of a life awakening. Reading through my travel journal brings me right back to this unique experience and all the magical moments shared with friends:
'We often forget that we are free to roam, push our limits and explore. I feel my being here brings me closer to understanding what happiness truly is. Simple, plain, connected, open hearted are my feelings. This place is so pure, grand, and peaceful but so wild all at once. I feel its cleansing effects on my mind, body and soul.'
---
Read more from this adventure in Exposed – a Single Moment feature in the brand new Sidetracked Volume Nine
Melanie Bernier is a passionate ski mountaineer living in Revelstoke, Canada. Part of the Ski Mountaineering National team for the last 8 years, Melanie spends a lot of time training in the mountains around her home town but also around the world. From the contrived world of racing, she loves to travel to the most remote and rugged landscape to ground herself and find the energy that feeds her passion. She loves to share adventure with friends and inspire other to push their own personal limits.
Twitter: @MelBernier4
Facebook: /MelBernier
Instagram: @melbernier4
Growing up in the West Kootenay, Steve Shannon developed an early love for the outdoors. He began skiing at age two and by high school was firmly addicted to exploring the mountains around home by a variety of means. From those early childhood past times, his appetite for adventure has only grown. Recent adventures have taken him rafting the Grand Canyon, skiing in Iceland and Norway and mountain biking in the Nepalese Himalaya and Canary Islands.
Website: www.steveshannonphoto.com
Instagram: @steveshannonphoto
Facebook: /SteveShannonPhotography