RailRiders Clothing Review
Jamie Bunchuk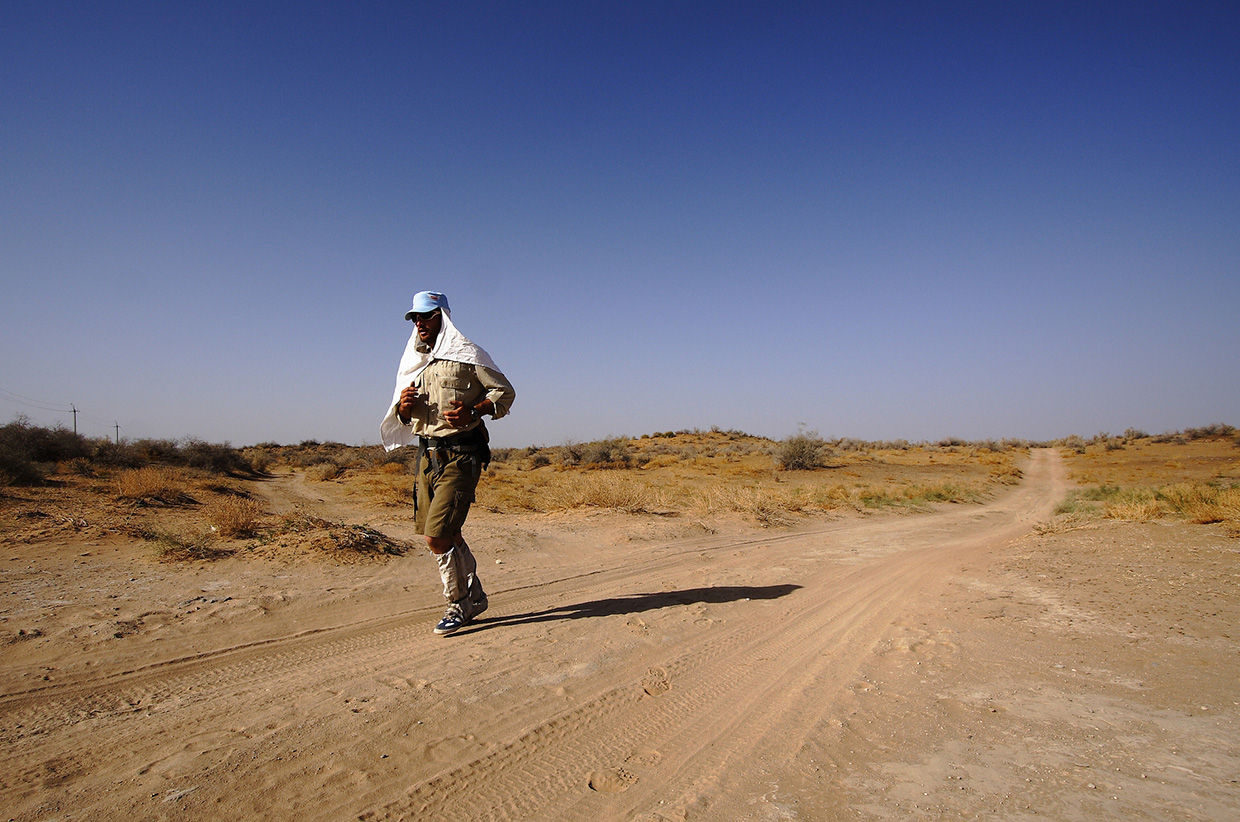 I was washing my only set of clothing again; it was becoming a regular fortnightly occurrence these days. The fast-moving stream stung my hands bitterly with its cold glacial waters, as I sat hunched in my boxer-briefs, perched on a rock in the middle of the flow, scrubbing away with just a tiny sliver of soap. It was all that we had left. On the bank I could see Matt collecting wood for the evening's fire, and beyond that I could hear – even above the sounds of the raging torrent – the punctured crackle of rifle shots, as Tajikistan's elite military forces once more commenced their live-fire training exercises in this out-of-the-way valley situated in the Fan Mountains. Glancing back down at the mass of sopping, tangled and soapy apparel, I remember feeling amazed at how far these clothes had come, and confused as to why they hadn't disintegrated yet. They were hardwearing, I'll give them that.
Nearly half of my 2013 was spent in the Central Asian republics of Kazakhstan, Tajikistan and Uzbekistan, on various expedition-styled projects and adventures. Throughout the course of those five long months my colleague Matthew Traver and I effectively wore just one set of clothing each, kindly supplied through sponsorship by RailRiders. This big boys' explorers outfit was worn nearly every day and most nights too (as we'd often sleep fully-clothed to fend off mosquito bites). The clothes were subject to all sorts of mistreatments, from constant rubbing against galloping horses to wrestling Tajik yaks onto trucks in the Pamir Mountains. I believe we gave these clothes the most thorough in-field testing of any reviewer thus far, so without any further procrastination here is the Sidetracked review of what have been dubbed 'the toughest clothes on the planet'.
Versatac Light Shirt
PRICE: $84.00
WEIGHT: 10.0 oz
The Versatac Light is a proper explorer's shirt. Just looking at all that khaki when it first came out the box was enough to conjure in my mind vivid images of the explorers of the past, like Sir Charles Howard-Bury whose century-old expedition we were paying homage to with our own journey. So what's there to say about the shirt? Well, the very first aspect I noticed was the incredibly light-weight construction of the top; it seemed to weigh less than most T-shirts I own. Consequently, it is incredibly breathable, with ventilation aided further by mesh panelling running from cuff to armpit and down the torso, and also an additional back cape vent too. This design worked incredibly well in the heat, allowing myself to keep the shirt fully-done up (to avoid sun exposure) through the zenith of the Central Asian summer whilst never feeling too stifled nor too enclosed.
The pockets of the Versatac are deep and bountiful, with two large front cargo pockets complete with flaps and zippers, as well as two larger vertical zip pockets situated directly behind them, as well as a six inch slot pocket for longer items such as reading glasses. Confined to the top of a horse for much of my time in Kazakhstan, such a plentiful supply of abyss-like pockets came in useful for storing lunch, the compass (before I dropped it), hoof-pick and the other miscellaneous paraphernalia of long distance riding. Furthermore, the flush design of the said cavities concealed much of the profile of their contents, so valuable items such as passports, cards or money could be concealed without ever giving too much away to the casual onlooker.
The actual construction of the shirt is well thought-out and reinforced all the way to the core. Neither Matthew nor myself experienced any loose threads, unravelling seams, or instances where buttons popped off or even came mildly loose. Matt did manage to rip one pocket, falling off the horse, but all of his bodyweight was hanging from the thread before it finally gave way; a proper testament to the strength of the shirt's needlework. This is a proper explorer's top, and anyone mounting a hot-weather expedition should definitely consider investing in one.
---
Versatac Ultra-Light Shorts
PRICE: $52.00
WEIGHT: 9.0 oz
Worn in conjuncture with the shirt, the Ultra-Light Shorts will make one look like a true colonial officer from the Edwardian era. Made of 2ply 3oz Rip-Stop Nylon, thicker material than than the Versatac shirt, these shorts were great for throwing on at the end of a long-day's horse riding. Featuring a partially elasticated waistband, they retained a comfortable fit and once again are designed with an abundance of pockets working well for whatever knife, or bit of expedition kit you need to stash. As with the Light Shirt, the construction was solid, and I never experienced any rips of tears with these shorts. They also dried in mere minutes during the Kazakh summer and as such, were great to use when every other stitch of clothing on you was in desperate need of a wash.
---
Ultra-Light Boxer Briefs
PRICE: $24.50
WEIGHT: 3.0 oz
Riding constantly for two months meant a lot of rubbing in the underpants region, and so a decent undergarment was an essential must-have for our expedition ride. On the whole, RailRiders' Ultra-Light Boxer Briefs successfully navigated our equestrian test by utilising a flat seam construction that negated much of the potential rubs that horse-riding could have caused. In addition, an 84% anti-microbial polyester, 16% Lycra (for stretch) blend also seemed to work well and the underwear wicked moisture away efficiently and quickly. The main contention I have with the Boxer Briefs (and indeed the only real fault I could find with any of the RailRiders products) was in the design of the fly, which consisted of two vertically-orientated pieces of overlapping fabric over the crotch. Unfortunately – perhaps due to the stretchiness of the Lycra – there was a tendency for one's, er, masculinity to slip out whilst walking or riding and then to get wedged between the two folds of elasticated fabric. Often this would necessitate a frantic trouser rearrangement (or FTR for short), which could be quite embarrassing whilst in mid-conversation with a local lady!
Versatac Light Pants
PRICE: $93.50
WEIGHT: 18.0 oz
Without a doubt, the Versatac Light Pants experienced more strain and wear than the rest of my outfit combined. The trousers almost never left my legs for five whole months and if they did, it was usually only to wash them. Reportedly developed in conjunction with military professionals, the Light Pants are constructed from a featherweight 3oz Duralite Nylon shell and also feature reinforced seat and knees sections made from RailTex nylon. This fabric was the hardiest of the lot, which was much needed considering the constant friction and rubbing it was put under by the horses and saddles during the Post Roads Expedition. Nevertheless the trousers were not invincible and I did manage to put a small few holes in the upper leg section. This was usually by getting them snagged whilst putting a jagged metal stake into the ground to tether the horses to. But on the whole, the Light Pants are as sturdy as sturdy can get.
As with the Versatac shorts and shirt, a lot of care and attention has also gone into maximising pocket space whilst minimising the the protrusion of the overall pocket profile. You can fit so much into these black holes it's unbelievable, as evidenced by the way I used to systematical stuff food wrappers inside them – completely forget they were there – and then empty the pocket out several weeks later only to find a behemothic mountain of trash I'd been walking around with but didn't actually know existed. As another good example of the infinite-depths of these pockets, I managed to accidentally walk into a bank – past security – with a hunting knife longer than two biros end-to-end in my knee pocket without the observant guards ever guessing what was there!
The only issue I had with the pockets on the Light Pants was that whilst RailRiders' have obviously gone to great lengths to secure the main pockets closed with both a velcro and double-buttoned set-up, the same pocket could also be accessed with a side zip. This zip could occasionally work its way down, and the contents of that pocket then had the potential to spill out, negating the effectiveness of the double button/velcro system. But on the whole, I believe the trousers withstood the rigours of expedition life incredibly well.
---
Viper Belt
PRICE: $18.00
WEIGHT: 4.0 oz
Made from one and a half inch nylon webbing, the Viper Belt is a decent final accessory for completing your explorer's outfit. It's very light, the buckle doesn't slip and the webbing didn't degrade or fray despite the harsh conditions. I could find no faults with the Viper Belt and would thoroughly recommend it.
---
Conclusion
PRICE: $24.50
WEIGHT: 3.0 oz
On the whole we experienced no problems with RailRiders Gear, which is miraculous considering that virtually every other piece of kit we took with us on the expedition failed at some point during the journey. Taking into account the amount of sun-bleaching, mud-drenching, snagging and general abuse hurled at these items of clothing, I was amazed at how all this adversity just seemed to bounce off of the fabric. As noted in the separate item reviews, there are a few minor design issues that I would like to see altered, but these do not really detract from the overall quality – and especially the overall ruggedness – of the finished attire. If you want to dress like an impeccable gentleman explorer of old, yet have clothing that will actually stand-up to the trials and hardship of true adventure, then RailRiders is for you. They are certainly the toughest clothes on the planet, by far.
Written by Jamie Bunchuk. Photography by Jamie and Matt Traver.
Read a note on Sidetracked reviews
here
.