Into Seclusion
Traversing the Lyngen Alps
If you are seeking solitude, divorced from the coddling proximity of our civilized world, then you may find your vision turn towards remote mountains and dramatic landscapes to satisfy that yearning for quietened isolation. This is what happened with Christopher Jones, winner of last year's Sidetracked grant: The Adventure Fund. Along with three fellow cavers from Wales, Chris set out to traverse the Lyngen Alps in northernmost Norway. Dave Powlesland, Chris Jones, Ian Peachey and Greg Kemp boarded a plane to Tromsø to set off on an adventure. This is their story:
DAY 0 – EVER READY
Within minutes of turning up at Chris' house the floor was strewn in a mess of kit. Piles labelled 'In', 'Out', and 'Maybe' – the usual last minute decisions which always lead to over-packing whilst at the same time forgetting that vital bit of kit.
With the bags filled, Dave, Chris and Peachey set out from Cardiff to meet Greg at Gatwick. He was still packing at the airport when we found him, but eventually we hauled all our bags over to the service desk. 'Peachey – Over the Limit'. Should have seen that coming. But with a bit of a kit-swap we were on our way to Tromsø. One last night of luxury in the cheapest hostel in town (we soon learnt that Norwegians don't do cheap) saw us lazing around in our complimentary dressing gowns, reviewing our route.
DAY 1 – AN ALPINE (CAVING) START
As we approached the final ridge before our first major peak the clag dropped, the wind picked up and we were treated to horizontal hail and zero visibility. This was a kick in the teeth; with a long way to go to the next camp, and daylight fading, we decided to hit the col and descend to the glacier. What should have been a fairly straightforward descent had become a vertical ice rink.
A typical alpine caving start, saw us leaving for Lyngen on the second available bus – at 10 am. Within minutes it was evident that we were in for a treat; the views were absolutely stunning. At midday we set off from Nordkjosbotn in high hopes. Weather was good, the temperature mild, navigation was plain sailing and the ground was easy going. The only detriment was the dents in our shoulders; with enough food for an unsupported two week traverse, our packs were proper heavy.
As we approached the final ridge before our first major peak the clag dropped, the wind picked up and we were treated to horizontal hail and zero visibility. This was a kick in the teeth; with a long way to go to the next camp, and daylight fading, we decided to hit the col and descend to the glacier. What should have been a fairly straightforward descent had become a vertical ice rink. It was a relief to get crampons and ice axes out as we mounted a steep glacial tongue leading off the col. All spiked up, we began the 150m abseil down bullet hard ice, jumping crevasses and trying to stay away from the stampede of rocks tumbling past us from the adjacent cliff. Surrounded by stormy darkness, we followed the white lights of our head-torches across the glacier to our first camp. Starting to shiver, we scoffed some cold breakfast to avoid brewing up outside and cuddled up in our cosy tent.
DAY 2 – DENIAL
A long, cold, stormy night was followed by a wet and windy morning. A 5:30am wake up call entitled us to a wholesome banquet. However, in the rush for the bus, and struggling with the language barrier, we managed to purchase a large quantity of paraffin for our white gas stove. With no wick to burn the paraffin we were left with no other option than to go with cold rations.
Breakfast consisted of powdered vegetarian shepherd's pie stirred with an ice-cool glacial-water gravy; delightful! Not quite in the swing of things, and after the realisation of the trip continuing without the comfort of hot food, it was another late start. We set off down the valley at a pace to try to make up for time lost, stopping occasionally to drop jaws at the epic landscape glimpsed through parting clouds; steep glaciers precariously perched high up on the rugged peaks, seemingly endless cascades of meltwater gushing into the luminous blue glacial lakes below. And so the mood gently rose as we marched on towards our second camp.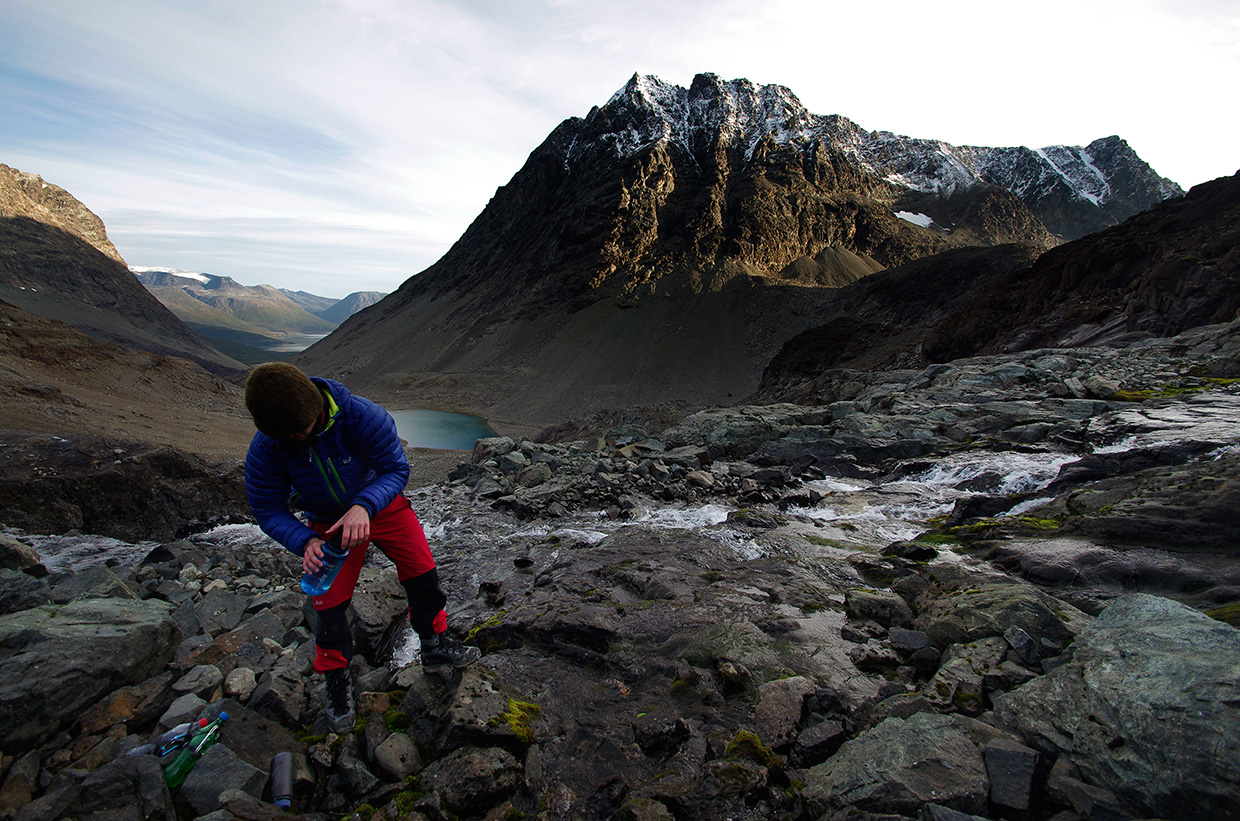 DAY 3 – MORALE HIT
The aerial survey we carried as a map really did not do this area much justice – what appeared as passable cols and climbable ridges were, in reality, steep and loose cliffs of hanging death and the gullies were devoid of snow after the hot summer. Our planned ascent route to the Jiehkkevárri glacier was unclimbable with such hefty bags and the alternative main route to the summit glacier was on the West – putting any summit attempt well off-route. Taking into consideration the expanse of ground between us and the north coast, we made the decision to go for the distance rather than the peak. With team morale low, we began an alternative col-to-col route around the major massif. This, however, revealed untouched and pristine mountain terrain of the highest quality as we passed perched lakes, hanging glaciers and huge vistas; the Lyngsalpan wasn't letting us down.
DAY 4 – DAVE'S BAD DAY
King of packing Greg Kemp knows where all his kit is at all times. Unfortunately Dave does not. Upon awakening, he sat bolt upright with the realisation that he had lost his gloves. This lead to the irrevocable declaration: 'Today will be a bad day'. In general however, the team were in higher spirits, with Lyngseidet and the promise of new fuel and hot food drawing ever nearer, they powered on. A warm fuzzy sensation spread through Dave with the prospect of reducing his bag weight by dumping the useless paraffin at the fuel station. This feeling seemed to actually make his bag lighter and came hand in hand with a fumy smell. Shortly afterwards, Dave was found, pants round ankles, with his arse buried in a glacial stream in an attempt to remove the paraffin which had emptied itself over his back and was burning his bum. Between rolling on the floor in fits of hysterics, the rest of us saved what kit we could.
After a brief encounter with civilisation, correct fuel, and cramming our gullets with toasted Italian calzone, there was an opportunity for a clean slate from which to continue the journey without hindrance. This slate was very nearly obliterated in dramatic style as Chris accidentally lit up the spare fuel, it igniting into a burst of flames, setting alight Dave's beetroot soup and luxury hot chocolate sachets (a treat he had prepared in anticipation of a fully working stove). After the flare-off we had our first hot meal with the precious little fuel – the remainder of which was eked out over the following five days. Dave's lost fork added a fourth event of misfortune to his bad day.
DAY 5 – KLYMIT KLUTZ
A sleep-deprived, shivering, short, grumpy and hungry Peachey woke up on the cold floor. 'What went wrong?' he wondered. It seems the brainchild of this trip had forgotten to read the instructions on our new shiny Klymit sleeping mats: 'Be careful not to over-inflate!'. Peachey had burst a seal and so would now spend his nights fidgeting on cold, sharp scree. Fresh, full and feeling good, the others packed their bags to a bright sunrise, excited for the day ahead. Sat high on a peak in the sun, enjoying the view while Peachey's short little starving legs laboured up behind, whilst Dave took the opportunity to encourage the evaporation of the paraffin still paining his bum-cheeks.
From here, the northern journey across the magnificent Strupbreen Glacier that lay ahead could be observed. A speedy head-over-heels descent, involving bent walking poles and a squashed Peachey, lead to the 10km glacier crossing. Crampons on, axes out – an afternoon of crevasse hopping followed. As the cold sun began its long descent to the horizon, we were still on the Strupbreen. Though the way appeared straight forward – we were consistently bluffed out by the huge grids of crevasses, large blocks of ice spearing out from the floor of the glacier, formed as the ice flow split in two over a steep mound. As if in a life-size game of Pacman we stumbled back and forth, crossing the frozen maze several times until eventually resorting to jumping off the wrong side of the glacier in the hope for easier ground lower down. Sparks went flying as crampons met hard rock and we scrambled down easy ground to find a perfect crossing at the base of the glacier, leading into what later became known as boulder valley.
The aerial survey we carried as a map really did not do this area much justice – what appeared as passable cols and climbable ridges were, in reality, steep and loose cliffs of hanging death and the gullies were devoid of snow after the hot summer.
DAY 6 – BOULDER HELL
It was a cold morning in the shadow of that glacier. Whimpering into cold, stiff socks and staggering on towards the valley where scree and boulders swamped our vision. Stretching to the horizon, showing no mercy to the ankles of weary travellers. We desperately wanted to hop onto the adjacent ridge; however, each attempt to ascend the steep, loose slopes coincided with a steep decrease in pressure and low clouds and hail, indicating the start of a storm. As we climbed the pressure began to drop rapidly and in an instant we were fighting through thick cloud and drenched from head to toe. The wet rocks might as well have been ice as we teetered along precarious ledges, hoping to break above cloud level or for the weather to pass. It didn't, and mounting the knife-edged ridge we were greeted with strong winds, horizontal sleet and very, very loose rock. Several hours of hard scrambling lead over several testing pinnacles, and into climbing terrain. With zero visibility, a darkening sky and wind whipping the chossy rock into the air we'd met our match; re-tracing our steps to yet another stormy camp in the heart of boulder valley.
DAY 7 – THE DAY AFTER THE NIGHT BEFORE
The injuries began to take effect: Peachey's ankle had started to swell quite badly after the wrath of Boulder Valley; Chris and Dave had developed foot infections – swollen and covered in bleeding sores; and Greg had developed a small-but-significant blister on one toe. Hobbling we exited the valley around the flank of Olostinden and towards Starvva, stomping through delightful birch woodland surrounded by thousands of fluttering white moths and feasting on bilberries.
We set up the tent and collected enough loose birch to make a fire. The luxury of a wood fire felt amazing as we knelt and gorged on nice warm shepherd's pie, lashings of custard and mint tea. Huddling into our tent, Greg realised he had committed the same fatal error as Peachey. Almost in tears as he desperately tried to repair the puncture, but to no avail. Thankfully Peachey, being the ever charitable/masochistic man that he is, offered to sleep on the rogue rock beneath our tent. Poor fellow.
DAY 8 – THE DEMISE OF CHRIS
Chris' feet had been getting progressively worse and were showing worrying symptoms of cellulitis. He woke to heavy throbbing pains, more intense than previous days, and so we had to have a serious talk about his ability to complete the rest of the traverse. Having recently run across the Brecon Beacons in under 20 hours, his feet were well accustomed to a good hammering; something was wrong. After receiving advice from a medical advisor via text, it was decided he'd attempt to hitchhike to Storvel, a fishing village further up the peninsula, where we could meet him and discuss the feasibility of his participation in the final stretch. It was such a shame to have to make this difficult decision so close to the finish line, sadly we chucked the heavier kit into his bag, said our goodbyes and frolicked off into the mountains.
With lighter bags we moved at a quick pace, sticking relatively close to the coast so as to meet with Chris as soon as possible. On Ruidfjellet we shared the mountains only with shy herds of reindeer and stunning panoramic views of both the northern peninsular and the expanse of fjords to the west. After a picturesque trot down towards Storvel, we met Chris asleep on a bridge, wrapped up in every piece of clothing he had. Unable to cope with the thought of missing out on the finish line, he'd decided to grit his teeth and fight off the pain of his bloody feet to accompany us to the north coast. We slugged back up into the mountains, setting up camp by a spring on a blustery col.
DAY 9 – FACING NORTH
Opening the tent to a belting view of the final peak we packed and tumbled down to the base of Russelfjellet. It was an easy ascent with a strong wind behind us. Quality scrambling on good rock with several abseils took us along the undulating ridge. Finally arriving at the summit we were greeted with crystal clear blue skies, and a great perspective of the vast and harsh mountainous terrain we had crossed. The glacial summit of Jiehkkevárri peered at us between peaks, reminding us of the tough start to the trip. What a fantastic slog!
Sunset found us sat on the very tip of the peninsula, waves crashing beneath us and a smattering of islands between us and the Arctic ice sheets, we took our boots off and munched on some lyngen berries. 'I wonder what that hut's for?' announced Greg, speaking of a cute hut sitting on the windswept coast. Intrigued, Dave tried the door. It was open! Feeling unbelievably spoilt, we bundled into the tiny bothy, complete with a wood burning stove and pans. Stove at full blast, we stripped off to our underwear; seizing the opportunity to dry our kit, and wrote our story in a very bare logbook left for travellers. Feeling euphoric, we climbed into the warm little sleeping attic and laid to rest.
DAY 10 – WHAT, ONE SPORK?
A final dose of cold porridge was consumed with the sharing of a single spork. The journey had been tough and had taken the lives of six whole sporks and whilst our full objective had fallen prey to the poor weather we encountered, we had spent an awesome and privileged time in the little-explored Lyngalspan. Bags on and stomachs full, we headed to Russelv in search of the return journey home. The full, unsupported high level traverse awaits those with strong enough backs – and what an adventure they will have!
---
The Lyngen Alps Traverse team were the winners of the 2013 The Adventure Fund grant, in association with Sidetracked Magazine. The Adventure Fund is an annual award set up to aid the process of turning innovative ideas for adventures and expeditions into a reality. The deadline for grant applications is March 1st. For more information please visit: theadventurefund.com
The team of four attempted a traverse of the entire length of Lyngen Alps, a mountain range focussed on a peninsula in the far north of Norway, during September 2013.
Find out more on their Facebook page
The expedition was supported by
The Adventure Fund