The Dragon's Final Dance
Navigating One of the Planet's Last Wild Rivers
Story and Photography by Krystle Wright // Written by Pat Kinsella
In celebration of the launch of the brand new Sidetracked Volume Seven, we're releasing one story online from each of our previous issues. In this story from Volume Two, a team of four women travelled one of the world's greatest and least known free flowing rivers, the Amur, from the remote Mongolian headwaters to a massive delta in Russia.
---
The horsemen evaporate into the enormity of the steppe, leaving us standing and staring at each other across the emptiness. They'd taken us to the launch point for an expedition years in the making. The small, shallow embryo of a waterway lying at our feet is the source of the Onon River. This is what brought us here; this tiny mirrored streak, slithering through the tundra, is what we must now follow. If everything goes to plan – which, of course, it won't – all the way to the Sea of Okhotsk, 5500km away. I am utterly terrified. The journey begins now. We know where we want it to take us, but have no idea where it will really lead.
The water is pure at the source. Like us, it has no idea what lies in wait as it tumbles downhill through Mongolia, squeezing between the cantankerous and occasionally filthy rumps of Russia and China. It's there that it will assume another name – the Amur. She loses her innocence and morphs into a black beast, rushing headlong into the arms of the ocean. Along the way it will be abused and misused, violated and fouled. Yet no manmade contrivance will significantly alter her direction or halt her current. It's a free flowing river – the third longest of its kind in the world – a mighty example of a critically endangered species.
But talk of a dam on the Amur has been loud and pressing in the recent years, which is why expedition leader Amber Valenti has assembled a four-person team to explore the river in its current state, documenting the quality of its water and life along its banks. The crew, more by accident than design, is completely comprised of women – including Sabra Purdy, a river ecologist and Becca Dennis, a professional river guide. I'm a photographer and have shot stories in some of the remotest settings in the world. From the frozen Arctic architecture of Baffin Island, to the ice floes of Antarctica, from Pakistan's mountain skies to the dead ochre centre of Australia. But never before have I been this far flung, never this utterly disconnected from everything I know and understand. I've never felt so small, so excited, or so nervous.
There's not even a whiff of a village for at least 10 days' travelling in any direction. We know this, because we've just ridden from the nearest settlement, on horses named after pop stars. George Michael, Michael Jackson, Rod Stewart and David Bowie have now done their stint and galloped out of our lives, so I unpack my new steed: a folding TRAK kayak. I've practised this plenty of times, but the cold nibbles at my fingers and I fumble as I put the boat together.
Eight weeks later, my fingers are still trembling as I pull my kayak off the river and pack it away. But I'm not cold, I'm angry. I can't help it. We should still be paddling onward; there's 500km of river left before the sea. I don't know exactly how far short we've fallen – not until I look at a map, and I can't bring myself to do that. Not yet.
Never before have I been this far flung, never this utterly disconnected from everything I know and understand. I've never felt so small, so excited, or so nervous.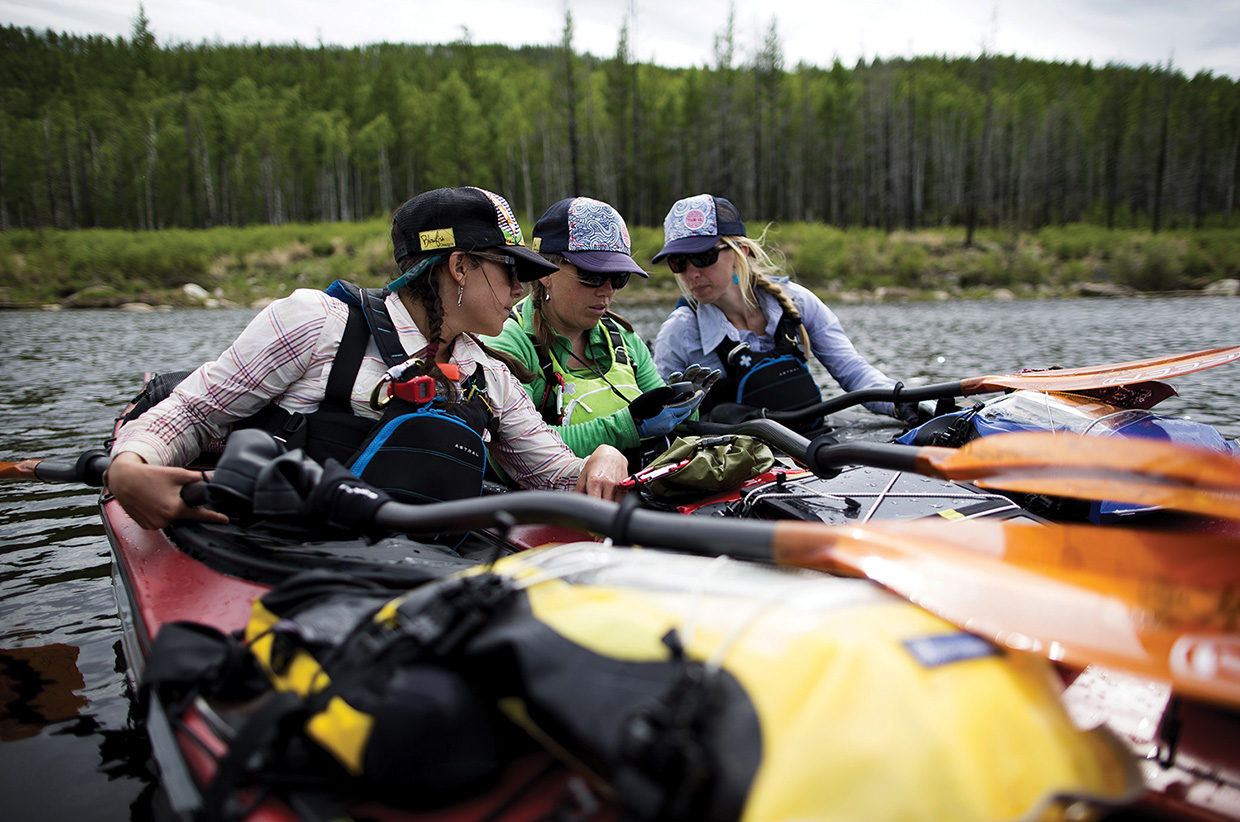 Mother Onon was good to us in Mongolia; there, she was more mischievous than malevolent. Sometimes she played a little rough, but we were performing well as a team and everyone could handle it. Niggles and differences were yet to claw at the gut of the group and over 20 days we paddled 500km along a meandering waterway, through epic fields full of wild flowers and bear prints. One afternoon we rafted up and simply floated for a while through rural Mongolia, savouring a rare beer sourced during a food pickup from a nearby settlement. It's a memory I relish, and one that makes me smile. Almost as much as the recollection of the girls recreating a scene from the Mongolian wrestling action we'd seen at a horse-racing festival on the steppe. By all account, they were good times.
Mother Onon was good to us in Mongolia; there, she was more mischievous than malevolent. Sometimes she played a little rough, but we were performing well as a team and everyone could handle it.
We had a translator for this section, and regularly enjoyed the hospitality of locals – too much on one night, when Amber discovered that seven teacups of home-brewed horse-milk moonshine was one past her limit. Bootleg booze aside, lightning was our biggest enemy. Shooting stills of an onrushing storm one afternoon, I was using a tripod mounted in the water, taking 30 second exposures. I didn't realise how fast the tempest was bearing down on me until Amber screamed. A huge crack of thunder exploded above my head as I sprinted out of the water and dived for cover. We hid under a willow tree for hours as forks of fire shattered the sky.
By the time we reached Russia, everything had changed, including the name of the river. Grief had taken hold of Becca, who had tragically lost her partner in a paragliding accident a few months earlier. She was in terrible pain and it was awful to watch. Too overcome with sorrow to continue, she left the expedition. On top of that, we needed $50,000 cash to buy our way along the lawless section past the border. Even then, three western women traveling unaccompanied through a remote Russian wasteland? The inference was left hanging by the faceless officials, but we didn't have a tenth of the bribery budget to pay them anyway. So we packed up our kayaks and went into battle with the Russian train matrons instead. They were tough enough.
The mood was pensive as the three of us launched in Khabarovsk. The industrial setting was intimidating, and the Amur was now a sprawling, braided and polluted mess; four kilometres across in places and dissected by dangerous shipping lanes. This was one of the most challenging days we experienced on the river – with wind-whipped waves threatening to spit us into the filthy water – and the impassioned shout of a well-meaning local didn't help: 'But, you have no security!' he yelped, dismayed by the sight of three nervous-looking girls kayaking into the unknown. And he was right – we were incredibly exposed. Three women with zero in-country support and no local language skills. We'd tried to get a translator for Russia, but no one wanted to know, the project was too risky.
The concerned citizen would have been proud of one of his compatriots, who we encountered fishing from a diminutive tin boat further downstream. The man, flabbergasted by the unexpected arrival of international tourists in his fishing spot, attempted conversation and then offered us some of his catch. It was a touching gesture, and I was saddened when we declined it, but none of us wanted to accept the fish knowing we wouldn't eat it due to the presence of chemicals and pollutants in this section of the river.
Mosquitos were a constant torment, but paddling through rural Russia was visually stunning. One dawn delivered a double rainbow, with hues of pink, purple and gold streaking the sky behind. Gorgeous, but a Technicolor warning that the real storms were coming. The Amur – called Heilongjiang, 'Black Dragon River', on the Chinese bank – is a different beast to the Onon. The flow is massive. It felt like we were sea-kayaking, not river paddling. There were few escape routes if something went wrong, or an electrical storm erupted. The banks were often five-metre walls of sheer dirt. Once on the water we were totally committed. If somebody had taken a swim, they would have been out of their boat for hours. Our comfort zone was breached – but that's what we'd signed up for.
Amber had warned this section would be a raging unknown, but our biggest problem was time. It was a thousand kilometres to the sea, and the summer monsoons were right on our tail. To avoid getting caught in potentially catastrophic floods we'd have to paddle 55km a day for 18 days straight, with no leeway for stormy days, high winds or exhaustion. For ten days we got up each morning, kayaked 50km, slept for five hours and then repeated the process. But still our progress wasn't fast enough. Tensions began to break the surface.
It shouldn't have been a surprise. We had different objectives. I wanted to paddle hard, to reach the sea and get my photo story. Sabra, the scientist, was more interested in analysing the health of the river. Amber, carrying the heavy responsibility of leadership, was juggling safety concerns and the integrity of an expedition she'd spent years planning. One night, exhausted, we sought refuge on an island that sank as the water level rose. We awoke just in time to save our gear and ourselves from being swallowed by the river. Mistakes were happening as we edged beyond our limits, and the consequences of a single misstep were getting larger and larger.
Ultimately, the fatal blow was dealt by something heartbreakingly prosaic: tendonitis. Sabra developed the condition in her forearms and for three days Amber and I towed our stricken teammate. By the time we reached Komsomolsk, 400 kilometres from Khabarovsk, we'd run out of time, luck and options. It was over. In a car, driven by strangers, we finally arrive at the mouth of the river. We stood there, watching the water we've been following for two months tumble into the sea. It's not the climax to the adventure I would have predicted standing at the source, and it's not the one I wanted now. But that's the nature of the beast. When you dance with the dragon, you never know how the dance will end. It's nobody's river. I hope it stays that way.
Postscript
A week later, one of the largest floods to ever hit the region swamped the Amur Delta, turning the river into a 50km-wide monster, devouring houses and throwing car-sized debris about with lethal abandon. Sabra's tendonitis, it seems, probably saved the girls' lives.
---
This story was originally featured in Sidetracked Volume Two