The Pole Of Cold
James Brown
It was another one of those 'How the hell did I get here?' moments but it's not like I haven't had plenty of those during my time in Russia. Over the last four years I'd got  up close and personal with bears in Kamchatka; dangled upside down over gorges in the Caucasus; and navigated some of the largest and deepest coalmines in the world in Kemerovo, to name but a few.  But when your job is to make films about some of the most weird and wonderful places and people in the world's biggest country, you expect a few unusual situations to arise.  This time, however, I was genuinely worried.
I was bent over the steering wheel of my Toyota, plunged deep into a snowdrift at the edge of the road. Not exactly an uncommon occurrence in Russia but normally a tow truck is just a phone call away.  Unfortunately for me, I was smack bang in the middle of the largest, emptiest place in the whole of Siberia.  The republic of Yakutia is the size of India. It's below freezing here for at least 7 months of the year and less than a million people are spread out over its 3 million square kilometers of space.  It's a vast wilderness of mountains, forests and endless tundra and not exactly a good place to break down.  I was around half way through one of my more extreme Russian adventures- a journey from the republic's capital Yakutsk to the coldest inhabited place on the planet, Oymyakon, a place known as the Pole of Cold.  Of course Russia has a reputation as a rather chilly place but back in 1926 they recorded a temperature of -71.2C in Oymyakon and almost a century later it's still home to a small but thriving community.  I knew I had to find out how they managed to live there for myself.
Yakutia may be huge, freezing and largely empty but that also makes it an off road drivers paradise and the annual rally to Oymyakon is one of the most exciting ways to see the Pole of Cold. The journey is around 1000km, takes 3 days to complete and I'd managed to book myself a driver's seat.  The harsh conditions mean that speed limits are strictly enforced and actually getting to Oymyakon without having an accident is the ultimate aim.  So with my crew in one car, and me and my Russian co-pilot Valery in the other, we set off gingerly from the capital Yakutsk. 
On day one we had around 400 km to cover and it wasn't long before the convoy of cars which had started with us became very stretched out.  Soon, it was several hours since we'd encountered another vehicle, the radio was quiet and the road was silent and eerie.  We were on the notorious Kolyma highway, nicknamed the 'road of bones'.
For 21 years prisoners from the Dalstroy gulag were used as slave labour to build this road through the permafrost.  It connects Yakutsk to the far eastern city of Magadan and passes through Khandaga, our first night's stop.  With just picks and shovels the inmates worked year round building the 2000km long highway and in the horrendous conditions, many simply collapsed and died as they worked.  The ground was deemed too hard to dig enough graves- the dead were simply covered with earth and stones.  We were driving over them all the way.
Many prisoners simply collapsed and died as they worked.  The ground was deemed too hard to dig enough graves – the dead were simply covered with earth and stones.  We were driving over them all the way.
It was impossible not to get sucked in by everyone's enthusiasm.  80 year old ladies were jigging away in front of the stage as their neighbours ate, drank and roared them on.  It barely crept above -25c but I doubt anyone even noticed in the heady mix of colour, sound and smells.
It's the sort of story that sends ice through your veins and I'll admit my attention was more focused on Valery's tale than the road.  So when a horse suddenly ran out in front of us, my reactions let me down. I desperately spun the wheel to avoid it, the car started to skid and, seconds later, we had plunged off the road and into a ditch.  We were fine but as we were at a 45 degree angle it was obvious the car was going nowhere fast.  The horse, completely untroubled by its near brush with death, trotted back to the road, looked at us and proceeded to take a very large call of nature.  It had made it quite clear who was invading whose territory…
It was around -30c outside before wind chill, so, amid large bouts of swearing and shivering, I began digging the car out while Valery attempted to reach someone on the radio.  We hadn't seen another car for the best part of an hour, so it was a great relief when a fellow racer told us he was just a few kilometres back. With the snow cleared I brought out the SOS sign and waited to be rescued.  Once we were safely attached to the towline a few nifty reversing manoeuvres meant the road of bones would have to wait to claim its next victims.  The other driver found the whole situation hilarious. I have a feeling the horse did too… 
Having narrowly averted disaster on day one, I was determined to be extra careful on day two.  This part would take us to Oymyakon's neighbouring town of Tomtor, but it was also the most dangerous section of the race.  A 200km stretch of road barely wide enough for one car, let alone two, constantly occupied by industrial trucks and bulldozers. Oh, and there just happens to be a huge cliff edge. They call this the 'black clamp' because of the colour of the shale that's constantly falling all around and because you're literally squeezed between rock and a very steep drop.  Summoning my inner grandma, I crawled along it as slowly as humanly possible, making use of the infrequent laybys to let others pass along the way.  It was painful progress but eventually we got down in one piece and onto the road to the fascinating, freezing town of Tomtor.
There are around 2,000 people living here, enduring one of the harshest continental climates in the world. The summers are fierce and short and the January temperature rarely gets above -50C.  It was late by the time we arrived and the crew and I were all knackered, so when our host Andre informed us we had our own flat, after we'd expected to have to sleep on the local sports hall floor, we were thrilled. However, after a quick look around, I realised we were missing a fairly vital piece of equipment.  'No problem!' shouted Andre. 'None of us have them!' And, with a feeling of dread, I followed him outside.  Our nearest convenience was, in fact, 100m away. Exactly what you need in the middle of a pitch black, freezing night. 'These are a pretty tough bunch of people', I thought to myself, before telling the crew they'd better not drink too much water before turning in…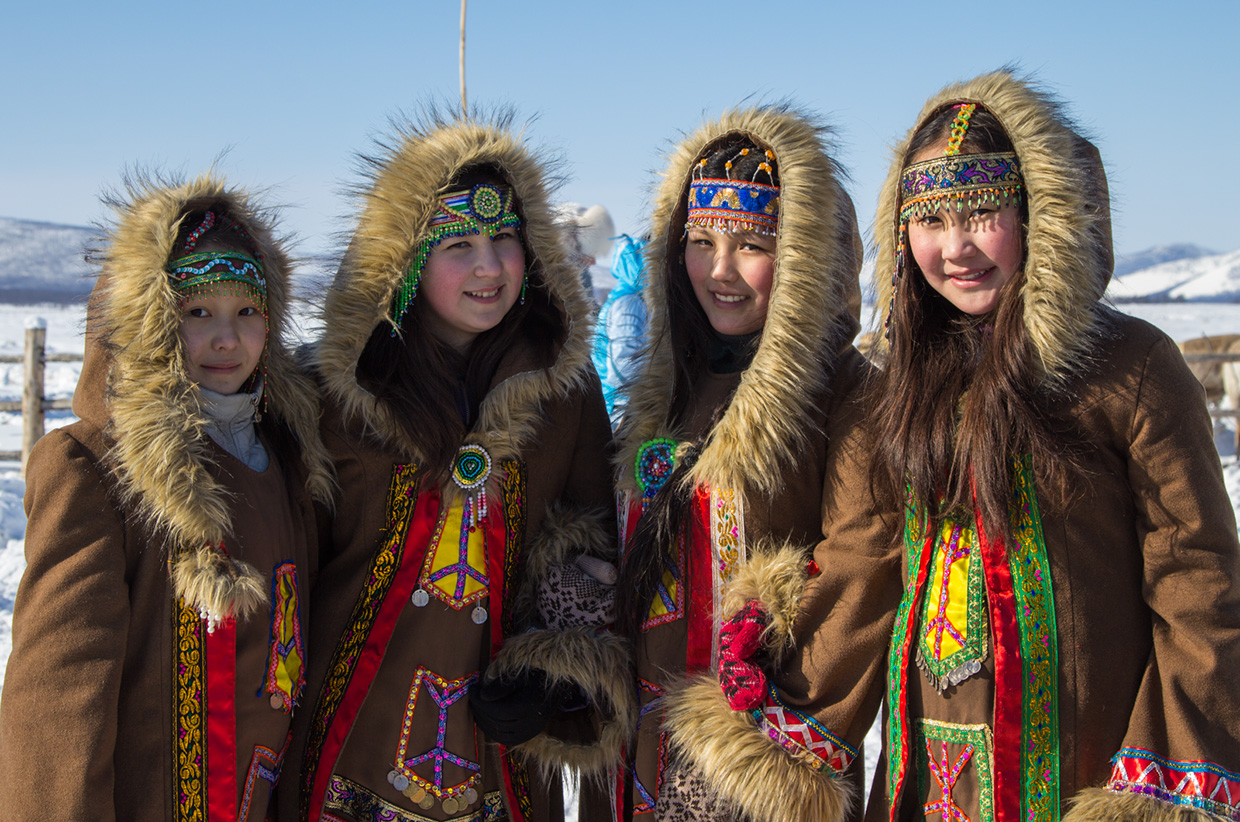 The next day we were invited to breakfast with Andre and his family. Their home was typical of many in the town, two bedrooms with a small kitchen, lounge and utility area.  Only boiling water runs through the pipes here so if you want something drinkable it means a trip to the local river to hack off some chunks of ice.  In they go to the saucepan and you're soon drinking steaming mugs of tea and ready to tuck in. It turns out that that aside from attempting to kill innocent motorists, Yakutian horses are also a staple part of the local diet.  Horse sausage, pickled horse stomach and horsemeat with rice were served up with bread and fresh butter. I felt no vengeful satisfaction as I helped myself to seconds. Honest.
Despite the bitter temperatures and isolation, Andre has never had any inclination to move his family.  Money and material things play a small role in Tomtor while the locals put a heavy emphasis on music and physical strength.  Wrestling is hugely popular, with frequent local competitions, and there are regular concerts and dance performances from both the townspeople and visiting artists. Everything leads up to the biggest event of the year, the Pole of Cold festival, and we'd arrived for the final day. 
Valery joined Andre, myself and seemingly the whole town out in the fields for the celebrations.  Everything started with the town's shaman, who lit a small fire and blessed the audience before everything sparked into life. Dozens of braziers and saucepans were produced, as everything from spicy frozen fish to massive horse steaks were prepared for the hungry crowds while musicians and dancers ran through a repertoire of Yakutian favourites. It was impossible not to get sucked in by everyone's enthusiasm.  80 year old ladies were jigging away in front of the stage as their neighbours ate, drank and roared them on.  It barely crept above -25c but I doubt anyone even noticed in the heady mix of colour, sound and smells. We even had a visit from a Finnish Santa Claus, who informed me that the town's children had, in fact, all been very good this year. Considering they also get presents from Santa's Russian cousin, Father Frost, it's not a bad life being a Pole of Cold kid.
As the party carried on late into the day my fellow rally drivers prepped our cars for the final leg of our journey.  We'd already done the hard part; this was a straight 40km time trial to Oymyakon.  Valery and I weren't going to win but, at last, I had an excuse to put my foot down and, one by one, we passed the chequered flag at the Pole of Cold.
It was time for the celebrations to begin in earnest and miraculously well concealed bottles of vodka and cognac were swiftly passed around.  We were presented with certificates from Chis Khan, Yakutia's mysterious wizard-like keeper of the cold and a 'will for victory' cup by the race organisers.  We hadn't finished anywhere near the top drivers but, all after the traumas of day one; I was thrilled that we'd made it at.   I was relieved, exhilarated and in the process of a massive adrenaline dump which would hit me a few minutes later.  In more than four years of cross country travel in Russia, I'd never met people who live in such extreme conditions as they do in Oymyakon, yet they enjoy happy, fulfilled lives under circumstances most of us would be unable to bear.  Valery and I perched ourselves on the bonnet of our car, nodded to each other and allowed ourselves a private toast.  Behind us was a chipped stone statue of a bull, Oymyakon's symbol of the winter. A fitting final memory of the coldest inhabited place on earth.
James Brown is a documentary maker and news correspondent specialising in all things Russian. He was one of the original employees of RT, Russia's only 24 hour English language news channel, and is the host and writer of 'Discovering Russia' a monthly documentary series looking at life and culture throughout the world's biggest country. The programme has been running since 2008 and won the Yury Senkevich National Tourism Prize for Best Russian Tourism programme of 2011.
Hands on in all his shows, James's journeys have seen him working with the coalminers of Siberia, bear watching amongst the volcanoes in far-east Kamchatka and, in a quieter moment, drinking tea with the monks in the Buddhist republic of Kalmykia. As a news correspondent he reported on stories throughout Russia, the CIS and Europe, including live coverage of Russia and Kyrgyzstan's Presidential elections, Ukraine's worst post-Soviet mining disaster and anti-US demonstrations from the Czech capital, Prague.
Born and raised in the UK, James is a graduate of Bristol University and holds a Post Graduate Diploma in Broadcast Journalism from the London College of Communication.
Watch the film of this adventure here: http://rt.com/shows/documentary/russia-yakutia-pole-cold-648/
You can watch his archive of shows here: http://rtd.rt.com/films/discovering-russia-with-james-brown/
To find out more about James follow him on Facebook: www.facebook.com/jimbrownjourno Or on Twitter @jimbrownjourno